The Frick Pittsburgh is committed to the health and safety of our visitors, staff, and community.
In response to COVID-19, our campus remains closed. To make a virtual visit to The Frick Pittsburgh using the digital experiences and activities on our website, please click here.
Our leadership is in regular communication with city, county, and state health experts as we continue to monitor the situation. As circumstances change, we will post updates to this page.
Many of you have asked how you can help The Frick Pittsburgh at this time. Thank you for your concern.
We
welcome your encouragement, ideas, and participation by any means:
Thank you!
More than 1,600 of you responded to our recent survey asking how the Frick can serve you best during this time.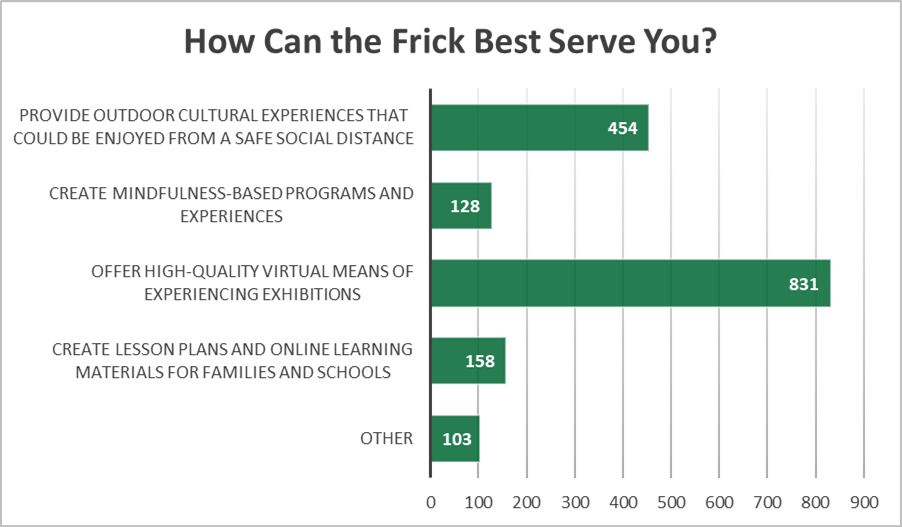 While every option has value and most will be explored over time,
your responses make clear that developing high-quality virtual means of experiencing exhibitions should be our priority.
We will respond in two stages:
Effective immediately, we will offer more illustrated talks online, since they are the closest approximation of a virtual exhibition that our current technological capacity and closed site permit.
In the weeks ahead, we will work with technology experts to identify—and if necessary, develop—an easy-to-use means of touring exhibitions virtually, perhaps guided by a person in real time. Thank you for providing us with a clear mandate to pursue that dream.
Thank you, too, for taking the time to share additional thoughts. For simplicity, we have aggregated similar questions in the responses below.
Q: Can the grounds be opened for visitors to walk through in safe, socially distanced ways?
A: We can't wait to welcome you back when the time is right. At present, only essential personnel are permitted on site.
Q: Can The Café provide take-out dining options, or offer outdoor seating for social distancing?
A: Although The Café is unable to operate during the site closure, we are considering ways of offering widely-spaced warm weather seating as we plan for the eventual resumption of food service on campus.
Q: Is there a way that we can experience your collections and museum spaces, hear lectures, and participate in programs?
A: Absolutely! Visit our
virtual museum
to browse the collection, download kids' activities,
see the upper floors of Clayton
, and much more. We add new content regularly and welcome your suggestions.
Q: Will memberships be extended because of the closure?
A: Your membership support has a profound impact on the Frick, especially during this challenging time. In recognition of the museum's temporary closure, we are happy to extend your membership expiration date by two months by request.
Many of our members have already expressed their desire to waive any such extension to support us during this time; if you, too, would like to keep your original expiration date, we would be very appreciative. This kind gesture will allow us to direct even more financial resources to ensuring the Frick remains a vital cultural asset for the region.
Please contact the Membership department at members@thefrickpittsburgh.org or 412-342-4086 if you would like to discuss your options.
Updated June 2, 2020