German's work also speaks to the potential for museums and other public spaces to function as agents for change. "This installation begins in the place of the personal. The citizen artist asking, 'how can I be whole here? How can WE be whole here? How do WE heal? What role can museums play as spaces of intentional social healing?' These are the questions that inspire this immersive installation."
The multisensory experience includes musical selections from
Unburied, Unmourned, Unmarked: Requiem for Rice
, a contemporary classical symphonic work about the history of Africans enslaved on Lowcountry South Carolina and Georgia rice plantations. The original score is composed by three-time Emmy® award-winning composer Jonathan Wineglass based on the libretto written by Dr. Edda L. Fields-Black. The Colour of Music Festival Orchestra debuted the work in 2019 at Pittsburgh's Carnegie Music Hall.
A self-described "citizen artist," German is a nationally celebrated poet, performer, sculptor, and activist. In her Homewood studio blocks away from the Frick, she creates work that explores the transformative healing power of art and love. The Frick is honored to be hosting German as a multi-year visiting artist. Over three years, German will create a community-centered body of art using the Frick's site and collection as a departure point.
Reckoning: Grief and Light
is the first of three series she envisions for her residency.
Major exhibition program support is provided by the Richard King Mellon Foundation.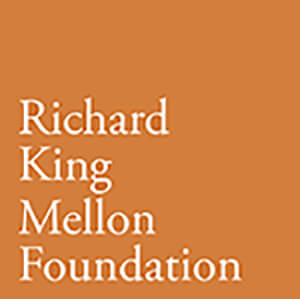 Above: nothing can separate you from the language you cry in (detail), March 2021.