Dine in Pittsburgh's most beautiful setting
The Café at the Frick
The recently-refinished Café has reopened! Expanded hours and new services are in the process of being launched as staffing and safety conditions permit. We've missed seeing you and are so excited to welcome you back!
The New Café
We've received a lot of inquiries about the reopening and future of The Café. We thank you for your continued support as we make changes and hope to answer some of your questions below.

Can I make a reservation?
Not yet. The Café is currently open for self-seating and carryout. We are not taking reservations at this time.

Will The Café continue to change?
Yes, in ways we hope you will love! As we hire more staff and visitation approaches pre-pandemic levels, the hours of service and range of offerings will expand. When table service returns, we will pilot three distinct services: healthy gourmet casual dining during the first few hours of service; full service high tea in the late afternoons; and themed guest chef dinners on selected evenings.

Why are you making these changes? Wasn't The Café already perfect?
The atmosphere is magical, and we are committed to keeping it so. But certain aspects of The Café's business model haven't served all of our visitors as well as they should. The adjustments we will be testing seek to fix some specific challenges:

In the past, The Café served a small number of people very well, but the great majority of our visitors not at all. During our busiest months, from April to December, The Café has been fully booked at lunchtime days in advance. We have routinely turned away two, three, and even four times as many people as we can seat. Without an opportunity for rest and refreshment, many visitors have left the Frick before they could experience all we have to offer.

By expanding the open hours, we will hope to increase the number of visitors we can serve. By introducing lighter snacks, kid-friendly options, and picnic fare to the luncheon menu; by reintroducing afternoon high tea service; and by infusing new energy in the dinner service by transforming it into a showcase for visiting chefs; we hope to meet the needs of a diverse range of guests—an effort consistent with our commitment to being an inclusive museum in which all visitors feel warmly welcomed. From quick-and-easy delights to special-occasion indulgences, we are aiming to meet the needs of as many of our visitors as possible.

Are these changes fixed?
Not at all. We will rely on you, our visitors, to help us shape the path forward. We are embarking on this expansion of The Café's services with open minds and an eye on the bottom line. As we roll out new menu items and services, we will attend to their popularity and to feedback from diners. If a menu item is not well received, we will replace it. If the hours of service don't prove effective, we will adjust them.
Cheese Board
Three varieties of cheese, honey, fresh berries, flatbread

Charcuterie Board
Three selections from Parma Sausage, olives, gherkin pickles, flatbread

Celebration Board
A wonderful combination of our cheese and charcuterie selections

Soup
Ask about our daily selection

Salads
Café House Salad
Mixed field greens, cucumber, tomato, Kalamata olives, carrots, pepita, balsamic vinaigrette

Café Caesar Salad
Romaine, shaved Parmesan, house croutons, classic dressing
Add Chicken

Quiche
Sausage, red and green peppers, swiss, gruyere

Sandwiches
All sandwiches come with chips and a pickle spear

Turkey and Smoked Cheddar
Roasted turkey breast, apple bacon maple jam, arugula, pretzel bun

Grilled Chicken and Provolone
Grilled chicken breast, provolone, pesto oil, tomato, leaf lettuce, croissant roll

Roast Beef and Provolone
Chilled roast beef, provolone, mixed greens, horseradish mayo, ciabattini roll

Ham and Swiss
Black Forest ham, baby swiss, sliced tomato, leaf lettuce, brown mustard, unseeded rye bread

Vegetable Wrap
Romaine, arugula, hummus, tomato, carrots, cucumber

Flatbreads
Plain

Pepperoni

Hummus, Roasted Red Peppers, and Spinach

Chicken, Mozzarella, Spinach, and Balsamic

Afternoon Tea
Two finger sandwiches, choice of scone, house-made clotted cream, jam, sweets, and your choice of loose-leaf tea

Extras
Scone
Baked fresh and served with house-made clotted cream

Blueberry Muffin
Served warm

Fresh-baked Cookie
Daily selections

Pain au Chocolat
Flaky croissant filled with chocolate, served warm

New York-style Cheescake
Served with your choice of fresh strawberries or chocolate sauce

Menu items subject to change
Frick House Wines
Available by the glass or bottle

Bubbles

Pinot Grigio

Chardonnay

Pinot Noir

Cabernet Sauvignon

Beer and Cider
East End Brewing Co. Big Hop

Blake's Hard Cider Co. Triple Jam

Blake's Hard Cider Co. Strawberry Lemonade

Truly Seasonal

Stella Artois

Spiked Beverages
Mulled Wine

Spiked Brazilian Lemonade

Mimosa

Tequila Sunrise

Non-Alcoholic
Latte

Cappuccino

Espresso

La Prima Coffee

Harney & Sons Loose Leaf Tea

Brazilian Lemonade

Fresh-squeezed Lemonade

Sodas

Menu items subject to change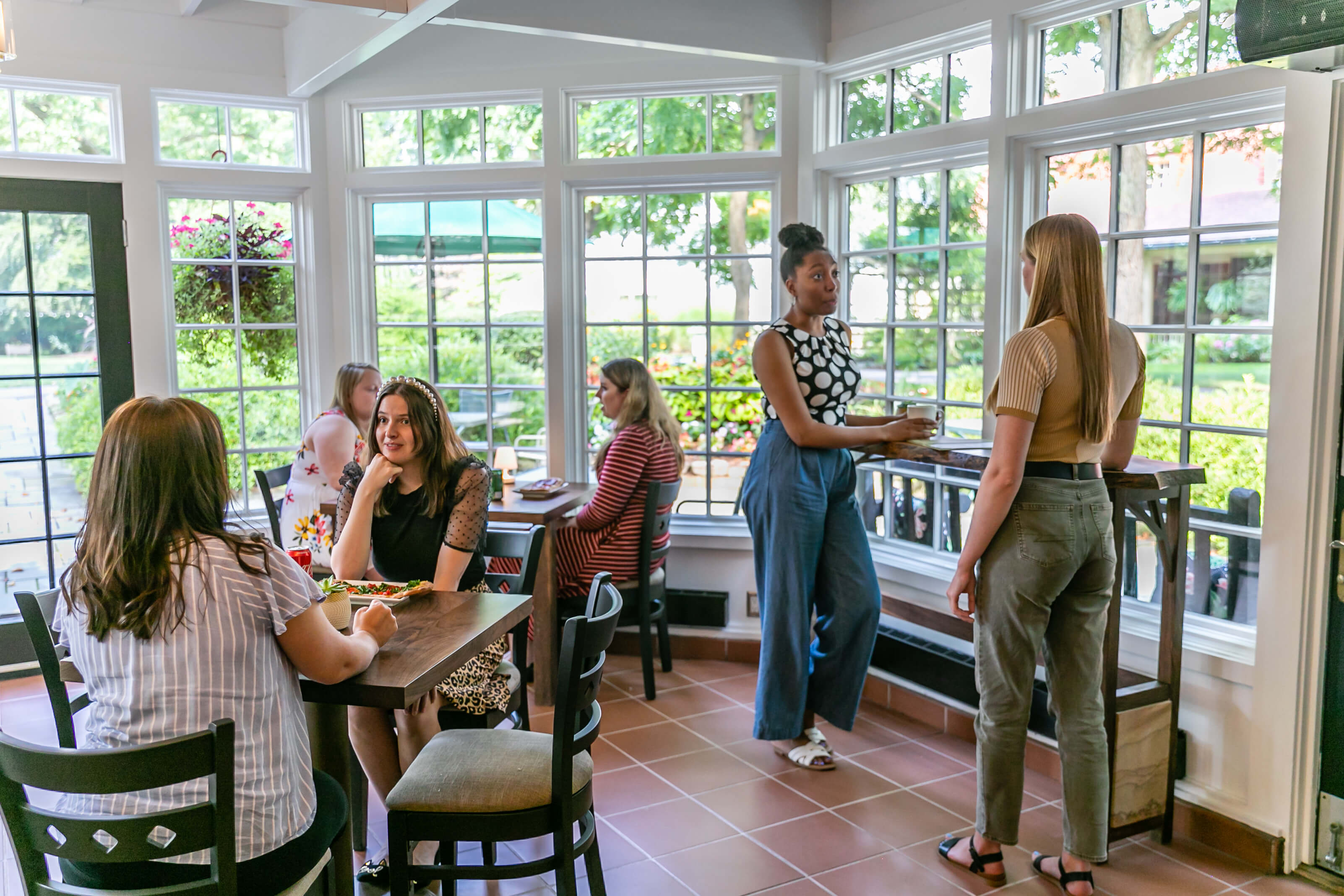 Hours
Tuesday–Sunday
9:30 AM–3 PM
Reservations not accepted.
The Café is wheelchair-accessible and has single-stall all-gender restrooms.
We're hiring!
Learn more
here
.