Dine in Pittsburgh's most beautiful setting
The Café at the Frick
PLEASE NOTE: The Café at the Frick will be closed for regular business on 11/29, 11/30, 12/13, and 12/16. Carry out drinks and pastries (while supplies last) will be available each day.
Enjoy casual dining with a picturesque view of Pittsburgh's best backyard. Sample savory lunch options, daily afternoon teas, curated coffees and cocktails, and more!
NEW:
Skip the line and order ahead! Online orders are available every day The Café at the Frick is open.
Order Online
Share the joy of a trip to The Café at the Frick with our gift cards! Treat your loved ones or yourself to a delicious meal in our garden getaway.
Purchase gift card
We've received a lot of inquiries about the current business model and future of the Café. We thank you for your continued support and hope to answer some of your questions below.

Why did you change the Café? Wasn't it already perfect?
The atmosphere is magical, and we are committed to keeping it so. But certain aspects of the Café's pre-COVID business model didn't serve all of our visitors as well as they should. The adjustments we've made address some specific challenges:

In the past, the Café served a small number of people very well, but the great majority of our visitors not at all. During our busiest months, from April to December, the Café was been fully booked at lunchtime days in advance. We routinely turned away two, three, and even four times as many people as we could seat. Without an opportunity for rest and refreshment, many visitors left the Frick before they could experience all we have to offer.

By expanding our open hours, we hope to increase the number of visitors we can serve. From quick-and-easy delights to special-occasion indulgences, we are aiming to meet the needs of as many of our visitors as possible.
STARTERS
CHEESE BOARD
Three varieties of cheese, honey, berries, crostini
CHARCUTERIE BOARD
Three selections from Parma sausage, olives, gherkins
CELEBRATION BOARD
A wonderful combination of our cheese and charcuterie selections
SESAME SEED SEARED AHI TUNA
Sticky rice, soy sauce, wasabi
SHRIMP COCKTAIL
Lemon, cocktail sauce
BRUNCH
LIEGE BELGIAN WAFFLES
With strawberries, house-made clotted cream
SMOKED SALMON FLATBREAD
Chilled smoked salmon, diced egg, red onion, capers, fresh dill, and cream cheese on a toasted flatbread
QUICHE LORRAINE
Bacon, onion, Swiss, gruyere
ALMOND CROISSANT
DONUT HOLES
Cake donuts, choice of: glazed, powdered sugar, cinnamon sugar, hot honey, plain
SOUP & SALAD
SCRATCH MADE SOUP
CAFÉ CAESAR SALAD
Romaine, shaved Parmesan, croutons, classic dressing
Add grilled chicken, smoked salmon, chilled shrimp, or sesame seed seared tuna
CAFÉ HOUSE SALAD
Mixed greens, cucumber, tomato, olives, carrots, pepita, balsamic vinaigrette
CRAB CAKE SALAD
Jumbo lump crab cake, arugula, shaved parmesan, lemon vinaigrette, Old Bay aioli
LUNCH



FLATBREADS
Choose from one of the following:
Plain
Pepperoni
Red pepper hummus, spinach, hot honey
Chicken, fresh mozzarella, spinach, balsamic
Tomato, mozzarella, basil, balsamic, sea salt
*Gluten-free crust available for additional charge
SANDWICHES
All sandwiches come with chips and a pickle spear
TURKEY & SWISS
Roasted turkey breast, Dijon mustard, arugula, pretzel bun
GRILLED CHICKEN & PROVOLONE
Grilled chicken breast, provolone cheese, pesto, tomato, leaf lettuce, croissant roll
ROAST BEEF & MONTEREY JACK
Caramelized onions, crimini mushrooms, spinach, French style hoagie bun
VEGETABLE WRAP
Romaine, red pepper hummus, tomato, carrots, cucumber, arugula
AFTERNOON TEA
Choice of two finger sandwiches, choice of scone, house-made clotted cream, jam, sweets, and your choice of loose-leaf tea
Please inform your server of any food allergies and/or dietary restrictions.
Consuming raw or undercooked meats, poultry, seafood, shellfish, or eggs may increase your risk of foodborne illness, especially if you have a medical condition.
COFFEE & TEA

LA PRIMA
Espresso, cappucino/latte, cold brew, drip

HARNEY & SONS LOOSE-LEAF TEA
Black Tea
Apricot, Chai, Chocolate Mint, English Breakfast, Helen's Earl Grey (Regular/Decaf), Frick (Assam, Keeman, Ceylon, Oolong), Paris, Rose, Russian Country

Herbal & Green
Chamomile, French Super Blue Lavender, Ginger Licorice, Peppermint, Raspberry, Tokyo


BEVERAGES

NON-ALCOHOLIC
Iced Tea
Brazilian Lemonade
Lemonade
Arnold Palmer
Soda
Bottled Water


FRICK HOUSE WINES
Pinot Grigio | Chardonnay | Bubbles
Pinot Noir | Cabernet Sauvignon

BEER
Stella Artois
Bell's 2 Hearted
East End Big Hop
Seasonal

COCKTAILS
Frick 75
Bellini
Mimosa
Spiked Brazilian Lemonade
Bailey's & Mint Hot Chocolate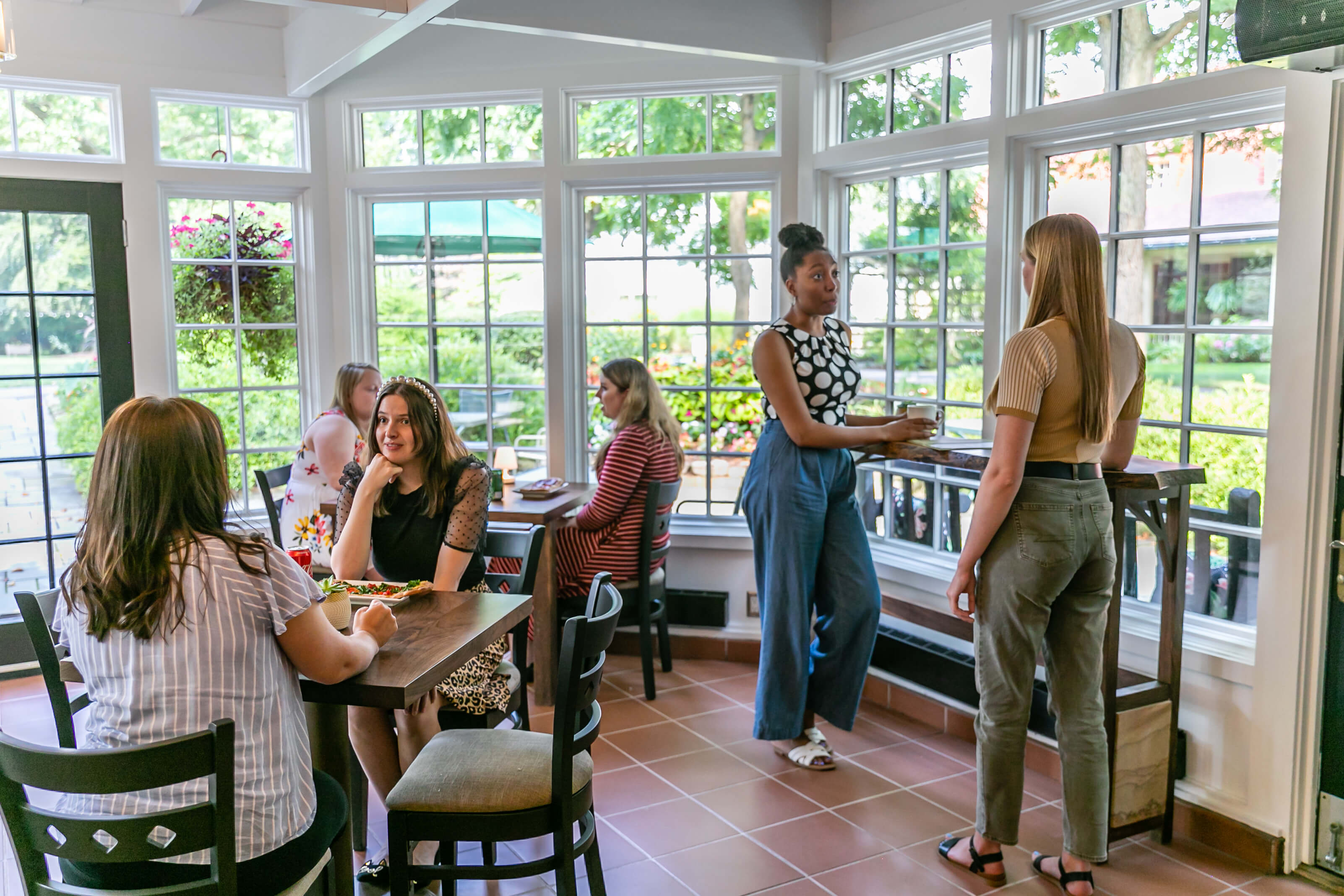 Hours
Tuesday–Sunday
9:30 AM–3 PM
Reservations not accepted.
The Café is wheelchair-accessible and has single-stall all-gender restrooms.
We're hiring!
Learn more
here
.