Meet Mrs. Peacock
An opulent example of Gilded Age portraiture, the full-length society portrait painted by Raimundo de Madrazo in 1902 has recently emerged from conservators' studios to take the spotlight in a focus installation in the French Room at The Frick Art Museum.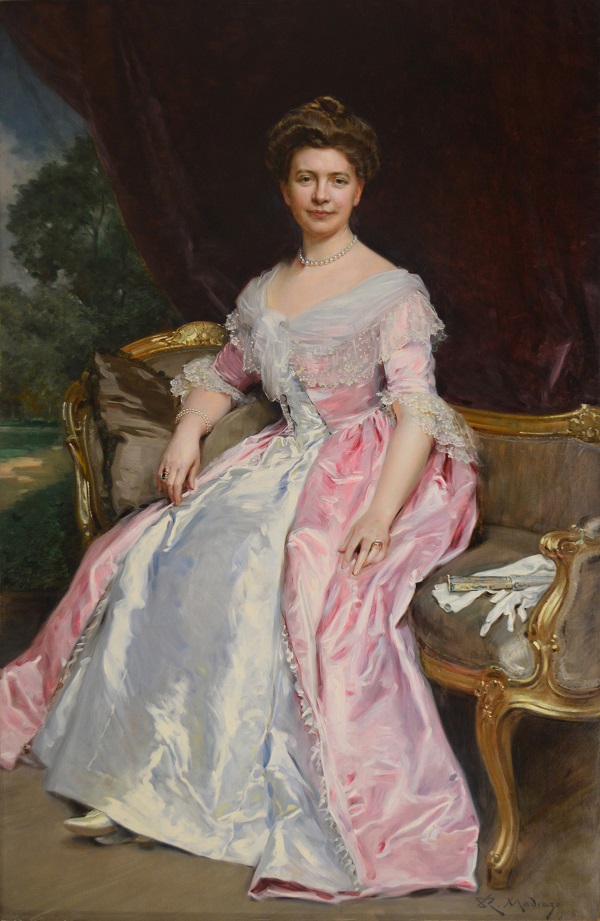 Raimundo de Madrazo (Spanish, 1841–1920). Portrait of Mrs. Irene M. Peacock, 1902. Oil on canvas. The Frick Pittsburgh.
Mrs. Peacock was a frequent presence in the society pages of Pittsburgh magazines at the turn of the twentieth century. She was born Irene May Affleck in Brooklyn in 1864. Her parents separated when she was a teenager and records suggest she worked as a shop girl in a New York department store. At the age of 21, she married linen salesman Alexander Rolland Peacock (1861–1928).
Mr. Peacock came to the United States from Dunfermline, Scotland (the birthplace of Andrew Carnegie). Rumor has it his Scottish accent caught the attention of Mrs. Carnegie in the department store where he worked. She mentioned him to her husband, who was impressed by Mr. Peacock's enterprising ability. Mr. Peacock joined Carnegie Steel Company in 1889 as a clerk in the purchasing department, after being officially hired by none other than Carnegie Chairman, Henry Clay Frick. The young couple moved to Pittsburgh and Mr. Peacock quickly ascended the ranks of the steel empire, eventually becoming a vice president and shareholder.
When Carnegie Steel Company was sold to form US Steel in 1901, Mr. Peacock became one of the city's many newly minted millionaires. Mr. and Mrs. Peacock were near the top of Pittsburgh's social ladder, enjoying a lavish lifestyle while raising three boys and two girls. For a short time, the Peacocks were neighbors of the Fricks, living at the corner of Penn and Lexington Avenues from 1897 to 1901 (The home has since been torn down, but the stables remain on The Frick Pittsburgh's site and now house administrative offices). In 1901, the Peacocks constructed a new home on North Highland Avenue in Highland Park. The palatial estate was designed by renowned architectural firm Alden & Harlow (who also made additions to the Frick home and grounds in 1897).
R. W. Johnston. Rowanlea, the Peacock residence, c. 1904. Image courtesy of the Peacock family.
In 1902, the Peacocks commissioned Raimundo de Madrazo to paint their portraits, cementing their position among the cultured, affluent elite of Pittsburgh. Mrs. Peacock's portrait focused on her physical beauty and refinement. She is caught in a moment of dignified repose. She sits elegantly on a gilded French sofa, adorned in pearls, jewels, lace, and satin. A gracious smile plays on her lips but the overall effect is one of poised grace.
The portraits were unveiled at a 1902 housewarming reception at their new home, Rowanlea, where they greeted guests from a conspicuous position in the entry hall. Numerous newspapers reported on the extravagant party, which 800 people purportedly attended. Attendees had the chance to ogle the many rooms of the four-story mansion as well as the grounds, which included stables and a well-stocked conservatory filled with exotic flowers and plants. Mrs. Peacock received her guests wearing the same pink satin gown in which she had sat for her portrait. Clearly, no expense had been spared in planning the party, nor in building the dazzling mansion (later critics would deem Rowanlea "showy" and "elephantine").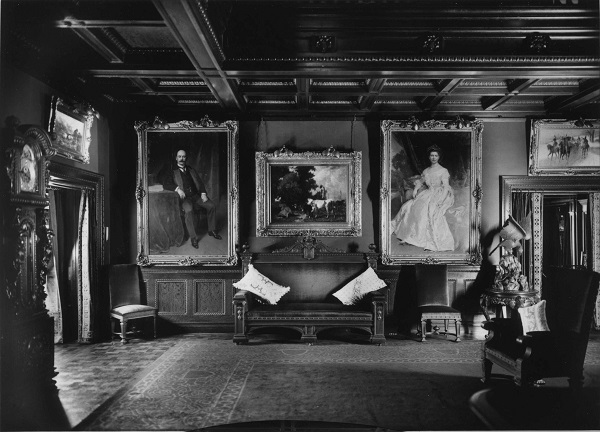 R. W. Johnston. Entrance hall of Rowanlea, the residence of Alexander and Irene Peacock showing the portraits by Madrazo, c. 1904. Image courtesy of the Peacock family.
The portraits by Madrazo joined the Peacocks' art collection, which included Barbizon landscapes and works by Henri Fantin-Latour and William-Adolphe Bouguereau. Sadly, this rich collection was sold in 1921 after the Peacock fortune had dwindled and the couple returned to New York. Rowanlea was razed a few years later. Mr. Peacock died of pneumonia in 1928 while Mrs. Peacock lived to be 83 and passed away in 1947.
At some point, the portrait came into the possession of the Pittsburgh History and Landmarks Foundation. Architectural historian James van Trump described it as "showing the erstwhile chatelaine of Rowanlea, enthroned in pink satin; it is an expansive document of Edwardian luxe." Indeed, the portrait of Mrs. Peacock is a sumptuous example of the Gilded Age, a period that witnessed a resurgence in the taste for portraiture due in part to the amassing of industrial fortunes. Portraits were a form of social capital for those with the money, time, and wherewithal to commission them, a way to document and highlight their status and affluence.
Mrs. Peacock's portrait stands as such a document and provides a unique opportunity to examine one portrait from a number of perspectives. Stay tuned for future blog posts with more information on the Peacock family, the artist, Raimundo de Madrazo, and the recent conservation efforts that have restored the painting and its frame to their original splendor.
Further reading:
"A Reception at Rowanlea."
The Pittsburgh Press
. November 11, 1902. 14.
"Happenings in Society's Realm."
Pittsburgh Daily Post
. November 16, 1902. 17.
"Society in Pittsburgh and Allegheny."
The Pittsburgh Press
. November 16, 1902. 10.
Van Trump, James D. "Peacock's Pride: An East Liberty Millionaire Mansion of the Early 1900s" in
Life and Architecture in Pittsburgh
. Pittsburgh, PA: Pittsburgh History and Landmarks Foundation, 1983 (273–276).
Weisberg, Gabriel P. and DeCourcy E. McIntosh.
Collecting in the Gilded Age: Art Patronage in Pittsburgh, 1890–1910
. Pittsburgh, PA: Frick Art & Historical Center, 1997.