Revive, Remix, Respond Artist Spotlight: Mara Superior
Massachusetts-based artist Mara Superior's artistic practice is rooted in her love for art history and a desire to remix historical imagery for contemporary sensibilities. As such, she was an ideal artist to invite to participate in
Revive, Remix, Respond: Contemporary Ceramic Artists and The Frick Pittsburgh
. In the artist's own words: "My passion for art history and the history of the decorative arts has informed my work throughout my career. I seek to create beauty through the reinterpretation of historical inspirations synthesized with my own visual vocabulary and contemporary views. The resulting objects are rooted in the historical continuum."
While contemplating the Frick's collection, Superior was particularly attracted to examples of porcelain with blue-and-white decoration. She decided to make a miniature collection using three Kangxi-style vases as her departure point.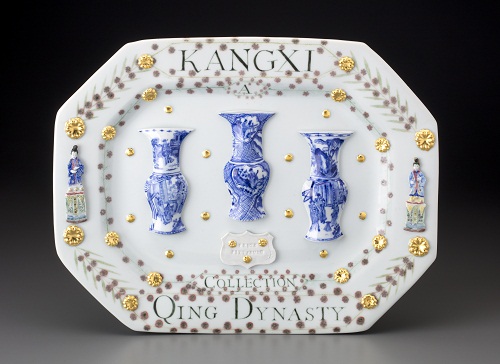 Mara Superior (American, b. 1951). Kangxi Period, Qing Dynasty/A Collection, 2018. Porcelain, underglazes, oxides, glaze, and gold leaf. Courtesy of the artist and Ferrin Contemporary.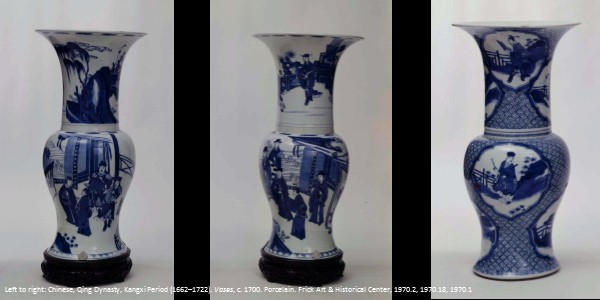 Kangxi Period, Qing Dynasty/A Collection reflects the centuries-old allure of blue-and-white porcelain. The artworks pairs Superior's fine craftsmanship with her trademark sense of wit and whimsy. The platter serves as a canvas for her incredibly intricate under glaze painting. The platter itself is press-molded and then the hand-modeled vases and figures are applied before being hand-painted. The progress photos show the level of detail that goes into Superior's process. Each element of the original vases is replicated in charming miniature detail. The figures on the side of the platter were inspired by two large-scale figures that also belonged to Henry Clay Frick and are in The Frick Collection in New York .
Superior, like many other artists working with ceramics, draws inspiration from the rich heritage of the medium itself. This work references the role of Chinese porcelain as one of the world's most desired trade goods and the first global commodity. By the 1500s—after Portugal established trade routes to the Far East—Chinese potters began to produce objects specifically for export to the west. Porcelain arrived in Europe along with other exotic rarities like tea, silk, and spices via the Silk Road and burgeoning sea trade routes. Royals and aristocrats collected voraciously, often adorning their palaces with porcelain rooms, lined floor to ceiling with the "white gold." The Kangxi period of the Qing dynasty was a particularly fruitful and innovative period of production, as well as the height of a European craze for Chinese porcelain.

In a second work, Superior has reimagined Charlotte-Marguerite de Montmorency, Princess of Condé (whose portrait by Peter Paul Rubens circa 1610 is part of The Frick Pittsburgh's permanent collection) as an ardent porcelain collector, zealously clutching a Kangxi-style vase in her arms.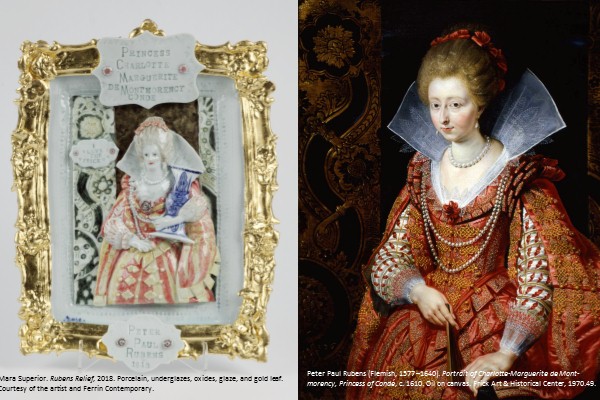 The below photos illuminate Superior's process of building up the princess form and the ornate decoration of the frame in low-relief. The Princess' name, the artist, and the date were added in Superior's signature stamped letters. The underglaze decoration is then applied to the surface before it is glazed and fired. The final touch was adding gold leaf to the frame. As we watched progress on the piece unfold on Superior's Instagram feed (@mara_superior), we noticed that she had added an additional plaque that read "I love the Frick." The feeling is mutual.

See
Revive, Remix, Respond
before it closes on May 27, 2018