Aurora Borealis. My First Muses.
As the Maker & Muse exhibition comes to a close, guest labelist Tereneh Idia reflects on her early muses. Reserve your ticket to see this stunning exhibition, including a creation from Tereneh in the Made In Pittsburgh gallery, before it closes.
Aurora Borealis.
It sounds like the name of a character in one of Nnedi Okorafor's Black futuristic science fiction novels.
The first time I heard these words
aurora borealis
was when Ella Fitzgerald sang the words Johnny Mercer penned to the instrumental composed by Lionel Hampton and Sonny Burke,
Midnight Sun
.
"Each star its own aurora borealis / suddenly you held me tight / I could see the midnight sun."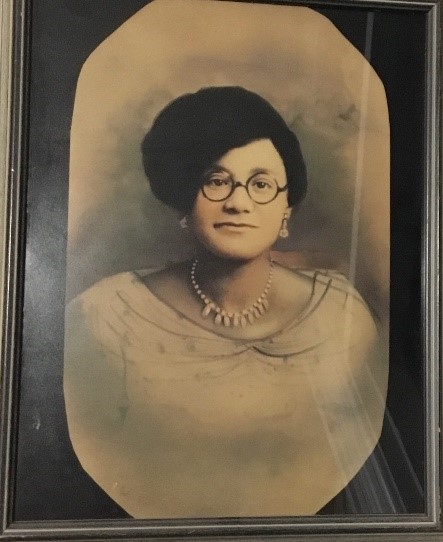 Helen Fagan, 1926.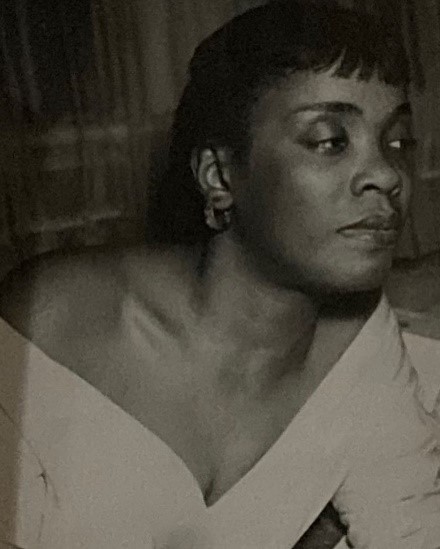 Aunt Bea.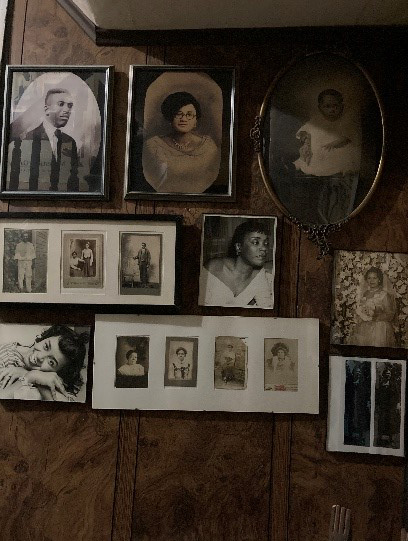 Family portrait gallery.
The second time I heard the words
aurora borealis
, my grandmother Helen Fagan was describing the earrings on her bedside table. They were "aurora borealis and pearls," she told me—this must have been the late 1970s or early 80s. Every time my family would visit her and my Aunt Beatrice at their shared home in Akron, Ohio, I would look for all of the aurora borealis jewelry I could find, earrings, necklaces and brooches abound.
The aurora borealis is the polar lights also known as northern lights. There are southern lights too, depending on where you are looking up, into the cosmos. The crystals that share that same name have the same solar night rainbow effect—blues, purples, greens, golds. I couldn't get enough of them.
When I think about the muses that fuel my creative and personal styles, I have to begin with my aunts and grandmother.
Helen, my grandmother, she was more of a Victorian-shaped-by-the-Depression-era type; not very huggie-feely, but very industrious. Aloe plants in the house for cuts and burns and could recreate any outfit she saw in a department store window from scratch. Had an infectious laugh and wonderful sense of style. She went from West Virginia to Pennsylvania, from farm to coal mining town. Number Five Mine, Pennsylvania. Where my grandfather worked. From her, I learned the importance of timeless style.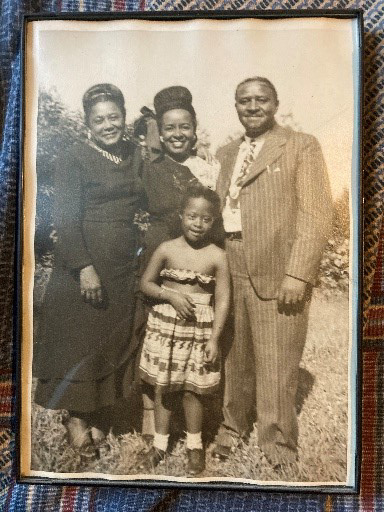 Grandma, Aunt Margaret, Grandad, and Sonja Jean.
Beatrice or Aunt Bea, as we called her, was so beautiful and could sing, really sing. Though I didn't hear her in her heyday, family lore says she would have been one of the great jazz singers of her day. It is a shame. I wish there were recordings of her. She was so shy. Looking at old photographs, even now, I just stop in stunned silence at how beautiful she was. I love her quiet just below the surface sensuality of her eyes. Aunt Bea inspires a sense of mystery in my designs. To imbue a desire to know exactly what the top curve of the right shoulder looks like under that billowy, hemp silk sleeve.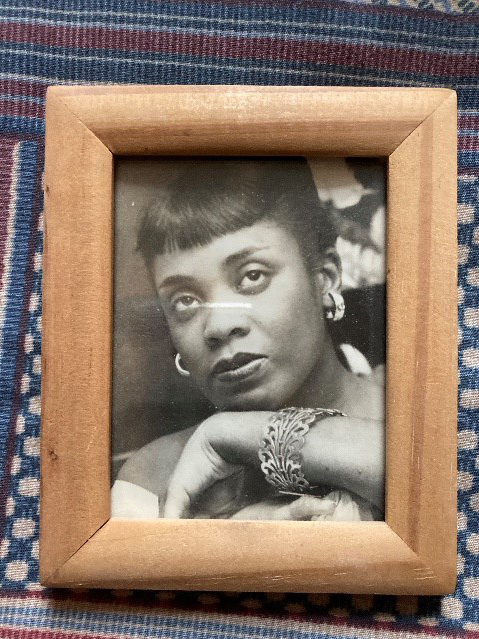 Beatrice Mosley.
Margaret, well, my Aunt Margaret was just an angel on earth. An angel. I do not know if I can think of anyone who is as generally happy, kind, and compassionate as my Aunt Margaret, other than my sister Lorna. Aunt Margaret was the most "mothering" of my aunts in that sense of absolute nurturing spirit. She baked—her 7-Up cakes, wow. I can still smell and taste them decades later. Aunt Margaret inspires me to want to design with a sense of caring for whoever wears what I make. A hope that people feel and experience as much joy as possible when they wear anything that I create.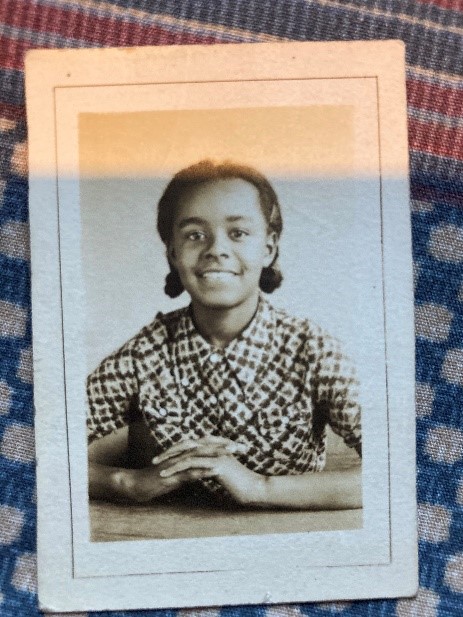 Margaret Mosley, school photo.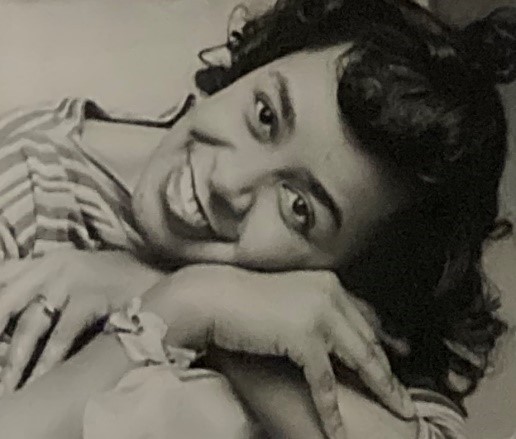 Aunt Margaret.
Orvetta or Aunt Vette, well arguably the most beautiful of the sisters. If there is a "most." She was the funniest. She had a sharp wit. Like a whip. She would just smile and say something that would make your ego, id, super ego, and part of your face hit the floor. Boom. And then you would look up and see this smiling beautiful face. Leaving you wondering if what you think happened actually happened. Well whatever, you stand up and go for more. Aunt Vette had a sense of playful and biting humor I hope that is also felt in some of the work I make. Why take it all so seriously?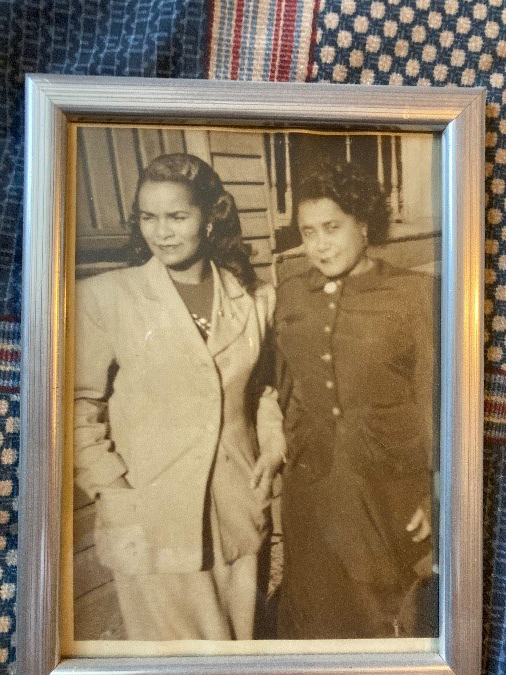 Aunt Orvetta and Grandma Helen Fagan.
Corliss. Aunt Corliss lived in Colorado. Grandma, Bea, and Margaret lived in Ohio. Aunt Vette lived in Buffalo, so we saw them more often. Aunt Corliss was someone I saw only a few times in my life. Though I did spend time with her in Colorado when I moved from New York to Seattle, Washington. When I think of Aunt Corliss, I think of pearls and harsh truths about yourself, if not about herself. She loved Denver, Colorado—the clean crisp air and high altitude suited her view of the world. From Aunt Corliss I learned a sense of utility, it can look good but it also has to work well or it's not worth the time, fabric, thread, and electricity to make.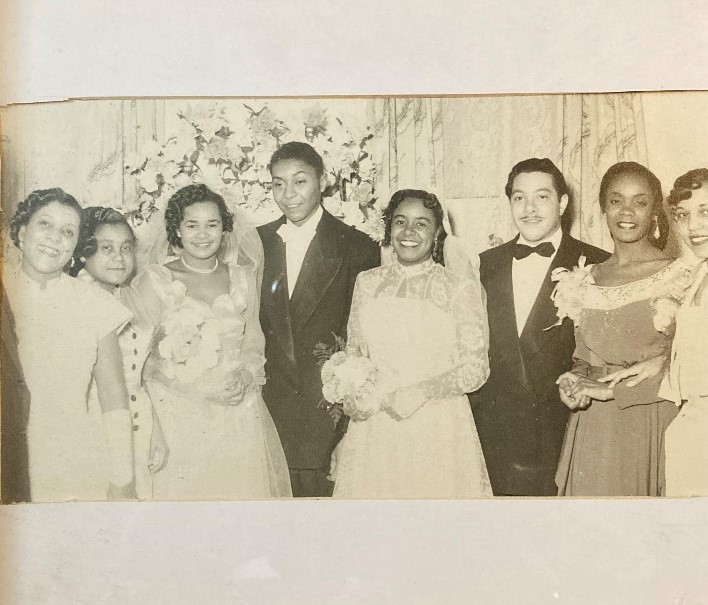 Unknown woman, Grandma Helen, Aunt Orvetta (bride), Margaret, unknown man, Aunt Bea.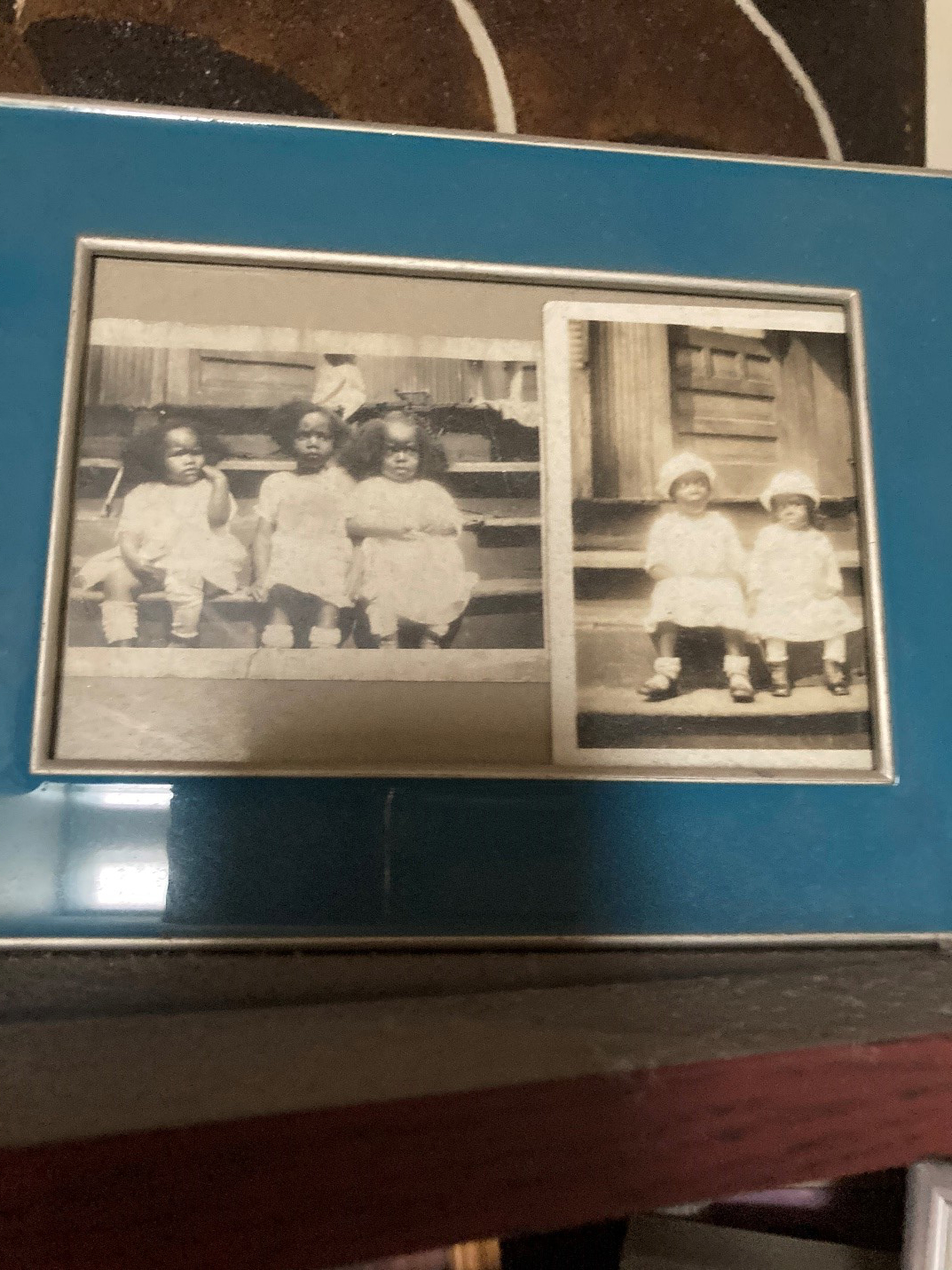 Orvetta, Bea, and Margaret Mosley in Elbon, PA. Photo: Mosley Family Archives.
All in all, the stylishness, complexity, contradictions, and even cosmopolitan style from these Pennsylvania country girls from Elbon, PA, who were then a coal miner's daughters—Frick's Number 5 Mine to city girls. Akron, Buffalo, Denver tell a tale of style evolution born of dreams and determination if not means.
Show the world who you are, let your aurora borealis shine whereever you go.