HollyTale II, Three Nations, One Necklace
To begin I should tell you who Holly is and who is Tale. Holly Gibson is an artisan and master beader of the Oneida Indian Nation of New York. Tale Leah is a master beader of the Olorgesailie Maasai Women Artisans of Kenya (OMWA). I am Tereneh Idia of Pittsburgh, the founder and designer of Idia'Dega, a Pittsburgh based eco-design company.
I am also the reason that we all work together. Idia'Dega is a collaboration of women artisans, a true collaboration where we select a theme, a design based on that theme, and create together—apparel, accessories, and jewelry. One of our goals is to celebrate the innovation and creativity of women from all over the world as well as our sometimes-surprising shared heritage. Before the COVID-19 pandemic we made and presented two collections a year, we have shown our work in New York City, Nairobi, Copenhagen, Paris and Pittsburgh.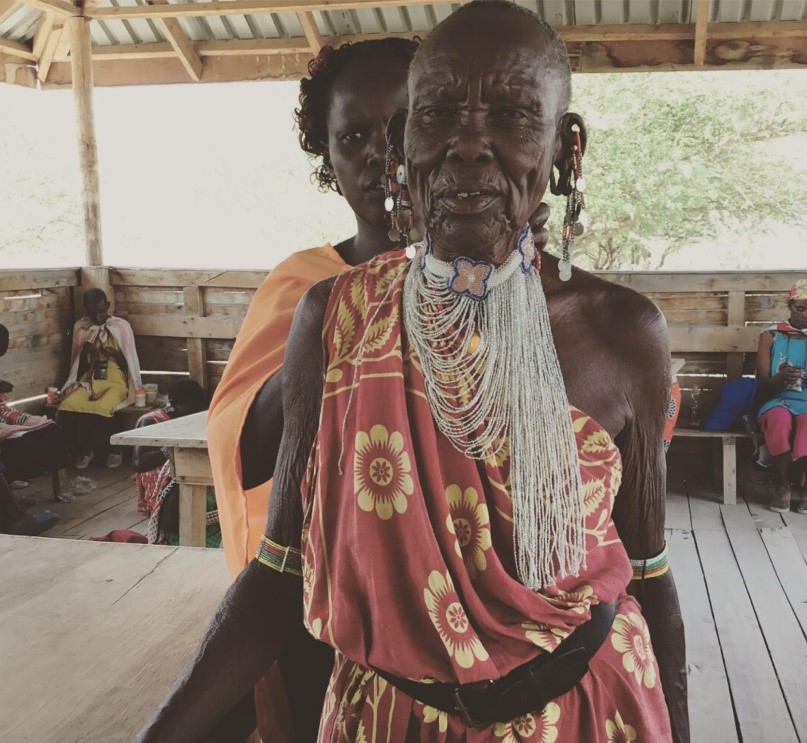 Elizabeth Kilakoi places Holly Tale II necklace on Tale Leah in Olorgesailie Maasai Women Artisans shop and studio in Olorgesailie, Kenya.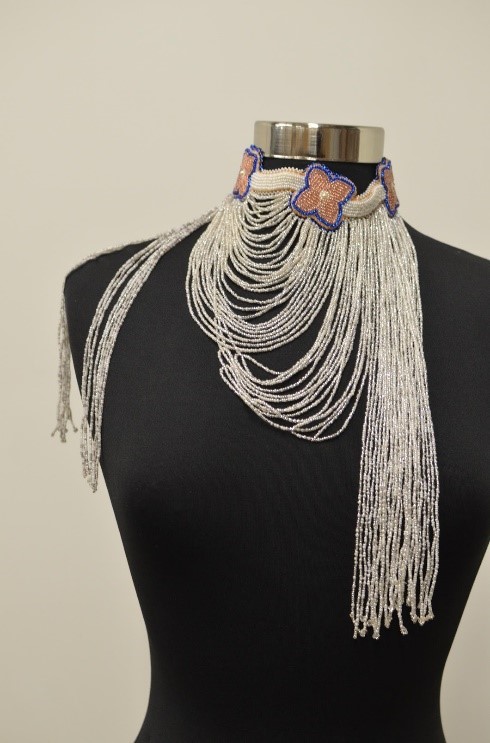 HollyTale II rose gold and blue-lined three floral design on salvaged deerskin in Oneida Indian Nation with cascading and draped white glass beads on recycled thread and recycled ribbon.
This HollyTale II necklace, currently on display at The Frick Pittsburgh in the Made in Pittsburgh section of the
Maker & Muse exhibition
, is part of an evolution of design that began with the HollyTale I necklace. This piece was made for the Spring 2018 Blue Collection; blue is Mary Cook's favorite color—she is another artisan of the Oneida Indian Nation. When we talked about blue and its meaning for the Oneida, natural elements of Earth—water, air, rain—were all discussed. When the Oneida artisans and I talked with the Maasai in Olorgesailie (a small village of geological and anthropological importance in Eastern Kenya), we talked about what blue meant to them.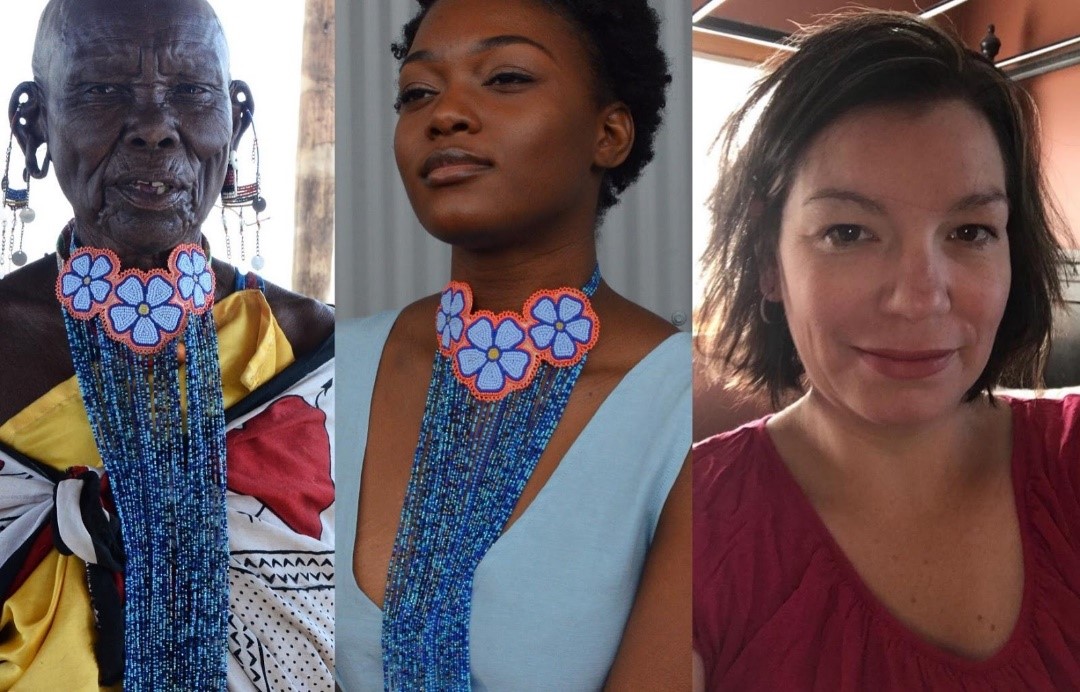 HollyTale I blue flower beaded necklace on salvaged deerskin in Oneida Indian Nation with blue, white, and black cascading glass beads, recycled thread, and recycled ribbon. From left: Tale Leah, model Rayne Elise, and Holly Gibson.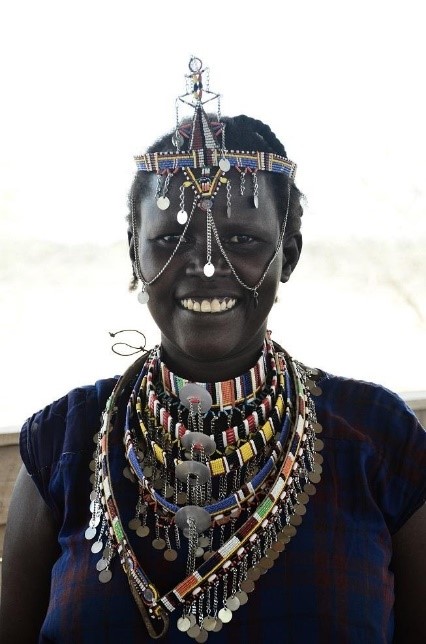 Mary Cook (left) and Elizabeth Kilakoi (right).
It is important to pause here and explain. The Maasai tribe is one, but also many—made up of approximately 1 million members, the color blue may mean something different to a Maasai in other parts of the Serengeti, which covers both Kenya and Tanzania.
Kilakoi explained that blue to the Maasai in Olorgesailie has a special meaning—open and generous. So, if a visitor or guest of the tribe is particularly generous, the Maasai women will place a blue bead in the center of a bracelet for them to wear. So, if you see the visitor wearing it one would say, "Oh, I need to borrow $20, I can ask them."
And then, there is me. As an African American I was thinking of blue as the Blues, a music steeped in traditions from West Africa, through the Caribbean, Appalachia, and Mississippi. The Blues as medicine and story. The Blues as joy and pain. So, all of that went into the Blue Collection—Oneida, Maasai, and African American women's heritage, history, and culture.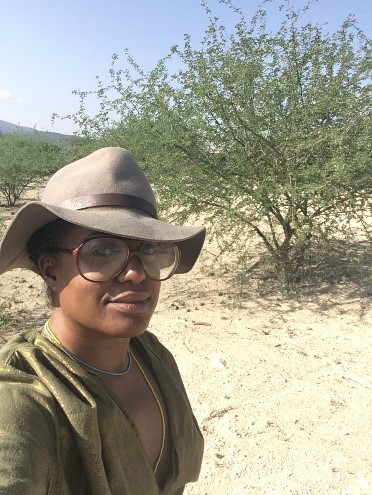 Tereneh Idia in Kenya.
The first HollyTale necklace, infused with the meaning of blue from three cultures, now in private collection, was a celebration of rain. Every time I went to Olorgesailie, an arid location in the South Rift Valley of Kenya, it rained. The Maasai said it was a blessing for our work.
But it was not an easy collaboration at first. Based on the ideas inspired by and various meanings of the color blue, Holly Gibson made a flower piece and sent it to me. It was stunning—blue flowers on deerskin. I took it with me to Kenya. When Tale Leah saw it she said, "It is already so beautiful, what can I add?!" When Kilakoi translated an idea for a necklace with rain or waterfall from the flowers she was like "How many beads?!?" As in, "What are you talking about lady?!' But in the end it is one of the most beautiful pieces we have made.
HollyTale II is another. This collection was based on the theme of Stone Silk Skin: The Topography of Humans and Earth. All of us—Maasai, Oneida, and African Americans—are on contentious land. The Maasai are losing their traditional lands, the Oneida have been displaced generations ago, and African Americans are, well, where do we call home fully home?
HollyTale II is a necklace that drapes across the chest, the back, and the neck; it is meant to envelope and protect the wearer. It is the silhouette of the hills and valleys of Pittsburgh and Olorgesailie, as well as the outline of Oneida Lake, now a New York State park.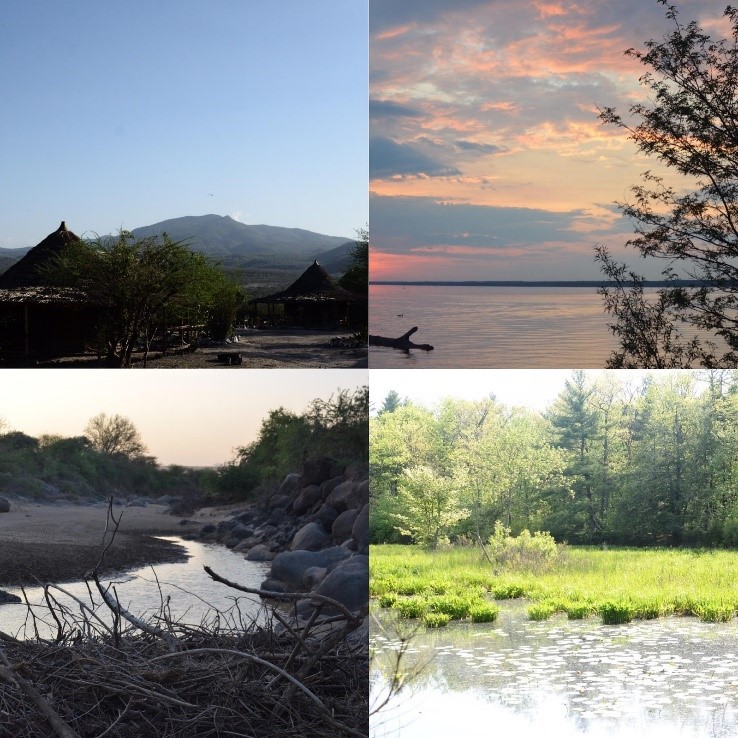 Clockwise from top left: Olorgesailie banda (hut) site with Mt Olorgesailie in background; Oneida Lake, New York; Olorgesailie river bed; pond near Oneida Lake, New York.
It is white, pearl, and clear beads like the dreams of space—land that is belonging of us, not for us, but of us. Earth cannot function without air, so the air is also part of the necklace, the same in between that creates the shape of us, of earth.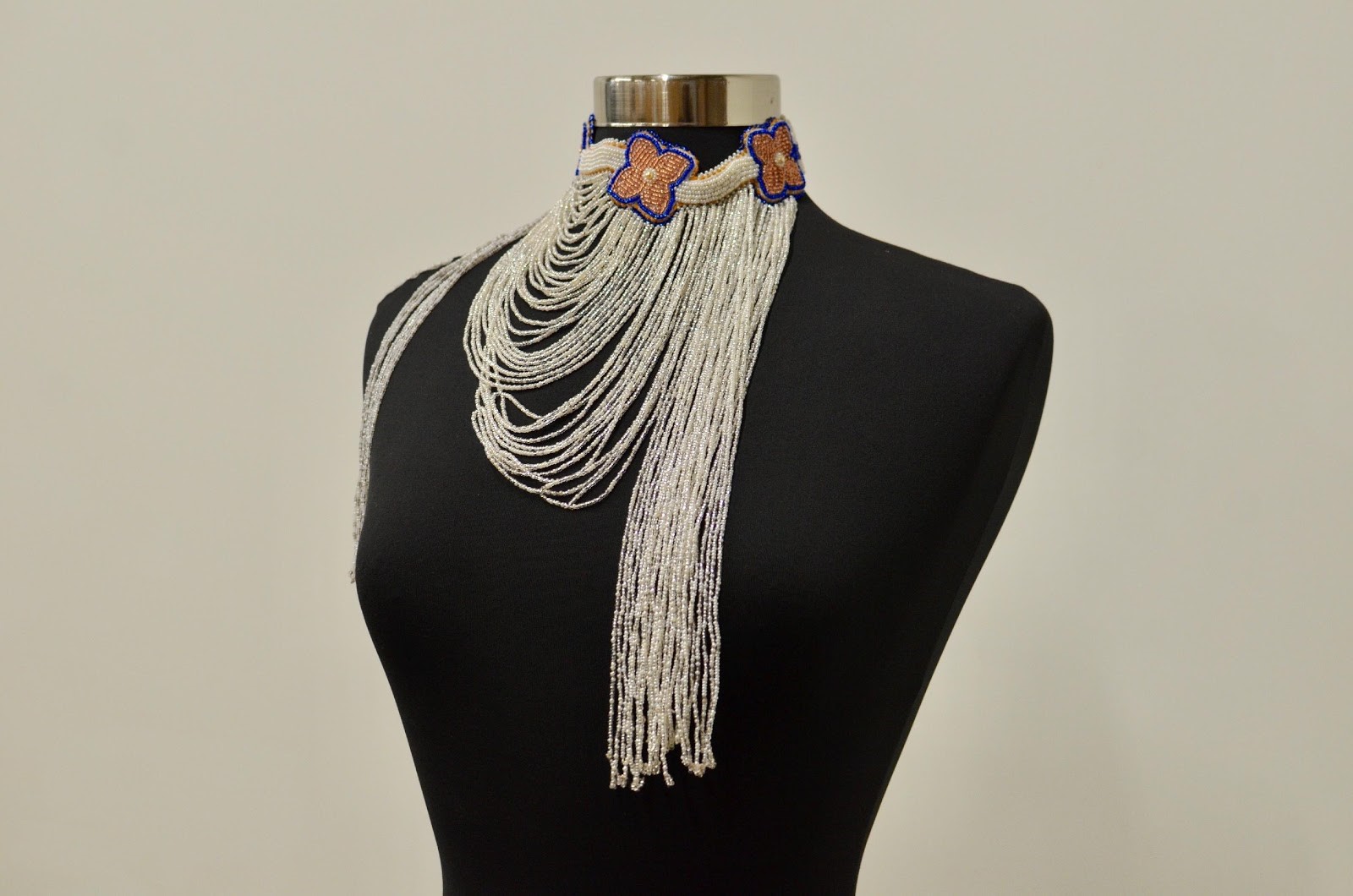 HollyTale II necklace.
Stone Silk Skin. It is also the silhouette and curves of the human form, both men and women have curvature of their body. In the Maasai community the men wear less clothing so you actually see more of them than the women, so this necklace is as much a celebration of men as it is women.
If you ever get a chance to wear the necklace, I hope you do. My favorite thing about it is that it moves differently than other jewelry. The back sometimes becomes the front. The cascading shoulder rarely ever stays right where you want it to, but the sensuous fall, beads on the skin, so lovely.
Finally, there is something about this piece, although inspired by Topography, that is hard to place both in time and space. Is it something from the Art Nouveau period? Arts and Crafts? Where was it made? By whom?
It was designed and conceived in Pittsburgh, made in Pittsburgh, Oneida Indian Nation, and the Olorgesailie Prehistoric Site, the Maasai Village in Kenya. Three nations, one necklace.
The HolyTale II will be on display at The Frick Art Museum through September 27. Reserve your tickets for the
Maker & Muse
exhibition
here
.