Driving Herself: Adelaide Howard Childs Frick's Love of Horses
If you visit the Frick any time this summer, you can immerse yourself in all things horses. Through the paintings in the
A Sporting Vision
exhibition, you can study how galloping horses were depicted before Edward Muybridge's 1878 motion photography technique captured their moving gait or get lost in the crowd at the side of a busy racetrack. In the Car and Carriage Museum,
The Hunt for a Seat
exhibition brings the carriages and clothing of the
A Sporting Vision
paintings to life, manifesting the world of coaching that was popular in Victorian England and Gilded Age America.
If you visit
The Hunt for a Seat
exhibition in the Car and Carriage Museum, take a few minutes to look at the other carriages in the gallery, those that belonged to and were used by the Frick family between the 1880s and the early 20th century. During this period, you might have seen Mrs. Adelaide Frick at the side of a racetrack, or coaching in Schenley Park.
While all of the family members used horses and carriages in various ways, archival evidence reveals that Adelaide Frick was the most enthusiastic family equestrienne. She enjoyed both riding horses and taking them on carriage drives in the park. Horseback riding even played a role in the Fricks' courtship, for in 1881 Henry Clay Frick invited young Adelaide Childs for an evening ride.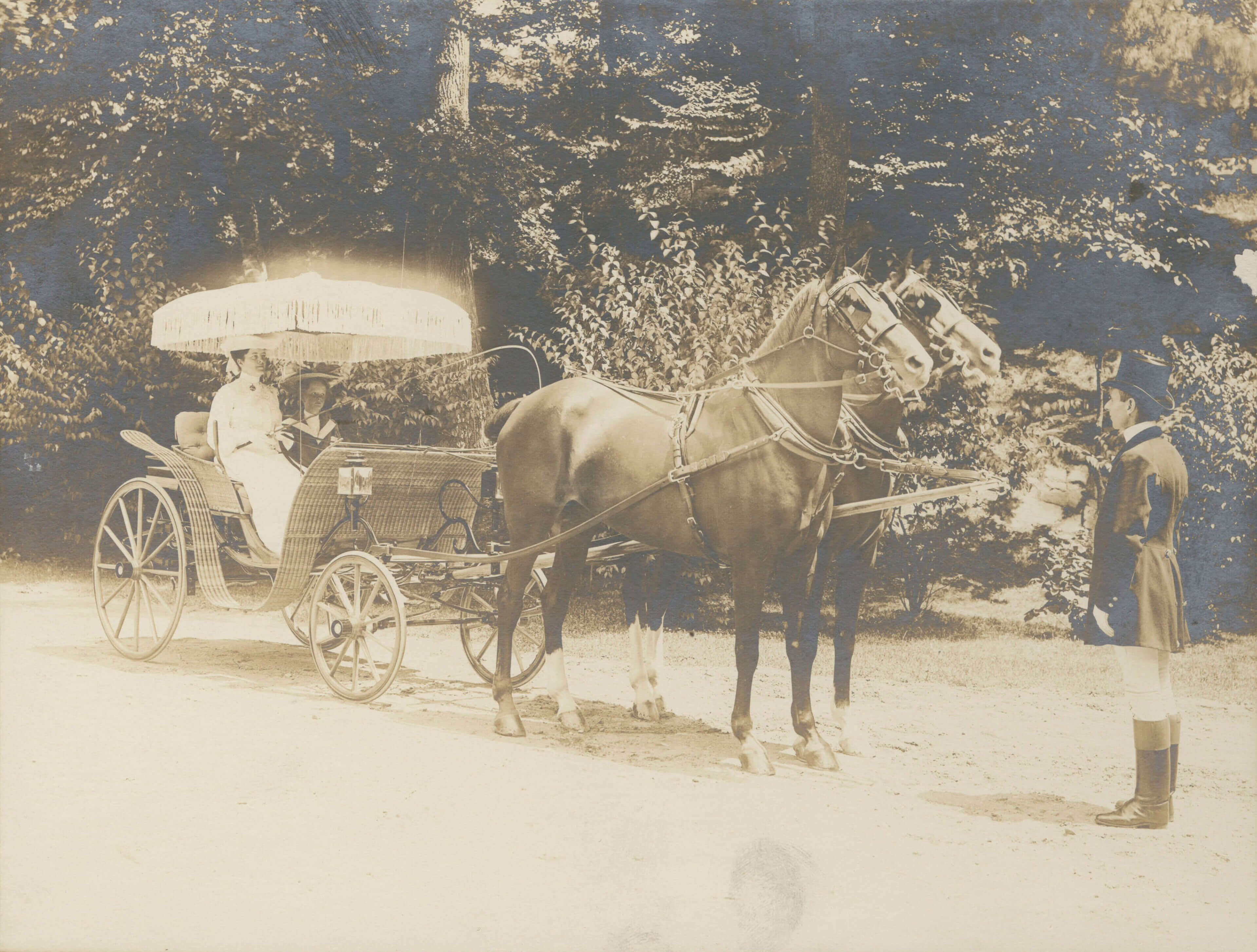 Adelaide Frick driving the Basket Phaeton Carriage with Helen Clay Frick, ca. 1902, Prides Crossing, MA. Unknown coachman pictured at right.
Photo courtesy of The Frick Collection/Frick Art Reference Library Archives.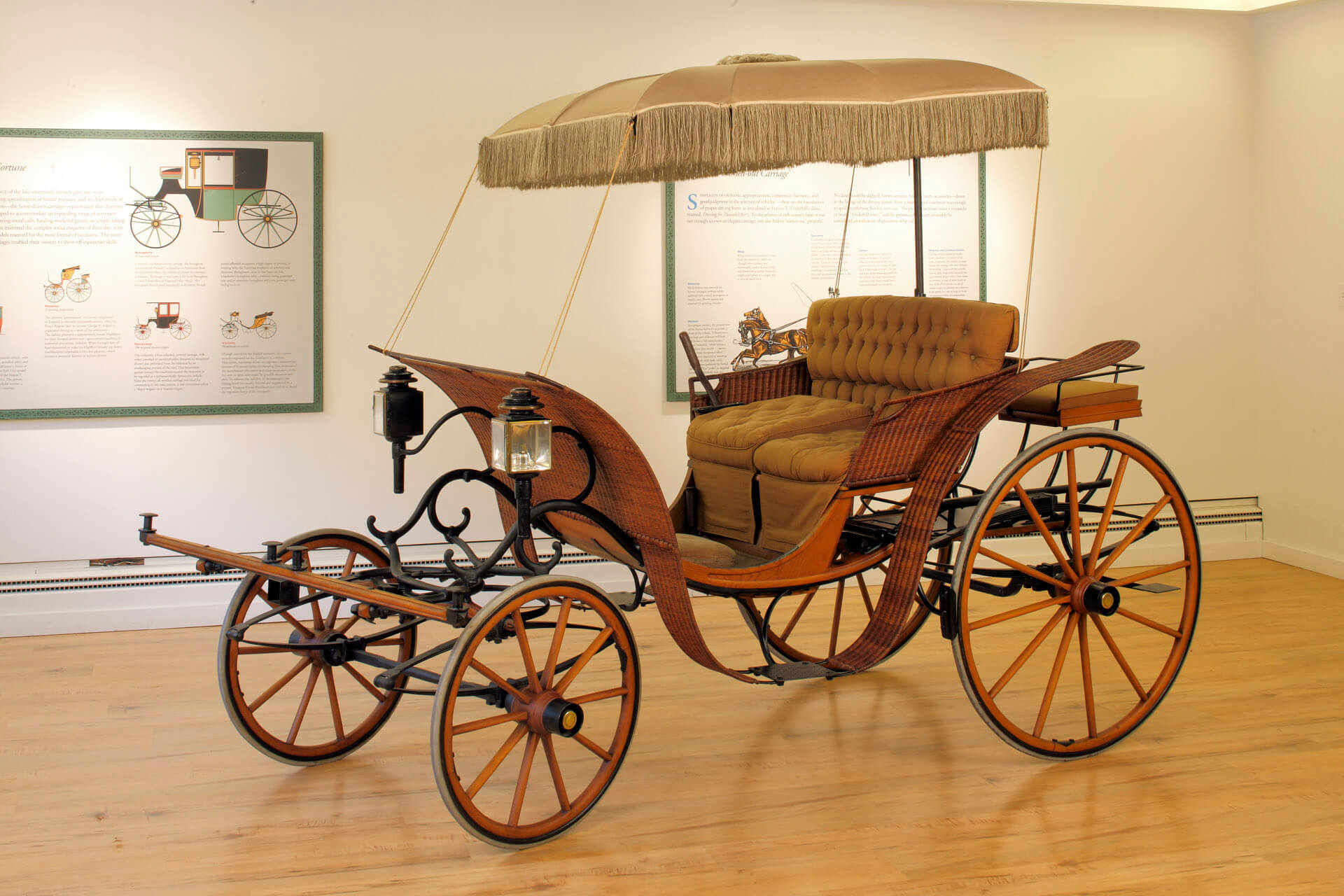 Brewster and Company, New York. Basket Phaeton Carriage, c. 1903. Frick Art & Historical Center, 1986.227.
On View at the Car and Carriage Museum
Horses were also a point of bonding between Mrs. Frick and her son, Childs. The Frick Art Reference Library in New York, where the Frick family papers are held, contains close to one hundred letters between Mrs. Frick and Childs, written while he was away at boarding school in the early 1890s. The topics of these letters were often the same—how the family was doing and how the pets and horses were faring. Childs Frick had a fascination with animals in his childhood and later went on to study paleontology and establish the Frick Laboratory of Vertebrate Paleontology at the American Museum of Natural History in New York.
From the letters, it is apparent that Mrs. Frick was particularly engaged with horses. In one letter she writes to Childs on the condition of a sick horse, "The carriage horse that was sick is getting a long rest and I hope to drive him this week." In another she mentions an independent carriage ride, "I took a long drive in Schenley Park this a.m. driving my own self." In still another letter, Mrs. Frick talks later about wanting to attend a horse show but being unable to because of important visitors, "I should like very much to attend the horse show in New York next week but it seems I will not be able to go. Mr. and Mrs. [Andrew] Carnegie are coming to Pittsburgh next week and I will have to be here."
Is it unusual that Mrs. Frick was an equestrienne? In the nineteenth century, horseback riding and carriage driving were popular hobbies for those who could afford it. It was an elegant hobby that, for the most part, was originally consigned to men. In the late nineteenth century, however, women more and more began to take up the activity, and acceptance of women riding sidesaddle became common. The magazine Rider and Driver, first published in 1891, brazenly claimed, "The girl who can ride horseback is the one who gets the fellows." The magazine encouraged riding as a form of exercise, contending it was superior to exercising in a gym because it provided an opportunity for fresh air.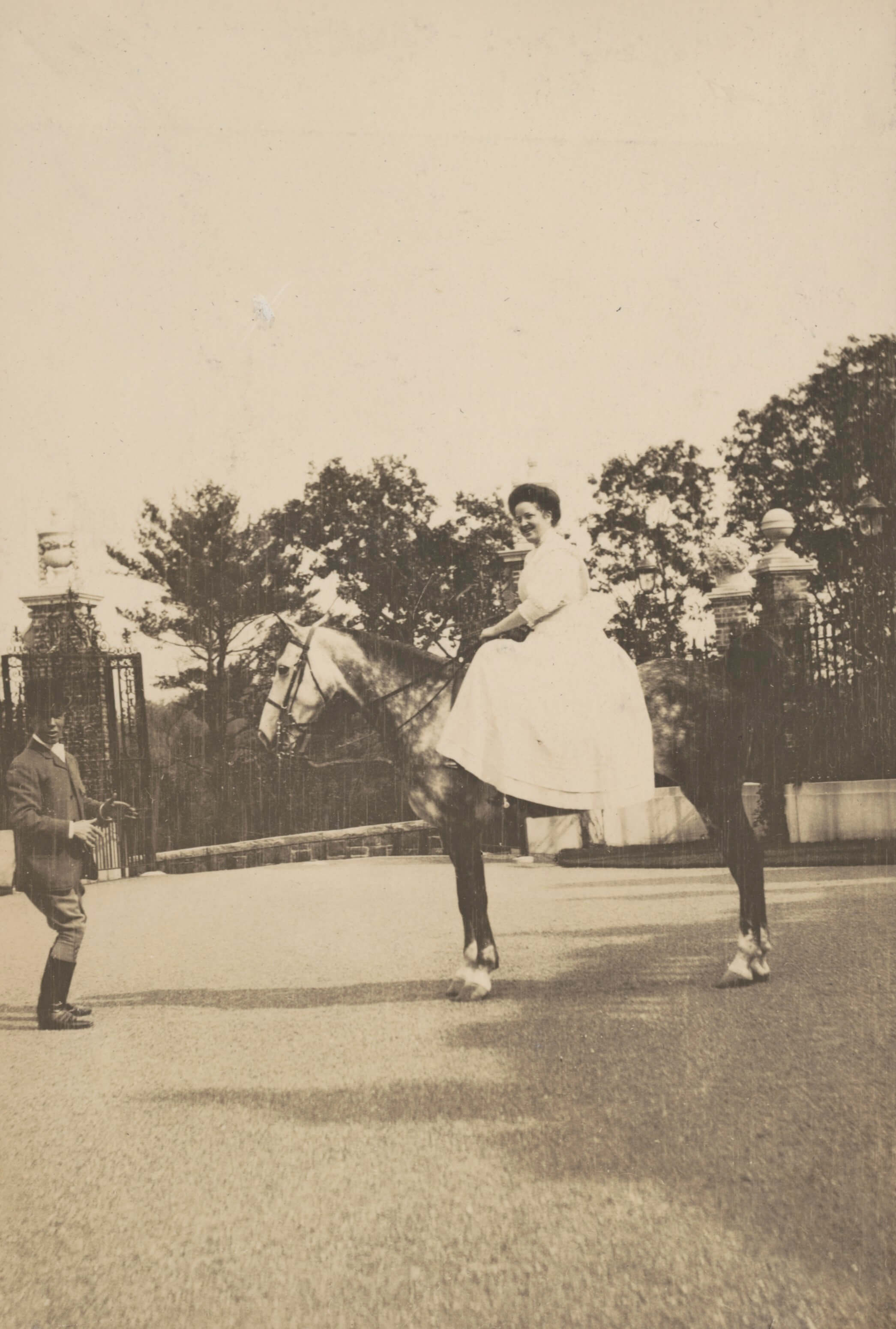 James Elmore (left) and Adelaide Frick (right), ca. 1906, at Eagle Rock, Prides Crossing, MA.
Photo courtesy of The Frick Collection/Frick Art Reference Library Archives.
This wonderful photo from ca. 1905 shows Mrs. Frick seated sidesaddle on a horse at Eagle Rock, the family's summer home in Prides Crossing, Massachusetts. To the left stands James Elmore, who began working as coachman for the Fricks in 1895. Elmore was an excellent coachman who cared for the family carriages and horses, managed the carriage house and stables, and oversaw both staff members and supply orders—no easy task for a full stable. When the Fricks left Pittsburgh for New York City in 1905, all of their horses and carriages, along with James Elmore and his wife, moved permanently to Prides Crossing. There, the family continued to enjoy their large collection of carriages in the rural setting, preferring automobiles for city life. Undoubtedly, Mrs. Frick continued her communications about horse and stable management with James Elmore long distance, and looked forward to visits to Eagle Rock, where she could spend time riding and driving the horses she loved.
A Sporting Vision
is on view at The Frick Art Museum through September 8th and
The Hunt for A Seat
is on view at the Car and Carriage Museum through November 3rd. Come delight in Mrs. Frick's favored pastime!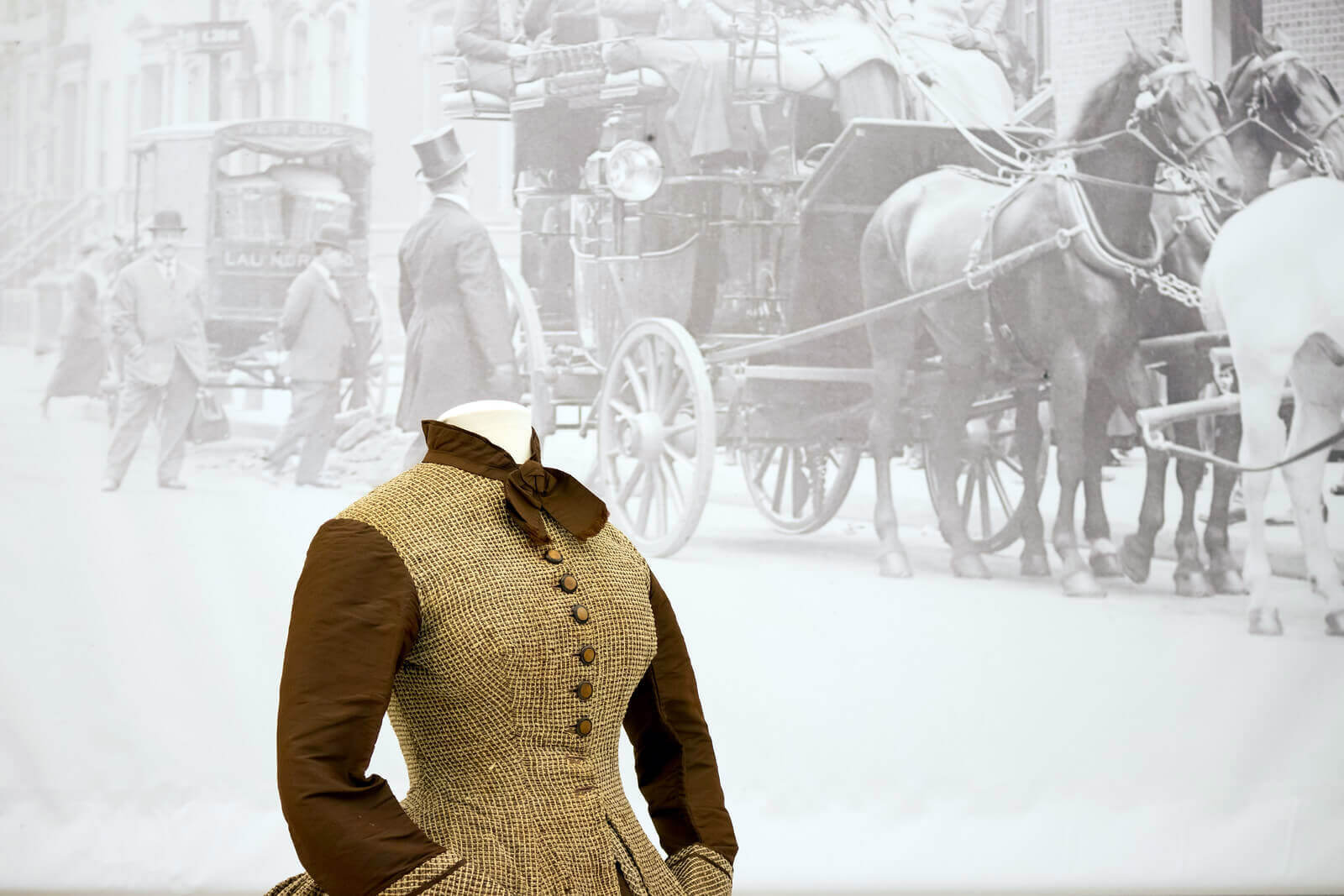 Tweed and brown silk three-piece ensemble (bodice, overskirt, and underskirt), 1877-1878, Maryland Historical Society, gift of the Rodgers Family of Sion Hill. 1946.54.15 a-c. (front)
Mrs. Thomas Hastings Coach Leaves Colony Club, 1911, The George Grantham Bain Collection, Library of Congress. (rear)
On View at the Car and Carriage Museum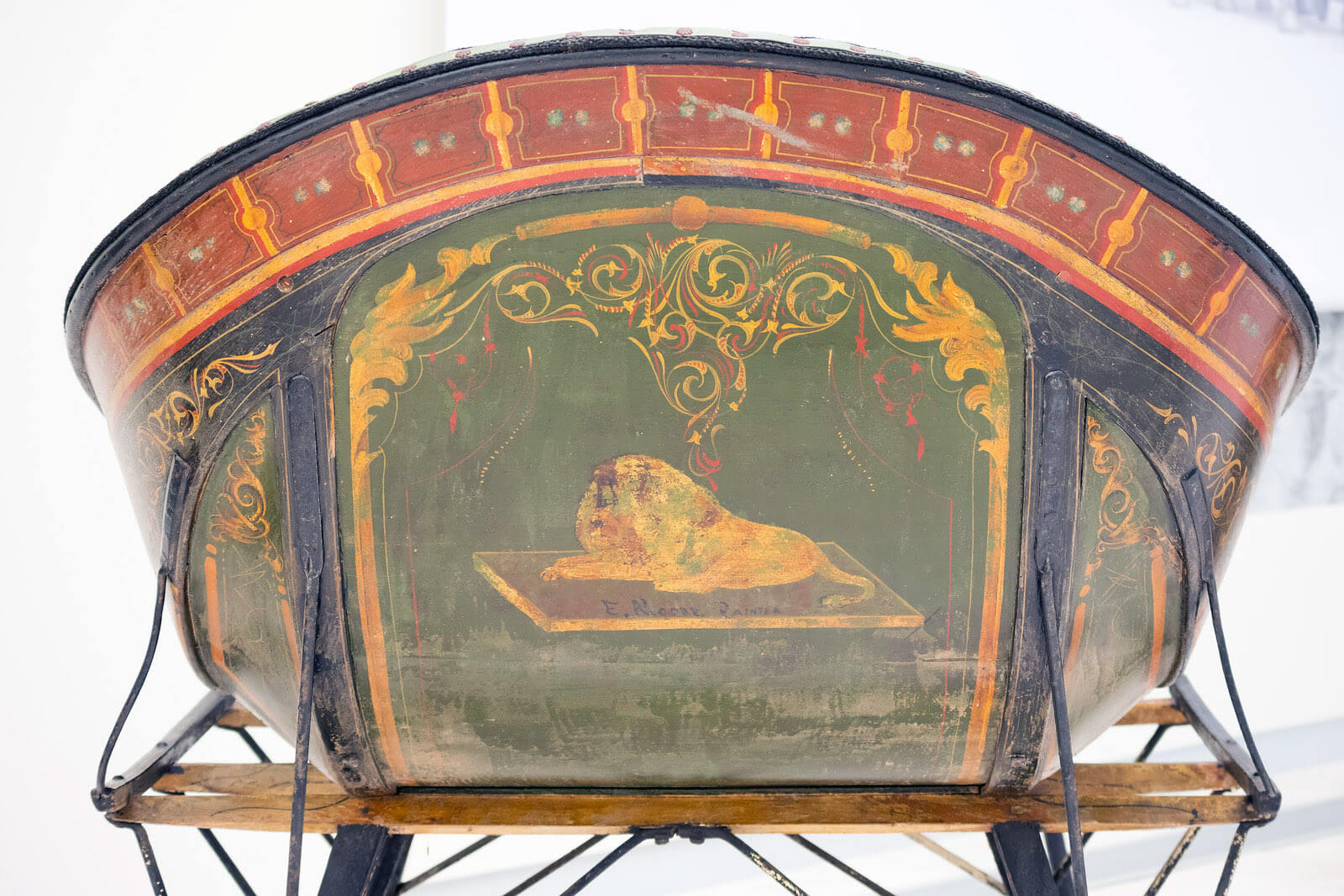 Albany Cutter, late 19th c., The Frick Art & Historical Center. 2003.2.1.
On View at the Car and Carriage Museum