Meet Raimundo de Madrazo, the artist who painted Mrs. Peacock
Raimundo de Madrazo y Garreta (1841–1920)
Raimundo de Madrazo y Garreta was a celebrated artist at the turn of the twentieth century. Madrazo worked in numerous genres, but his greatest success and international renown came from his extraordinary capacity to portray wealthy patrons in a refined and elegant manner. His talents rivaled those of contemporaries Giovanni Boldini and Théobald Chartran (a favorite artist of Henry Clay Frick's who dominated Pittsburgh society portraiture).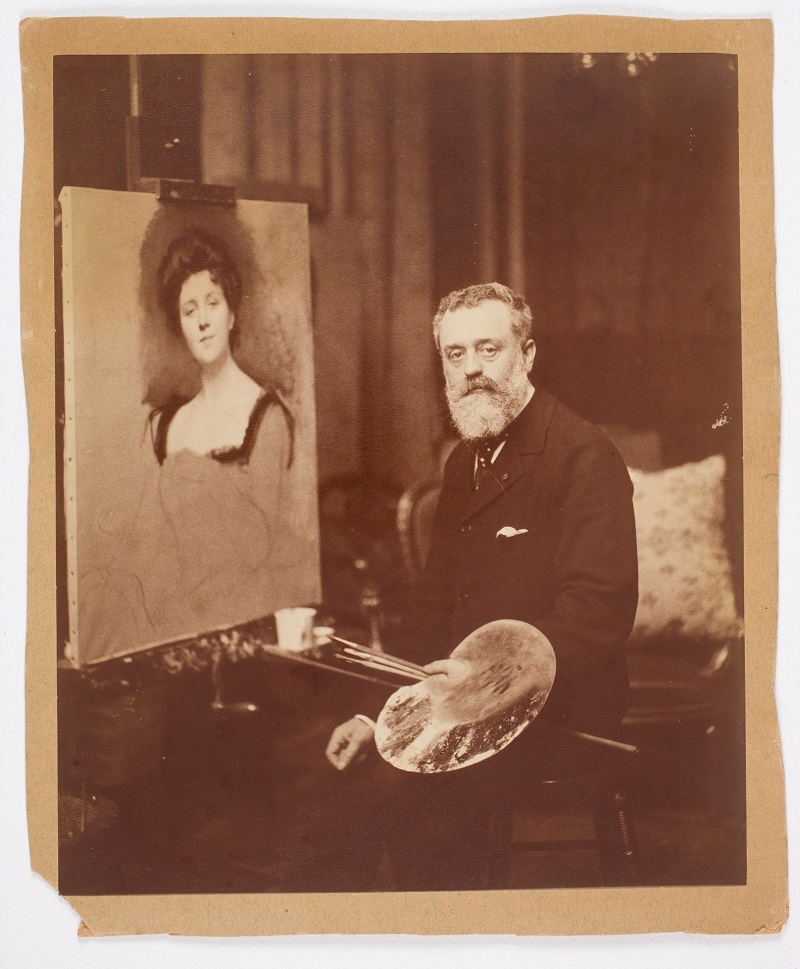 Raimundo de Madrazo y Garreta, c. 1900 by Josep Maria Canella. © Museo Nacional de Prado.
Born in Rome and trained in Paris, the Spanish artist hailed from an artistic family. His father, grandfather, and brother were painters and his son became an artist as well (
a portrait of the artist painted by his father is in the collection of the Museo Nacional del Prado in Madrid
). Additionally his nephew was the famous fashion designer Mariano Fortuny. Madrazo studied at the Ecole des Beaux-Arts in Paris and was a pupil of Leon Cogniet. He was a frequent exhibitor at the Paris Salon and traveled frequently to Rome, London, New York, and Buenos Aires, securing portrait commissions of the aristocratic elite from each city. His own art collection purportedly contained examples by Peter Paul Rubens, Jean-August-Dominique Ingres, and Jean-Antoine Watteau, as well as Grecian pottery and antique bronzes.
Madrazo was distinguished by his fine sense of color and fluid brushstrokes, which imparted an air of spontaneity to his likenesses. Critics praised his ability to capture the natural expression of his subjects at their most pleasant: "The portraits of Señor de Madrazo are moving breathing thing[s]—the eyes sparkle, the pose is always seemingly relaxing, never stiff and ungraceful." A 1902 article in Munsey's Magazine suggested that he was particularly suited to paint portraits of women: "He seems to have a real understanding of their various moods and tempers…" Among Madrazo's American clients were Mrs. Cornelius Vanderbilt, Mrs. O. H. P. Belmont, Mrs. Harry Payne Whitney, and Mrs. Astor. Madrazo also painted portraits of Mr. and Mrs. Peacock's five children.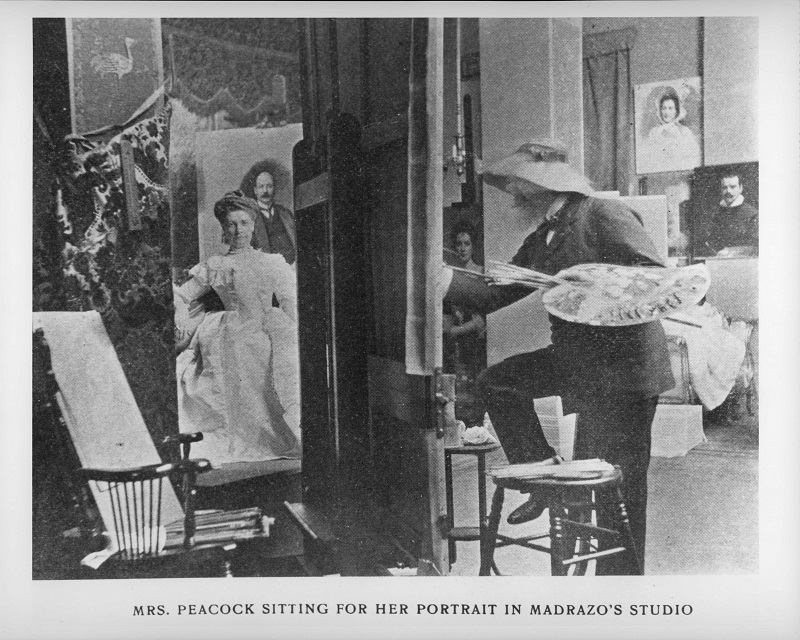 Mrs. Peacock sitting for her portrait in Madrazo's studio (note Mr. Peacock's unfinished portrait behind her). Printed in The Pittsburg Index, 28 June 1902.
The portraits of Mr. and Mrs. Peacock were undertaken in Madrazo's temporary studio in New York in 1902. The sittings were extensively illustrated in the June 1902 edition of Index with an explanation of the artist's process and technique, in-process images, and even a photograph of Mrs. Peacock posing in his studio. Madrazo began his portraits with a crayon sketch, which he then transferred in charcoal to canvas before painting, focusing on the sitter's face first and working outward with broad, confident strokes.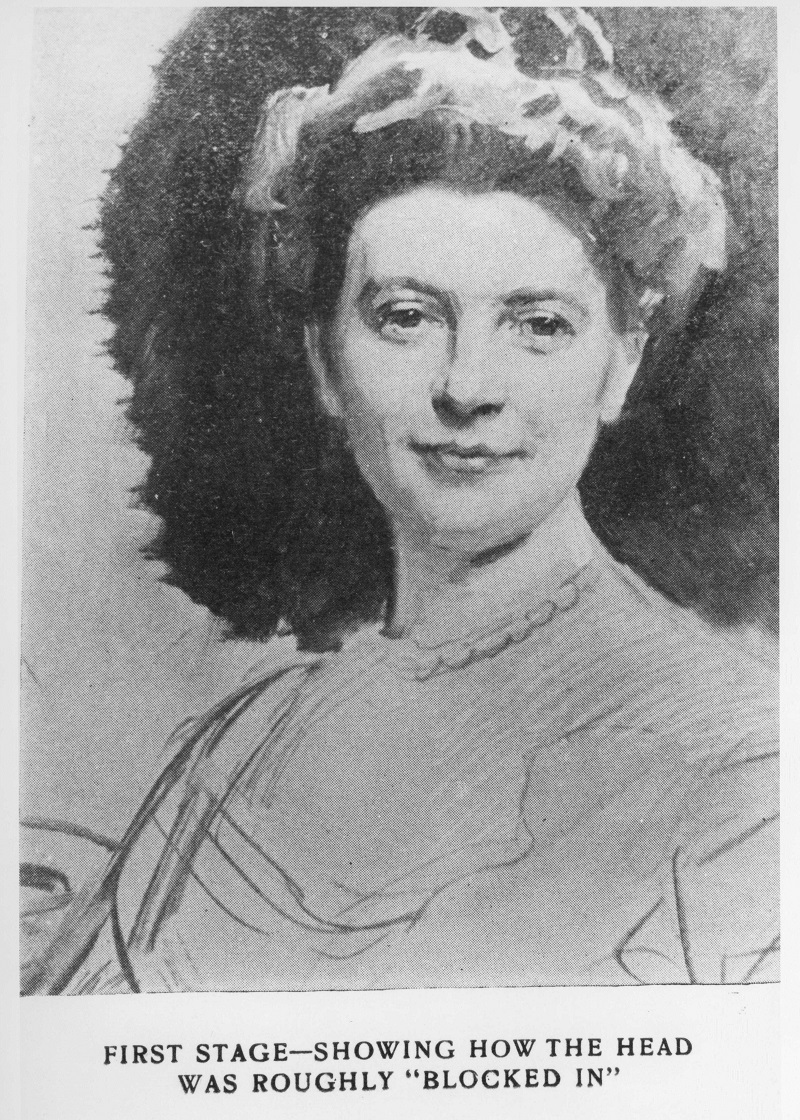 Sketch of Mrs. Peacock by Raimundo de Madrazo, as printed in The Pittsburgh Index, 28 June 1902.
Madrazo's portraits of Mr. and Mrs. Peacock were briefly exhibited at the J. J. Gillespie's art gallery in downtown Pittsburgh before being hung in the Peacocks' home, Rowanlea, on North Highland Avenue in Highland Park. Madrazo and his wife were the guests of honor at a housewarming reception held at Rowanlea in 1902. (
The Prado also owns a 1901 portrait of the artist's wife, Maria Hahn Madrazo – see it here.
)