Paper is a Dream Factory: The Work of Isabelle de Borchgrave
In connection with our current presentation of
Isabelle de Borchgrave: Fashioning Art from Paper,
we are presenting a series of stories on a variety of exhibition-related topics. In this first installment. Sarah Hall, chief curator, director of collections, discusses her visit to Isabelle de Borchgrave's Brussels studio and provides an overview of the exhibition, which remains on view through January 6, 2019.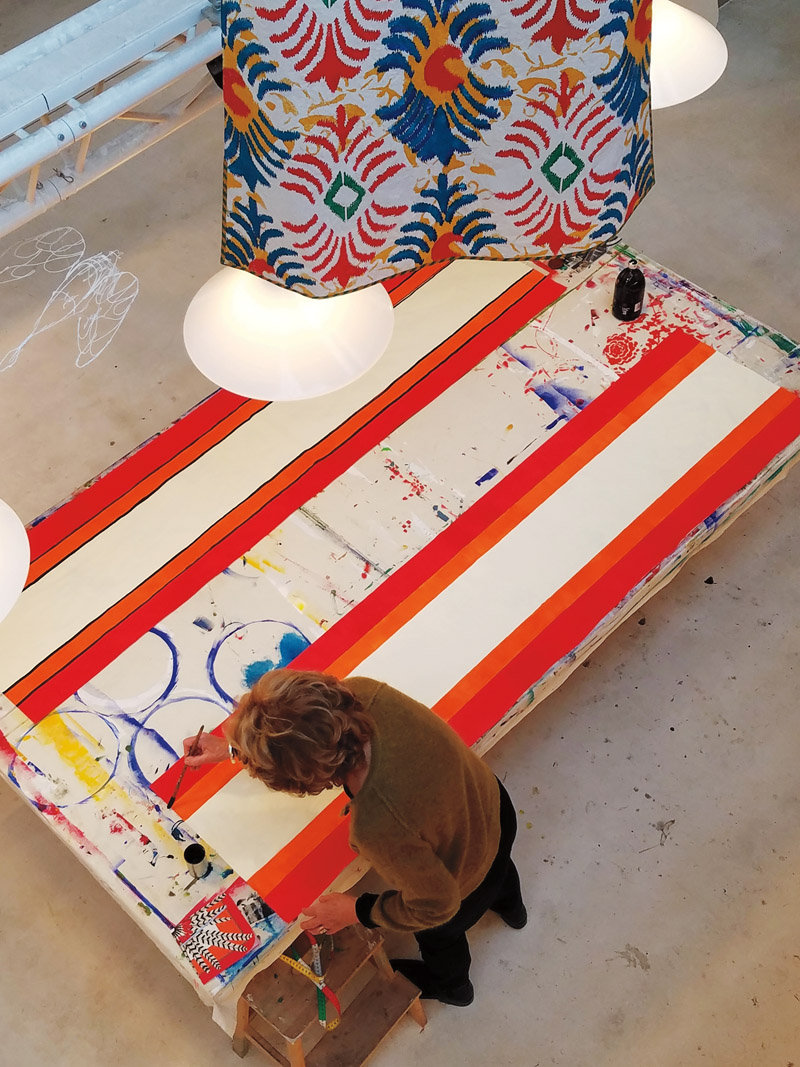 Isabelle de Borchgrave at work in her studio, 2017. Photo by Travis Hutchison.
Visiting Isabelle de Borchgrave's studio may be one of the most indelible memories of my museum career. The studio, on a side street in Brussels, was a bustling hive of activity with long worktables arranged in parallel rows and specialist studio assistants at work on projects. Most everything in the space bore the touch of the artist. Whimsical chandeliers and lamps, sculpted fish and painted paper kaftans hung from the ceiling. Bolts of paper were unrolled onto long tables, where they had been brightly painted. Heavy, old-style cast-iron irons were placed at intervals down the center of the worktables, used for removing creases and wrinkles, or for creating particular effects with the pigments. Every space was occupied with something artful, colorfully painted pots were arranged on ledges and shelves, wire mannequins and sculptures were posed at intervals, paper feather arrangements were displayed on walls. Plain brown craft paper patterns in various stages of cutting were on tables, side-by-side with photographs of examples of historic costumes. Papier-maché monkeys sat about and hung from beams. "Sketches" of costumes (mannequins garbed in plain white paper) stood amid already finished, gorgeously painted trompe l'oeil gowns.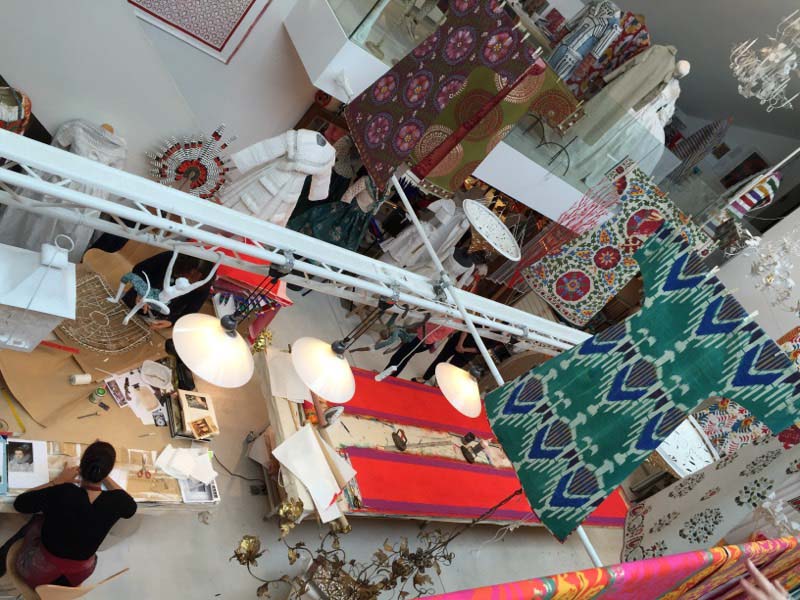 Isabelle de Borchgrave's studio in Brussels, Belgium. Photo by Sarah Hall.
The view from a second floor gallery revealed areas with mannequins in various stages of dress stored three deep. Sheets of painted and patterned paper were draped for drying. New projects were being explored—maquettes, samples of decorative painting, and workbooks of ideas were spread on surfaces, worlds in miniature existed side by side with worlds recreated in life size. We strolled, almost like the non-magic visitors to the world of Harry Potter—seeing magic all around us, entranced by a world of the imagination brought to life. Color and pattern surrounded us, speaking of restless curiosity, energy, activity, and a joy in beauty that spanned time and cultures.
According to de Borchgrave, paper was her first toy. As a child, drawing was a nearly instinctive activity and she began attending a fine arts academy by the time she was 14. Later, she began painting silk and designing her own dresses. A career designing textiles and home furnishings progressed in parallel to her continued work painting and making watercolors. In 1994, a trip to the Metropolitan Museum of Art's Costume Institute opened up an entirely new field of artistic inquiry. The historic costumes she had seen on display sent Isabelle back to the studio where she began to experiment, creating renditions of some of the pieces with paper, and working with costume historians and collectors to understand the construction of garments.
Since then, her trompe l'oeil (fool the eye) paper clothing has delighted audiences around the world.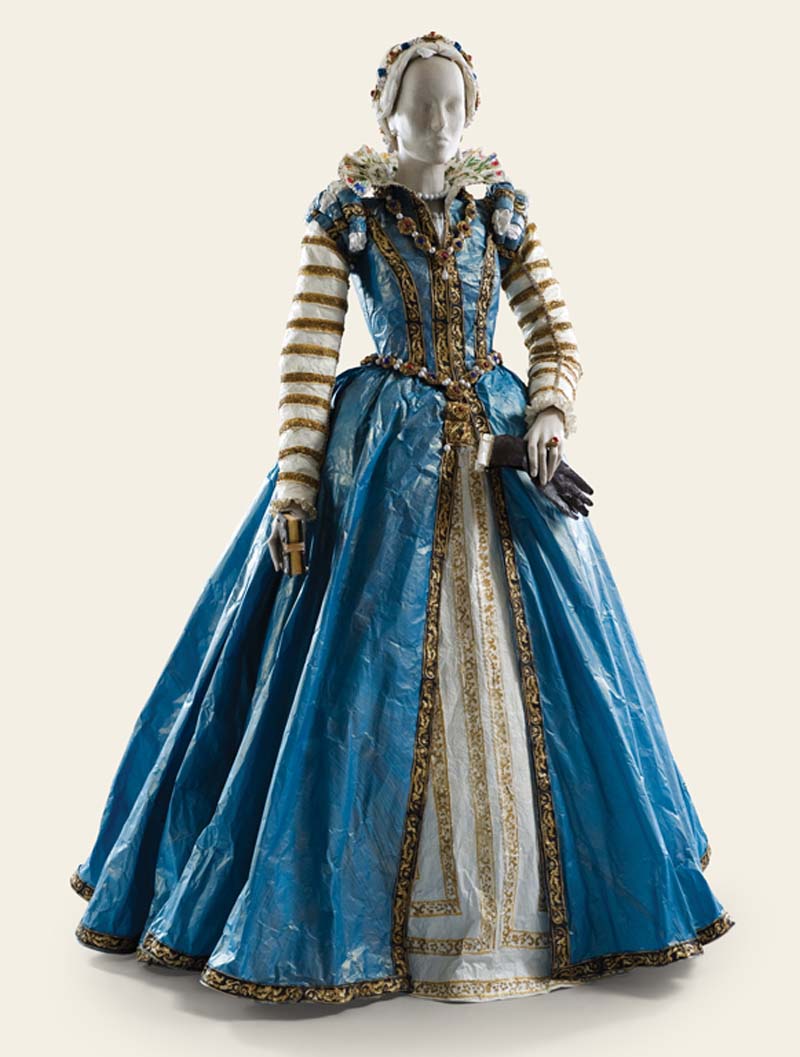 Isabelle de Borchgrave (Belgian, b. 1946), Maria de' Medici (1540–1557), 2007. Based on a portrait c. 1555 by Alessandro Allori. Mixed media: paper, cut, folded, and molded with acrylic paint, ink, metallic powder, and adhesive; mounted on dress form.
The exhibition,
Isabelle de Borchgrave: Fashioning Art from Paper
celebrates the breadth of her work with costume and fashion history and is designed to introduce her work to a wider audience. The exhibition includes examples from all of de Borchgrave's major series, beginning with her first series
Papiers à la Mode (Paper in Fashion)
, which explores 300 years of fashion history through works based on major historic costumes and quintessential designs. The works from her
Splendors of the Medici
series are inspired by Italian Renaissance costumes portrayed in Old Master paintings. Her next series,
The World of Mariano Fortuny
explores the glamorous and enchanting designs of the groundbreaking fashion designer known for his distinctive pleated dresses. Her most recent series,
Les Ballets Russes,
pays tribute to the fantastical and inventive modernist costumes designs of Picasso, Bakst, and Matisse for Diaghilev's Paris-based ballet company.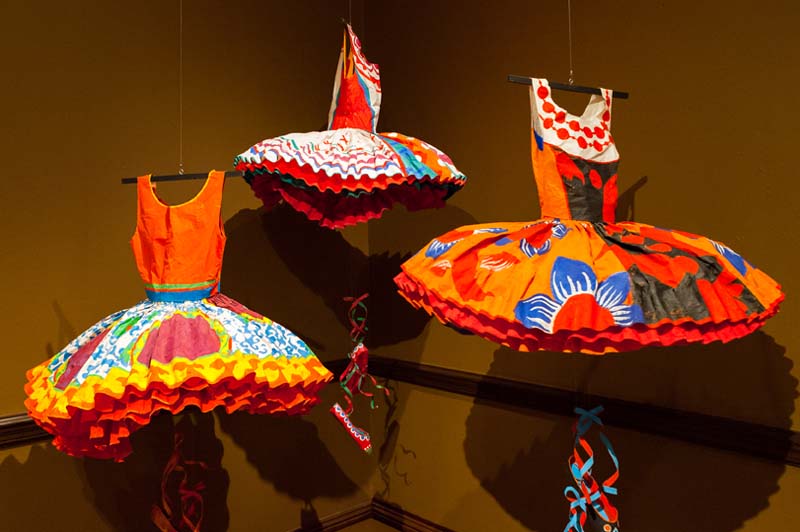 Installation view of exhibition gallery at The Frick Art Museum featuring Ballets Russes
costumes.
At the Frick, de Borchgrave's work is exhibited throughout the museum, creating a dialogue with the museum's collection. A portion of the Medici series is displayed with the Frick's Italian paintings and the 18th-century inspired pieces will share space with the Frick's Rococo collection. Joining the exhibition is the Frick's recently commissioned piece inspired by one of our best-known masterpieces—Peter Paul Rubens'
Portrait of Charlotte- Marguerite de Montmorency, Princess of Condé
.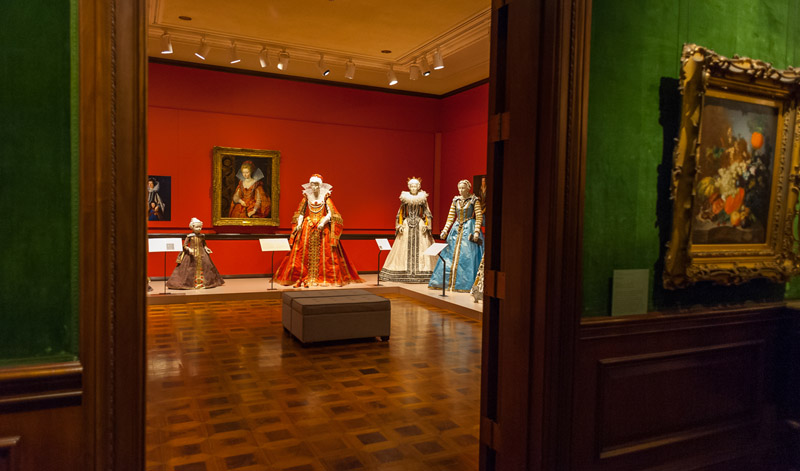 Installation view of exhibition galleries at The Frick Art Museum showing
Peter Paul Rubens' Portrait of Charlotte- Marguerite de Montmorency, Princess of Condé and the sculpture inspired by it.
The sumptuously beribboned Madame de Pompadour Court Dress derived from a portrait by François Boucher, is displayed in tandem with the Frick's Boucher Pastorale. The favored mistress of King Louis XV, Madame de Pompadour was also an important patron of the arts whose support helped establish Boucher as one of the most successful artists of the century. Unsurprisingly, Madame de Pompadour was also a tastemaker and trendsetter in fashion. Boucher painted many portraits of her, and de Borchgrave chose to base her work on the splendid silk taffeta gown adorned with ribbons and silk roses, which Boucher portrayed in 1756.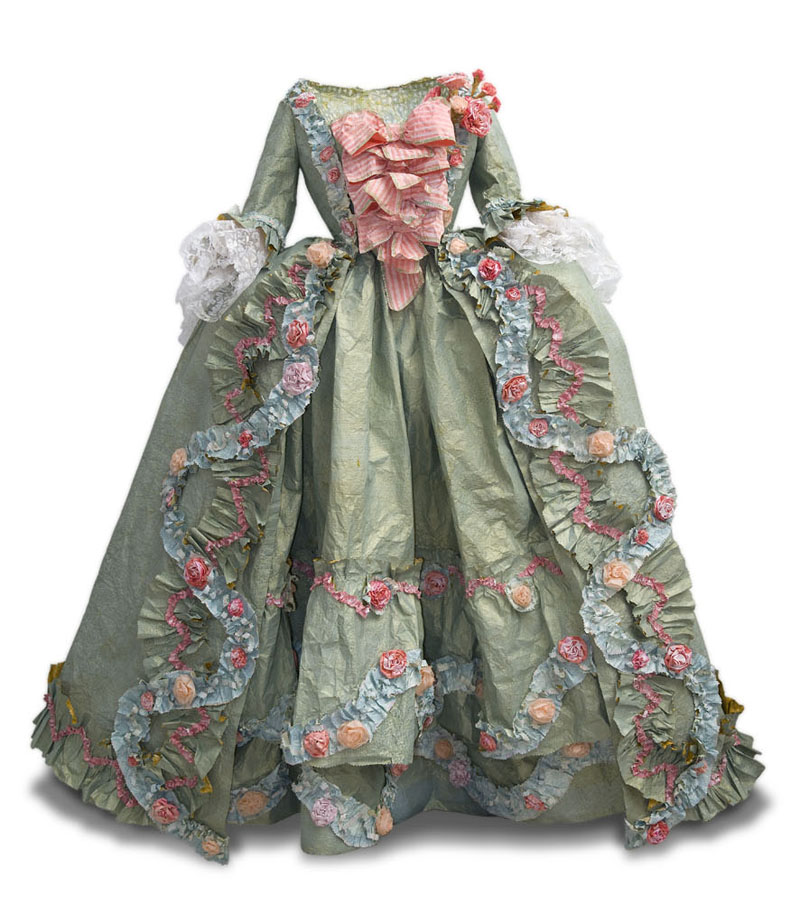 Isabelle de Borchgrave (Belgian, b. 1946), Madame de Pompadour Dress, 2011. Inspired by a 1756 portrait by François Boucher. Mixed media: paper, cut, folded, and molded with acrylic paint, ink, metallic powder, and adhesive; mounted on dress form.
An imposing sculptural interpretation of the costume of Lorenzo de Medici, inspired by a portrayal of the young nobleman in a 15th-century fresco, is displayed in the Italian gallery, surrounded by 14th and 15th-century paintings that recall is role as patron of the arts in 15th-century Florence.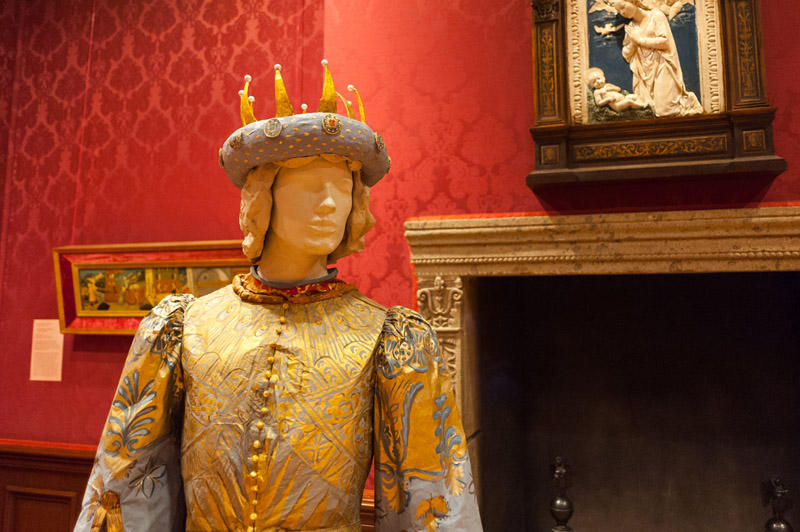 Isabelle de Borchgrave (Belgian, b. 1946),
Lorenzo il Magnifico, 2007 Inspired by the painting Journey of the Magi by Benozzo Gozzoli in the Medici Chapel in the Palazzo Medici Riccardi, Florence. Mixed media: paper, cut, folded, and molded with acrylic paint, ink, metallic powder, and adhesive; mounted on dress form.
De Borchgrave's works are derived from her personal appreciation of both historic clothing and historic textiles. Her work over the past twenty-plus years has been steeped in the physical study of historic clothing, with her resulting sculptures being a direct response to her love of the original material. Over the years, the artist has worked with noted costume specialists and historians to gain the understanding of construction techniques and fabrics that informs her work. One of her aims is to provide a different experience of costume history for visitors. In museums, light-sensitive historic textiles and costumes are only on view for extremely limited periods of time, kept in carefully climate controlled cases, and viewed under low light. De Borchgrave, in contrast, allows her creations to be seen without glass cases and under brighter light than is typical for works on paper in order to help create a powerful experience for the viewer.
This exhibition has been organized by The Frick Pittsburgh, Dixon Gallery and Gardens, Oklahoma City Museum of Art, Society of the Four Arts, and Artis - Naples, The Baker Museum.
PURCHASE TICKETS
Upcoming Program: From Brussels to Pittsburgh
Join Sarah Hall on the evening of November 16 for a look at the journey of Isabelle de Borchgrave's creations from her studio in Brussels to the galleries of The Frick Art Museum. For more information, click here.