Do you ever wonder who's talking to you when you read a label at a museum?
The Guest Label Project is something we first experimented with in 2015. I was aware of the enthusiastic and deeply supportive photography community in Pittsburgh, and I had often had the pleasure of walking through exhibitions with a photographer friend, who would, without fail, bring the artworks alive for me in a different way than a typical curator or art historian. The Guest Label Project was created as a way to try to capture a little bit of that experience—as though a particularly knowledgeable, sensitive, or engaging friend is walking through the galleries with you offering opinions and insights that are different than your own. Thus "guest labels" were born—an extra label mounted beside the standard museum label, deliberately more personal and more particular in tone, and "signed" by the writer. The writers were invited because of their expertise—as photographers, historians, or cultural commentators, and they were able to write about a work of their choice in the exhibition.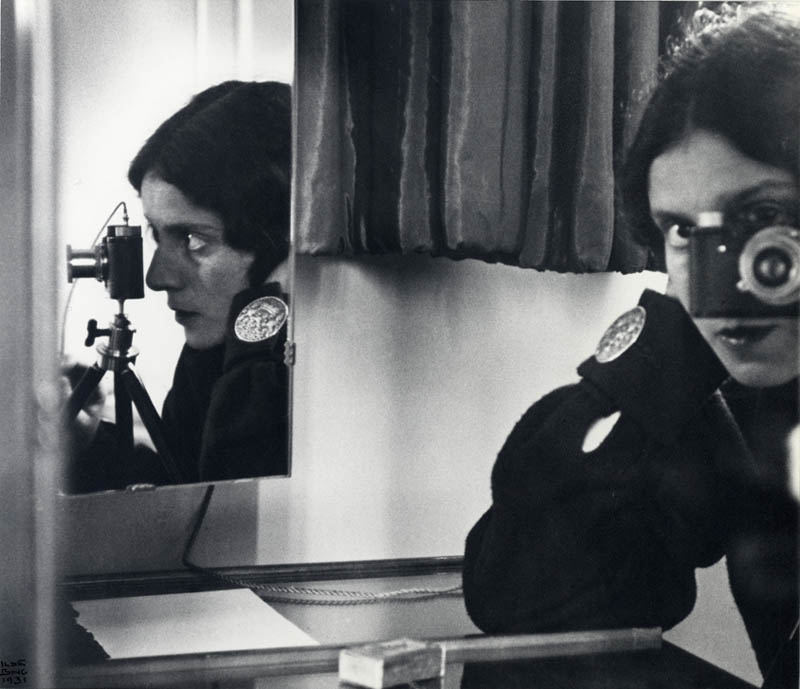 Ilse Bing (German, 1899–1998), Self-Portrait with Leica, 1931. Gelatin silver print.
Some of the guest label writers give us insight into teaching techniques, and in doing so help us to look at the photographs both as formal two-dimensional compositions and as physical constructions—as in Sue Abramson's discussion of Kertesz's photograph Mondrian's Pipe and Glasses, Paris in which she talks about creating a portrait through objects, as well as the way those objects are arranged. Kate Kelley also addresses the idea of portraiture in her label for Ilse Bing's famous Self-Portrait with Leica—a photograph that took meticulous care to create, Kelley reminds us to look at all the ways Bing is reflected in this self-portrait, and think through the choices she made while orchestrating the composition.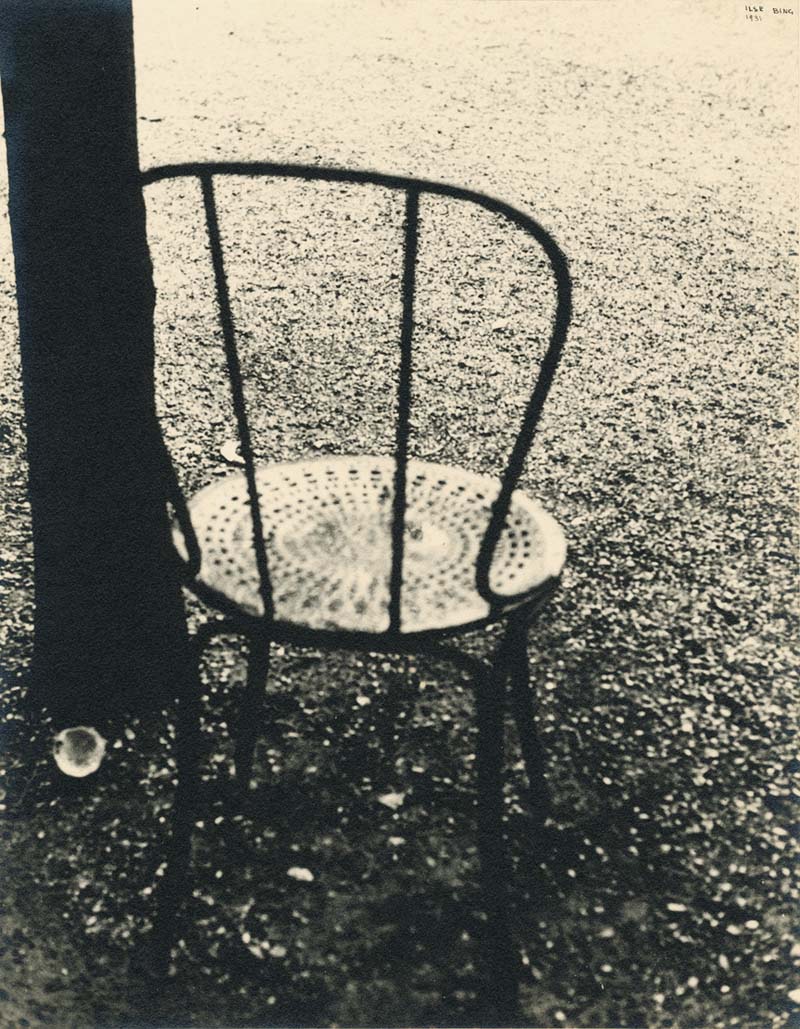 Ilse Bing (German, 1899–1998), Chair, Champs Elysées, 1931. Gelatin silver print.
Richard Kelly also lets us in on some of his teaching techniques in his label for Ilse Bing's Café Chair—he puts it into art historical context for us, and also gives a practical tip, "I often suggest to my students to turn their point of view upside down when looking at photographs, to examine the shapes and lines and decide if the image works." Tom Souzer brings us back to shapes and lines too, when he marvels at the beauty of the intertwined figures in Cartier-Bresson's Alicante, Spain.
"It is easier to make a good photograph than it is to compose a good symphony or paint a good picture," begins Martin Prekop's label for Ilse Bing's Puddle, rue de Valois. A photography instructor and art professor for many years, Prekop immediately puts us in the position of imagining that truth—yes, we all take pictures—more now than ever—occasionally even I take a good picture. But what makes it great? And in some ways, this addresses issues that have plagued photography since its creation—what makes a photograph art? Can a photograph, a mechanically-made object, have the same artistic power as other arts that spring purely from the imagination? (Yes, of course, there are great and powerful photographs that move us, engage us in conversations about our world, and are simply beautiful—just as in other art forms.)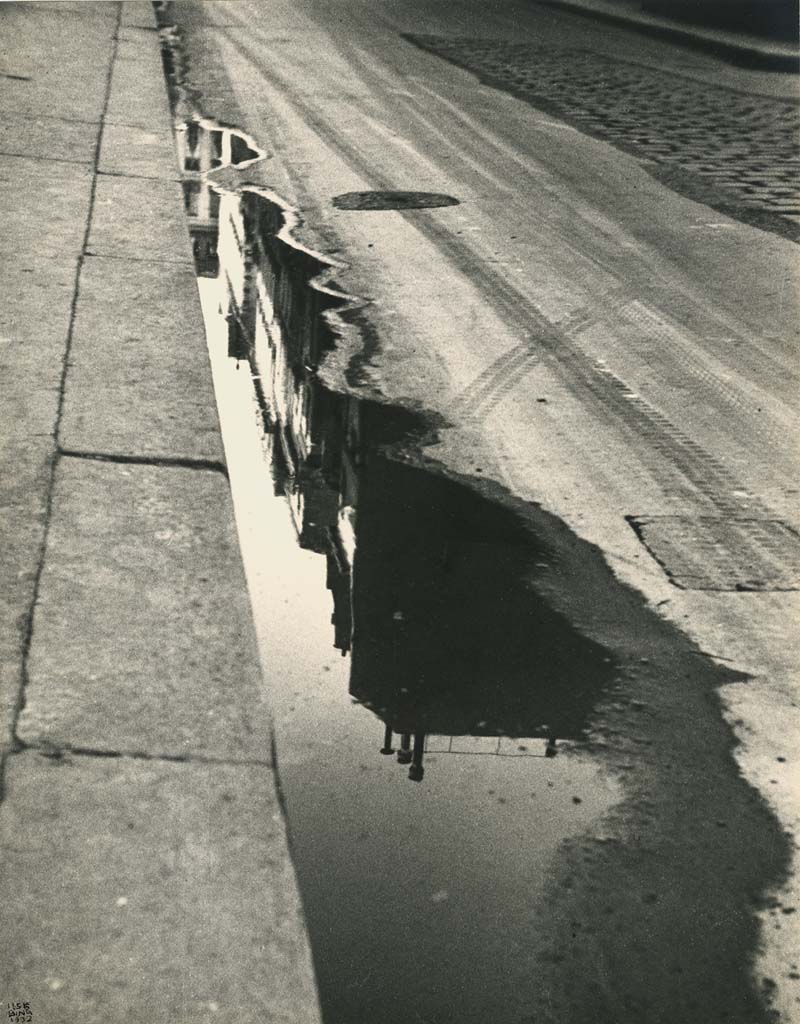 Ilse Bing (German, 1899–1998), Puddle, rue de Valois, 1932. Gelatin silver print.
In Brian Cohen's label for First flight of Gabriel Voisin by child prodigy Jacques-Henri Lartigue, his simple sentence, "He could hardly stop taking pictures" brilliantly captures Lartigue's playful energy for me (and I hope all of you).
Brenda Roger helps us to experience a little of the mystery and excitement of the darkroom in her label for Man Ray's Electricité (Nude with Vapor). She writes of chemicals, experiments, challenges, and discoveries—and in so doing gives us insight into the world of trial and error and discipline of the practicing artist.
The larger social implications of photography are thoughtfully addressed in Jamie Gruzska's label, when he asks us to consider along with him the moral implications of photographing sleeping strangers. Is it aggressive? Intrusive? What justification does the photographer have for this surreptitious act? Mark Perrott also asks us to do some thinking, when he considers the idea of "meaningful decay" and the reasons why Ilse Bing might have been interested in photographing the peeling remnants of a Greta Garbo poster.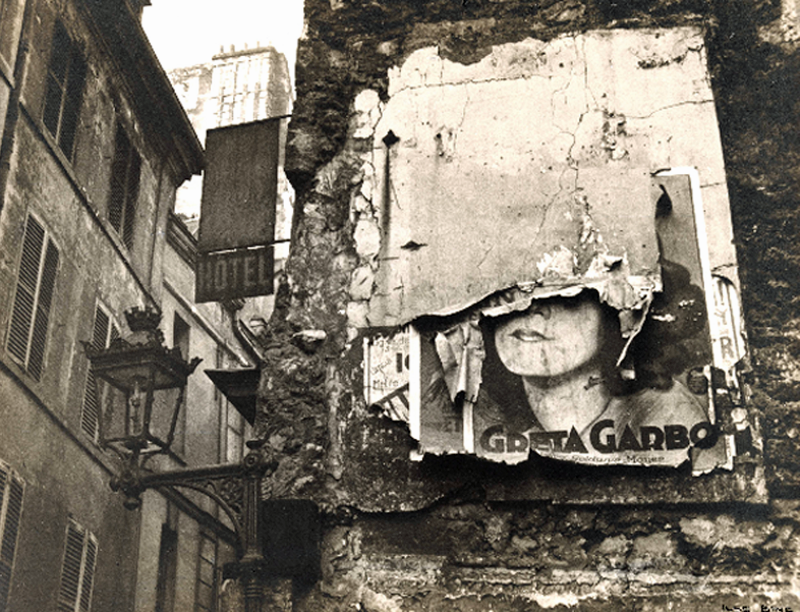 Ilse Bing (German, 1899–1998), Greta Garbo, Paris, 1932. Gelatin silver print.
Shikeith also connects his chosen photograph, Brassaï's Transmutation: Temptation of Saint-Antoine to issues larger than its surrealist context and makes it relevant to today—how are our notions of self (and our understanding of our physical bodies) shaped by society and civility? What are the forces that shape and transform us for good or ill?
Mikael Owunna looks at history and asks us to think more deeply about the context of the monuments that surround us. Using Eugène Atget's photograph Fountain, rue de Sèvres, he presents the larger colonial context of the fountain as a work celebrating conquest and cultural appropriation, and ultimately derived from thousands of deaths during the Napoleonic Wars.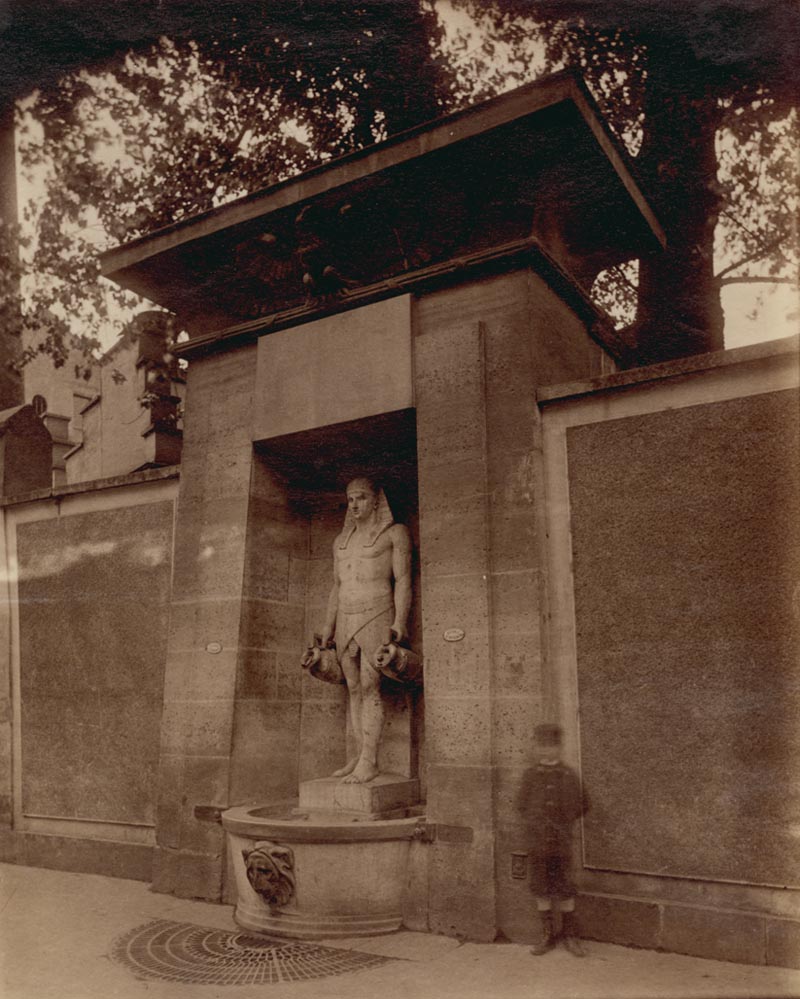 Eugène Atget (French, 1857–1927), Fountain, rue de Sèvres, ca. 1900. Albumen print.
Linda Benedict-Jones takes a charming personal anecdote about her time living in Paris, and helps us to see Brassaï's work differently, as does William Wade, who encourages to think both about working the night shift, and the different world you encounter, and about the performative aspect of Brassaï's photographs—which were not at all spontaneous snapshots, but instead choreographed collaborations with his subjects.
A different take on Brassaï's work comes from Njaimeh Njie, who examines the various contrasts embedded in Brassai's photograph of the ballerina Ludmilla Tcherina, which communicate "the juxtaposition of the perception and the reality of her profession."
We're invited into Ilse Bing's photograph Boarding-house for young women, Tours in a different way by Tereneh Idia—who uses the world presented in the photograph as inspiration for a little piece of micro-fiction, and in doing so pays homage to the Surrealist perspective that was percolating in Paris during the 30s.
Charlee Brodsky reminds us to try to appreciate Atget's images of corsets in a window, from a perspective less jaded by 21st century eyes: "Here we have corsets on parade fearlessly projecting the boudoir onto the street, titillating private fascinations and pleasures." Titillation that surely was not lost on Surrealists like Man Ray and Bill Brandt, who found inspiration in Atget.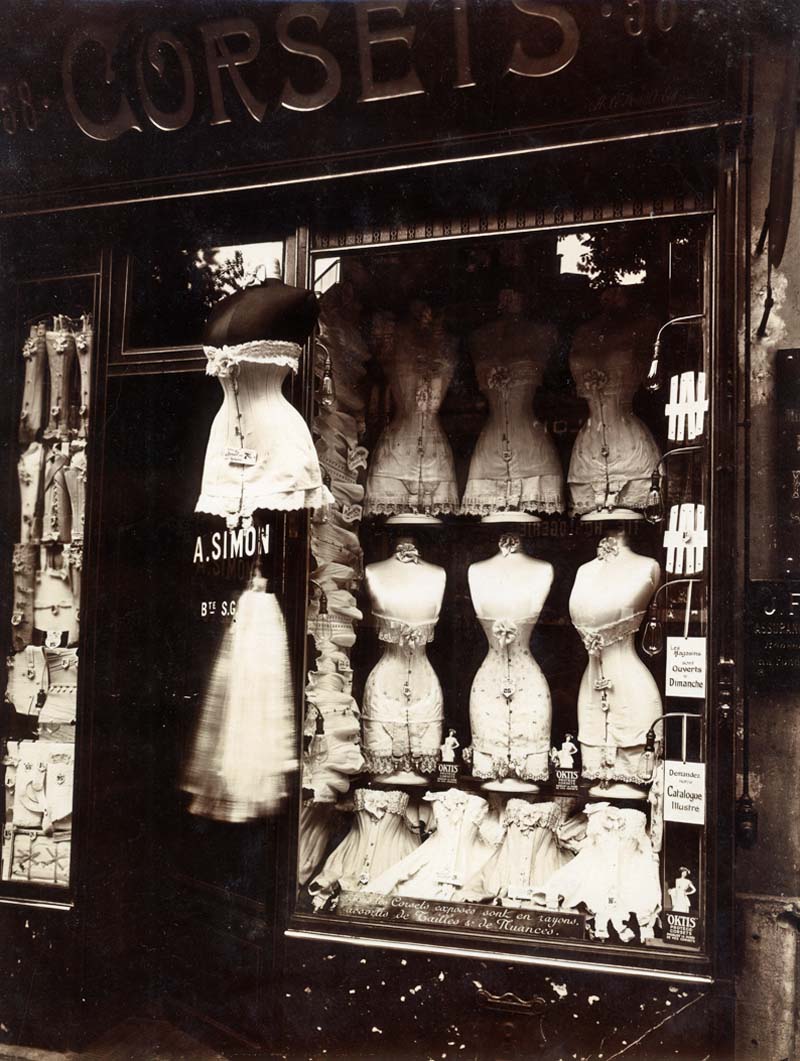 Eugène Atget (French, 1857–1927), Boulevard de Strasbourg, Corsets, 1912. Albumen print.
Dora Maar's unique, mysterious, almost Gothic take on Surrealism is examined by Ross Mantle in his label, which takes apart the various devices Maar uses to create her multi-layered, somewhat unsettling visual joke in Man looking inside a sidewalk inspection door, London.
Ivette Spradlin invites us into the photographer's shoes—using Atget's Nymphaeas, Versailles as a jumping off point for her own tale of water lilies, and the sometimes inhospitable circumstances photographers face when trying to get the picture.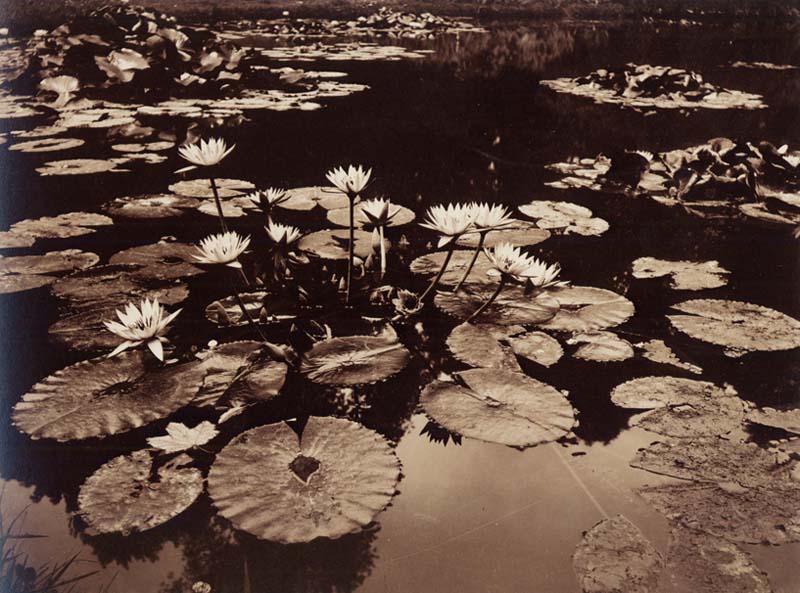 Eugène Atget (French, 1857–1927), Nymphaeas, Versailles, ca. 1910. Albumen print.
In what I think of as the punctuation mark at the end of the show, Leo Hsu writes about Cartier-Bresson and the characteristics of the "decisive moment" that Cartier-Bresson expounded upon. This photograph, of a woman recognizing her Gestapo informant, placed at the end of the exhibition, reminds us very clearly of the world that these photographers were working in, and perhaps the world that they were trying to both hold onto and change through their work. This "golden age" came to an abrupt end at the start of WWII and Cartier-Bresson's photograph, in Leo's words visually captures, "the attempt to reconcile the secrets and betrayals of the just-ended war."
Learn about our guest label writers by visiting the links below:
Sue Abramson
Linda Benedict-Jones
Charlee Brodsky
Brian Cohen
Jamie Gruzska
Leo Hsu
Tereneh Idia
Kate Kelley
Richard Kelly
Ross Mantle
Njaimeh Njie
Mikael Owunna
Mark Perrott
Martin Prekop
Brenda Roger
Shikeith
Tom Souzer
Ivette Spradlin
Bill Wade
Street Photography to Surrealism is on view at The Frick Art Museum through Sunday, May 5, 2019. Admission is free.