The Fricks Afflicted
In late 19th and early 20th century Pittsburgh, the burden of illness and disease was disproportionately borne by those who lived in substandard conditions and had limited access to health care. But Pittsburgh's wealthiest residents were not immune. The families of Henry Clay Frick and Adelaide Howard Childs, even with their considerable privileges, were beset by the illnesses and conditions of daily life.
Over a thirteen-month period spanning 1891–1892, Henry Clay and Adelaide Howard Childs Frick lost two of their four children. A reasonable conclusion can be drawn from Frick family history that a virulent infection contributed to oldest daughter Martha's death a week before her 6th birthday. Newborn Henry Clay Frick Jr. died of unknown causes a few weeks after birth. Child mortality was the great social leveler of the day, indiscriminately snuffing out the lives of children from both rich and poor families. Records from 1877 through 1895 attribute 40% of the total mortality of the Pittsburgh area to the deaths of children under the age of five years. Wealth may have allowed the Fricks to live a life of advantages most Pittsburghers didn't have, but grief over the losses of their children gave them common company.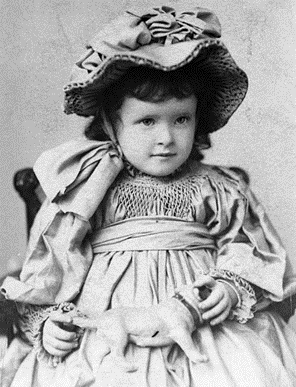 Martha Howard Frick, aged 3, 1888.
Courtesy of The Frick Collection/Frick Art Reference Library Archives.
The adult Fricks suffered from various ailments throughout their adult lives, too. Repeated and disabling bouts of rheumatoid arthritis left Henry Clay Frick bedridden for extended periods. Chronic back problems plagued Adelaide Frick. Like many wealthy individuals of their day, they sought
healing visits to fabulous spas
and warm climates.
The Fricks were also adherents of homeopathy. Today, homeopathic medicine is an alternative treatment philosophy, but back then it was popular and essentially mainstream. Considering that this was a period characterized by the lack of standard antiseptic conditions or drug oversight, many people felt they had better odds of surviving if they took minimal doses of medication and avoided hospitals. At the dawn of the 20th century in the United States, there were nearly 15,000 homeopathic practitioners and 22 homeopathic schools.
Adelaide Howard Childs Frick had good reason to place her faith in homeopathy since her older half-brother William Riddle Childs was an esteemed physician. He was a graduate of Washington & Jefferson College and Hahneman Homeopathic Medical College in Philadelphia. Along with classmate J.H. McClelland, who would later serve as personal physician to the Frick family, W.R. Childs was one of the founding physicians of the precursor to Shadyside Hospital, the Homoeopathic Medical and Surgical Hospital and Dispensary, established in 1866 in downtown Pittsburgh.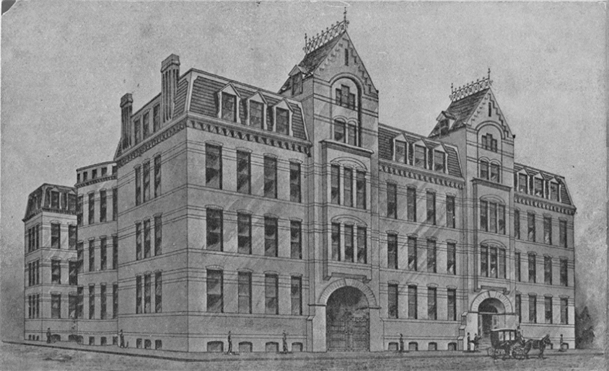 Homeopathic Hospital and Dispensary, 126 Second Avenue, Pittsburgh.
Shadyside Hospital Records, Detre Library and Archives, Heinz History Center.
But this physician son could not heal his father, Asa Partridge Childs, who died in 1878 of typhoid fever at the age of 74.
The Childs family settled in Pittsburgh, moving from New England, in 1817, when Asa was 13 years old. Along with two brothers, he had prospered as co-owner of various cotton and leather goods manufacturers and flour mills. Asa retired from active business in his 60s to this gracious Greek Revival-style home along today's Forbes Avenue, located at the present location of Magee Hospital.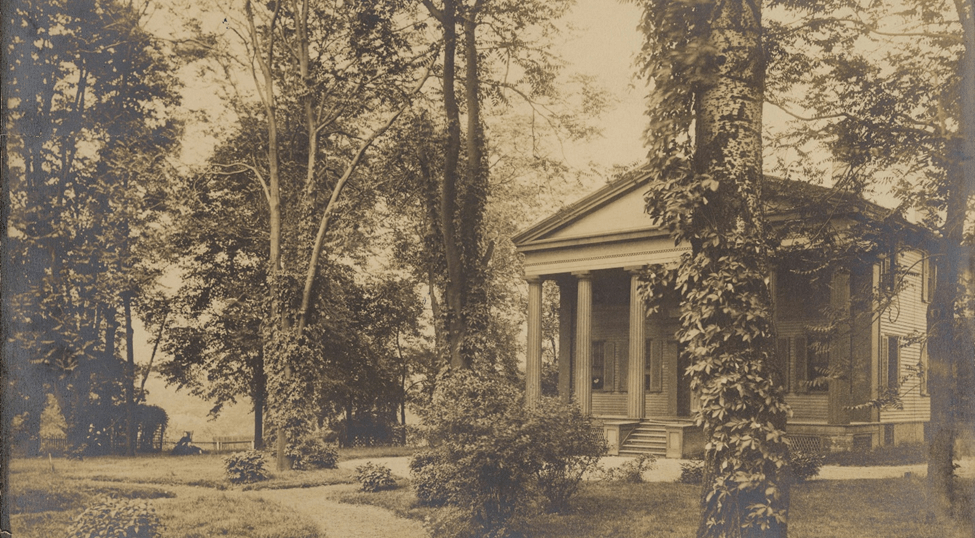 Pennsylvan, home of the Childs family, formerly located at Forbes and Halket Avenue in Oakland.
Courtesy of The Frick Collection/Frick Art Reference Library Archives.
Nineteenth-century Pittsburghers didn't pretend that typhoid fever was exclusively a disease of the lower classes. They understood that it could be contracted by consuming food or water contaminated with fecal matter of an infected person. But in the late 1870s and early 1880s, there was still confusion about the nature of such diseases, as can be seen in this excerpt from an 1880 newspaper article about a typhoid fever outbreak on the Southside. People of the late 19th century struggled to explain and understand the principles of microbiology.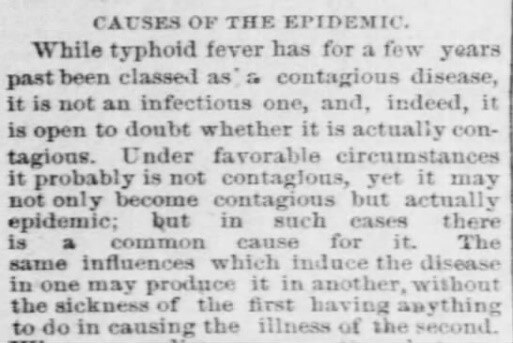 Pittsburgh Daily Post excerpt, 2 April 1880.
We can't know how Asa Childs contracted typhoid fever. His home in what was then the wealthy suburb of Oakland was far removed from typical disease epicenters like densely packed Southside. Still, his obituary was unequivocal in attributing his demise to the disease.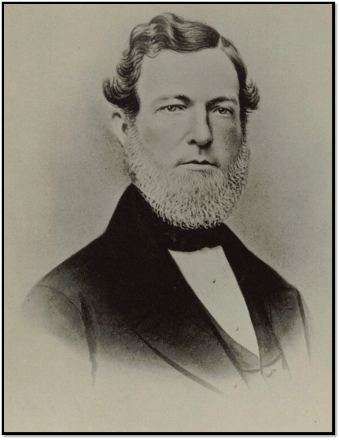 Asa Partridge Childs
1804–1878
Courtesy of The Frick Collection/Frick Art Reference Library Archives.
Asa Childs was mourned by his 55-year-old widow and ten surviving children from two marriages, who ranged in age from adulthood to age 9. Their lives would have been visibly transformed by the era's mourning traditions, which sought comfort through performative grieving that included all-black wardrobes to indicate bereaved status. When her father died, Adelaide was 19 years old and three years away from meeting her future husband Henry Clay Frick. There exists a photo of her as a teenager, dressed in the kind of black mourning attire that she would have donned following her father's death.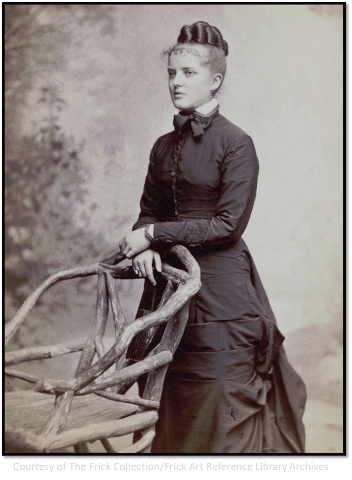 Adelaide Howard Childs in the late 1870s.
Courtesy of The Frick Collection/Frick Art Reference Library Archives.
Pittsburgh recorded 149 deaths of typhoid fever in 1874, the year Asa died. The actual number may well have been higher, since there was no mandated epidemiological reporting. That wouldn't begin until 1882, after Pittsburgh documented at least 1284 deaths from typhoid in the preceding nine years. Cases continued to rise, and by 1907 one of every six Pittsburgh residents suffered from typhoid fever. Municipal efforts created basic sewage treatment and water filtration facilities to reduce underlying public health problems, but officials balked at the cost of large-scale proper sewage-treatment programs. It would take until 1945, and the enforcement of state legislation, for Allegheny County to begin to comprehensively address the problem of sewage treatment and disposal with the creation of ALCOSAN (Allegheny County Sanitary Authority).
Other than Adelaide Frick's father, the family of Henry Clay Frick managed to quite literally escape the prevalent 19th century deadly diseases. From the 1890s on, the Frick family's year fell into predictable rhythms: months at a time spent at Clayton, alternating with stays in Palm Beach, New York, Boston, and Europe in the most sanitary surroundings. The privilege of the wealthiest classes allowed them mobility and the luxury of leaving town when epidemics flared.
To learn more about disease and illness in Gilded Age Pittsburgh, read
Part One: The Sanitary Home
and
Part Three: Death in the Air
.