Memory and Mourning: A Frick History of Homewood Cemetery
This fall, our
Memory and Mourning
tour of Clayton commemorates the 100th anniversary of Henry Clay Frick's death, and uses rarely-seen artifacts to discuss how Americans in the late 19th century commemorated the loss of loved ones.
Pittsburgh is home to two historic cemeteries—Allegheny Cemetery, founded in 1844 and located near Lawrenceville in the East End, and Homewood Cemetery, opened in 1878 and situated just a short walk or drive from The Frick Pittsburgh. The land Homewood Cemetery occupies was originally part of the large East End estate of Judge William Wilkins, and the cemetery has grown in size over the years. It is the final resting place of Henry Clay Frick, his wife Adelaide, their children and other family members, along with many other Pittsburghers from the late 19th century through today, as it is still an active cemetery.
Homewood Cemetery is a lawn park cemetery, as part of a movement in the late 19th century to create cemeteries that were more uniform and natural than their eclectic rural cemetery predecessors. Lawn park cemetery guidelines stipulated that family lots be denoted by a large central stone bearing the family name, with smaller identical markers for individual graves as shown in this photo of the Frick family lot.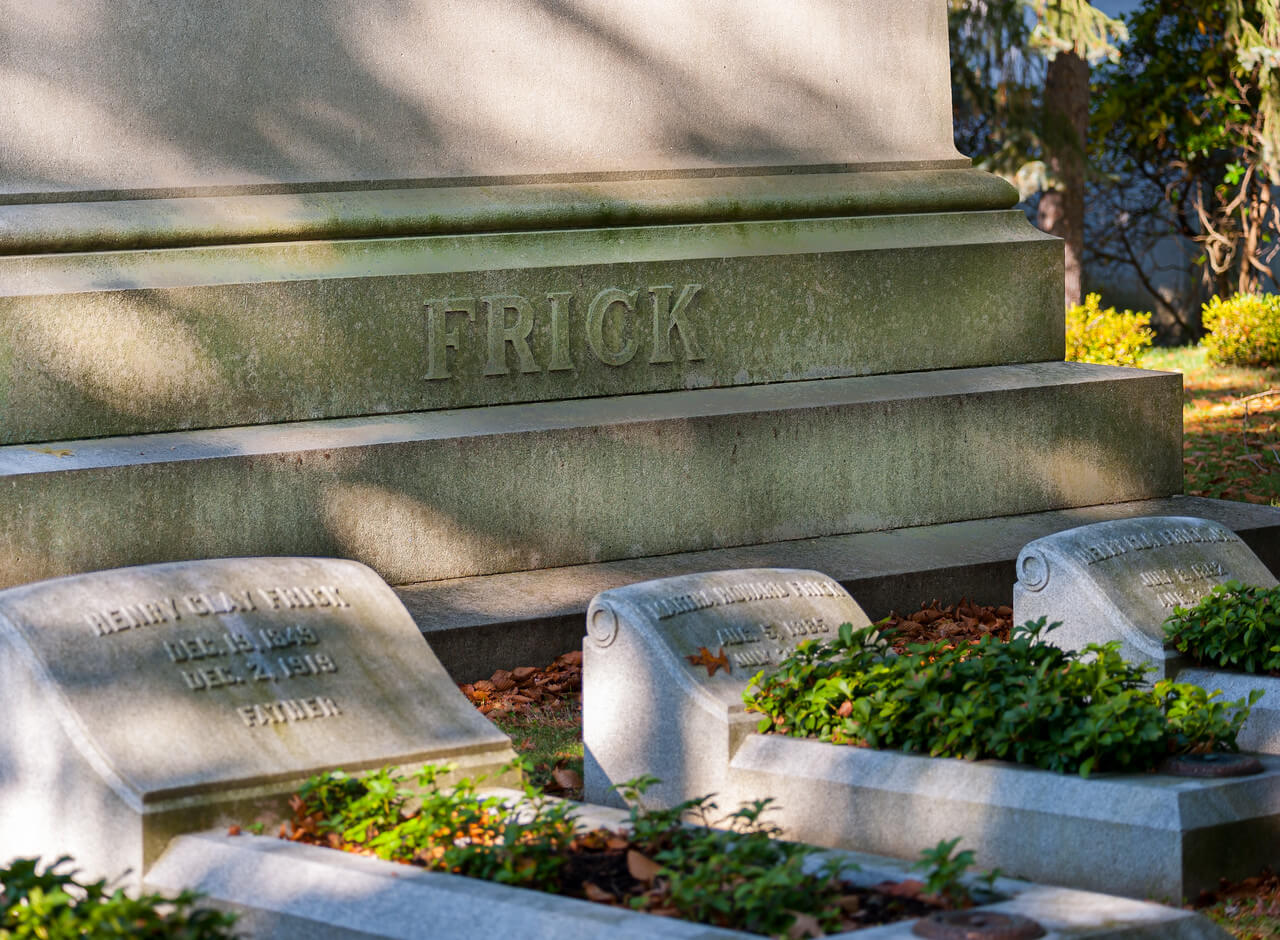 The Fricks' family plot in Homewood Cemetery was one of the earliest purchased in the prestigious Section 14, which opened in 1890 with required lot sizes only the wealthy could afford. The Fricks lost their daughter Martha in August of 1891, and their baby son Henry Clay Frick, Jr. in 1892. Henry Clay Frick purchased the family lot the day after Martha passed away, and for many years the two children were the only family members there, marked by simple graves and the large central stone.
Annie Blumenschine Stephany, a neighbor girl who became close with the Frick family and for several years spent a great deal of time with them as a companion and mother's helper, wrote later in her life about the tumultuous years at Clayton in the early 1890s. Much of her writing describes Martha Frick's illness and life in the home, both before and after her death. In one instance, Stephany describes seeing Martha's grave from the fourth floor of Clayton, which gives us an interesting perspective on the neighborhood at the time:
"I went to the fourth floor and looked out of the window facing the cemetery where our little darling's grave could be seen and there was a little white mound covered with the white and glistening snow all alone on that hillside. Later, I told your auntie what I had seen and she said, 'Do not mention that to my sister or she will feel too badly.' In 1892 this hillside was all clay and bare of trees or shrubs. Later, the little graves were covered with boxes over the winter. Much later on, trees and shrubs were planted on this hillside. There was no entrance to the cemetery from Homewood at this time."
The Frick family granite central stone was designed by Daniel Burnham, the famous Chicago architect perhaps best known for his work in overseeing the construction of the White City for the Columbian Exposition in 1893. Burnham and Frick created several Pittsburgh buildings together, including the Frick Building on Grant Street. In this fantastic photo from the early 1900s, the Frick family central stone, in a large wooden crate, is pulled toward Homewood Cemetery—up N. Homewood Avenue directly past Clayton, which can be seen just behind the line of horses. (To read more about Frick and Burnham's work together, see
this Pittsburgh Quarterly article
by writer and Clayton docent Melanie Linn Gutowski.)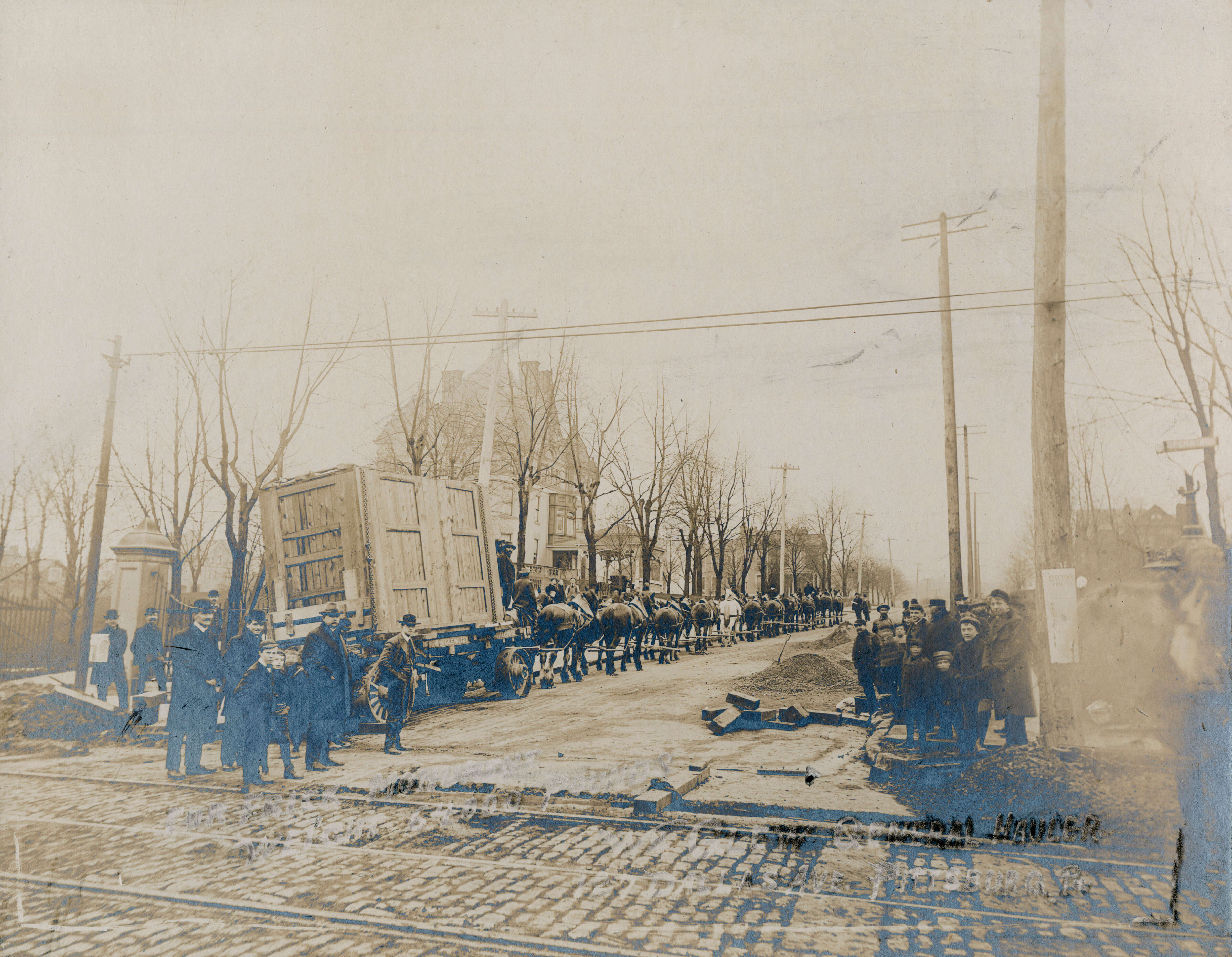 Courtesy of The Frick Collection/Frick Art Reference Library Archives
In the early 1980s, Helen Clay Frick modified the Frick family lot, adding the individual grave markers and raising the medallions in memoriam of her brother Childs and his wife Frances from the ground to their current cradle. Helen Clay Frick herself passed away in 1984.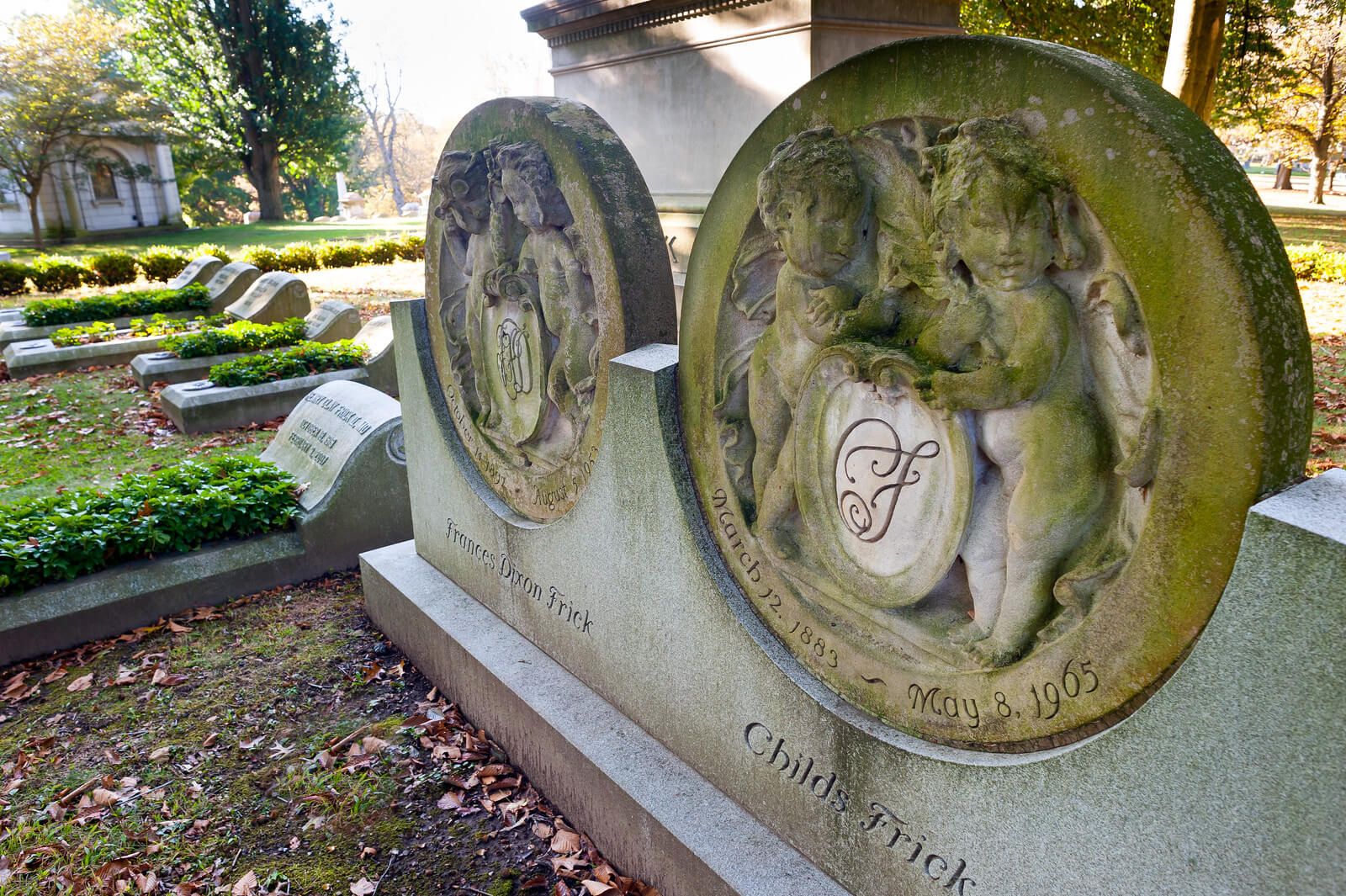 In Section 14 at Homewood Cemetery you will find the graves of many other well-known and wealthy Pittsburghers. But don't limit your exploration to this area, as each marker throughout the cemetery holds a story—many known and many unknown—of lives lived. Homewood Cemetery is open to the public, and offers fascinating tours that illuminate the lives of many of the people buried there. It has also been a designated arboretum since 2014. You can learn more about the cemetery and its programs
here
.
Many Pittsburghers today use the cemetery in the way that it was originally intended over 140 years ago, as a place of respite and rest, a place for remembering and connecting, and a place for peace. It is a truly historical part of our city, and worth visiting as a companion to our
Memory and Mourning
tour of Clayton or on a visit all its own.