Part Three: Dining with Roosevelt
Three years after
his visit to Pittsburgh
, President William McKinley was reelected. Ten month later, he was assasinated, and the newly-elected Vice President Theodore Roosevelt became President.
Roosevelt's ascendancy to the highest office of the land was greeted with dismay and trepidation by many Republicans who feared Teddy's unpredictability. "I told William McKinley it was a mistake to nominate that wild man at Philadelphia. I asked him if realized what would happen if he should die. Now look! That damn cowboy is president of the United States," reportedly exclaimed Ohio Senator Mark Hanna, who had been McKinley's friend and campaign manager as well as chairman of the Republican National Committee.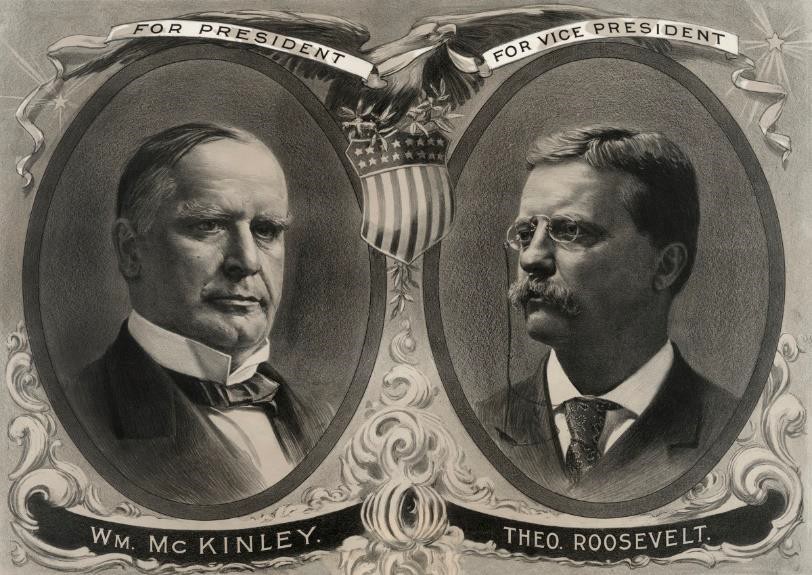 1900 McKinley-Roosevelt presidential campaign banner.
Library of Congress Prints and Photographs Division.
While Henry Clay Frick courted and enjoyed proximity to power during the McKinley years, he became a central player during the Roosevelt administration. While he benefitted from considerable Roosevelt White House hospitality, Frick played host first. The new president was invited to celebrate Fourth of July in Pittsburgh in 1902, and the time he spent at Frick's Clayton home has been well-documented:
Entertaining the President: July 4, 1902
. Roosevelt reciprocated a few months later by inviting the Fricks to both a dinner at the White House and an overnight stay.
The ways that American presidents entertain in the White House reflect the tone and character of their administrations and can boost the morale of a troubled nation. As Theodore Roosevelt demonstrated his leadership skills, the country calmed in the wake of McKinley's assassination. People eagerly looked forward to the pageantry of state functions under the new administration.
The Roosevelts were a young, active family of eight crammed into an Executive Mansion that had not undergone restoration or expansion in nearly 100 years. The prestigious architectural firm of McKim, Mead & White worked with a $500,000+ Congressional appropriation to transform the building in only four months. On December 18, 1902, little more than a year after assuming office, Roosevelt and his Cabinet celebrated the White House restoration and construction of what we now call the West Wing. A gala dinner was held in the newly expanded State Dining Room, and it was that state banquet to which Henry Clay and Adelaide Frick were invited.
McKinley and Roosevelt were vastly different in temperament, and their approaches to hospitality were equally varied. While McKinley events were decorous bordering on stodgy, Roosevelt's irrepressible personality was reflected in the wow-factor of his entertaining. Elegance was manifested in the
new White House
, which the
Pittsburg Gazette
described as "…furnished completely and in costly and effective style." The reception space of the East Room was "simplicity and elegance combined." To complement the State Dining Room's elaborate stucco ceiling, 16th-century Flemish tapestries, carved English oak walls, and mahogany furniture, Teddy added his own decorative touches: taxidermied moose, elk, and buffalo heads.
The new state rooms were mostly completed when the state banquet took place, although some needed finishing touches. The renovations would be officially revealed to the public a few weeks later in January 1903, but the Fricks were among those who had the first look at the new White House.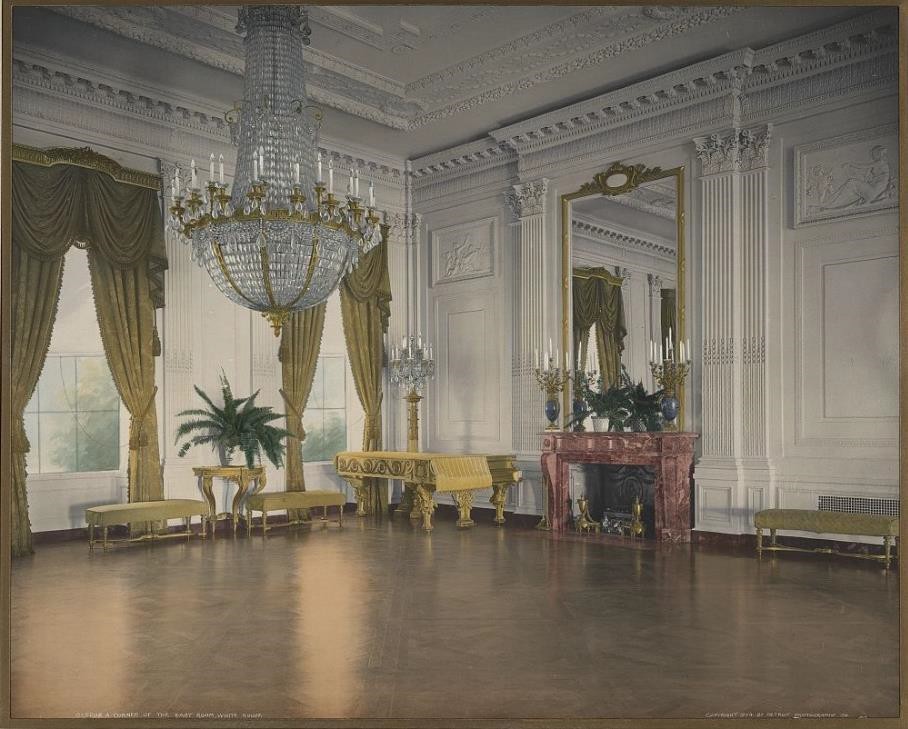 East Room corner following 1902 expansion and renovation.
Hand-colorized print from photo by Frances Benjamin Johnston. Detroit Photographic Company, 1904.
Library of Congress Prints and Photographs Division.
First Lady Edith Roosevelt chose pink as the color scheme for this first grand dinner in the expanded State Dining Room. The Marine Band played while guests assembled and during dinner. The 72 guests were seated at a crescent-shaped table decorated with hundreds of pink candles, arrangements of massed white and pink meteor roses with ferns, and six bisque mythological figurines. Each guest received a corsage or boutonniere of bride roses. Mrs. Roosevelt complemented this pretty-in-pink theme by wearing a gown of pink brocaded silk trimmed with ecru lace. She had ordered new china a few months ago but since it had not yet arrived,
the state dinner service used that evening dated to the Hayes administration
.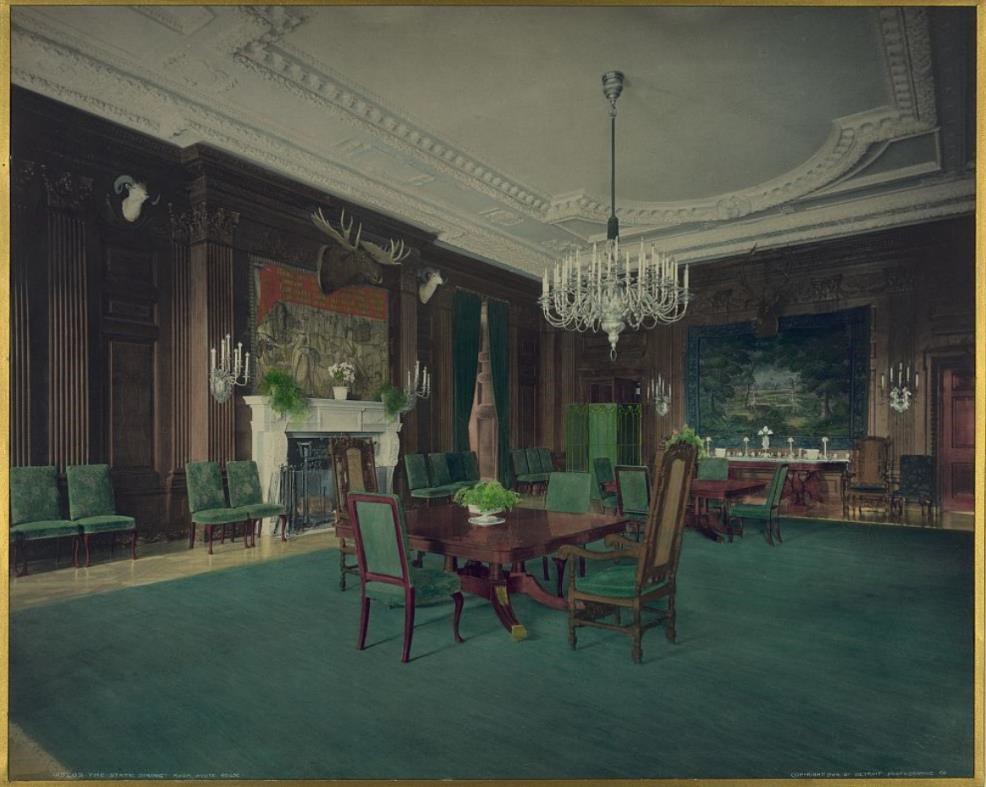 White House State Dining Room after 1902 expansion and renovation. Note Teddy Roosevelt's decorating touches: taxidermied wildlife mounts on the carved English oak walls.
Hand-colorized print from photo by Frances Benjamin Johnston. Detroit Photographic Company, 1904.
Library of Congress Prints and Photographs Division.
There was of course considerable interest in this dinner because of the White House renovations, but press coverage of the event also swirled around Frick. Rumors were rampant that he was going to succeed Charlie Schwab as President of the Steel Trust formed following the 1901 sale of Carnegie Steel. Frick would soon publicly disavow this rumor, but it was still at play at the time of the dinner.
Newspapers across the country noted that the Fricks were personal guests of the Roosevelts for this visit, a social indicator of the level of political influence wielded by the Pittsburgh steelman. The Fricks saw many familiar faces at table that evening, most notably their good friend Philander C. Knox, now United States Attorney General. They stayed at the Knox home for the duration of this trip.
Adelaide wrote to her daughter Helen the next morning using White House stationery, and noted that even their butler and lady's maid had been given rooms in the Executive Mansion:
Your Papa and I have had a very charming visit to the President and Mrs. Roosevelt and the dinner last night was beautiful. We had a fine suite of rooms given us and both Holroyd and Susanne slept in the house. Mrs. Roosevelt is certainly charming and we were made to feel very much at home. Now I am at Mrs. Knox and we are to go back to the White House again this afternoon to attend an afternoon tea and there is something on hand for this evening.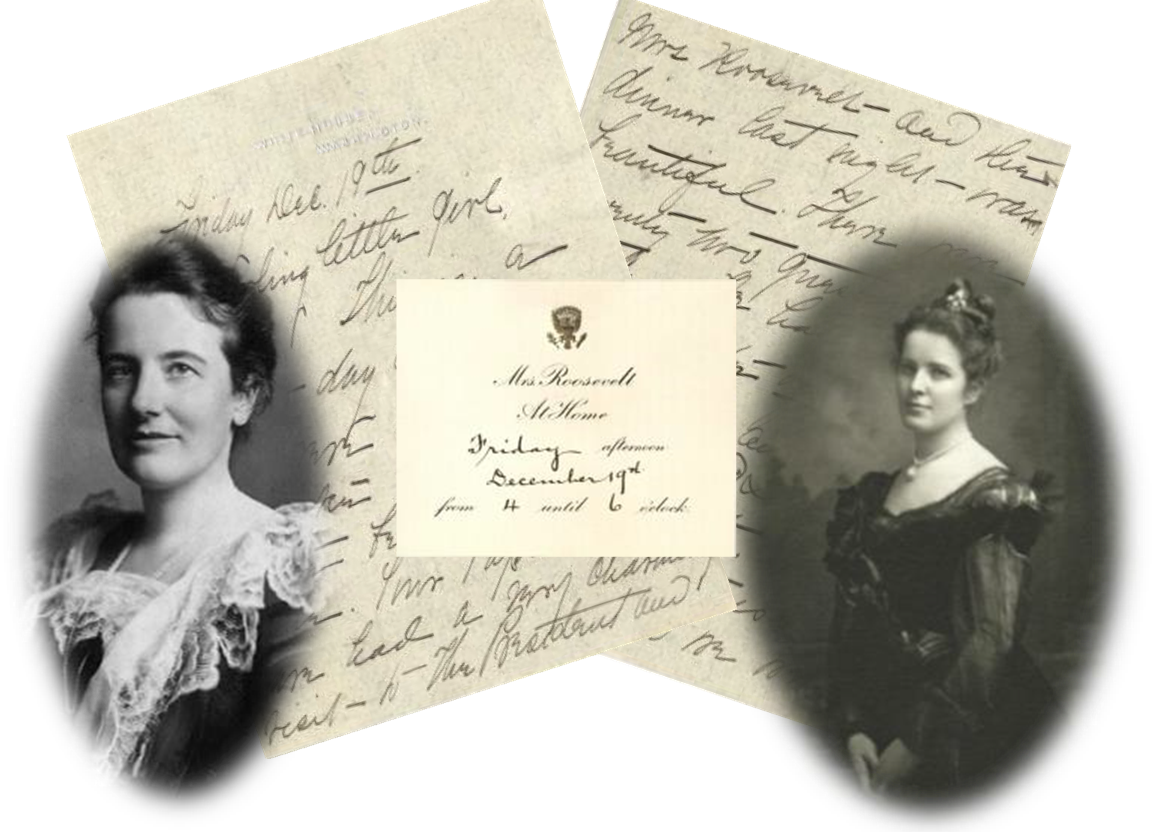 Letter from Adelaide to daughter Helen Frick written on White House stationery; Edith Roosevelt's invitation to tea at the White House on 19 December 1902; photograph of Adelaide Howard Childs Frick from 1901.
Courtesy of The Frick Collection/Frick Art Reference Library Archives.
Left: Edith Kermit Carow Roosevelt, January 1902.
Library of Congress Prints and Photographs Division.
The Fricks were regularly invited to receptions and dinners during the Roosevelt administration, including receptions for the diplomatic corps in January 1906, 1907 and 1908; a private dinner in 1906; and Cabinet dinners in 1905 and 1907.


Invitations to Roosevelt White House receptions and dinners, 1906–08.
Courtesy of The Frick Collection/Frick Art Reference Library Archives.
A gown in our collection
was noted by daughter Helen Frick to have been worn by her mother Adelaide to the White House. Given the popularity of the style in this time period, it was very likely worn to one of the Roosevelt-era events. Designed by German-born Gustave Beer, who opened the first couture house in Paris's fashionable Place Vendome, Adelaide's gown featured the bolero jacket style popularized by Beer in 1902. The generous use of lace with gold and metallic trimmings was also characteristic of the designer. The décolleté cut of this gown made it eminently suitable for a formal White House event.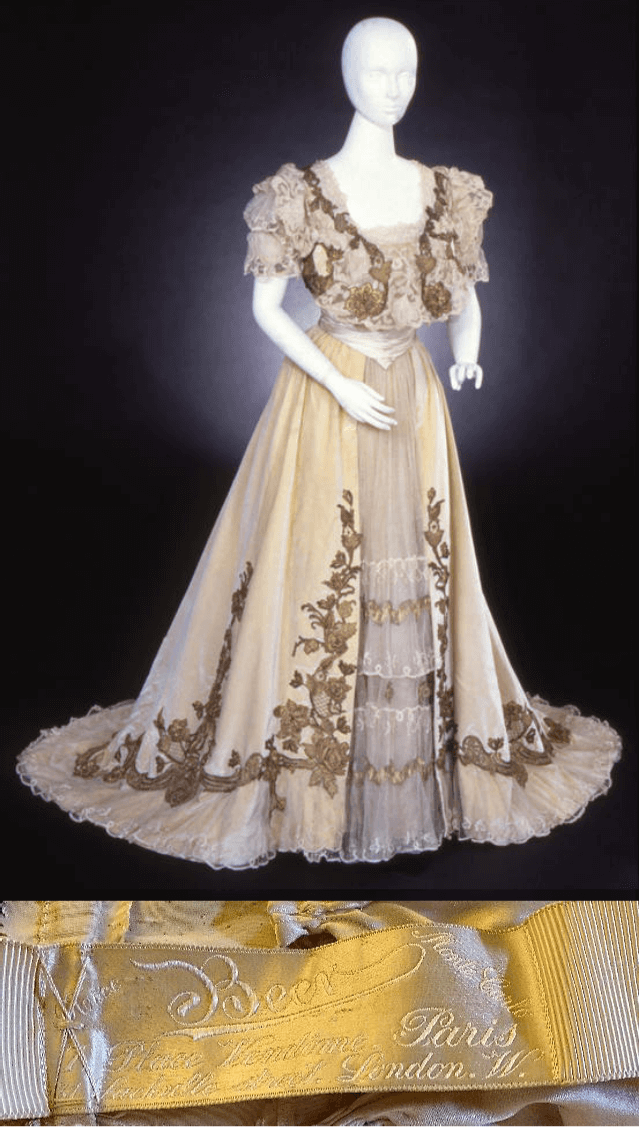 Gustave Beer ivory velvet and lace evening gown, c. 1905, worn by Adelaide Frick to White House event.
The Frick Pittsburgh.
It is all that physically remains to commemorate the partying with presidents done by the Fricks as the Gilded Age drew to a close.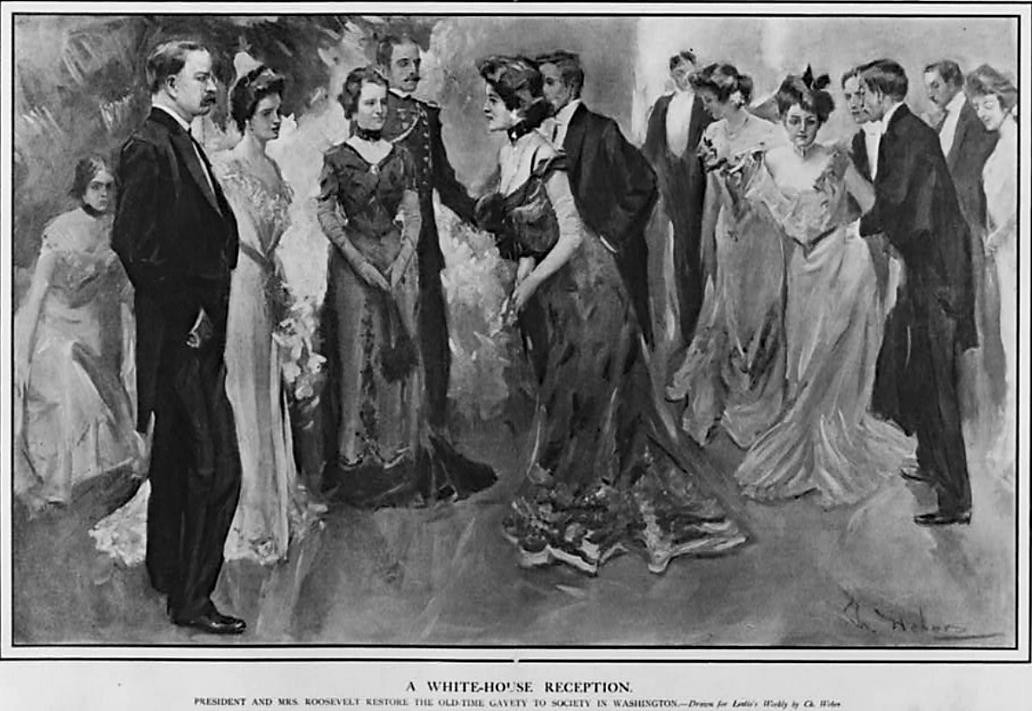 Roosevelt White House reception.
Frank Leslie's Illustrated Newspaper, 16 January 1902.
Library of Congress Prints & Photographs Division.