Explosion in the Green Gallery! Bouke de Vries: War and Pieces Comes to the Frick
The Frick Art Museum's Green Gallery now features
War and Pieces
, an extraordinary artwork by contemporary artist Bouke de Vries (Dutch, b. 1960). The artist assembled thousands of white porcelain fragments to create a 24' long installation evoking the centuries-old tradition of creating elaborate tablescapes, yet wholly contemporary in its outlook.

Bouke de Vries (Dutch b. 1960), War and Pieces, 2012. 18th-, 19th-, and 20th-century porcelain, plastic, sprayed plaster, acrylic, steel, aluminum, gilded brass, and mixed media. Courtesy of the Artist and Ferrin Contemporary.
De Vries drew inspiration from the sophisticated figural centerpieces that adorned the banquet tables of European aristocracy during the 17th and 18th centuries, known as
surtout de table
. These elaborate figural ensembles scenes typically portrayed allegorical vignettes, mythological stories, or architectural follies. The designs were imbued with symbolic value that diners would have recognized; the classical, historical, and political themes referenced would have generated conversation among the guests around the table. Typically displayed during the dessert course for special occasions, these figures were initially crafted from sugar, a rare and prized commodity that signaled the wealth of the host. By the early 18th century, artisans at the early porcelain manufactories like Meissen and Sèvres crafted figures in porcelain. (One charming example in the Frick's collection is the pair of
Enfants Boucher
made at Vincennes/Sèvres in the mid-18th century; they would have been part of a larger ensemble.) In fact, many of the early modelers employed at Meissen, Europe's first porcelain manufactory, were highly-skilled confectioners, or sugar sculptors.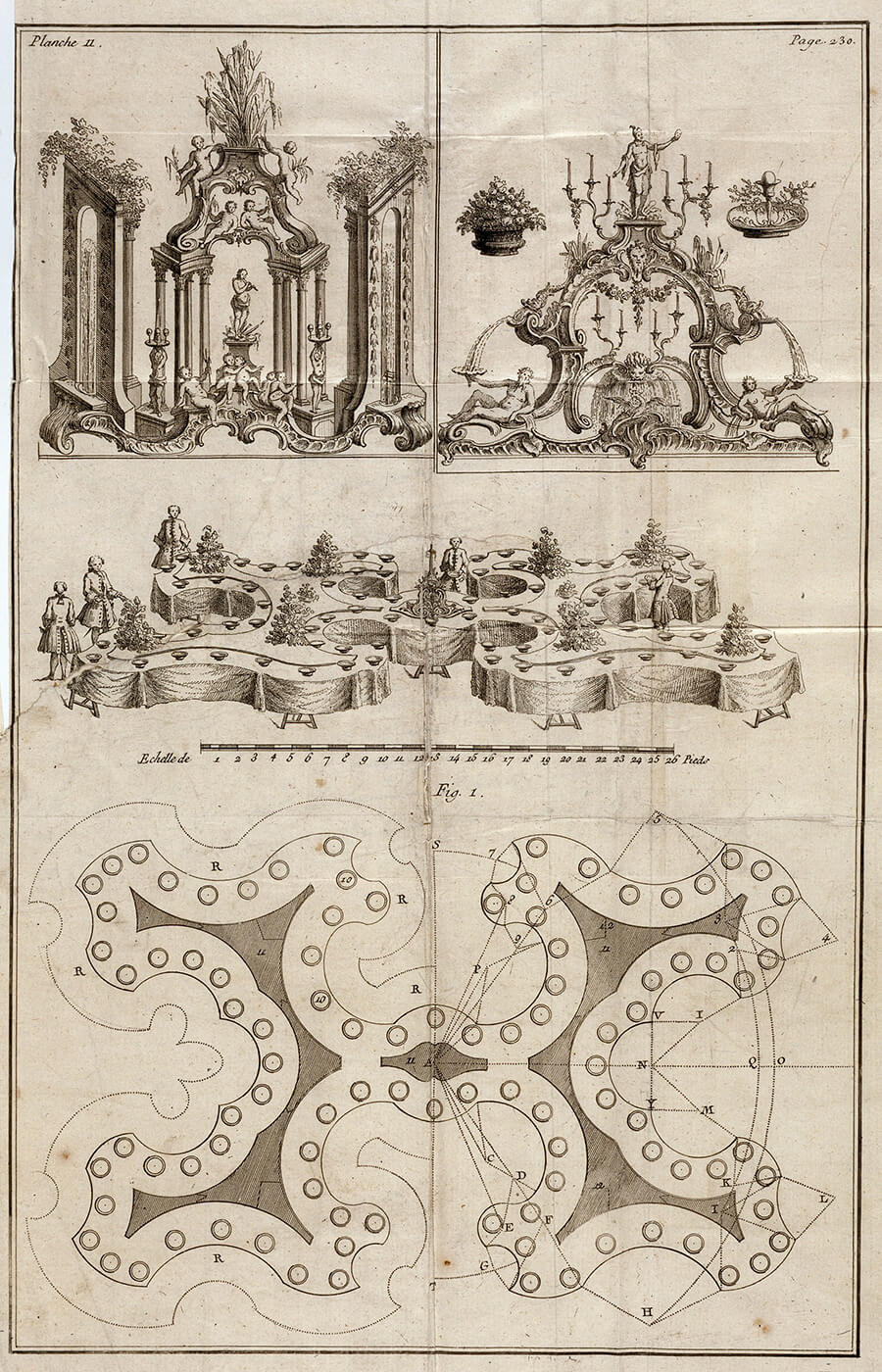 Surtouts and a Geometric Table Plan (sugar sculpture designs at top, table placement below), 1751, Jean-Charles François after Nicolas-Gabriel Dupuis. Etching. In Sieur Gilliers, Le cannameliste francais…, pl. 11. The Getty Research Institute, 85-B5272.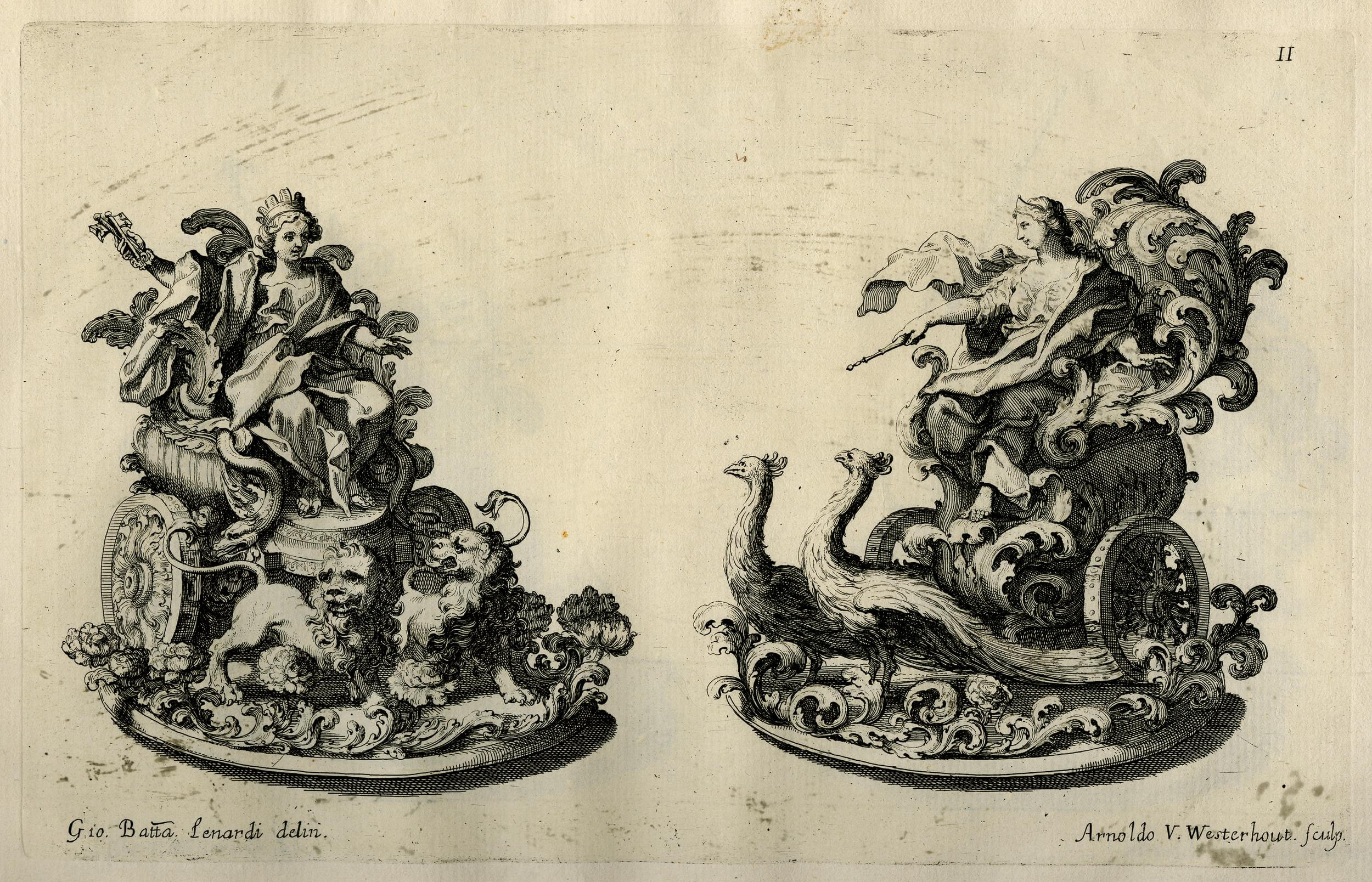 Arnold van Westerhout after Giovanni Battista Lenardi. Design for sugar sculptures of Juno and Cybele, 1687 in John Michael Wright, An Account of his Excellence Roger Earl of Castelmaine's Embassy from his sacred Majesty James the IId (London, 1688). Etching. The British Museum.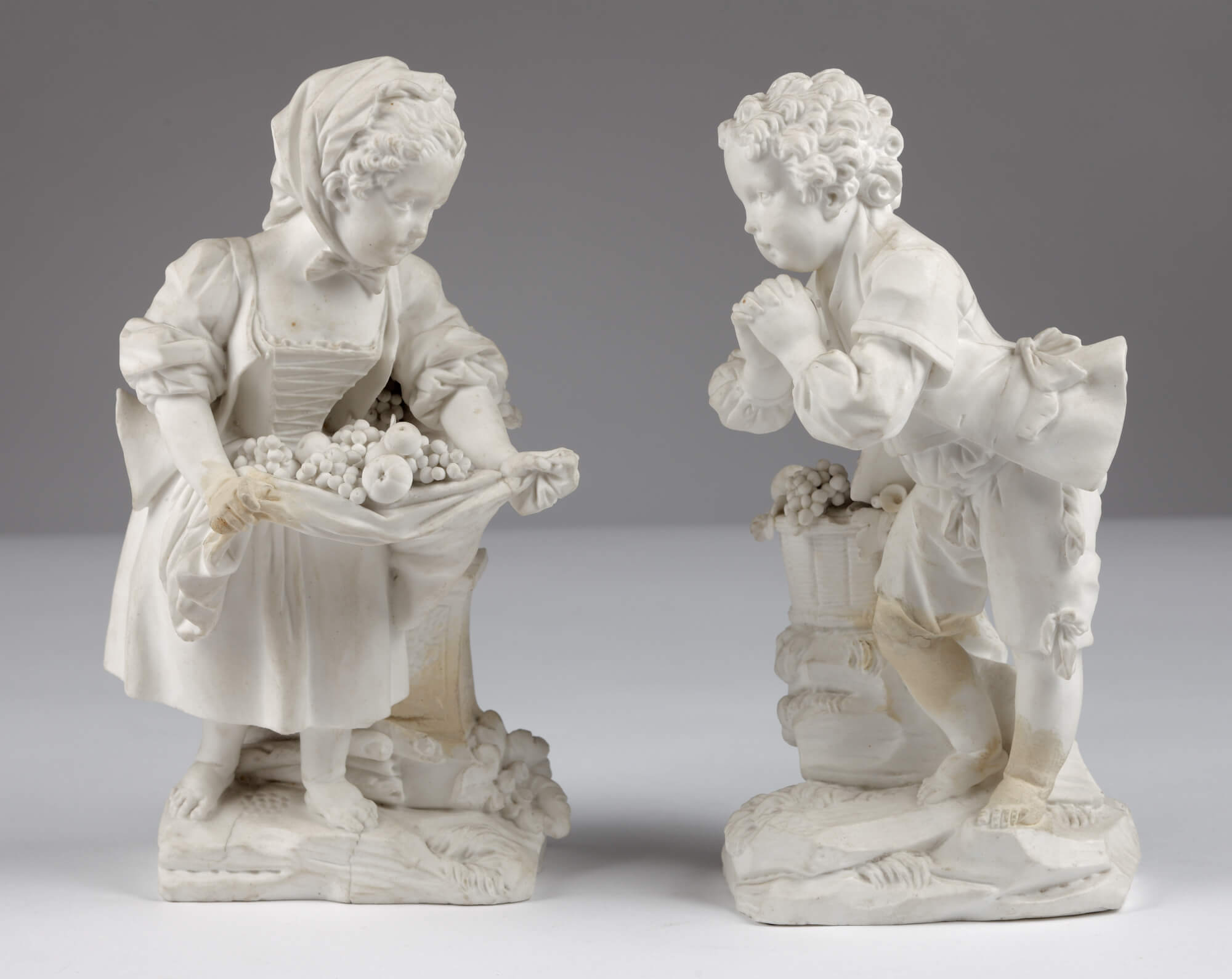 Pierre Blondeau (French, 18th century), after Francois Boucher for Vincennes/Sèvres Porcelain Factory, La Petite Fille au Tablier and Le Jeune Suppliant, c. 1755. Biscuit porcelain. Frick Art & Historical Center, Pittsburgh.
War and Pieces
offers a contemporary interpretation of this tradition. According to de Vries, it is a "war banquet, staging a battle royal between ancien règime sugar and revolution porcelain, referencing the 18th- and 19th-century tradition of grand banquets given on the eve of battle." The artist read William Thackeray's
Vanity Fair
and was struck by the scene at the Duchess of Richmond's ball, given on the eve of the Battle of Waterloo. During the soiree, the Duke of Wellington and his generals are suddenly called away to fight Napoleon who had just crossed into Belgium.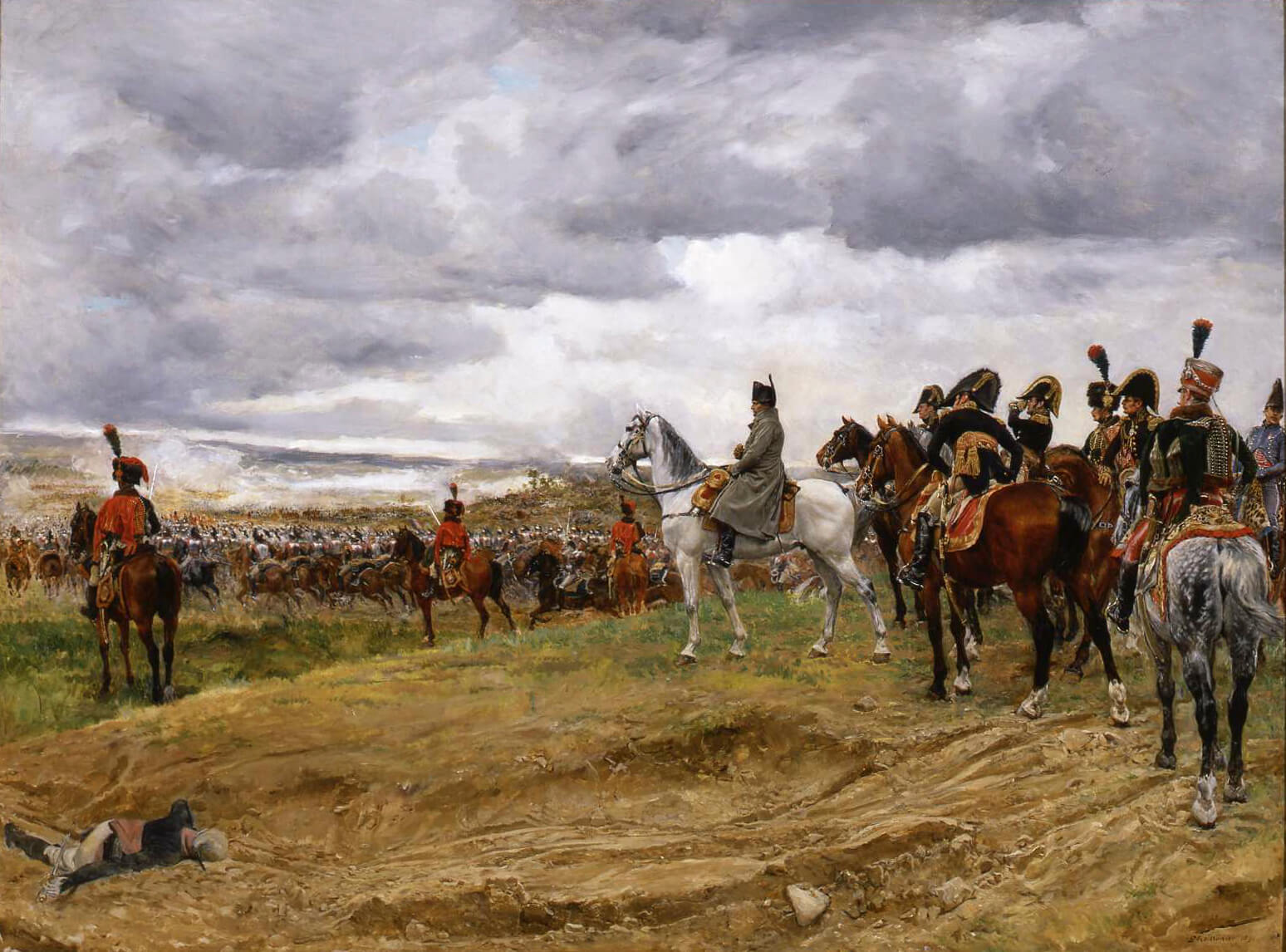 Jean-Louis-Ernest Meissonier (French, 1815–1891), 1806, Jena, 1890. Oil on canvas. Frick Art & Historical Center, Pittsburgh.
At the center of the installation rises a mushroom cloud explosion that has rendered the table a ravaged battleground. In creating the central element, de Vries asked himself what is the most devastating act of war? The haunting, yet visually striking, images of nuclear explosions were his inspiration. The cloud is comprised of ghostly cherubs, skulls, and decapitated and disfigured porcelain dolls or "Hummels gone wrong" as de Vries refers to them. Figures of Christ on the cross and Guanyin, the ancient Chinese bodhisattva of mercy, observe the wreckage. At the top of the cloud, an angel weeps.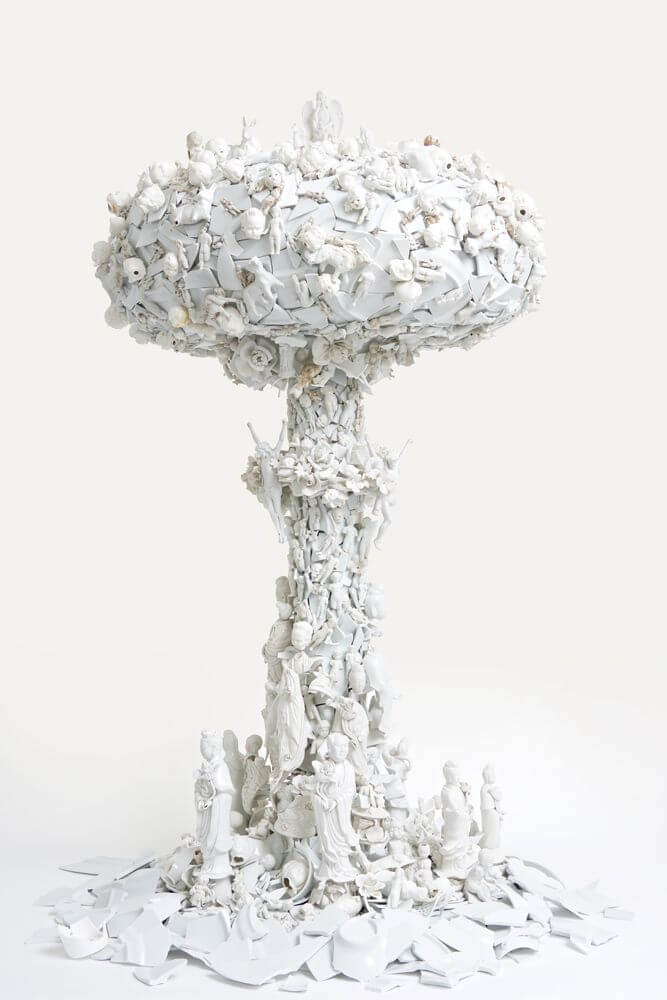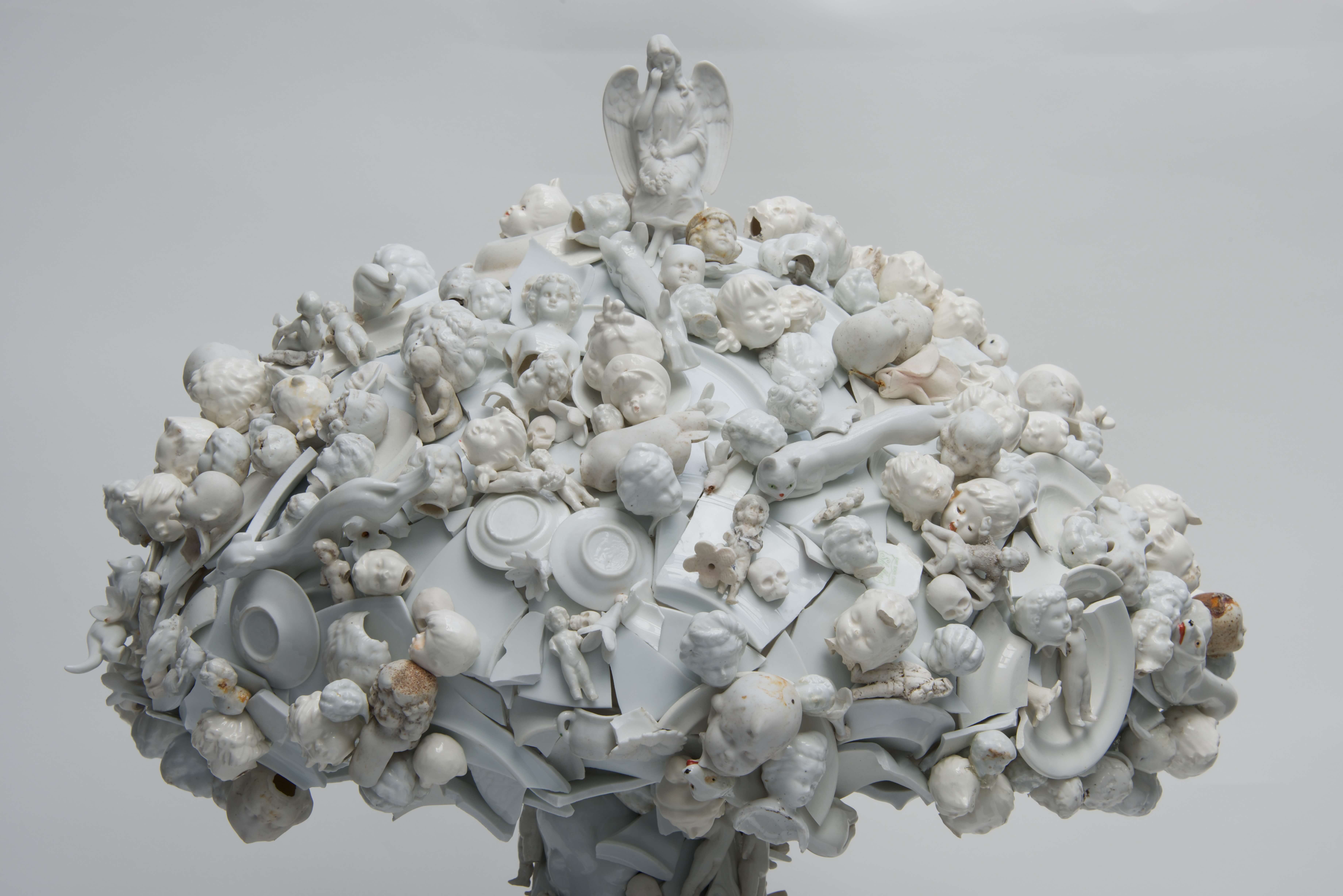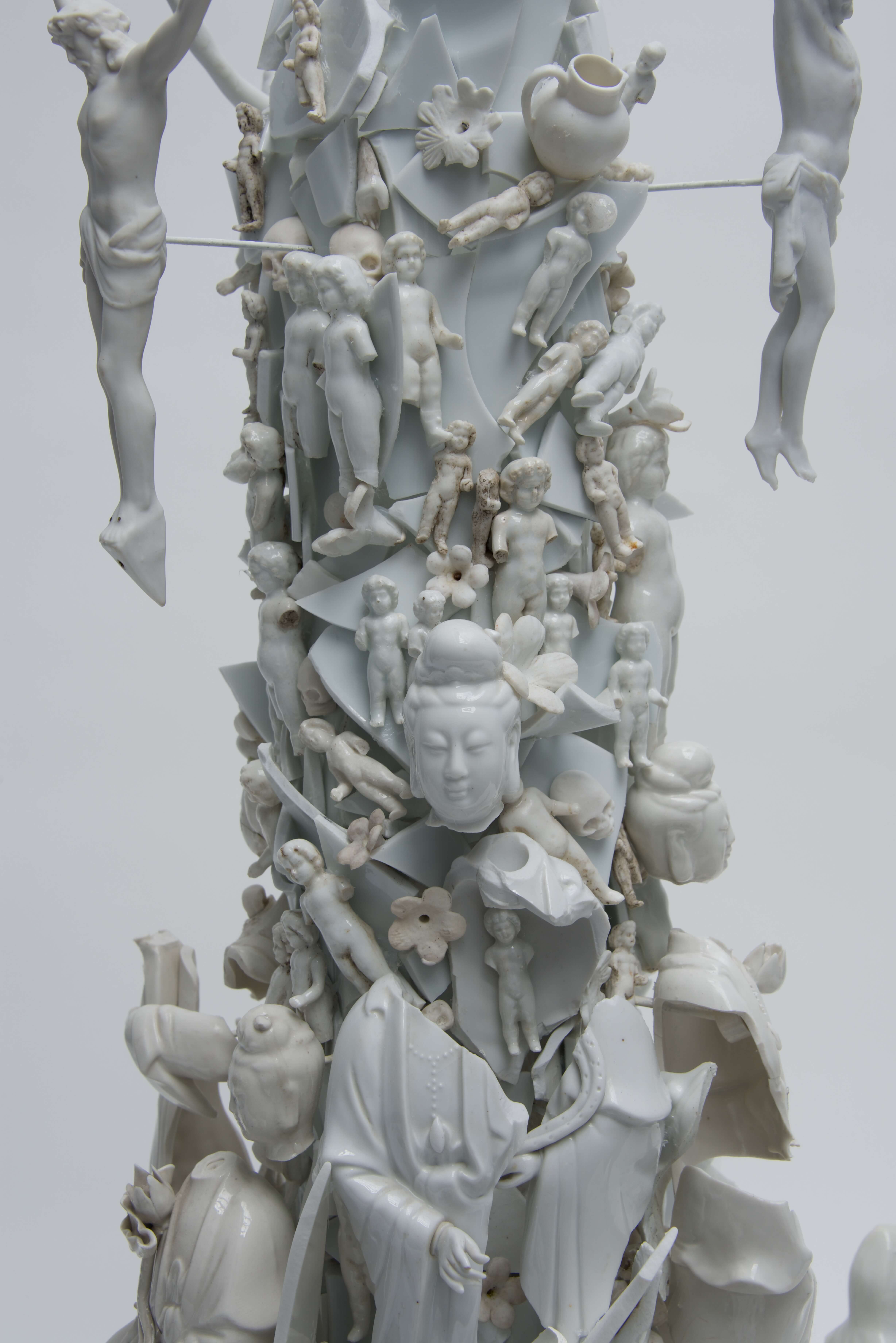 War and Pieces (details).
Figures clash across heaps of porcelain ruins. The combatants include sugar-coated plaster figures of Mars and Minerva, the Roman god and goddess of war, molded from 18th century original made at a Derby porcelain factory in England. Other figures have mutated into cyborgs with bionic limbs and heads created from colorful plastic Transformers toys. These plastic elements, which de Vries calls "modern interlopers," are indestructible symbols of today's toxic waste. Since this is the table, and not a true battlefield, the figures wield forks, knives, and spoons. Their flags are emblazoned with two crossed knives, a reference to Meissen's signature factory mark of crossed spears.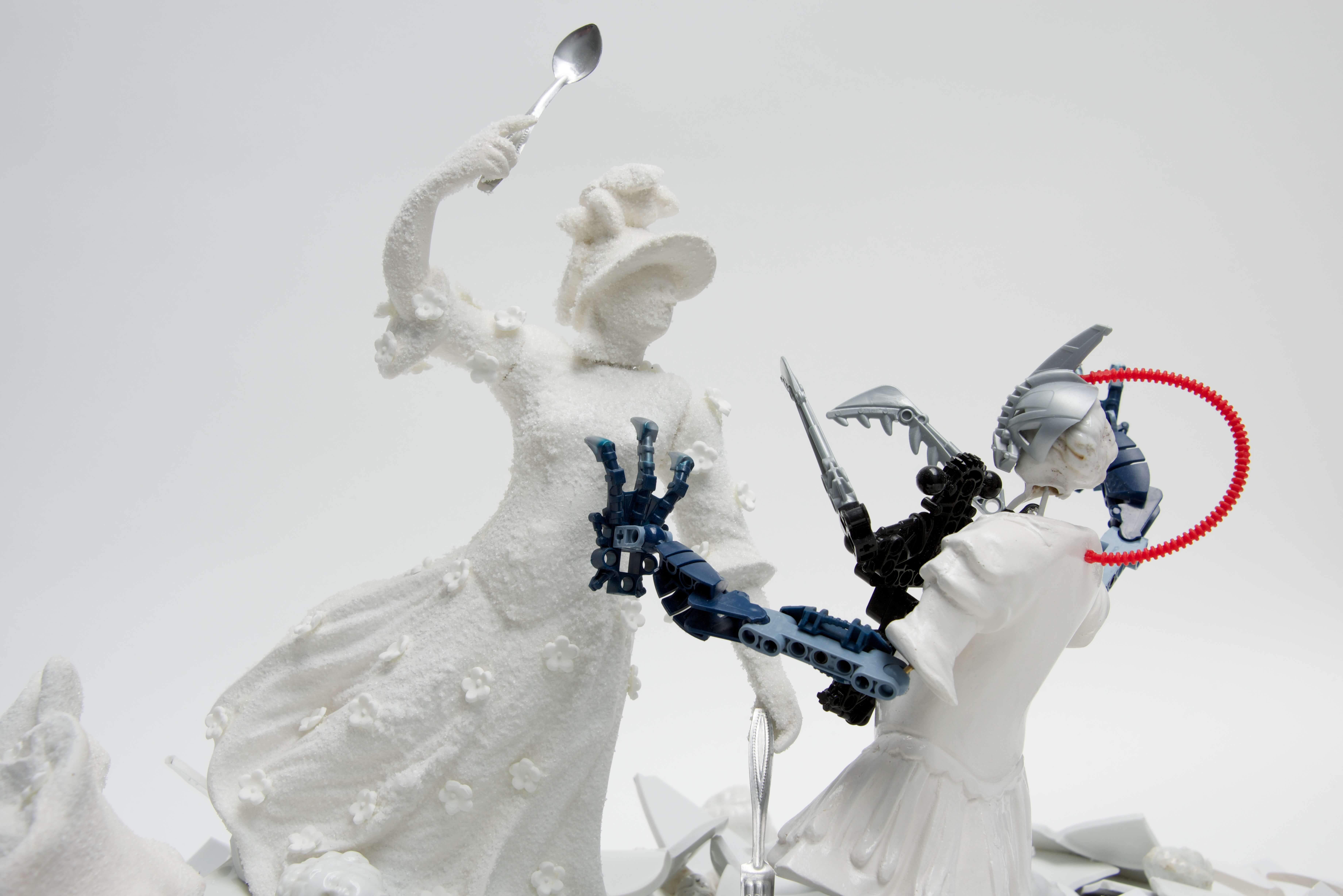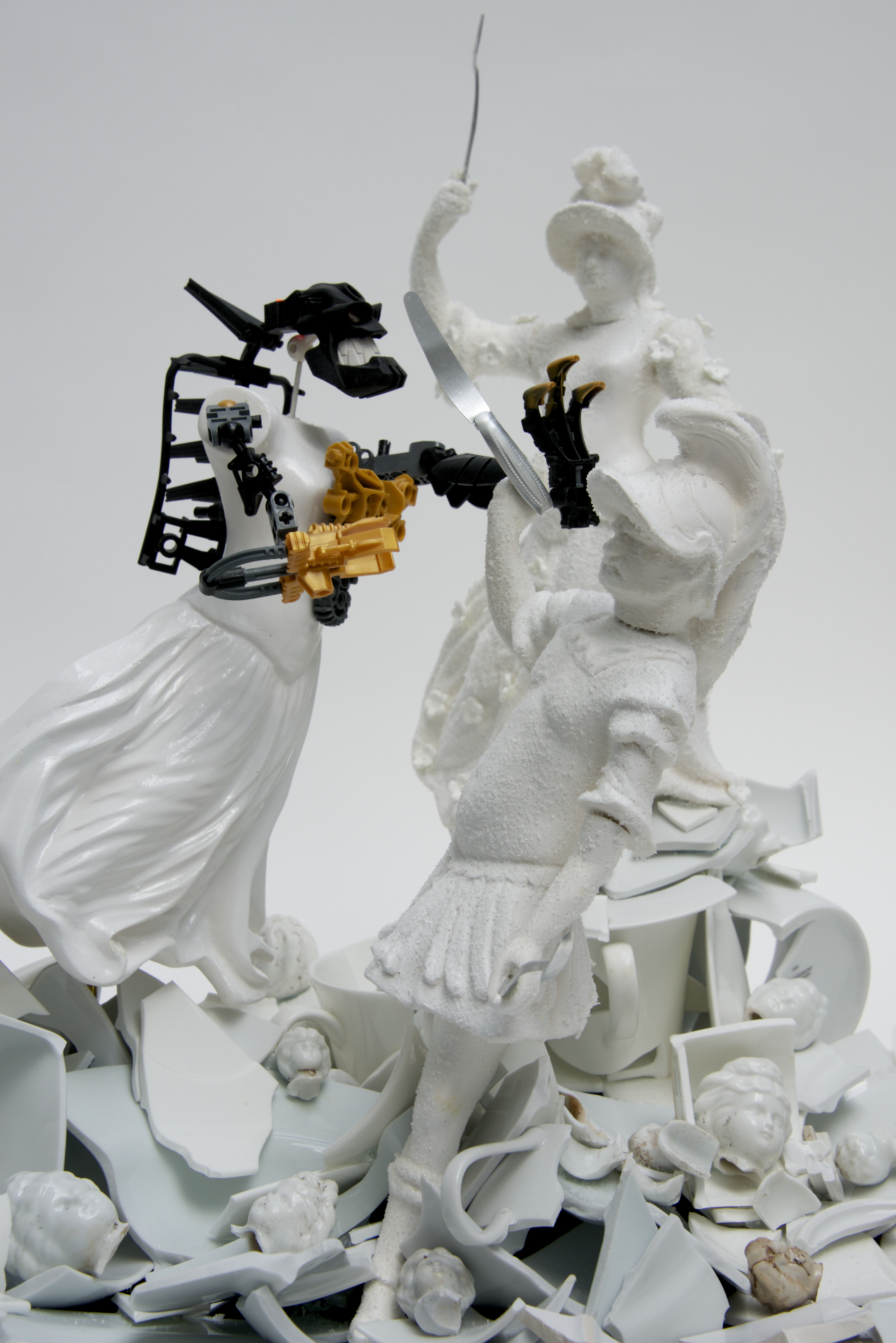 War and Pieces (details).
The vignettes reference historical images of war including the iconic photograph of United States Marines raising the flag at Iwo Jima and the painting
Liberty Leading the People
by Eugene Delacroix.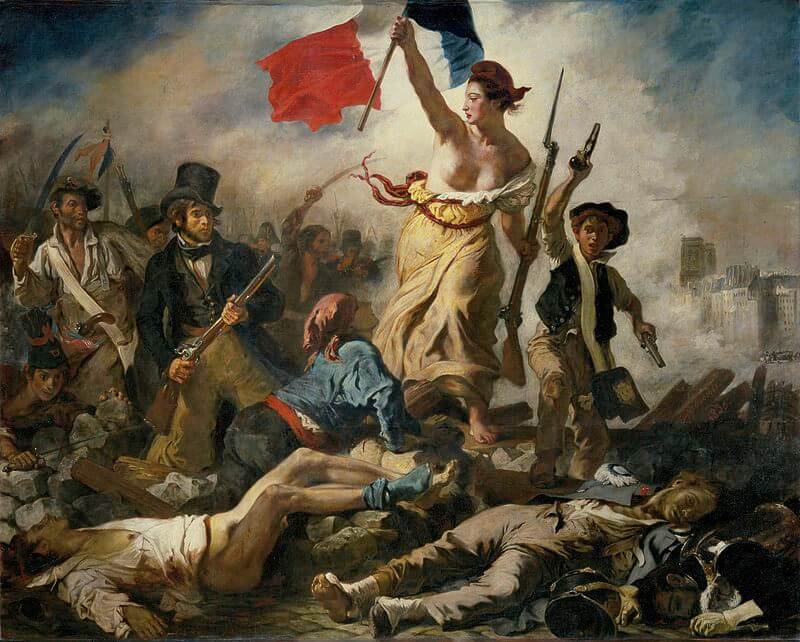 Eugène Delacroix (French, 1798–1863), Liberty Leading the People (July 28, 1830), 1830. Musée du Louvre.
War and Pieces
is layered with meaning. It is at once surprising and thought-provoking. It invites the viewer on a visual exploration of a charming myriad of secreted details, but it also urges one to consider issues of mass consumption, production and waste as well as the glorification of violence in contemporary culture. The table is set with objects that reinforce de Vries' veiled commentary on these issues. The profiles of Mars and Minerva reappear as transfer-print decoration on the neoclassical-style plates de Vries created himself. The handles of the knives and forks are in the form of Kalashnikov AK-47 assault rifles and plated in gold—ostentatious symbols of luxury and brutality. Their appearance is jarring, matching the initial sensation of encountering a mushroom cloud billowing from a table in the center of the gallery.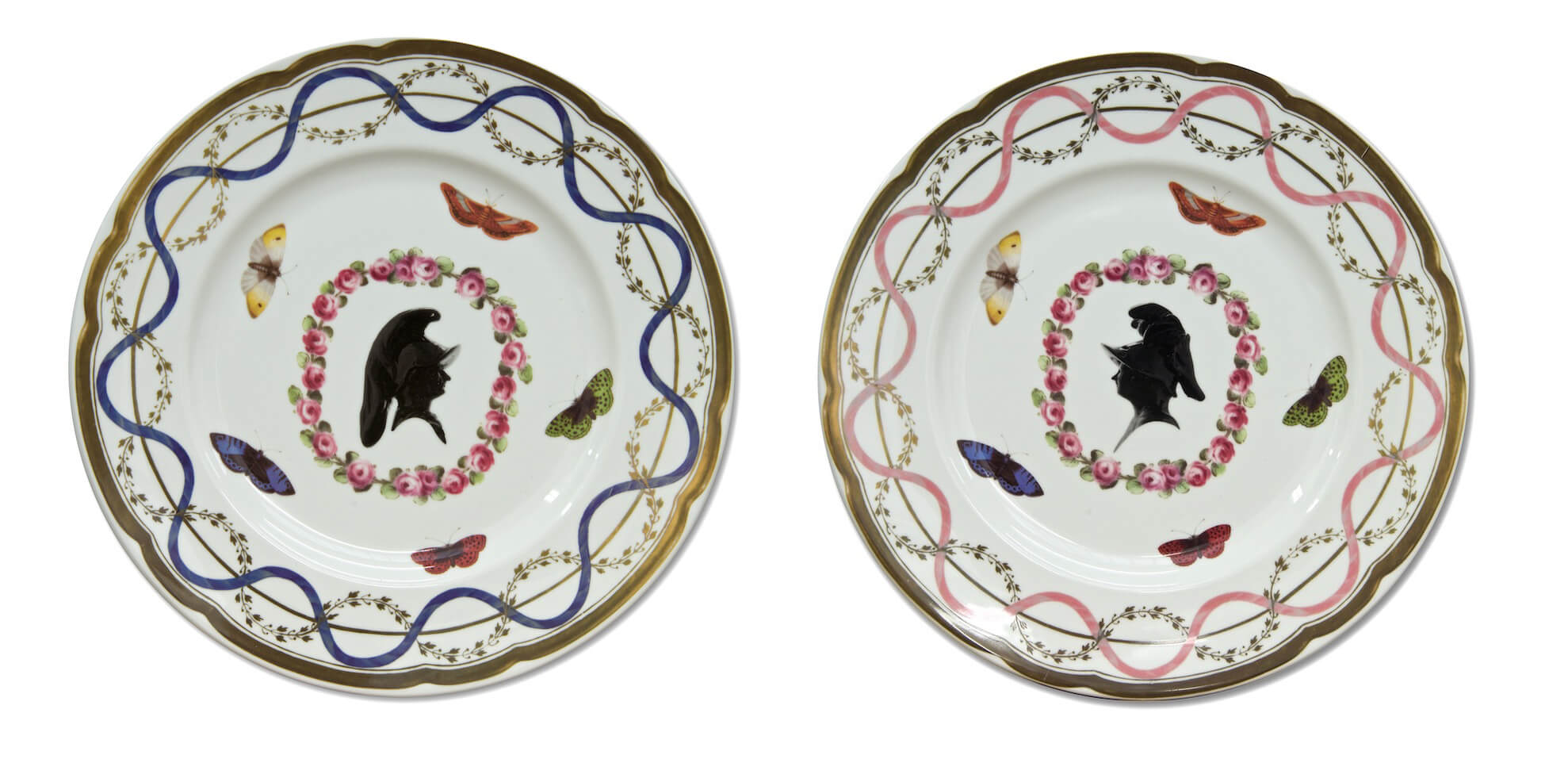 Bouke de Vries (Dutch, b. 1960), Mars and Minerva plates, 2014. Porcelain with transfer-print decoration. Courtesy of the artist.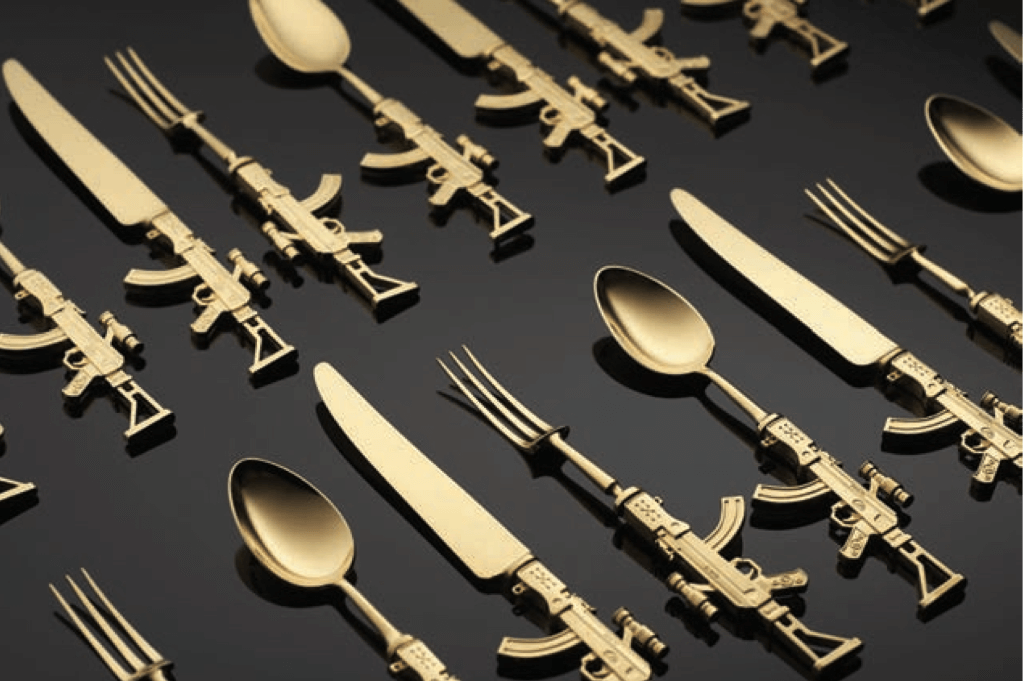 Bouke de Vries (Dutch, b. 1960), Kalashnikov cutlery, 2016. Bronze, gold plate. Courtesy of the artist.
War and Pieces
is the artist's most ambitious work to date. De Vries created the installation in 2012 as a commissioned work for the Holburne Museum in Bath, England. It was his first large-scale project, which was initially intimidating, but ultimately pushed his artistic practice to new heights. Since 2012,
War and Pieces
has traveled around the world, customized for each venue so that it is in conversation with its interior setting. The Frick Pittsburgh is the fifteenth venue. Its installation at The Frick Art Museum in a gallery of French, Dutch, and English art from the 17th and 18th century creates an engaging dialogue between the contemporary sculpture and the depictions of aristocratic patrons and settings of the period from which it is inspired.
De Vries, who lives and works in London, began his career in fashion design before transitioning to ceramics conservation and restoration. Daily encounters with broken ceramics inspired him to create his own artworks. Using his skills as a restorer, de Vries resurrects broken porcelain pieces that would otherwise be discarded and uses them to create sculptures that tackle both contemporary and historic issues. Instead of hiding the evidence of "this most dramatic episode in the life of a ceramic object," he gives it a new status, instills new virtues, and carries its story forward.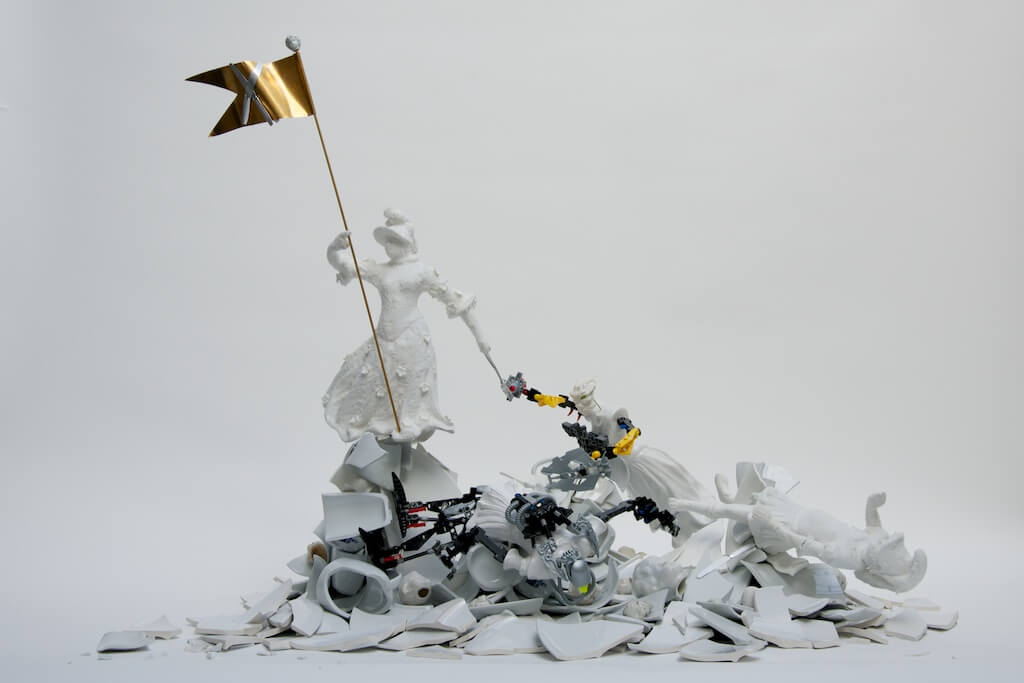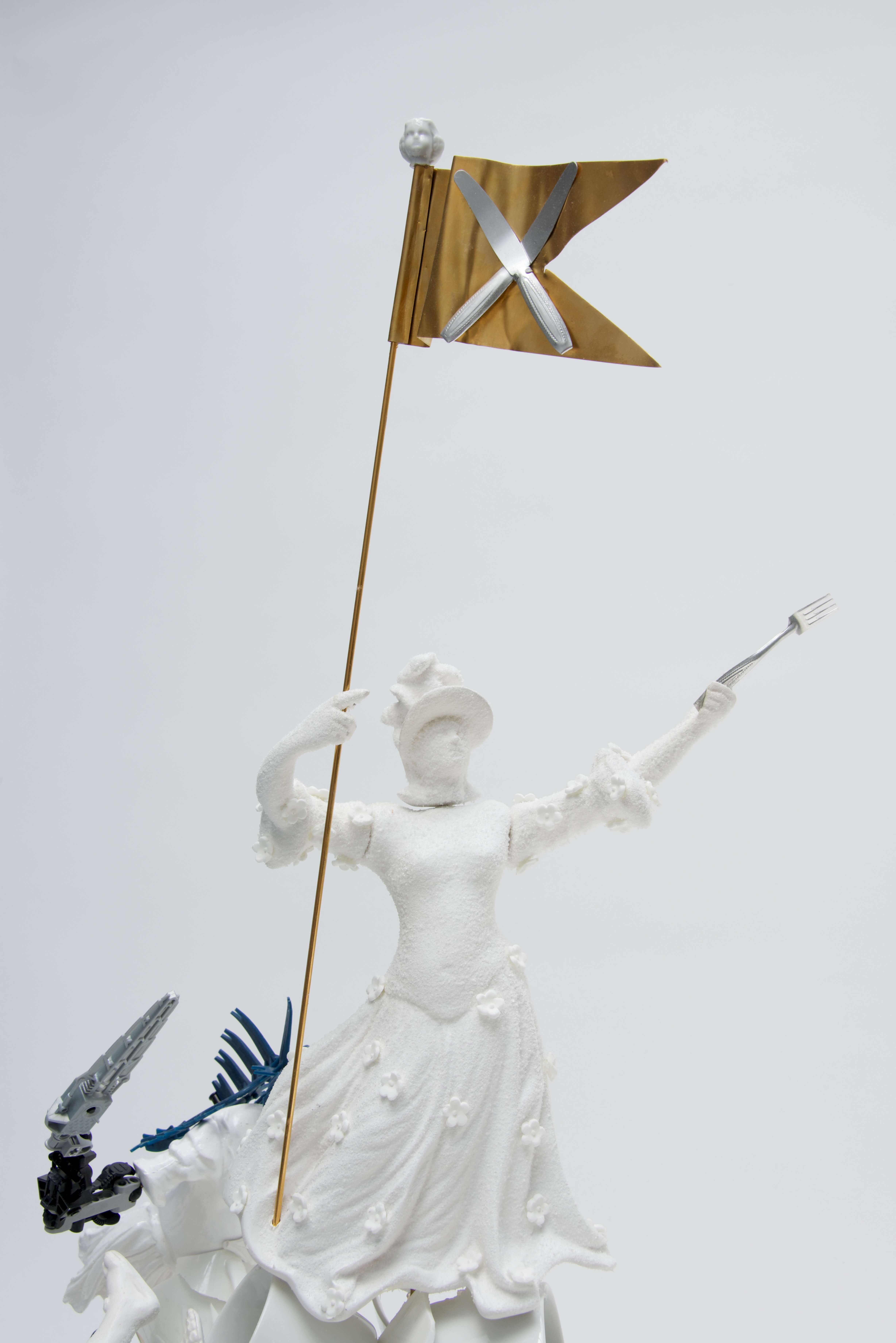 War and Pieces (details).
Bouke de Vries: War and Pieces
will be on view at The Frick Art Museum through January 24, 2021. Admission is free, but timed tickets are required. Reserve your ticket to see the installation in the Frick's Permanent Collection galleries
here
.

Photos by Tim Higgins except where noted.