A Closer Look at Cast in Chrome: The Art of Hood Ornaments
The
new exhibition at the Car and Carriage Museum
features a variety of hood ornaments—small statuettes that once graced car hoods during the golden age of the automobile. What began as a way to monitor engine temperature ultimately became a way for owners to personalize their vehicles and demonstrate their wealth. Inspired by Art Deco motifs and later the great space race, artists and car manufacturers worked together to create objects that evoked the spirit of motoring.

DeSoto Flying Goddess on the DeSoto Deluxe S-10 Sedan, 1942. Chrysler Corporation, Detroit, Michigan. Exhibited courtesy of the NB Center for American Automotive Heritage.
Elegant ladies with wind-blown hair were a common motif of hood ornaments. These flying ladies facing winds head-on found on Cadillacs and Rolls-Royces epitomized grace and beauty. Claude Johnson, managing director at Rolls-Royce in the early twentieth century, commissioned artist Charles Sykes to create an ornament for the brand after he had seen Sykes' creation "the Whisper" on Lord Montagu of Beaulieu's own Rolls-Royce. Johnson wanted an ornament that evoked the grace, sophistication, and quiet speed of the Rolls-Royce. The Spirit of Ecstasy, introduced in 1911, became a standard fitting in the early 1920s. "She has selected road travel as her supreme delight…she is expressing her keen enjoyment with her arms outstretched and her sight fixed upon the distance," said Johnson.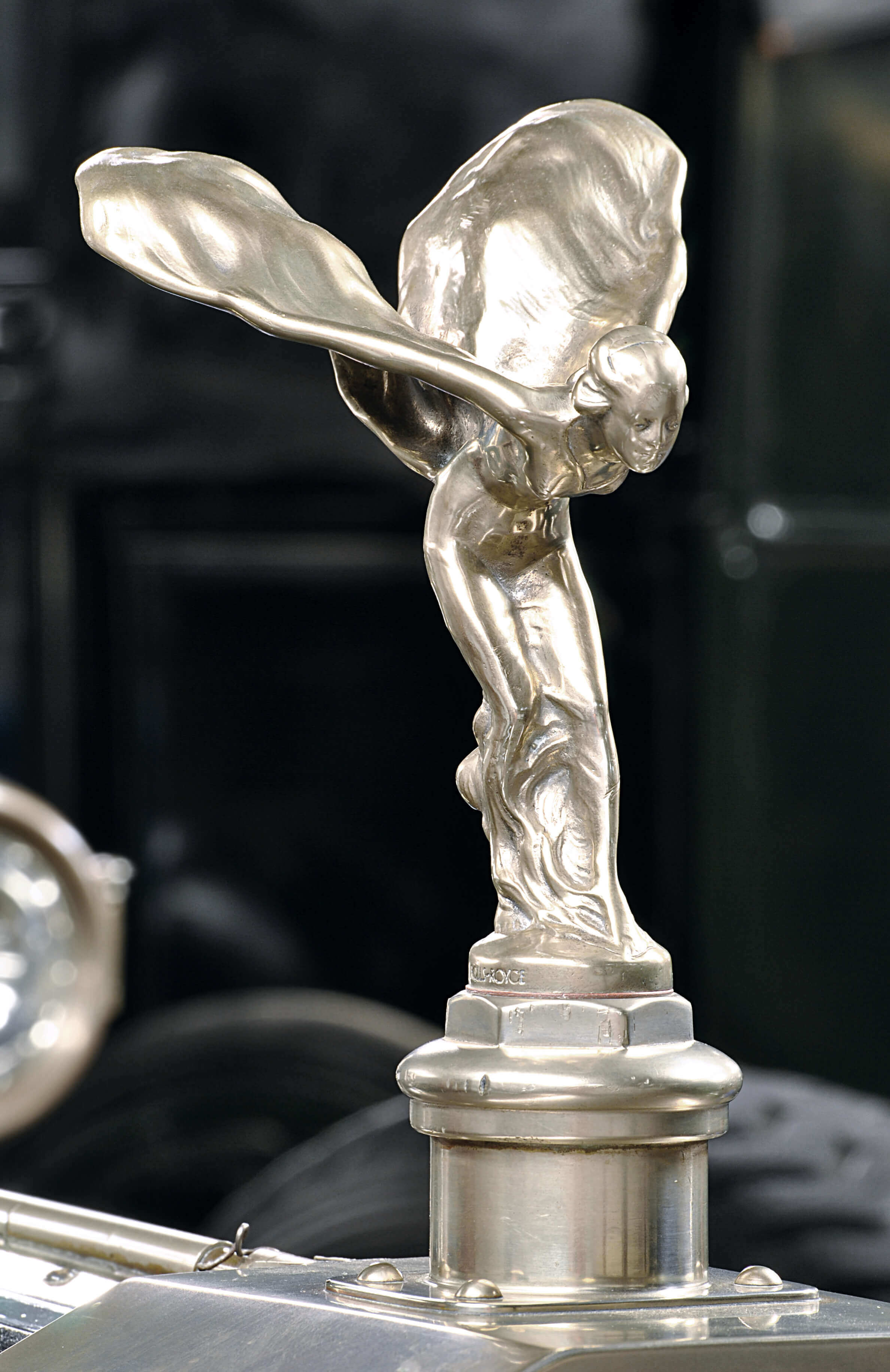 Spirit of Ecstasy, Rolls-Royce of America, Inc., Springfield, Massachusetts, Silver Ghost Salamanca Town Car, 1923. Ornament designed by Charles Sykes (1875-1950). Frick Art & Historical Center, 2002.1.1. Gift of William Penn Snyder III.
Animals were chosen to project speed and stamina, qualities sought after by customers. Edsel Ford selected the agile greyhound, produced by silversmithing firm Gorham Manufacturing Company, for his Lincoln models. Likewise, William Lyons, founder of the Swallow Side Car Company, chose the leaping jaguar for its quickness. Over time, the jaguar's styling changed to reflect the increasing speed of the newer models. Luxury brand Hispano-Suiza chose the stork—la cigogne—a bird known for gliding, which helps preserve its energy in flight. Explorers, conquerors, Native Americans, and gods and goddesses of Greek and Roman mythology were embodied representations of the automobile's power and strength. The Belgian car company Société Anonyme Minerva Motors selected Minerva, the goddess of wisdom, to adorn their radiator caps. In 1921, GM subsidiary Pontiac commissioned the image of the noble Chief Pontiac, an Ottawa leader, to represent the brand. Chief Pontiac personified the characteristics of the American West—perseverance and freedom. Artist William Schnell designed the Chief Pontiac hood ornaments from the mid-1920s through the 1930s. Pontiac would produce forty iterations of Chief Pontiac over thirty years.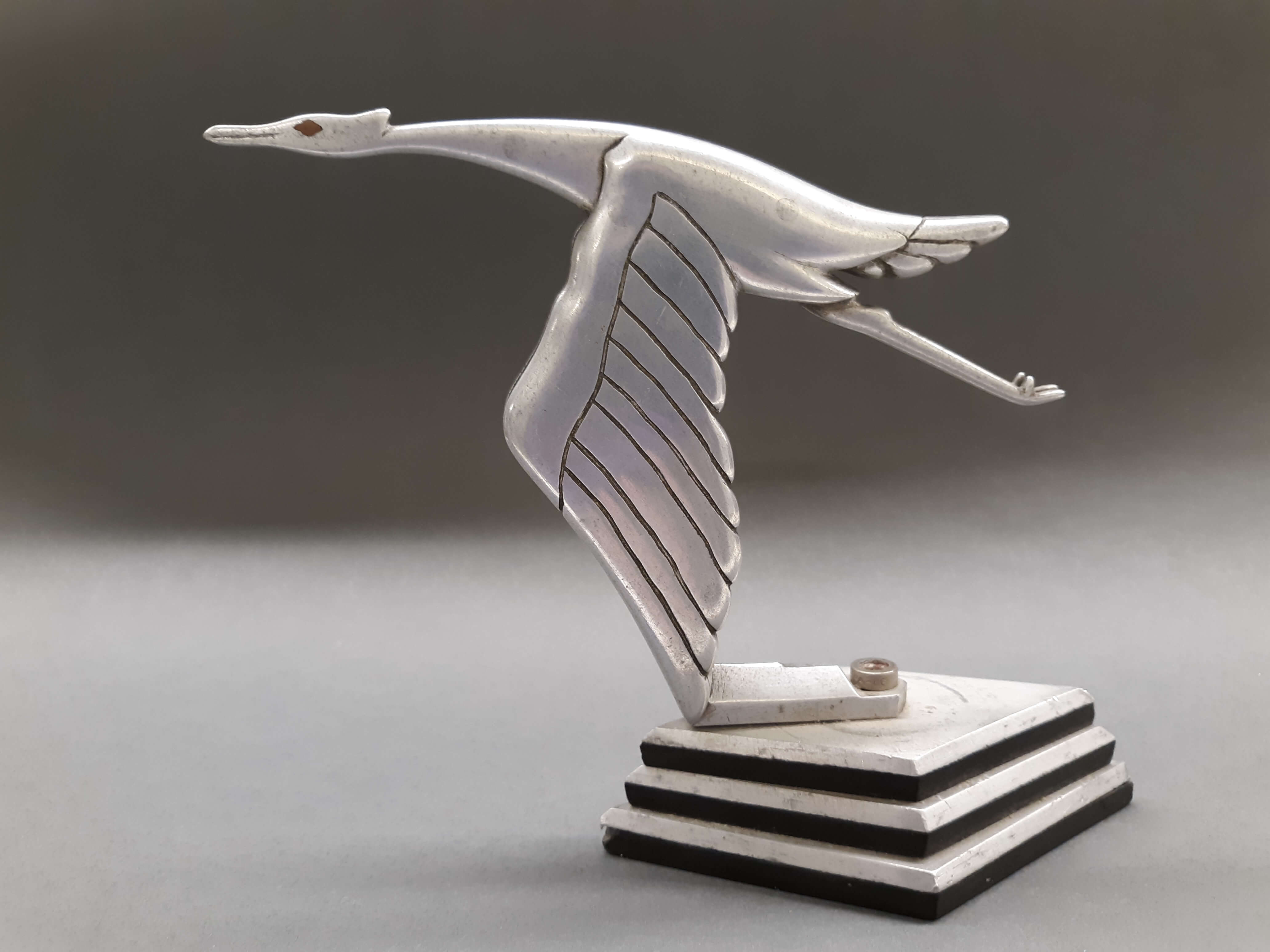 La Cigogne (The Stork), La Hispano-Suiza Fábrica de Automóviles, c. 1920s. Ornament designed by Francois Bazin (1897-1956). Collection of Ken Merusi.
Through the 1940s, hood ornaments remained a popular automobile design element and adorned almost every car regardless of price. Those owners who wanted to flaunt their wealth and status, however, opted to attach the most glamorous, custom-made glass ornaments by artist Rene Lalique. Known for his Art Nouveau jewelry, Lalique created Art-Deco-style hood ornaments from the late 1920s through the 1930s, producing 28 commercial ornaments during the period. Coveted collector's items, Lalique ornaments were susceptible to theft in their day. These thefts were so common that Lalique commissioned the Breves Gallery in London to create pedestals for then ornaments, so that owners could remove them from their hoods when not in use and have a proper display in their homes.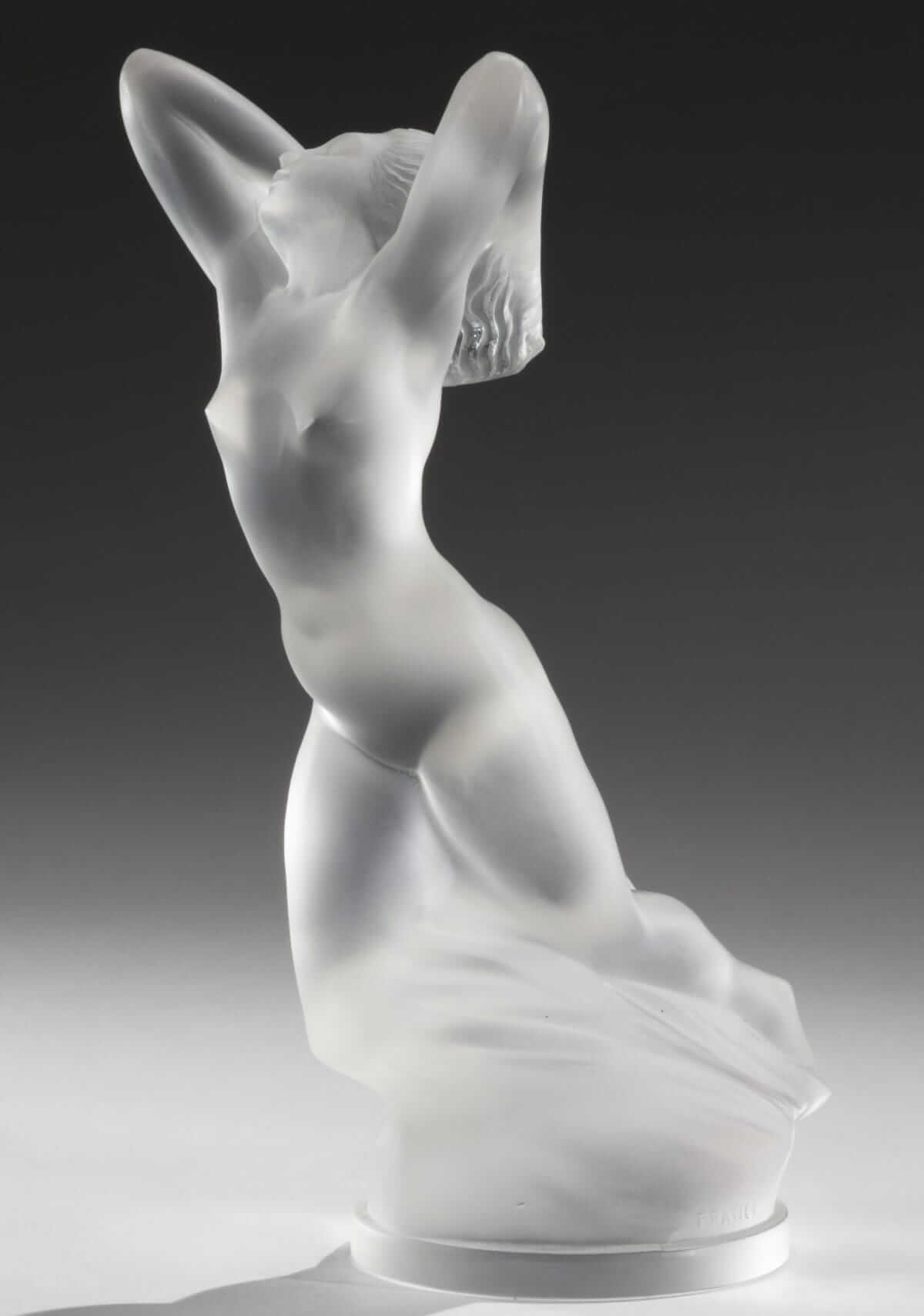 Vitesse (Speed), René Lalique, c. 1929. Photo courtesy of The Henry Ford, Dearborn, MI.