Unburied, Unmourned, Unmarked
"Unburied, Unmourned, Unmarked" is the first full symphonic work about the enslavement of Africans and people of African descent in the New World composed by three-time EMMY ® Award-winning classical music composer, John Christopher Wineglass, based on the libretto written by acclaimed historian, Dr. Edda L. Fields-Black. It mourns the souls of the enslaved who died on Lowcountry South Carolina and Georgia rice plantations. The lamentation turns to celebration of the critical role enslaved Africans' ingenuity, technology, and industry played in the economy of the US South.
Movement, "I. The Middle Passage: Uprooted" places the listener below decks of a slave ship making the atrocious journey from West Africa to America. The strings and woodwinds' rapid scalar runs, continuously ascending into the upper register just to immediately fall again, paired with unstable harmonies in the brass, the foreboding thud of the bass drum, and the intermittent clash of the chimes produce a chaotic effect. Repetitive motifs drive the music forward, and one can feel the turbulence of the waves, wind, and seasickness. Just as the mass of sound becomes truly overwhelming, the brass seamlessly transitions into a fanfare, which is transposed upward and repeated while the strings' runs are melodic but urgent. Achieved by a change in harmonic structure, the mood is suddenly triumphant, a tribute to the tremendous accomplishments of the enslaved, carrying the enormity of the conditions they survived but brimming over with pride at the work of their hands. Movement, "II. Tones of the Rice Fields" incorporates Fields-Black's chilling libretto, which tells the lived experiences of the enslaved from primary historical sources. The orchestra and recorded sounds of the rice fields conjuring the setting make it all the more haunting. Movement, "III. Lament for Lost Souls" is a dwelling on one melancholy theme, producing an ethereal texture with the strings and winds' meandering scales in the upper register. The instrumentation becomes thicker with unresolved longing, then grows in substance without ever losing its chilling effect.
The Colour of Music Festival Orchestra performed the three movements featured in Vanessa German's
Reckoning:
Grief and Light
on February 13, 2019 at Pittsburgh's Carnegie Music Hall in Oakland.
Pittsburgh Post-Gazette
critic Jeremy Reynolds wrote, after attending the premiere: "The performance was a small taste of what promises to be a grand dramatic homage to the darkest chapter of American history."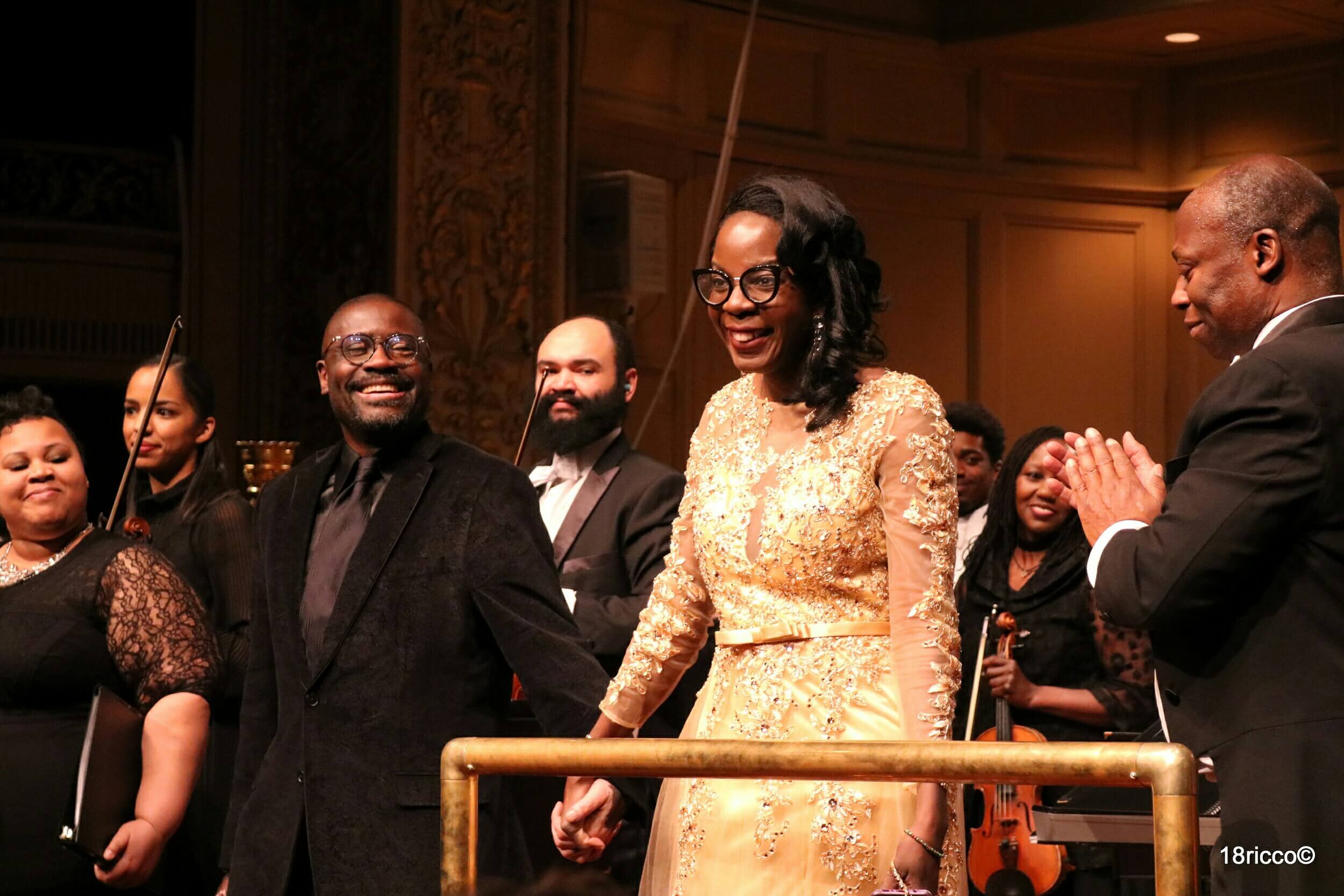 John Wineglass and Dr. Edda Fields-Black at the orchestral debut of Unburied, Unmourned, Unmarked: Requiem for Rice at Carnegie Museum Hall in 2019.
Listen to the Colour of Music Festival Orchestra's full, unmodified debut of the work at Carnegie Music Hall
here
.
Join Dr. Fields-Black and citizen artist Vanessa German for
an online conversation
about collective trauma and grief on Thursday, April 29 at 7:00 p.m.