A Tea Set with Gilded Age Style: Kuzmichev Serves America
I'll never forget the first time I saw this dazzling, exotic tea set in person. The curatorial department was looking through artifacts from Clayton to use as part of a 2006 permanent collection exhibition—and we brought the Kuzmichev tea set out of the vault. At that point, all work immediately stopped so that we could spend sufficient time in admiration. Glowing like lapis lazuli and jewels, it's hard to imagine a more dazzling and exotic tea service.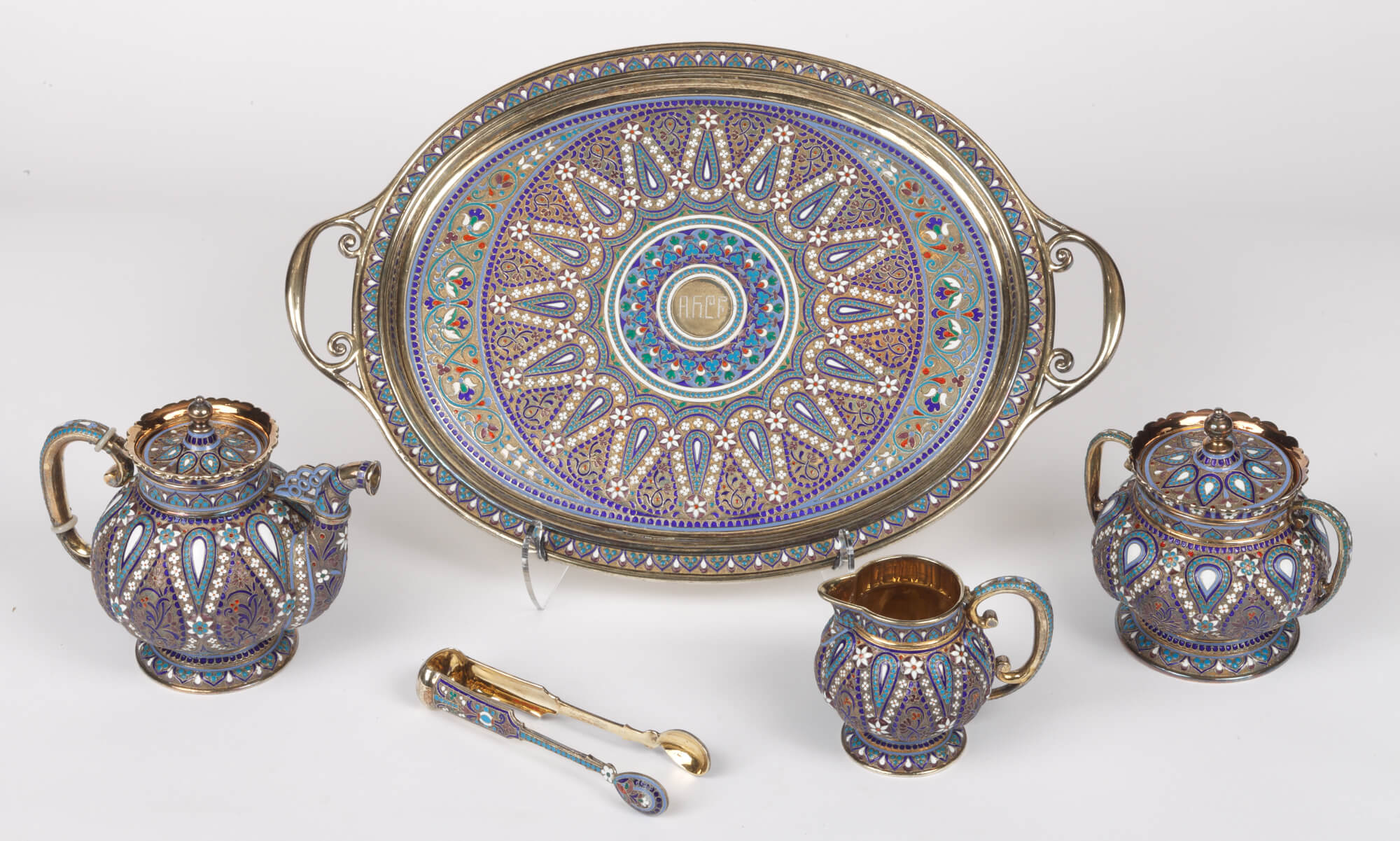 Tea Set, 1892. Gilded silver with cloisonné enamel. Monogrammed AHCF. Marked on bottom of tray: A.A/88/MADE FOR TIFFANY & Co/A.K. 1892. Frick Art & Historical Center 1985.43.1-5.
This is Russian enameling in all its jewel-like glory. This five-piece tea set, including tea pot, sugar bowl, cream pitcher, sugar tongs, and tray, reflects the late-19th-century resurgence of interest in traditional artisanship and in traditional decorative motifs hearkening back to both Eastern and Slavic decorative and folk traditions. The repetitive motifs of dots, flowers, and foliage seen here are rooted in Russia's Byzantine heritage and the monogram is in a stylized font meant to resemble the Cyrillic alphabet.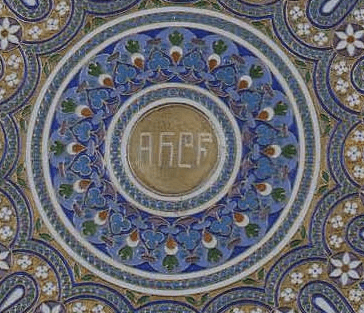 Monogram with Russian-style lettering on tray.
Moscow was the center of traditional cloisonné enameling, and over 500 firms produced these types of wares. Kuzmichev was among a group of imperial assay masters reinvigorating the traditional 17th-century craft. Cloisonné is a technique of decorating metal objects with enamels, or colored glass paste, placed within a pattern created from copper or bronze wires known as cloisons (French for "partitions") soldered onto the body of the object. The enamel paste, colored with metallic oxides, is applied into the enclosed areas and fired at a low temperature, which fuses the vitreous enamel to the metal surface. After the finished object is polished, the cloisons remain visible.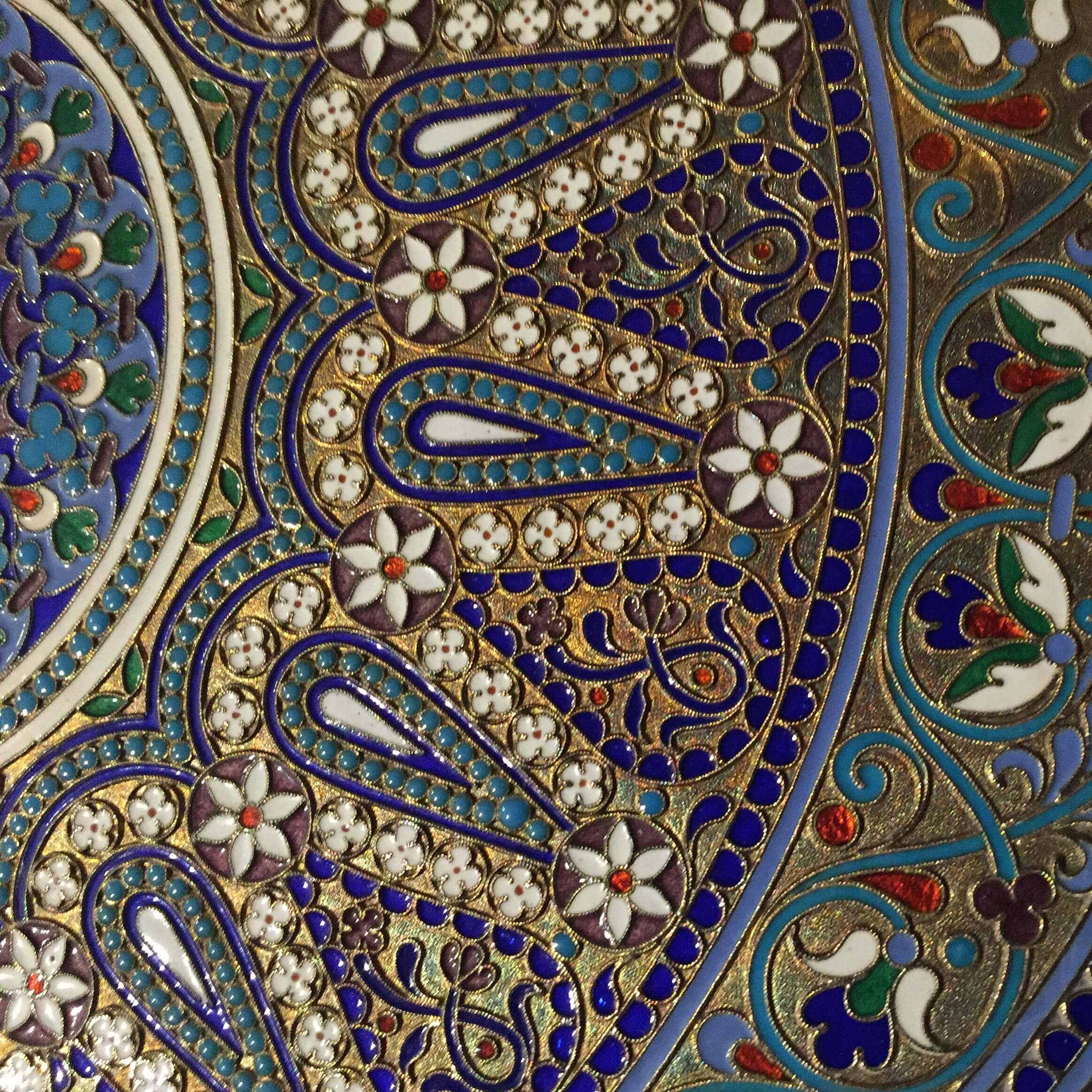 Cloisonné detail on tray.
The more decorative and exotic pieces were especially popular with the American market, and Kuzmichev was one of a few Russian silversmiths known to have produced specialty objects for the luxury retailer Tiffany and Company. The Fricks were frequent visitors to Tiffany and Company, where Henry Clay Frick purchased this tea set for $500 on December 15, 1894, the day before Mrs. Frick's birthday. Since each piece bears her monogram, it was likely intended as a birthday gift, although with many family celebrations that month, including Christmas and the Frick's wedding anniversary, it's impossible to know for sure which occasion was marked by this beautiful tea set. Like so many things in the collection at The Frick Pittsburgh, we have a copy of the invoice from Tiffany & Co, listing the tea set and two additional purchases.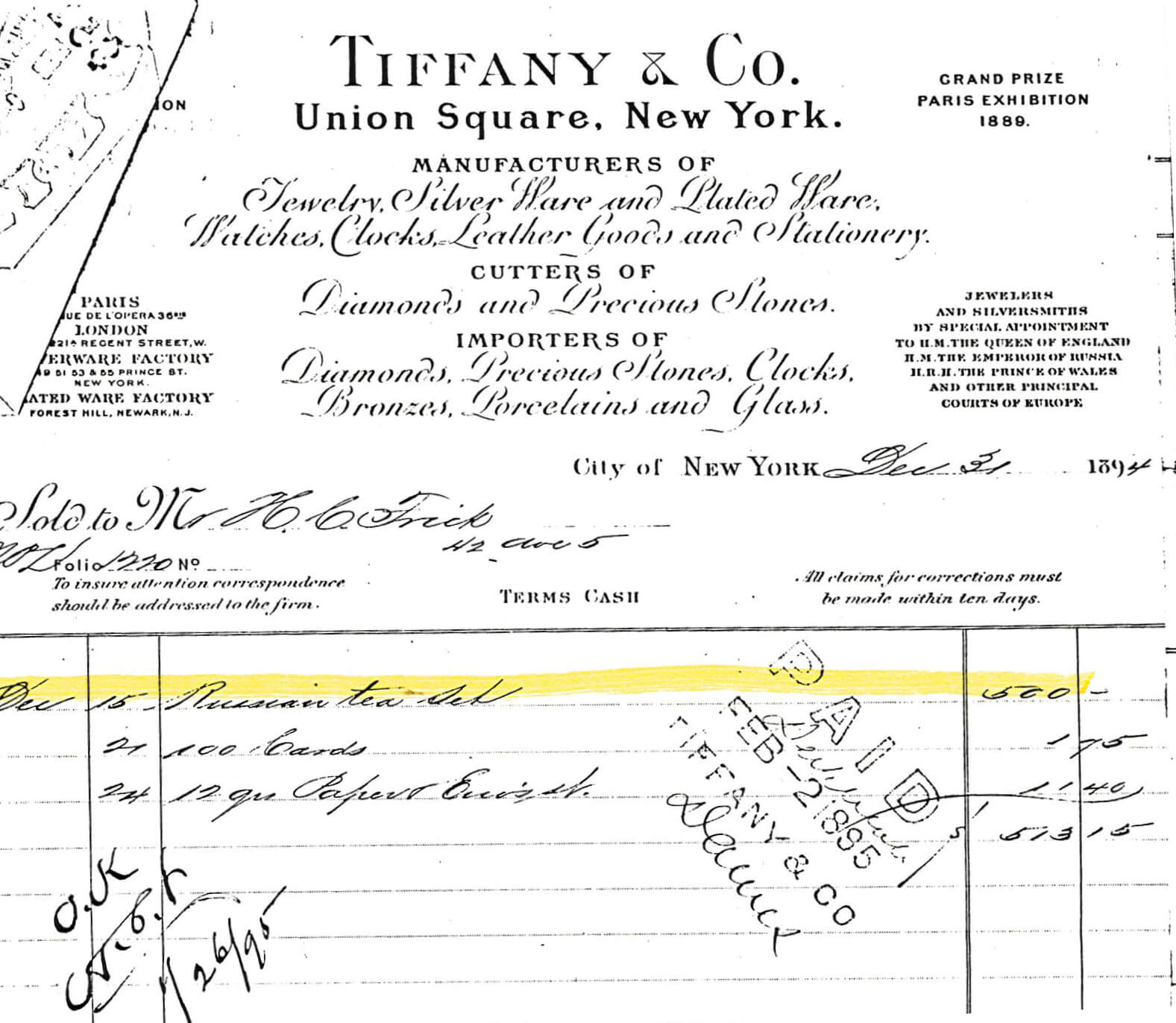 The Kuzmichev tea set is part of the Frick's virtual exhibition
Entertaining at Home,
where you can learn more about the elaborate dining and entertaining practices that signified proper refinement and good taste at the turn of the 20th century.