A Closer Look at Frida Kahlo—An Intimate Portrait
Since her death in 1954, Frida Kahlo's (1907–1954) fame as an artist and female role model has increased exponentially. Though the headline of her obituary in
The New York Times
read, "Frida Kahlo, Artist, Diego Rivera's Wife," her work, her image, and her extraordinary life have captured the imagination of the art world and pop culture, making her one of the most recognizable artists today, eclipsing her dear Diego. Through 115 photographs selected from her private albums, this exhibition allows us to see Frida Kahlo through her own eyes, as well as the eyes of her family, friends, and lovers, many of them noted photographers.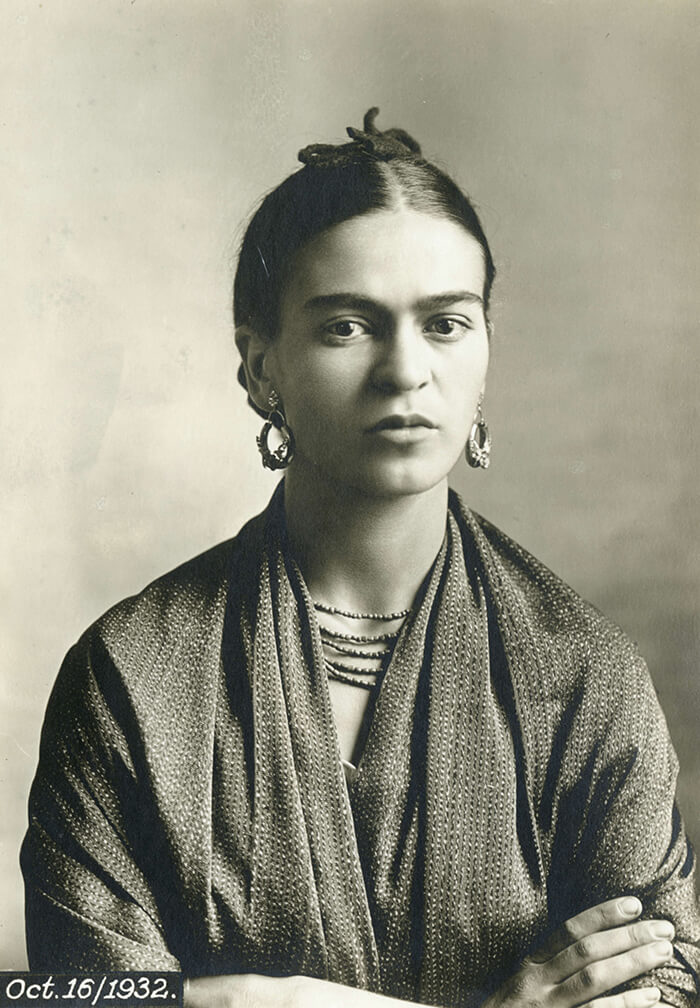 Guillermo Kahlo (German, active Mexico, 1872–1941). Frida Kahlo, 1932. Gelatin silver print, 6 3/4 x 4 3/4 in. The Vicente Wolf Collection.
Frida Kahlo is most known for her captivating self-portraits, which she began painting from bed while recovering from a near-deadly bus accident in 1925. The photographs in this personal collection
provide intriguing evidence of the way Kahlo envisioned herself and crafted and refined what would become her world-famous image. Some photographs have been altered by hand to change her appearance, possibly as aids in painting. Frida had a natural connection with the lens; she seems always aware of the camera, and was intentional in her use of it as a tool to communicate with the viewer, likely a sensibility learned while assisting her photographer father on location and in the dark room.
The collection illustrates the relationship between Frida and Diego—her great love, and what she called the second serious accident in her life. The couple married in 1929, divorced in 1939, only to remarry in 1940. Kahlo kept photos of Diego as a child; there are photos of Diego working on his murals and in his studio; and there are many images of the two of them together. A handful of photographs show Diego with fashionable young women and his assistants. Many of the portraits of Frida are inscribed to Diego, given as tokens; two photographs are emblazoned with pink lipstick kisses.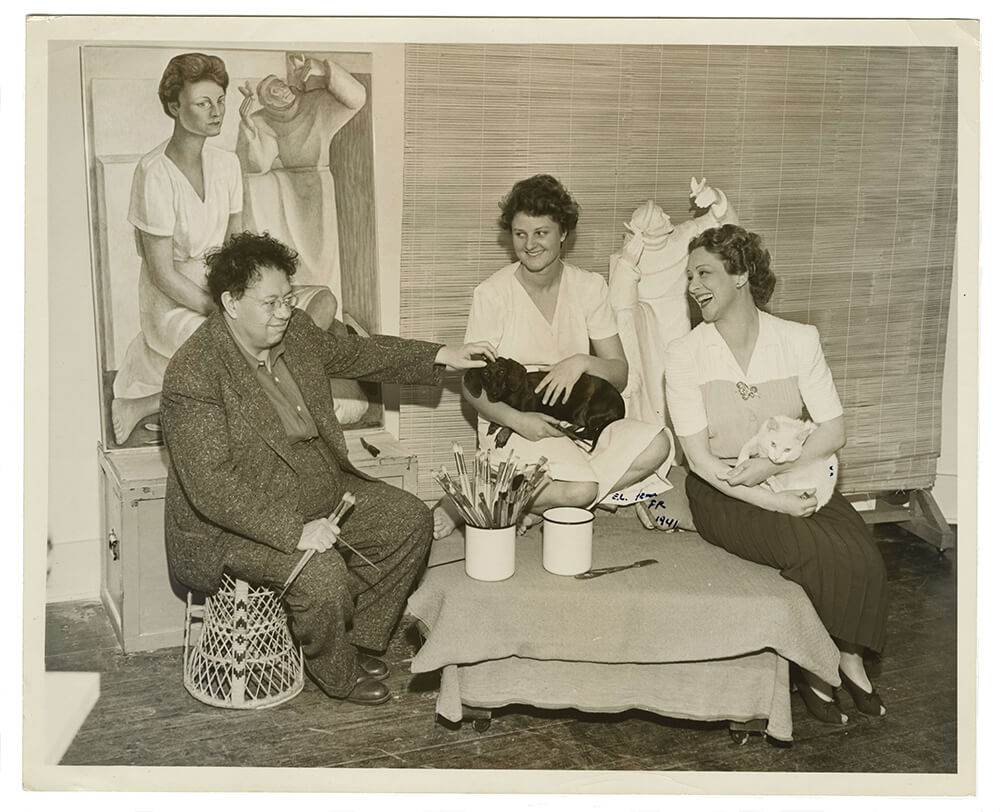 Diego Rivera with Frances and Irene Rich, portrayed in the painting behind them, n.d. Print on Velox paper, 8 x 10 in. The Vicente Wolf Collection.
Kahlo's lifelong struggles with loss and injury are visible throughout the exhibition. Childhood polio and injuries from the bus accident left her permanently disabled. One leg was damaged by polio and the spine-crushing bus accident left her both unable to carry a pregnancy to term and suffering from chronic pain. One 1940 photograph by Nickolas Muray depicts Kahlo in bed with her chin supported by a sling while she undergoes traction treatment in a Mexico City hospital. The photograph is inscribed "For Diego from Frida." Other photographs show her in bed or in a wheelchair—often recovering from one of the 30 additional surgeries she had in an effort to reduce her chronic pain.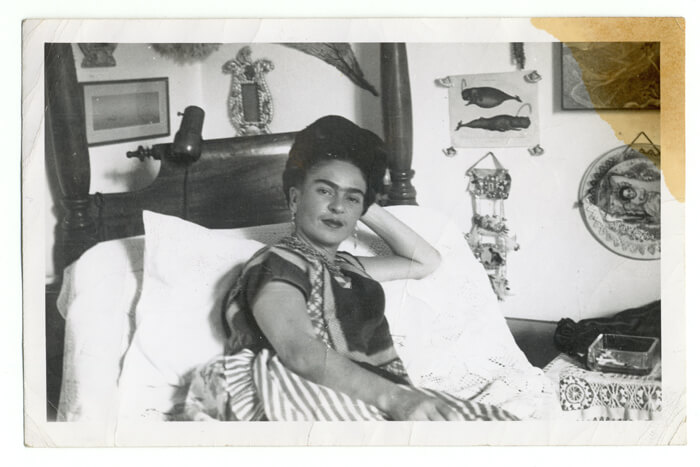 Frida Kahlo reclining on her bed at the Blue House, Coyoacán, Mexico City, c. 1944. Gelatin silver print, 3 1/2 x 5 1/2 in. The Vicente Wolf Collection.
Together, this collection of photographs captures the flavor of the world that Frida Kahlo and Diego Rivera shared—a world where the intellectual, creative, and politically ambitious optimistically worked to change the status quo, and a world where the twentieth century, with its globe-traveling sophisticates, met the traditional culture of Mexico.
Art historian and Kahlo biographer Heyden Herrera attributes the immense popular connection to Frida's painting to its emotional force. In a press release for the exhibition
Frida Kahlo
, which opened at the Walker Art Center in 2007, Herrera said:
Looking at her self-portraits, you feel that she is speaking directly to you. Whatever it was that propelled her to paint herself again and again connects with the viewer on the deepest level. She painted her own image because she wanted to know herself and to make herself known. She wanted to be kept in mind...
For Kahlo, photography worked in much the same way. Photographs were intensely important evidence of her existence as well as companionship during times of convalescence. She amassed a vast photo archive of over 6,000 images that reflect her greatest interests—Diego and other lovers, friends and family, her body, medicine, and Mexican culture. She saved photos of loved ones to "keep them close" and would often give photos to friends with the entreaty to "remember me." Frida Kahlo looks at us from these photographs with a boldly assessing expression; her creativity and passion for life are clear, and we not only remember her but want to know her better.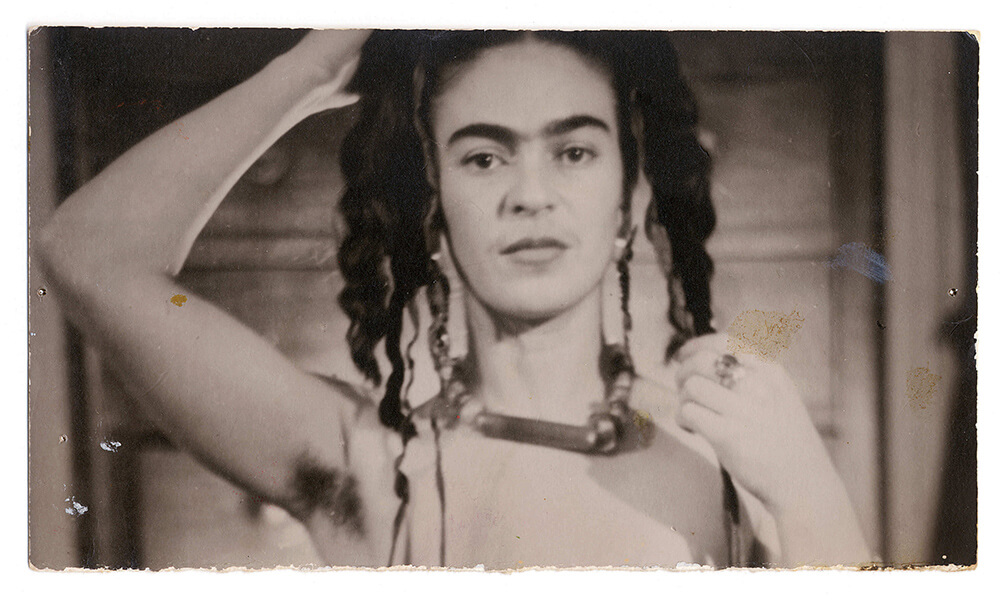 Julian Levy, Frida Kahlo in New York City, 1938. Gelatin Silver Print. Vicente Wolf Collection. Photographed by Peter Riesett, courtesy of Pointed Leaf Press.
The exhibition is organized from the collection of Vicente Wolf, who says:
This collection shows a very personal view and exposes [Frida's] vulnerable side…They show the woman and the man she loved. They go beyond just pretty pictures: These are the images that truly bring Diego and Frida to life.
See these striking photos for yourself at the Frick through May 30, 2021.
Reserve your ticket here.