1,000 Miles by Foot, 3,800 by Car
As we present Sporting Fashion: Outdoor Girls 1800 to 1960 at The Frick Art Museum, we've been researching sportswomen, their accomplishments, and their struggles. The first blog in this new series shares the stories of two historic women who set out on ambitious missions: one to walk a thousand miles in a thousand hours, the other to drive across the continent. Visit the exhibition to learn more about the history of women—and what they wore—in sport, or follow us on Facebook and Instagram for more "Women in Focus" stories.
1,000 Miles by Foot
In 1864, after reading a newspaper account about a physically demanding experiment to walk 1,000 miles in 1,000 hours, Emma Sharp supposedly said, "Wah, I could do that mysen [myself]!"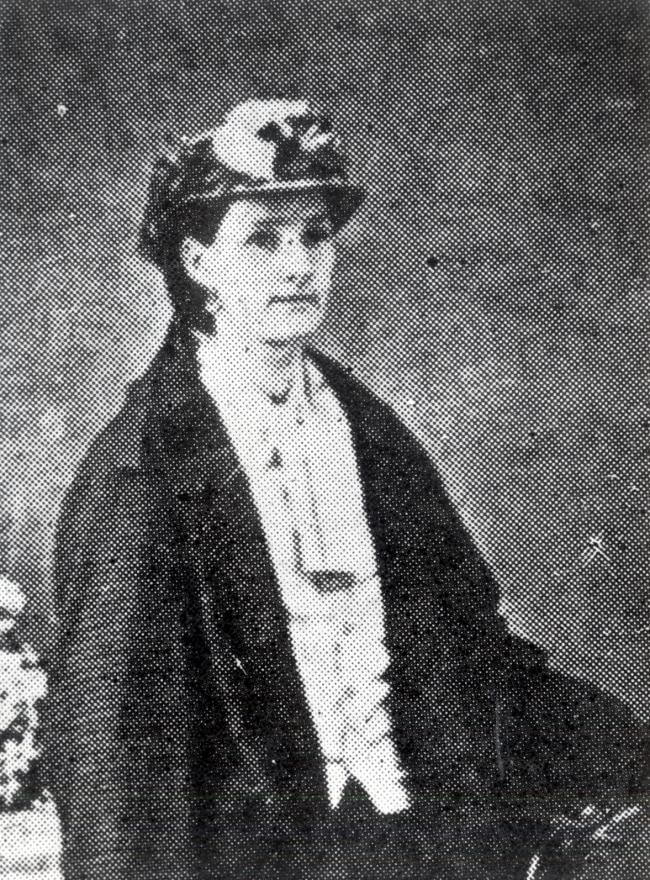 Emma Sharp, 1864.
The mother of three young children initiated her journey on September 17, walking twice around a one-mile track in half an hour, then resting for an hour and a half at a nearby hotel. This repetitive pace seemed easy enough at first, but soon the mental monotony became as draining as the physical endurance.
Sharp's appearance became a topic of commentary by the local
Bradford Observer
:
She was dressed in male attire—red and black check coat and inexpressibles [pants], white waistcoat, laced boots, turn-down collar, and scarf,-almost [sic] the only indication of her sex being in her large drooping straw hat, which was ornamented with a white feather and other feminine adornments.

Her notoriety attracted large crowds and protection was soon necessary. Attempts to trip her during the night led Sharp to carry loaded pistols, which she purportedly fired into the air a number of times. Sharp's feat came to a rousing finale on October 29, 1864, at a quarter past five o'clock in the morning "amidst the vociferous cheering of an immense concourse of spectators and the jubilant strains of the Bowling Brass Band." Though her strength held up during the six weeks that had often been stormy and wet, she never attempted another such escapade.

3,800 by Car
"I was born mechanical, an inheritance from my father," wrote Alice Huyler Ramsey in her 1961 book Veil, Duster, and Tire Iron.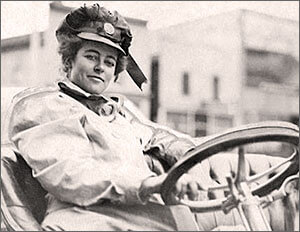 Alice Ramsey, 1909.
This inheritance served her well when on June 9, 1909, Ramsey departed New York City in the pouring rain as the first female driver attempting to cross the United States. The twenty-two-year-old was accompanied by her husband's two older sisters Margaret Atwood and Nettie Powell—both in their 40s—and nineteen-year-old friend Hermine Jahns. The three passengers strictly understood that Alice would be doing all the driving.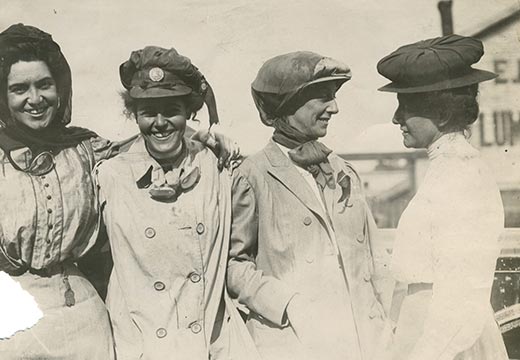 Nettie Powell, Alice Ramsey, Margaret Atwood, and Hermine Jahns, 1909.
Her automobile was a new Maxwell-Briscoe touring car with a four-cylinder, thirty-horsepower engine advertised as the "gateway to outdoors and health." The vehicle was on loan for publicity to prove that Maxwells were safe enough to transport women all the way to the West Coast.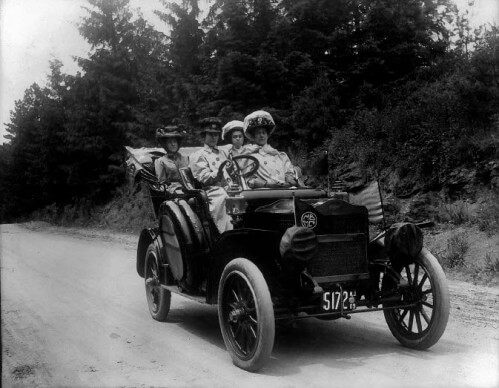 Alice Ramsey, driver, accompanied by Nettie Powell, Margaret Atwood, and Hermine Jahns, 1909.
In 1909, more than ninety percent of highways were not paved. Hardships were anticipated; the only protections Ramsey and her companions enjoyed were a canvas top, roll-up celluloid windshield, and sheet metal attached beneath the engine. Past Chicago, "Many a time we found our correct route by following [telephone] poles which carried the greater number of wires," noted Ramsey. Her Kodak camera documented the transcontinental expedition.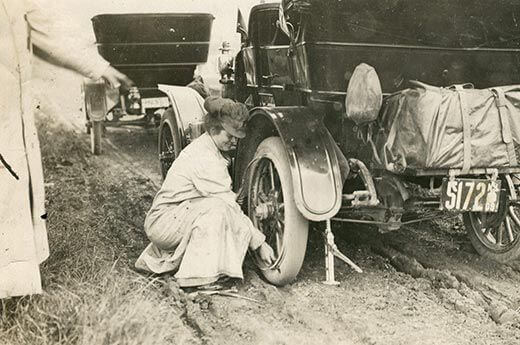 Alice Ramsey changing the tire on her Maxwell-Briscoe touring car, 1909.
Ramsey and her cohort arrived in San Francisco on August 7 after traversing 3,800 miles in 59 days; only 41 of those days were drivable due to poor weather and mechanical delays. Their best day's mileage was 198. Their worst was four. And the top speed: 42 miles per hour on the Cleveland Parkway.
In 1954, Alice traveled west for good and settled in Covina, California.