The Art of Hood Ornaments: René Lalique
While various hood ornaments were available to all car owners in the early 20th century, luxury brand owners wanted their cars to stand out among their peers. To accomplish this, wealthy owners adorned their vehicles with glass ornaments. With its inherent fragility, the use of glass increased the object's prestige as a rare and decadent purchase. These stylish ornaments became a symbol of affluence and status, and owners had several options for suppliers. In Britain, there was Red-Ashay. French motorists purchased Sabino. In the United States, owners bought from Persons Majestic. Those owners who wanted the most opulent ornaments, however, sought the designs of French artist René Lalique.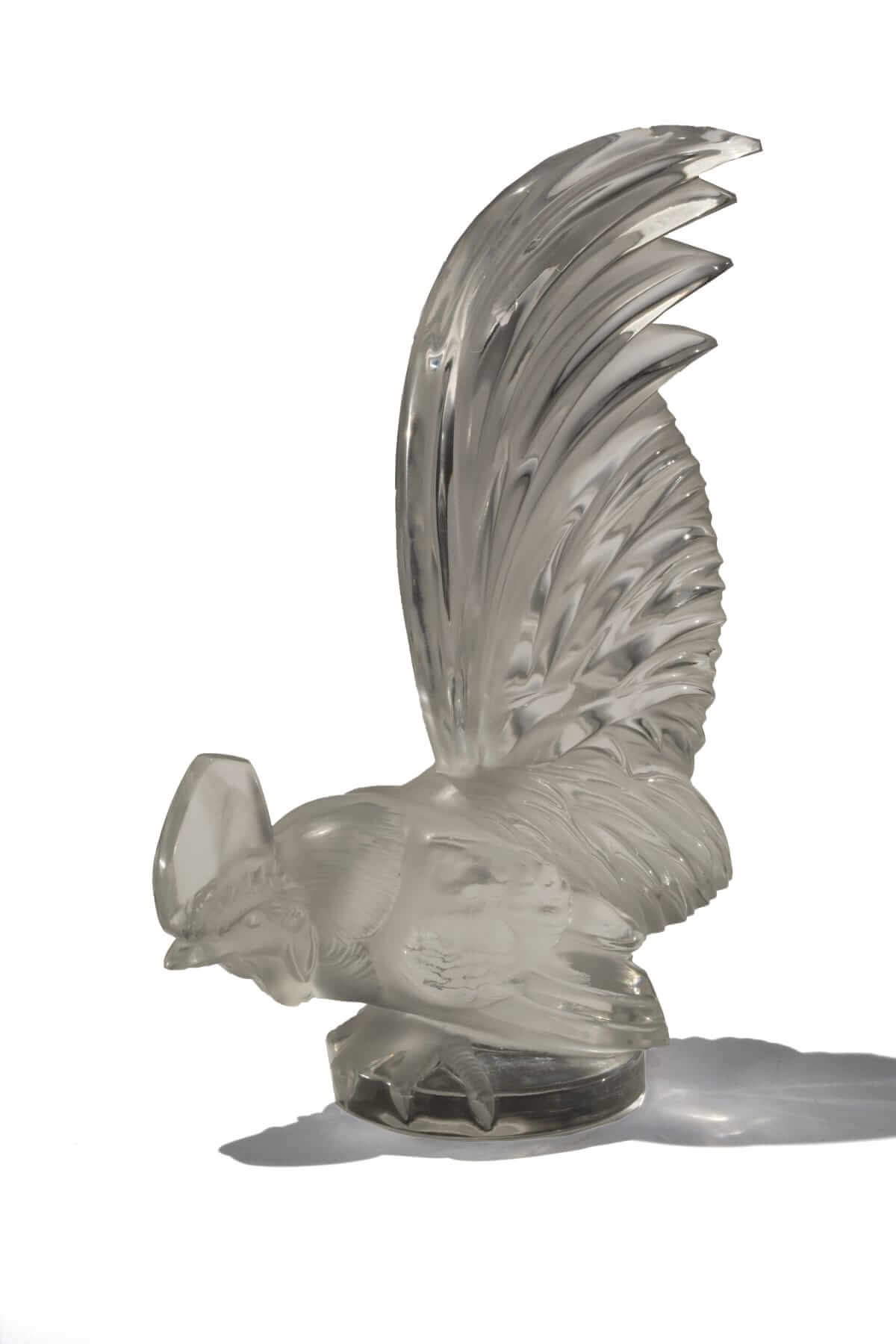 René Lalique (French, 1860–1945). Coq Nain (Bantam Rooster) c. 1928. From the Collection of The Henry Ford, Dearborn, Michigan.
Known for his Art Nouveau jewelry and glass perfume bottles, Lalique began creating Art Deco style hood ornaments in the 1920s. He introduced his first ornament in 1925, the
Cinq-Chevaux
(five horses) for Citroën's 5CV—his only design made for a specific marque. Lalique chose uncolored glass for most of his works and incorporated satin and frosted finishes. On the rare occasion he chose colored glass, he selected shades of pinks, purples, and blues. In
Vitesse
, Lalique used opalescent glass, which gave the object a milky appearance. From the 1920s until his death in 1945, Lalique created 29 hood ornaments. Due to their high cost—approximately $600–900 today—Lalique's creations graced only the most coveted luxury models such as Bentley, Hispano-Suiza, Bugatti, Isotta-Fraschini, and other similar marques. Lalique's top-selling ornament and probably his most recognizable is
Victoire
—which epitomizes Art Deco styling.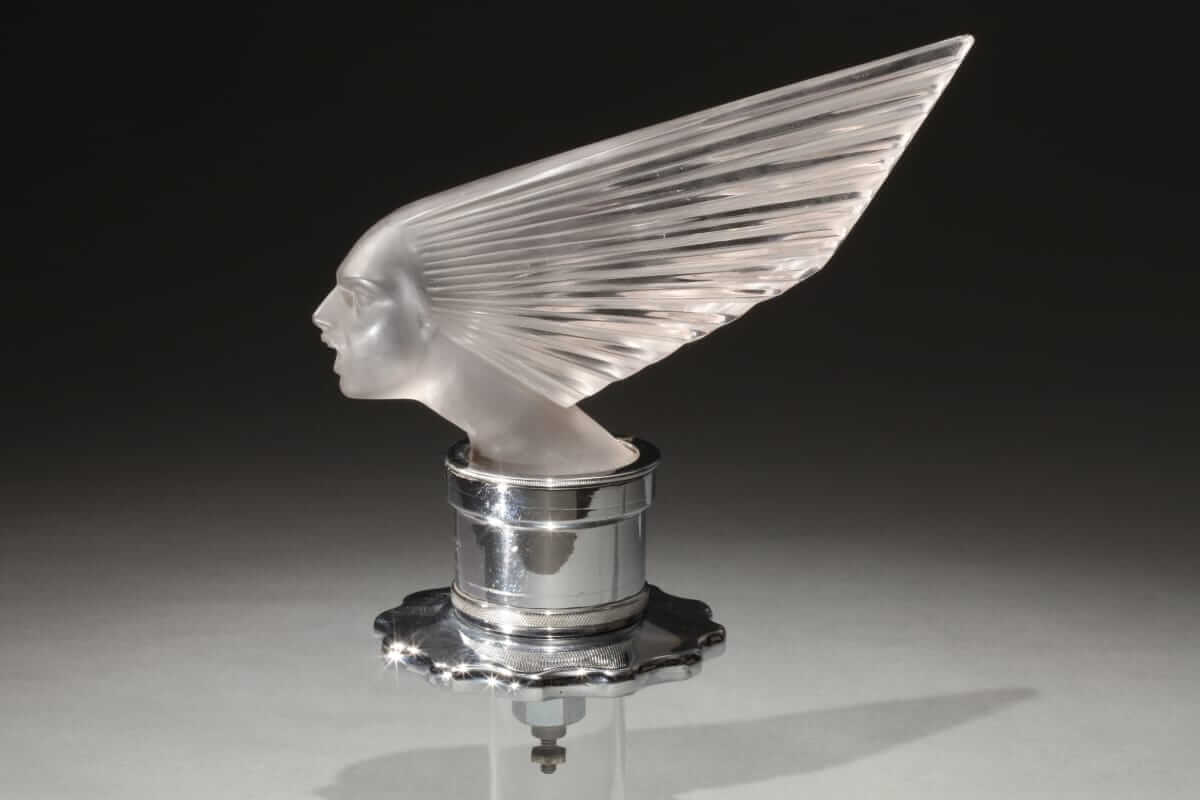 René Lalique (French, 1860–1945). Victoire (Victory), c. 1928. From the Collection of The Henry Ford, Dearborn, Michigan.
Created to commemorate the 10th anniversary of the end of WWI, Lalique introduced
Victoire
on a Minerva automobile at the 1928 Paris Motor Salon. The ornament embodies energy, speed, and motion.
Victoire
denotes a female figure who seems to be facing into the wind, rendered in a way that expresses both the structural interest of Art Deco and aerodynamism—with her hair protruding behind like a sharp wing. Although only her head is visible, one can imagine her body bracing against the force of the wind. The piece stands on its own as a sculpture but doubles as an added elegant touch to the automobile it adorns.
Like
Victoire
, many of Lalique's pieces could stand on their own as works of art. He commissioned pedestals from the Breves Gallery in London for his client's ornaments to be prominently displayed in their homes when not mounted to a vehicle. Although we often think of cars as primarily functional objects, during the automobile's golden age these ornaments, as well as the vehicles they adorned, were works of art created by some of the best artisans and industrial designers.
On Tuesday, June 15, at 7 p.m., local artist and jewelry designer Keith Belles will give us a
behind-the-scenes look
at the creation of a hood ornament. Join us for this exciting online artist talk in conjunction with
Cast in Chrome: The Art of Hood Ornaments
.