Part One: The Sanitary Home
"Disease! That is the force, the diligent force, the devastating force! It attacks the infant the moment it is born; it furnishes it one malady after another: croup, measles, mumps, bowel troubles, teething pains, scarlet fever, and other childhood specialties. It chases the child into youth and furnishes it some specialties for that time of life. It chases the youth into maturity, maturity into age, and age into the grave."

Mark Twain as published in Letters from the Earth
The worries and social disruption we face as a result of the novel coronavirus are not novel from a historical perspective. In the 19th and early 20th centuries, concerns about diseases with questionable causes and ineffective treatments were everyday worries. The threat levels of such concerns varied, however, depending upon one's wealth and advantage. Families like the Fricks had the means and mobility to deal with potential community pathogens that the average Pittsburgher literally couldn't escape.
Pittsburgh: Disease Incubator
Society's collective understanding of disease theory took a long time to evolve. Today we know that infectious diseases are caused by microscopic germs like bacteria or viruses. We understand that some diseases are also communicable or contagious, spreading directly from one person to another via droplets or bodily waste, or indirectly through a common contaminated vector.
People came to understand this in the late 19th and early 20th centuries, but it was a gradual process. Increased industrialization and immigration had resulted in a population shift from rural areas to cities. Those cities were particularly vulnerable to epidemics, both because they were ports of entry for disease-carrying insects and because urban proximity enabled the spread of contagions. The poorest people lived in overcrowded, substandard housing. They were served—if at all—by inadequate public water supplies and waste disposal. Such conditions were perfect for repeated outbreaks of communicable diseases to flourish.
There was a direct relationship between official social responses to ameliorate such conditions and improved scientific understanding of germ theory. But that relationship took a while to evolve, too. Episodes of pestilence were grimly regarded as regrettable but normal scourges of urban life. After all, it was the poorest city dwellers—those who could not advocate for themselves, and whose very natures were popularly associated with the filthy conditions they lived in—who were disproportionately affected by these diseases. Until circumstances reached a crisis point, there was a distinct lack of urgency in attending to these dire urban conditions.
There was not only a scientific knowledge lag stymieing municipal progress toward eradicating disease-fostering conditions. There was also a compassion lag.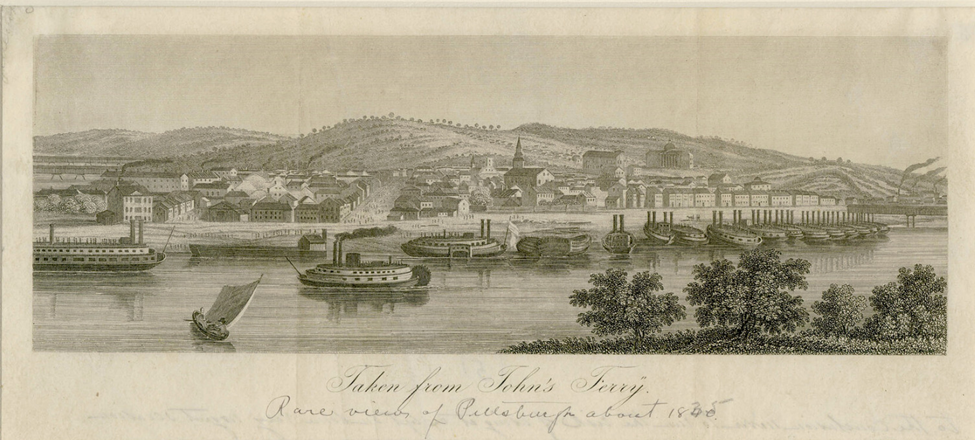 View of downtown Pittsburgh c. 1835, looking from today's Southside across the Monongahela River.
Illustrated lettersheet engraving, Carnegie Museum of Art, (ACN 16.33.5).
Pittsburgh, the national poster child for regional environmental degradation, was no exception to blighted urban conditions. Pittsburghers in the 19th and early 20th centuries suffered through multiple outbreaks of crowd- and insect-borne diseases. But as scientific knowledge advanced, in time Pittsburgh would also embark on crusades to improve municipal conditions by addressing degraded water and air quality (although the decision to create a sewer system combining both storm run-off and wastewater haunts the region to this day).
However, statistics kept in the latter half of the 19th century also confirm that it was only when illnesses like cholera, diphtheria, typhus, and tuberculosis reached crisis points in Pittsburgh that collective official attention was directed toward mitigating conditions that allowed such diseases to flourish in the first place. Some very public shaming vis-à-vis national attention drawn to the circa-1907 publication of
The Pittsburgh Survey
, the first vast sociological study of urban conditions, helped prompt local municipal change. Still, changes mostly occurred because Pittsburghers feared that the combination of this region's impoverished conditions, associated diseases, and presumed moral decay had reached a tipping point that might allow all that badness to spread to more comfortable parts of the city.
Pittsburgh had its own compassion problem when it came to taking care of its poorest citizens.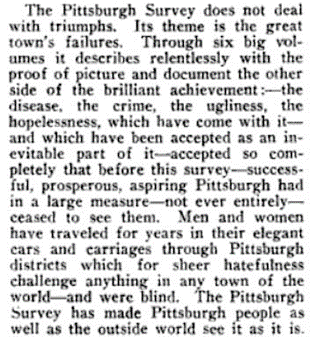 The Pittsburgh Survey commentary by Ida Tarbell, published in a similarly-named magazine addressing social and political issues entitled The Survey, 25 September 1915.
It wasn't that Pittsburghers didn't worry about disease outbreaks; they did, just like the rest of the world. Local newspapers avidly followed the spread of cholera across Europe in 1829–1830. Those same papers dutifully detailed the arrival of cholera in Pittsburgh in October 1832, likely arriving with visitors aboard a steamboat originating in Cincinnati. The disease simultaneously manifested in five individuals, including two who were Black, one of whom was described as "an intemperate" or alcoholic, and another who had been jailed as a petty criminal. Those distinctions were important to include in the story, for they reassured many Pittsburghers that this dirty disease had come from Elsewhere and was concentrated amongst those who lived on the fringes of society. The
Pittsburgh Gazette
further assured its readers that no epidemic was forecast: "Our atmosphere, we believe, is now as pure, and healthy as it ever has been; indeed, if we may judge from our own feelings, and from our conversation with various persons, decidedly purer and healthier than it was three or four weeks ago." This nearly 200-year-old reassurance probably strikes modern readers as insidiously naïve, since it treacherously misrepresents the outbreak. But that's because today we understand cholera is caused not by bad air but by bacteria transmitted by water or food contaminated by infected feces, and that it can affect anyone anywhere poor sanitation exists.
The
Gazette's
reassurance was certainly premature. Six months later an estimated 75 people had died of cholera locally. A 1927 retrospective entitled
Pioneer Medicine in Western Pennsylvania
noted: "It is impossible to give the exact number of cases of cholera or the exact number of deaths because the newspapers deliberately suppressed the extent of the scourge and no other record is known to exist. Business was seriously interfered with, in fact was almost at a standstill, while the epidemic lasted."
Another severe cholera outbreak in 1849–50 killed between 150–200 people.
Pioneer Medicine
noted that "many temporarily retired to rural districts" hoping to avoid spread of the disease. Ever-worsening cholera outbreaks continued into the 1850s, prompting the formation of Pittsburgh's permanent Board of Health to keep accurate records and advocate for sanitary conditions.
For those who could afford to leave, or who had the good fortune to live outside an urban center, the comparatively socially-distanced life of rural seclusion helped insulate from epidemics.
It was Henry Clay Frick's good fortune to be born in 1849 in West Overton, a town near Scottdale in rural Westmoreland County, Pennsylvania.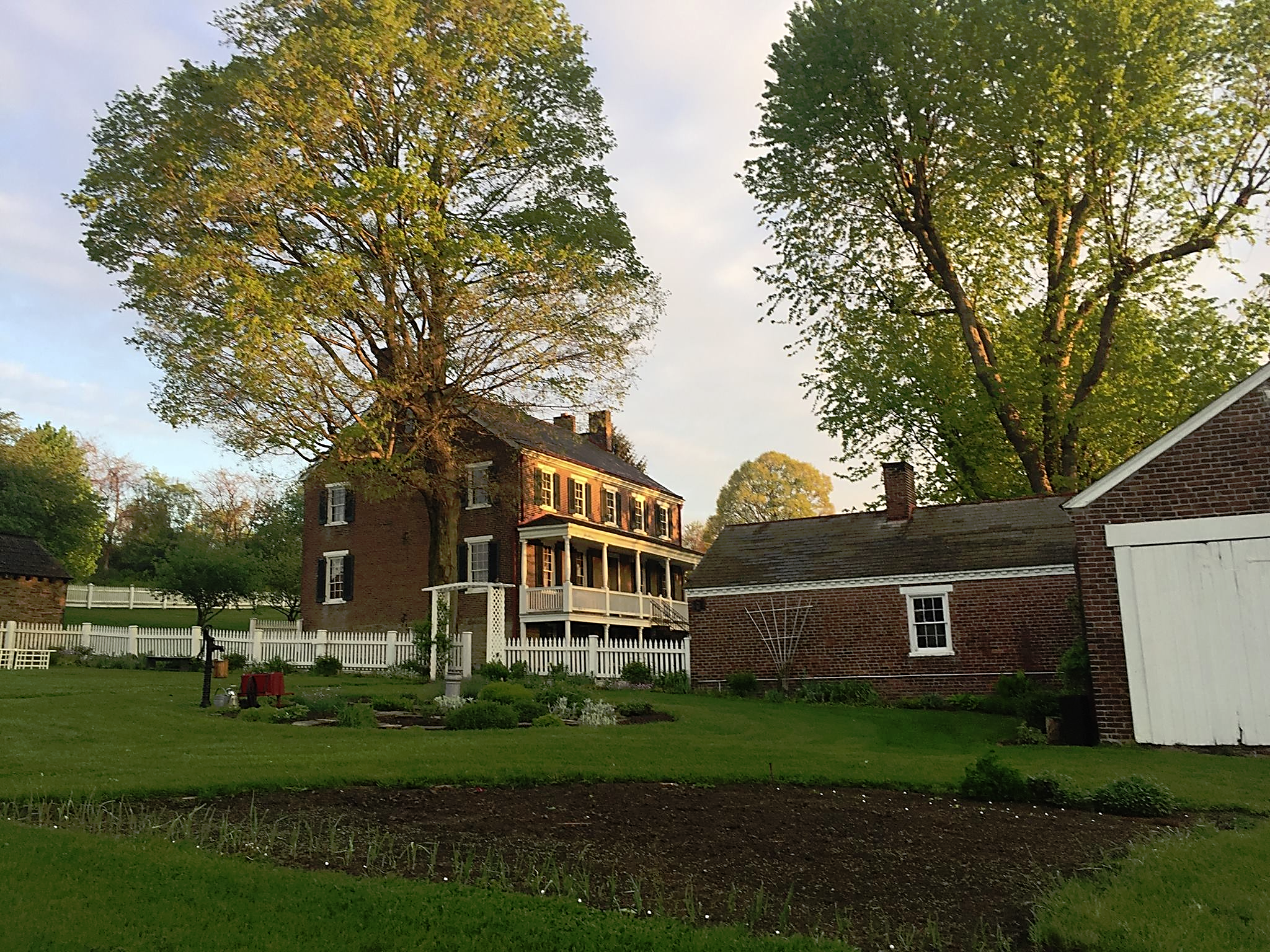 Henry Clay Frick's birthplace, the Overholt farm in West Overton, PA.
West Overton Museums.
Frick was raised in the bucolic setting of his grandfather's farm. But even in rural isolation, his youth was characterized by gradual but impressive medical advancements. Disease had been responsible for two-thirds of Civil War deaths in the 1860s, when Frick was a teenager. The nature and volume of such wartime medical horrors forced health practitioners to consider new theories and therapies. For centuries, "miasma theory" held that diseases like cholera were caused by miasmas or poisonous vapors carrying suspended particles of decaying, foul-smelling matter. People truly believed that the concentration of such "bad air" was what caused illness to spread. It wasn't until the mid-1880s that the "germ theories" proposed by microbiological pioneers such as Louis Pasteur, John Snow, and Robert Koch became widely accepted—which was exactly when a thirtysomething Henry Clay Frick and his new wife Adelaide Howard Childs moved into their Clayton home in the East End of Pittsburgh.
A Sanitary Home in 19th-Century Pittsburgh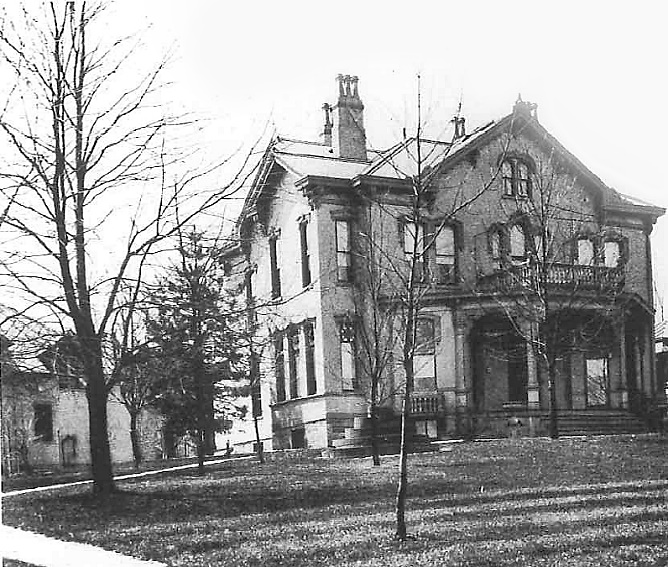 Clayton (then known as Homewood) c. 1883.
Courtesy of The Frick Collection/Frick Art Reference Library Archives.
The influence of miasma theory figured into the original design of the Frick home, a fine example of the popular mid-19th century Italianate style. Situated in and named for the comparatively oxygenated haven of the Homewood neighborhood, the Frick home had been built over a decade earlier in 1870 at a purposeful distance from Pittsburgh's industrial center.
Although original floor plans do not exist, the home's interior domestic design would have reflected the intersection of attitudes about health and personal space as manifested through issues of ventilation. The free movement of air and light between rooms was considered critical in allowing potential miasmas to dissipate. It was common to have interior windows, called transoms, situated above doorway support beams that could open to allow air and light to circulate even when doors were shut. The Fricks remodeled their home in 1891. Given the new prominence of germ theory combined with changing architectural taste, they likely removed some of the interior transoms in favor of other sanitary measures. Some transoms were kept for interior ventilation, however, like this one on the left leading to the second floor hallway from Mrs. Frick's bedroom.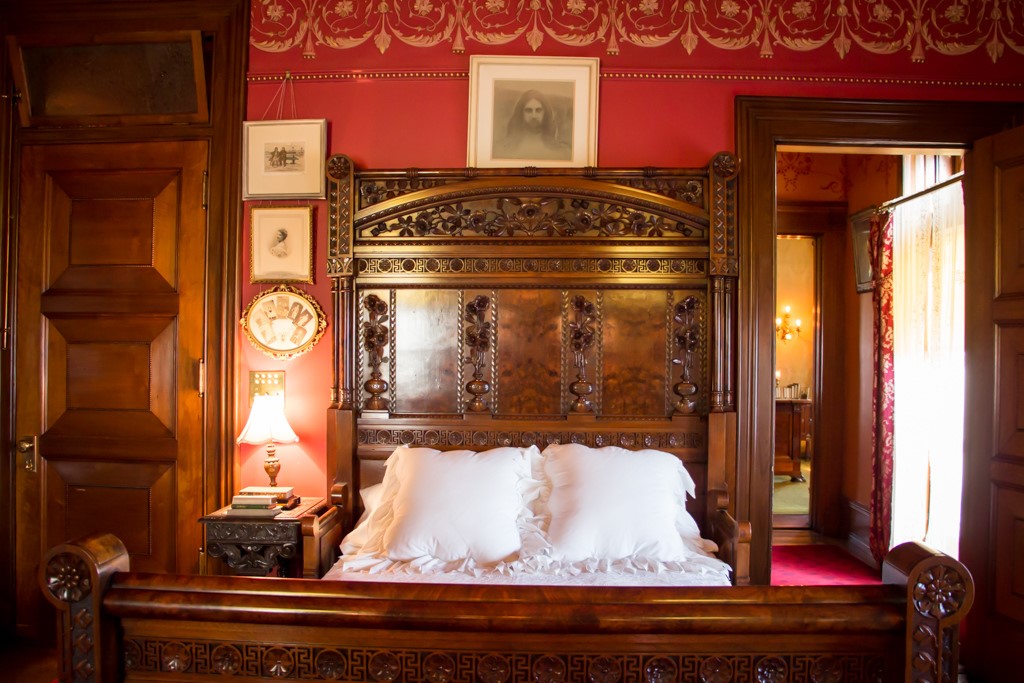 Clayton bedroom of Adelaide Howard Childs Frick, featuring transom over door leading to second floor hallway.
Frick Art and Historical Center.
To preserve the health of children in the family, nurseries were frequent targets for sanitarian reform in the home. Added during the 1891 renovation, the Clayton nursery reflects health concerns with its many windows accessing sunlight and fresh air, and its wipeable, oil-based wall paint (although the Frick appreciation of beauty is reflected in the charming hand-painted scenes gracing the walls in this room). The nursery also features less ornate woodwork and flooring, allowing for thorough and frequent cleanings.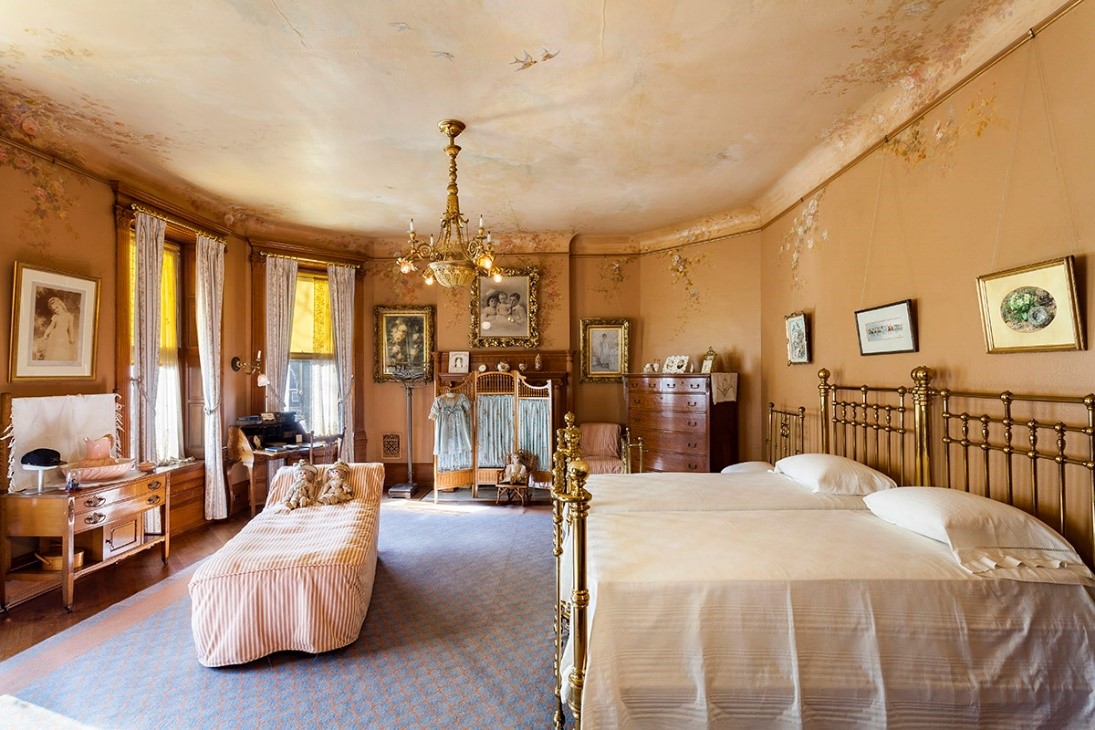 The Clayton nursery of 1891 was designed to the era's standards for sanitary living.
Frick Art and Historical Center.
The Clayton bathrooms, all of which were added to the home at various points in the 1890s, proudly showcased modern fixtures of the day. The copious use of glossy, glazed, white tile on the walls (what today we call "subway tile" for its copious use in Boston and New York subways) reflected the era's growing understanding of the need to maintain sanitary conditions. The decorative reasoning was simple and logical: dirt harbors germs, and since flat white tile makes dirt easier to see, it's the best choice to thoroughly eradicate both dirt AND germs. Clayton's kitchen area was also fitted with this tiling.
This bathroom adjacent to the bedroom of Henry Clay Frick was constructed by Pittsburgh architectural firm Alden and Harlow in 1897. It featured popular white wall tiling and the most modern and sanitary accoutrements.
Frick Art and Historical Center.
The
Frick bathroom cabinets
were filled with
au courant
medications for household ailments. Booth's Hyomei Pocket Inhaler was meant to provide relief for asthma sufferers, bronchitis, and breathing problems associated with common colds—probably a useful medicine to have on hand in smoky Pittsburgh! Pepsine and pancreatin tablets were used to treat digestive disorders. Aristol was an iodine compound most commonly used at home as an antiseptic dressing for ulcerations, wounds, burns, ulcers, fungal infections, and treatment of psoriasis.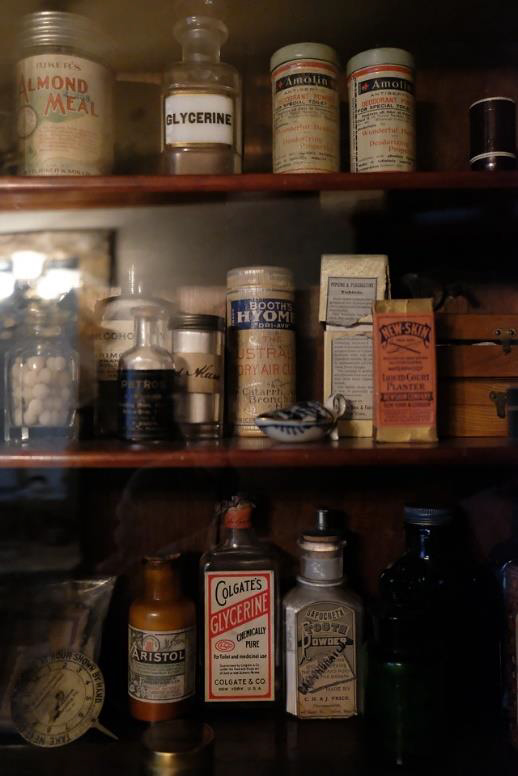 Bathroom medicine cabinet at Clayton containing health care products and toiletry goods belonging to the Fricks.
Frick Art and Historical Center.
Yet, despite a full medicine cabinet, an aesthetically pleasing and hygienic home, and all the trappings of privilege, the Frick family was not immune to disease.
To learn more about disease and illness in Gilded Age Pittsburgh, read
Part Two: The Fricks Afflicted
and
Part Three: Death in the Air
.