Trends through the Decades: Spring Fashion, 1880–1910
Looking for a springtime diversion? Let's explore fashion from the past! A recent visitor suggestion requested ladies' spring fashion from the Gilded Age. So we thought we'd peruse our favorite contemporary fashion periodicals for the biggest fashion trends from 1880, 1890, 1900, and 1910 and search for objects in our collection that demonstrate the fad.
1880
The fashionable silhouette of 1880 was rather structured. Bodices were form-fitting with high, narrow-cut shoulders and tight sleeves, and were often cut in a "princess line" with no horizontal seam at the waist. The bustle of the previous decade had returned, this time with a high, rigid, shelf-like protrusion at the rear that concentrated the voluminous skirts behind the wearer.
"Godey's Fashions for May 1880" from Godey's Lady's Magazine.
The April 24, 1880 issue of
Harper's Bazar
described the fashion: "Dresses are extremely
clinging
[their emphasis] from the neck to the hips, and even a little below this point; then they are draped in a hundred divers fashions—in poufs, with several stories, in tunic ends, and bunchings of all kinds." This ensemble, worn by Adelaide Howard Childs Frick in the early 1880s, demonstrates the trend and is quite similar to one published on the front page of the aforementioned issue of Harper's Bazar.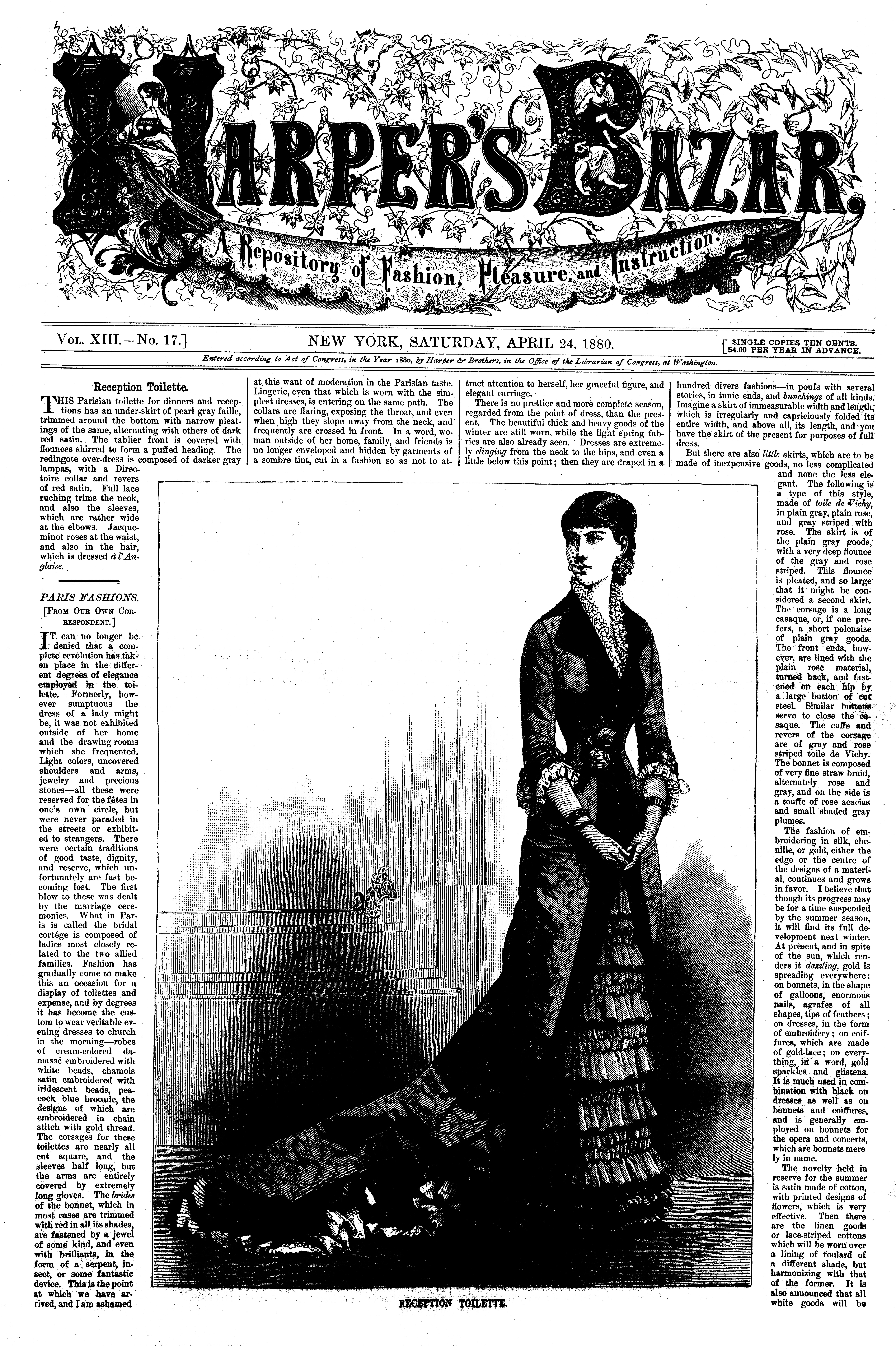 Reception toilette from Harper's Bazar, 24 April 1880.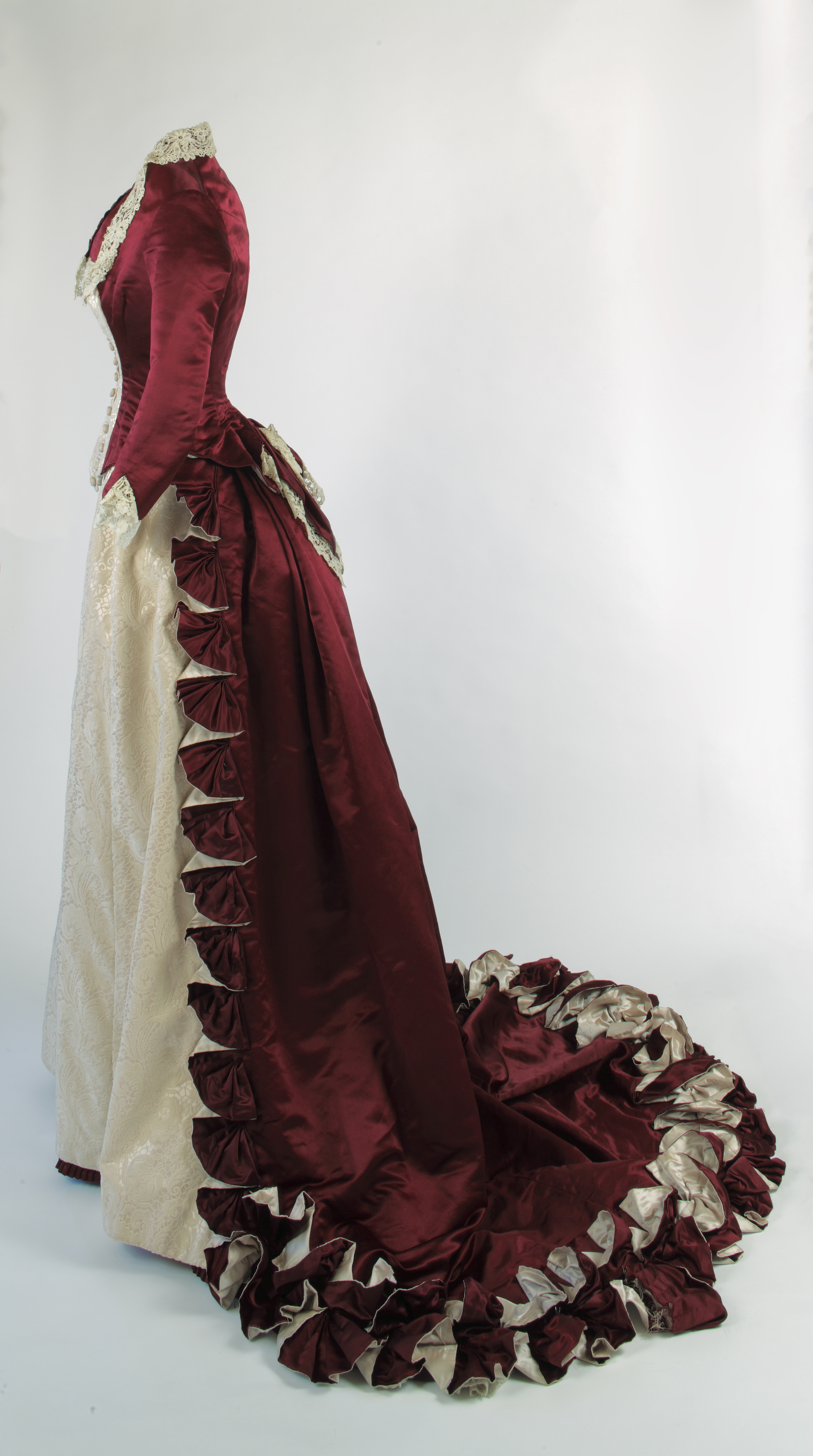 Unknown maker. Dinner or reception dress, c. 1881. Silk, brocade, lace. The Frick Pittsburgh.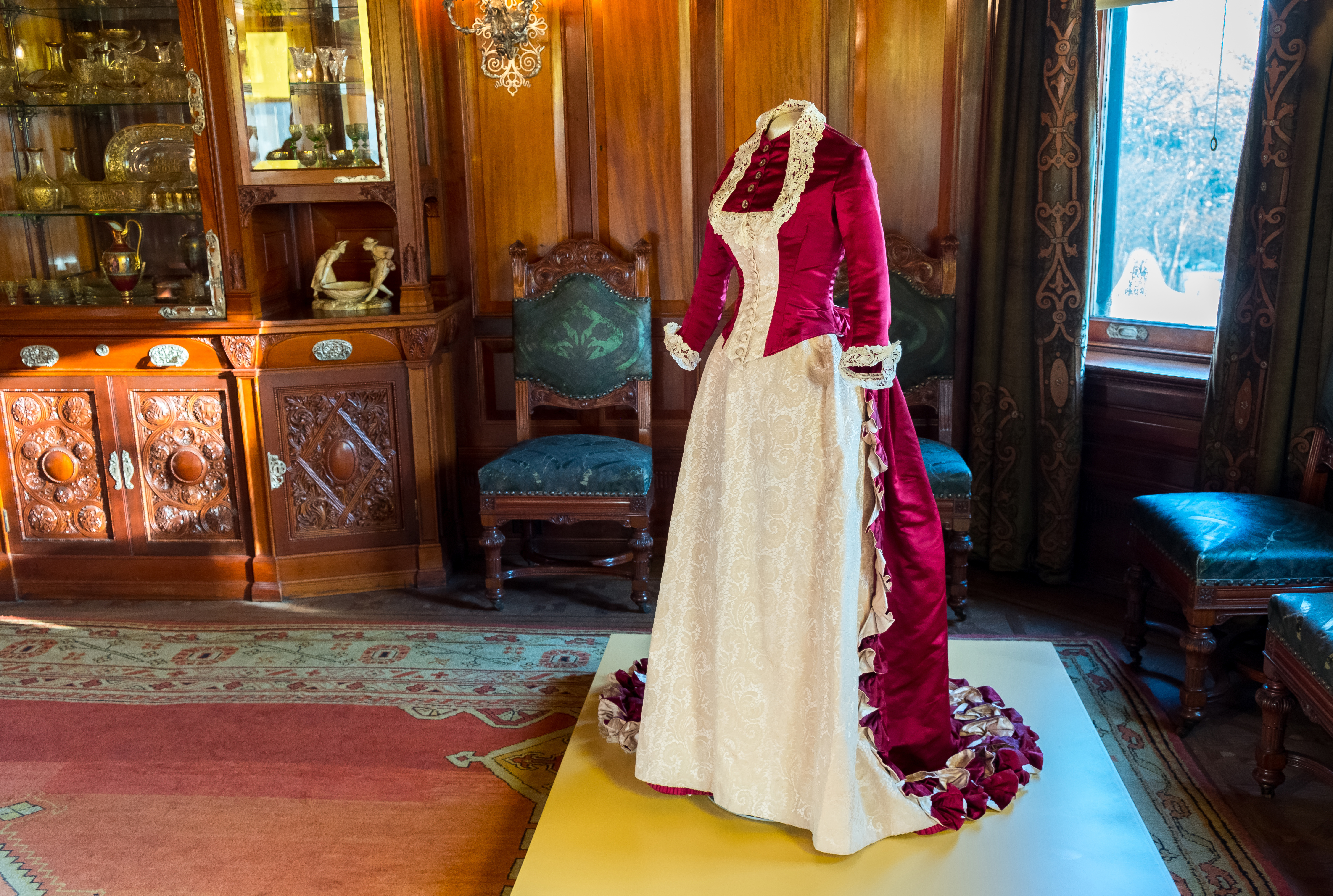 Dinner or reception dress installed in the Dining Room at Clayton as part of the 2020 Love & Courtship tour.
This fashionable shape was created by structural undergarments such as the corset, which nipped in the waist, and the bustle, which projected outward from the rear and supported the skirt's folds and flounces. The high neckline, three-quarter length sleeves, and flowing train indicate that this dress was likely worn for receptions or dinners. Adelaide Frick no doubt made a stunning sight when she wore this exquisite gown, but it's hard to imagine her doing much more than standing. The sleeves look impossibly tight. The long train would have made walking cumbersome and the bustle would have necessitated awkwardly perching on a chair instead of sitting comfortably. This artificial silhouette and restriction of movement prompted criticism from artistic and health reformers, but it remained the fashionable standard for society women of the period.
Decorative trimmings were in profusion in 1880, evidenced by the lace, decorative ruching, and mother-of-pearl buttons on Adelaide's dress.
Harper's Bazar
noted that no dress was ever made with less than two fabrics, while
Peterson's Magazine
stressed ornamentation of all kinds—lace, tulle, ruffles, pleats, pintucks, beaded embroidery, tassel fringes, and braided cords of passementerie (elaborate applied triming). More was more, as was common in design of this period, whether fashion, architecture, or interior decoration.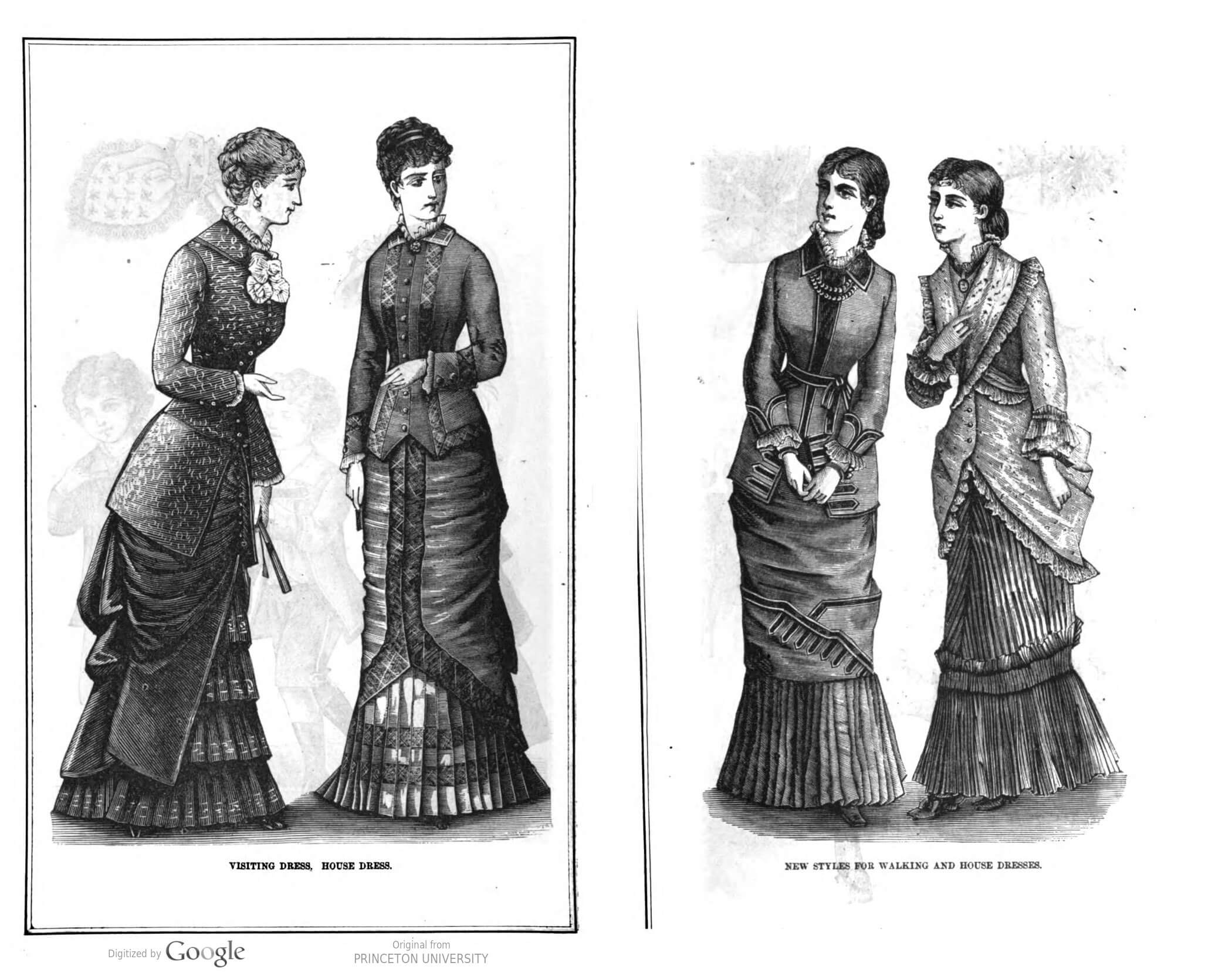 Left: "Visiting dress, house dress" from Peterson's Magazine, April 1880. Right: "New styles for walking and house dresses" from Peterson's Magazine, May 1880.
Fashion aficionados in 1880 would have approved of the rich red color. Though we associate pastel colors with springtime,
Godey's Lady's Magazine
favored dark colors for the spring of 1880: "Dark marine blues, brownish reds, dark dull greens, and reddish purples are the most fashionable tints."
Jackets and cloaks were essential garments for women venturing outdoors to pay calls, go shopping, or run errands on chilly spring days. The bustle silhouette was best suited for cropped jackets and snug coats, but cloaks like the visite worn by Adelaide Frick remained popular and could be cut to accommodate a high bustle in the back. The mantle or dolman cut featured wide, draping sleeves, often cut in one piece with the body. The bold paisley pattern, Asian styling, velvet color, and exuberant fringe make a dramatic fashion statement.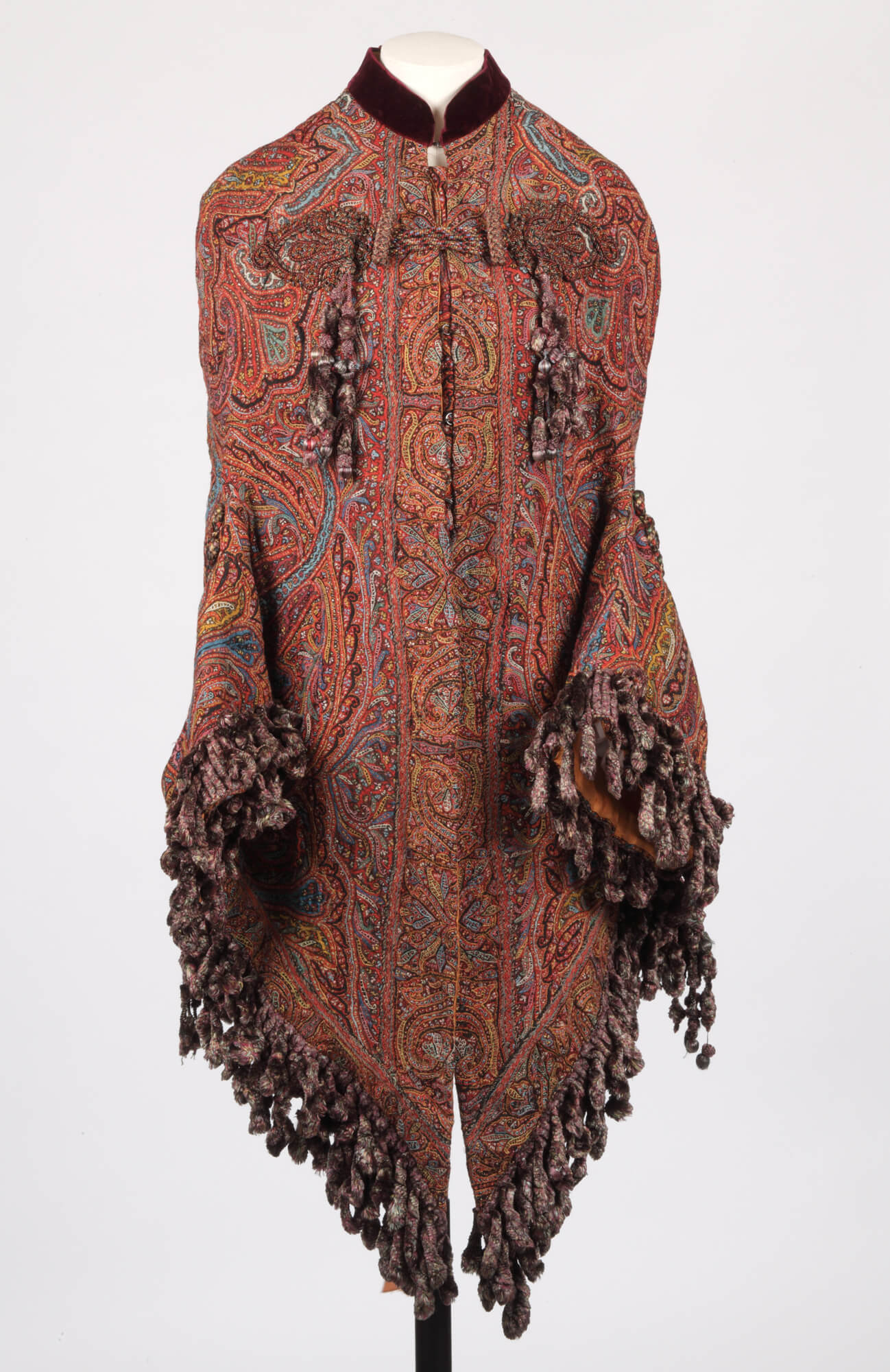 Unknown maker. Visite, c. 1885. Wool, silk, velvet, and chenille fringe. The Frick Pittsburgh.
During the early 1880s, women wore their hair in chic updos and tidy chignons, particularly as many dresses and bodices had high collars. Tall, narrow hats, trimmed with bows, flowers, feathers, and often stuffed bird specimens, perched precariously on heads. As the bustle grew larger throughout the 1880s, hats grew higher to balance proportions of the overall silhouette and were secured at the neck with a thick ribbon. An 1882 image of the newlywed Fricks shows Adelaide sporting a similar hat.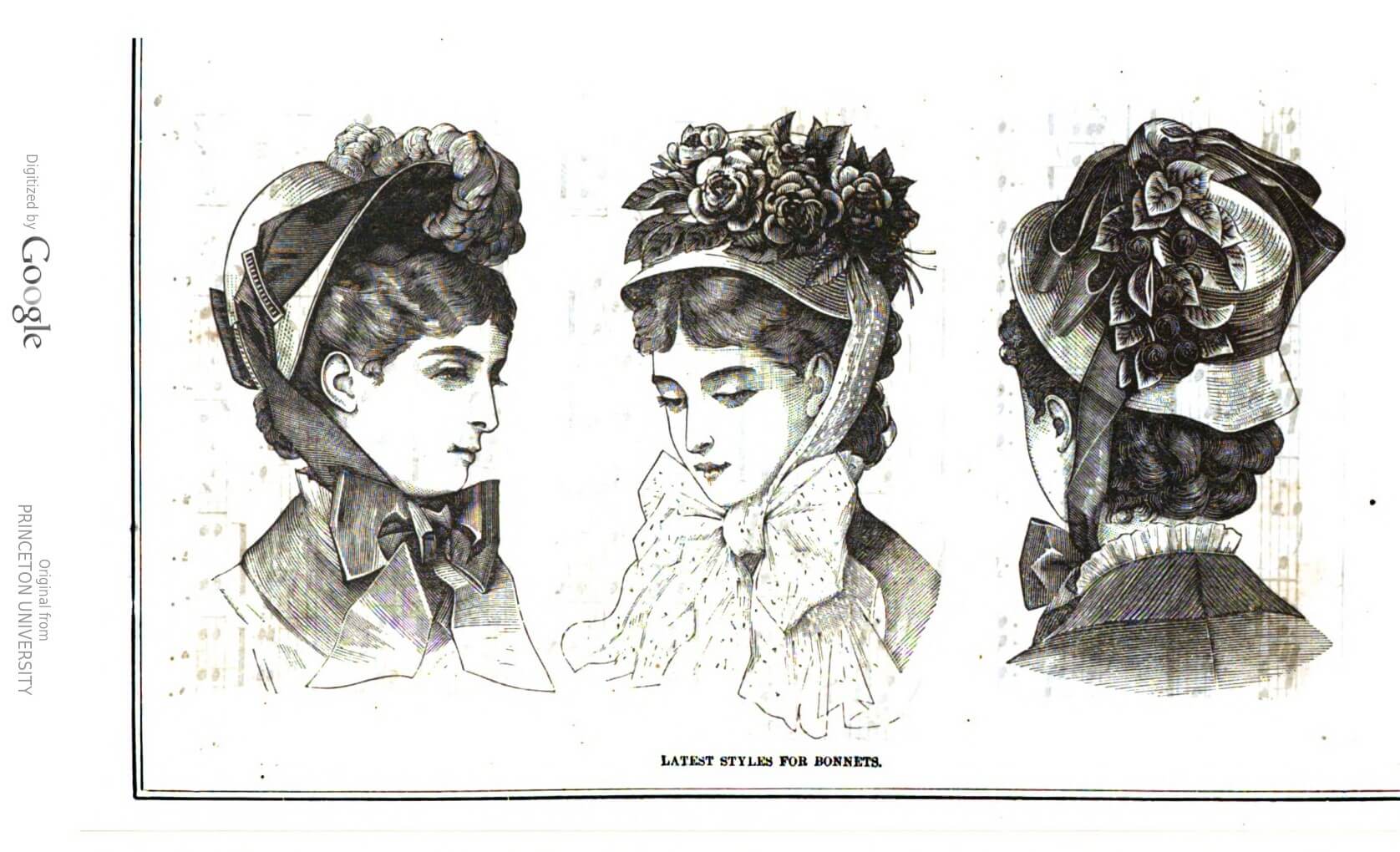 "Latest styles for bonnets" from Peterson's Magazine, May 1880.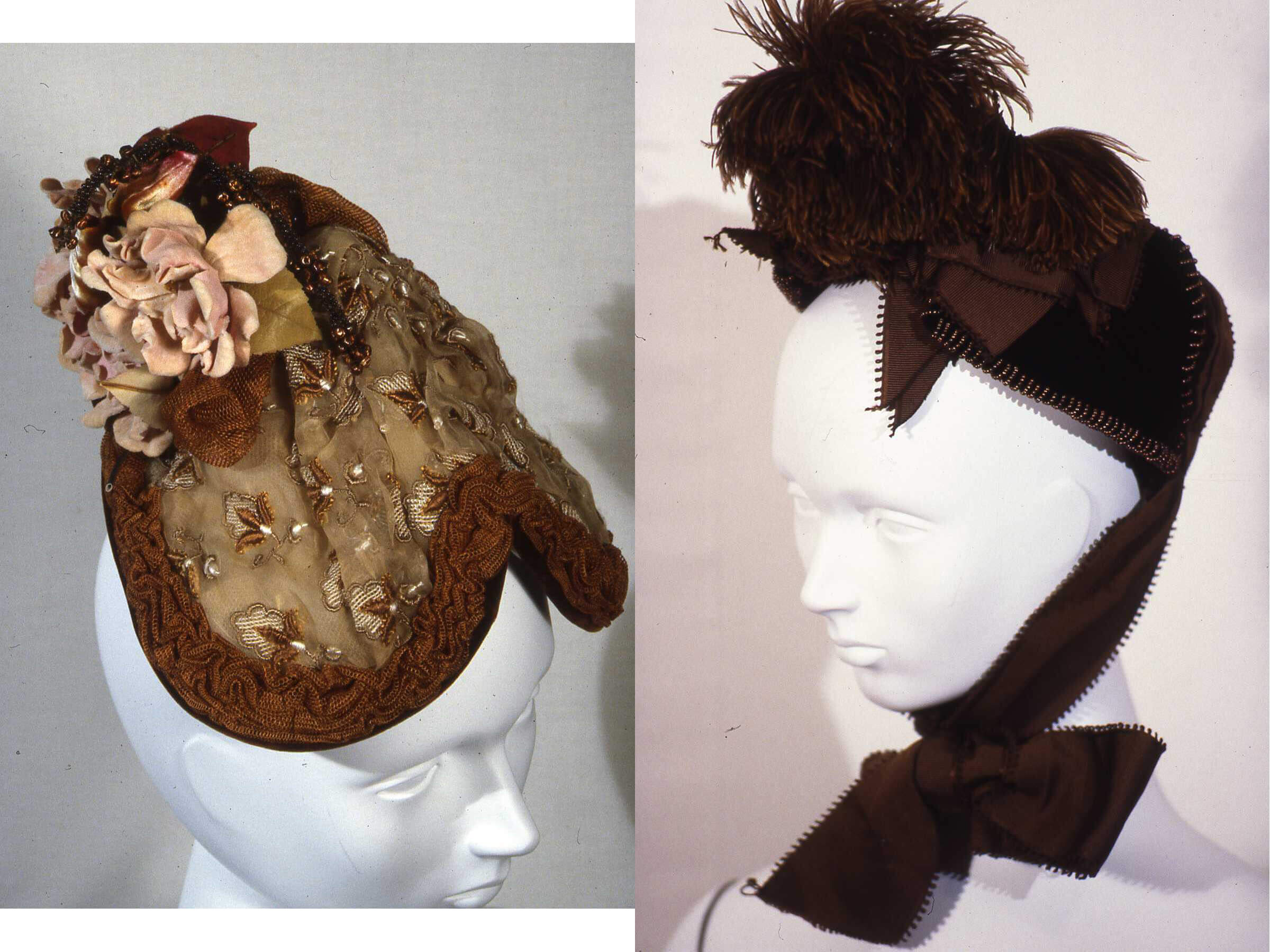 Left: Unknown maker. Hat, c. 1880. Silk, embroidery, artificial flowers, and beading. Right: Mme. J.M. Cary Pardee (New York). Hat, c. 1885. Silk, taffeta, beading, and feathers. The Frick PIttsburgh.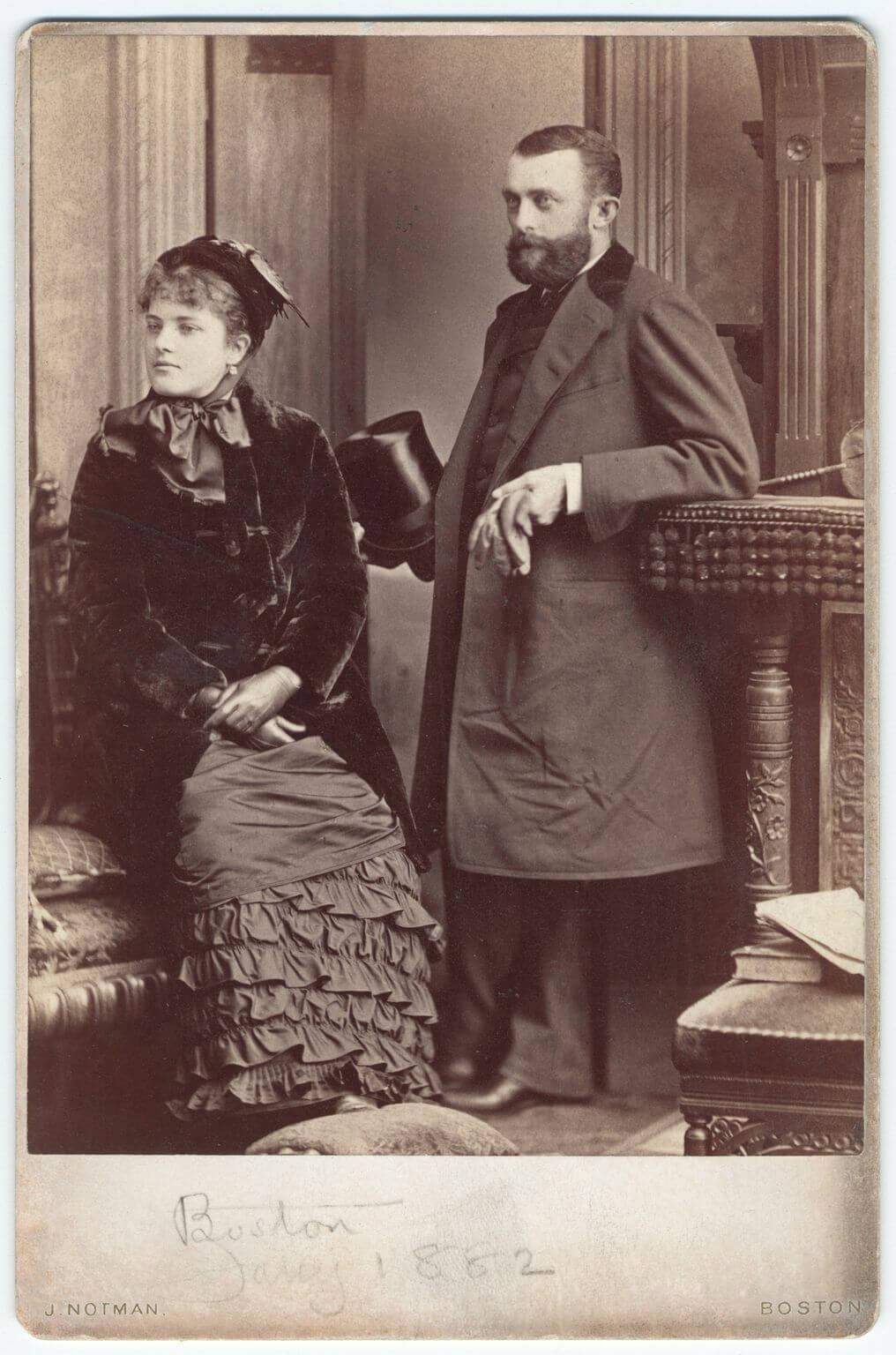 Portrait of Henry Clay Frick and Adelaide Frick, 1882. Courtesy of The Frick Collection/Frick Art Reference Library Archives.
1890
The 1890s were a period of transition as the stiff and proper Victorian era gave way to the freedoms of a new century. By 1890, the bustle was on its way out and skirts were bell-shaped, skimming over the hips and flaring at the bottom. Sleeves were full, starting with a small puff at the shoulder seam and growing to the endearingly named "leg of mutton" sleeve by the middle of the decade—see the 1896 image of Adelaide for one example. [Side note: Puff sleeves are making a comeback! They are projected to be one of the major spring 2020 fashion trends.]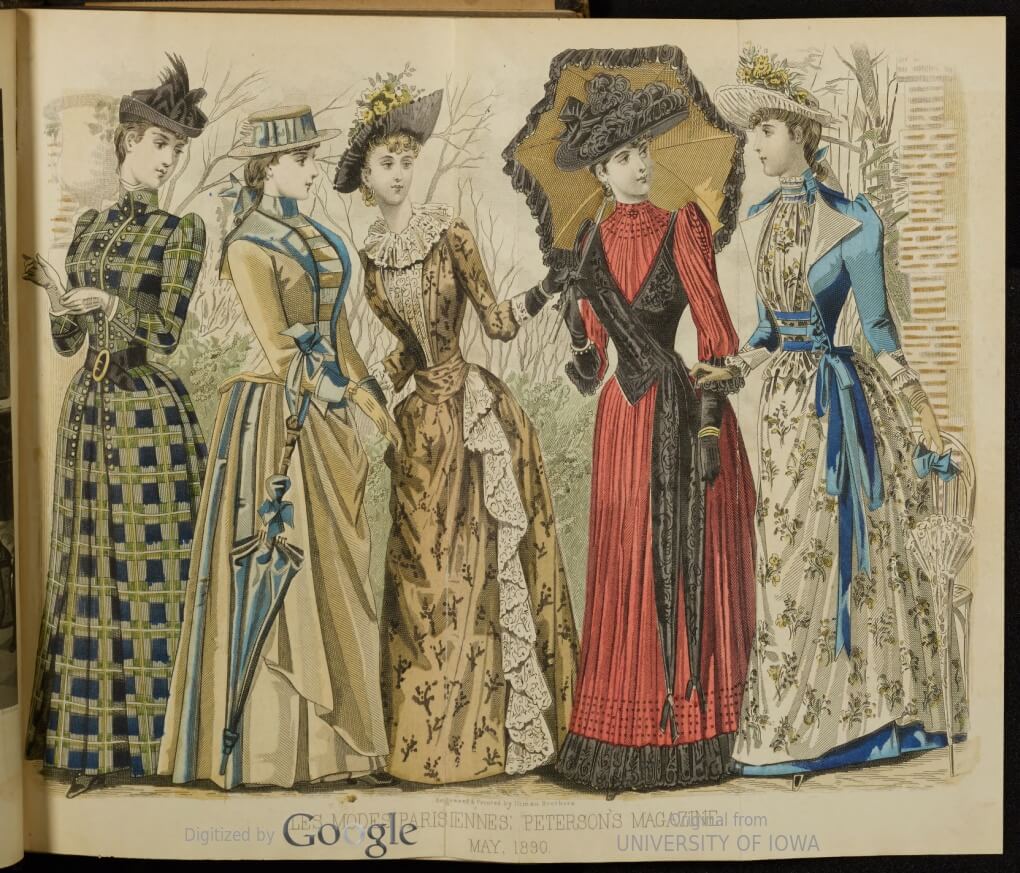 Les Modes Parisiennes, Peterson's Magazine, May 1880.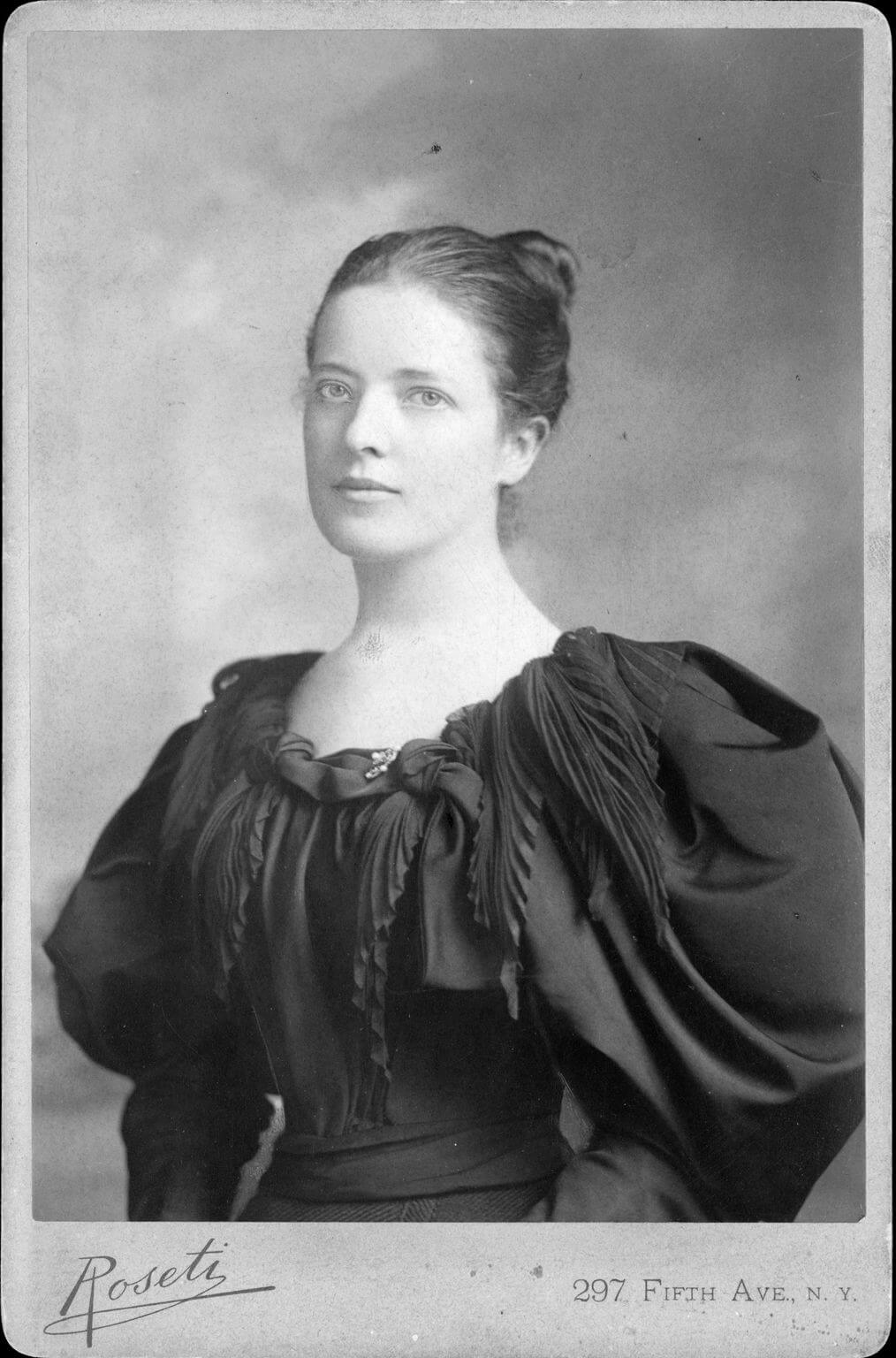 F. Roseti. Portrait of Adelaide H.C. Frick, 1896. Courtesy of The Frick Collection/Frick Art Reference Library Archives.
The corset remained a standard garment, critical to achieving the slim waist that balanced voluminous sleeves and skirts. Even the unseen underpinnings of Gilded Age fashion had luxurious details. Corsets were generally made from silk, a delicate but strong fabric, with stays made of whalebone or steel stitched between the layers. No woman would have dressed for an evening out, or even contemplated leaving the house, without a corset like this one that belonged to Adelaide Frick.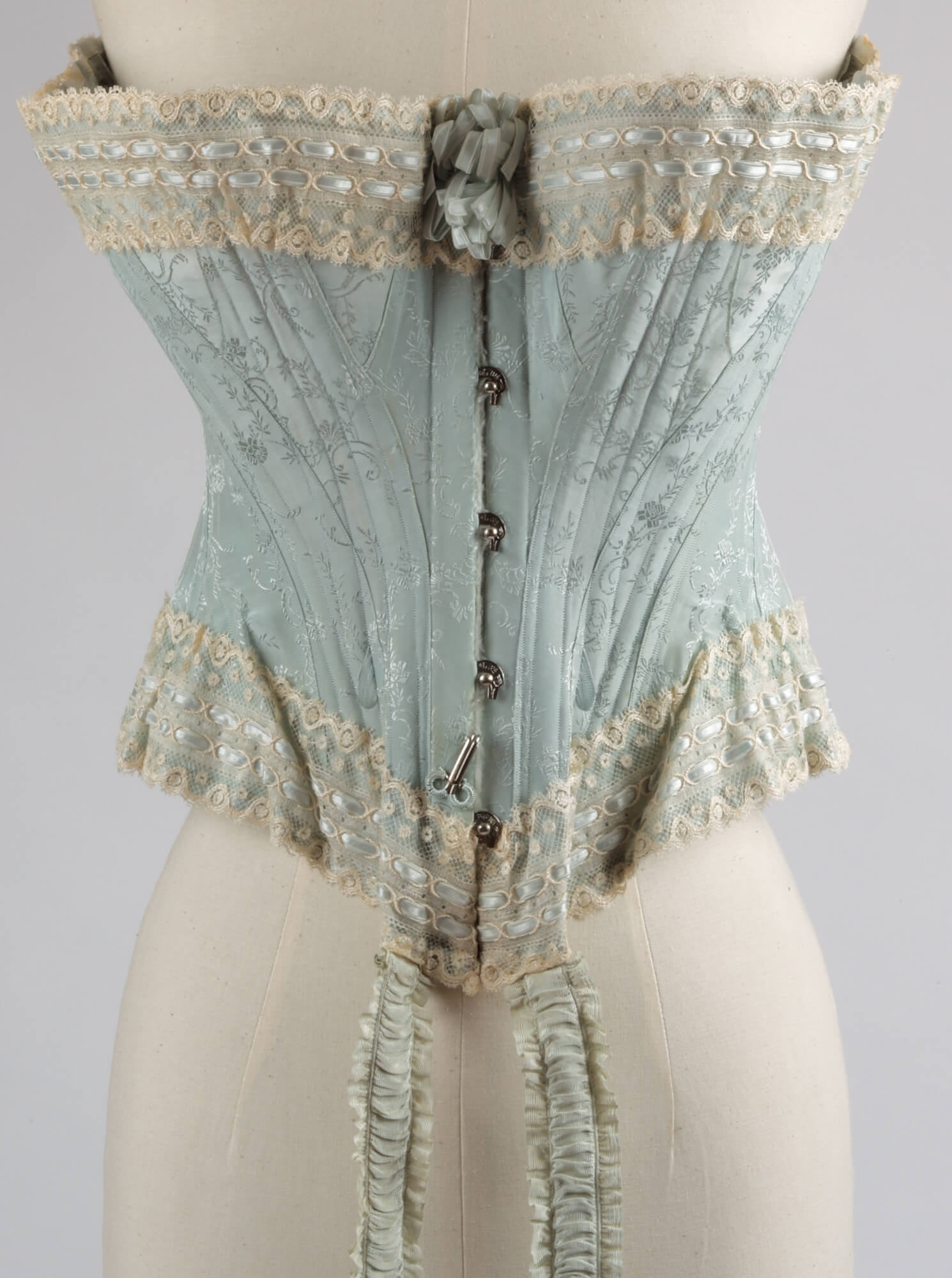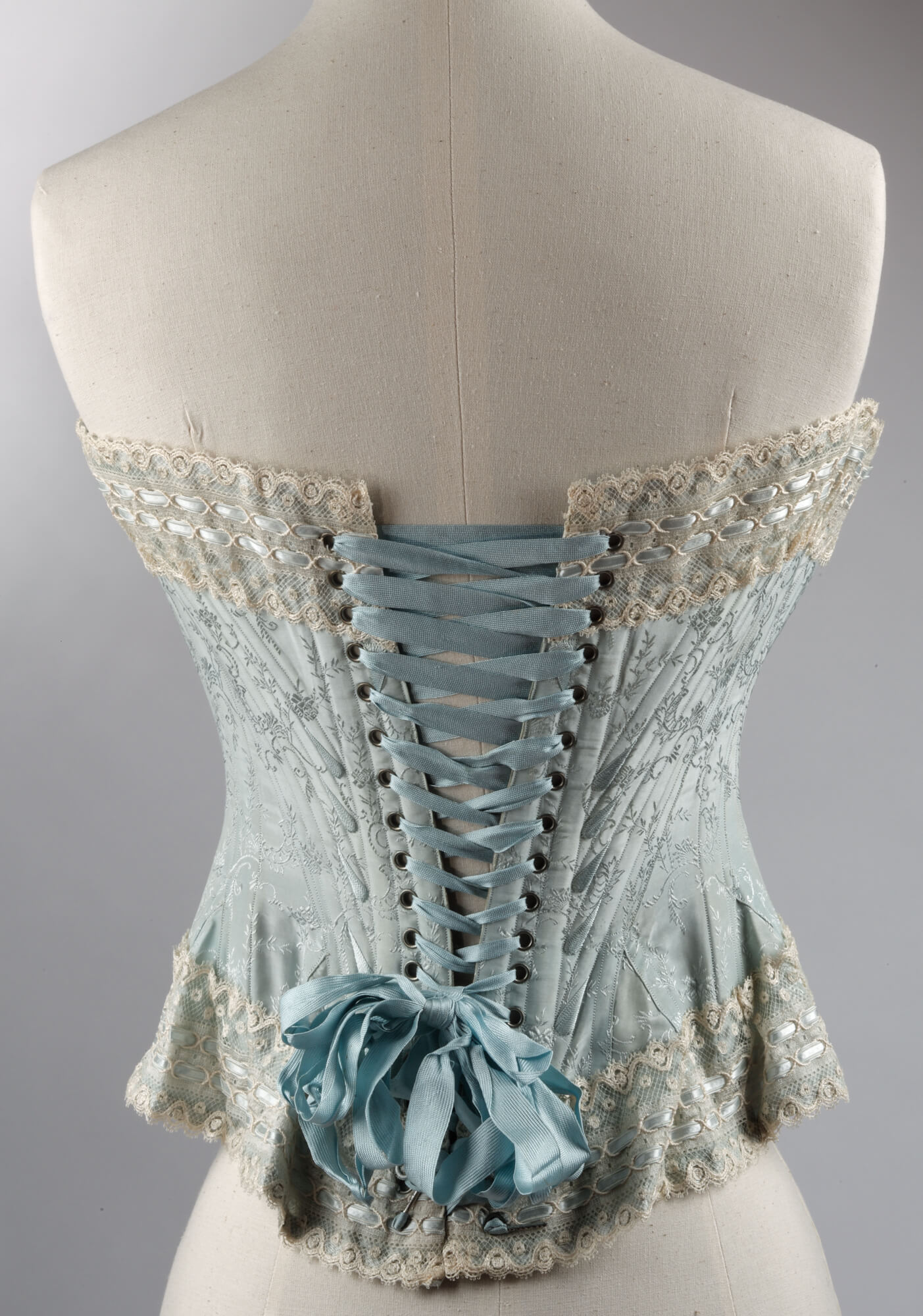 Au Louvre, retailer. Corset, c. 1895. Silk damask and lace. The Frick Pittsburgh.
Nineteenth-century women dressed for the occasion and strict rules governed appropriate clothing for morning, afternoon, and evening activities. Everyday dresses were generally appropriate for most daytime activities, promenading, calling, and running errands. The walking costume in this illustration from the May 1890 issue of
Peterson's Magazine
is similar to an ensemble worn by Adelaide Frick in our collection. It's likely that the decorative pleating covering the bodice was partially covered with a tailored jacket. Black and white was a perennially fashionable combination, but
au courant
ladies might have chosen to combine Tuscan yellow and aubergine (a deep purple hue;
aubergine
is French for eggplant), the color pairing most cited in spring issues from 1890.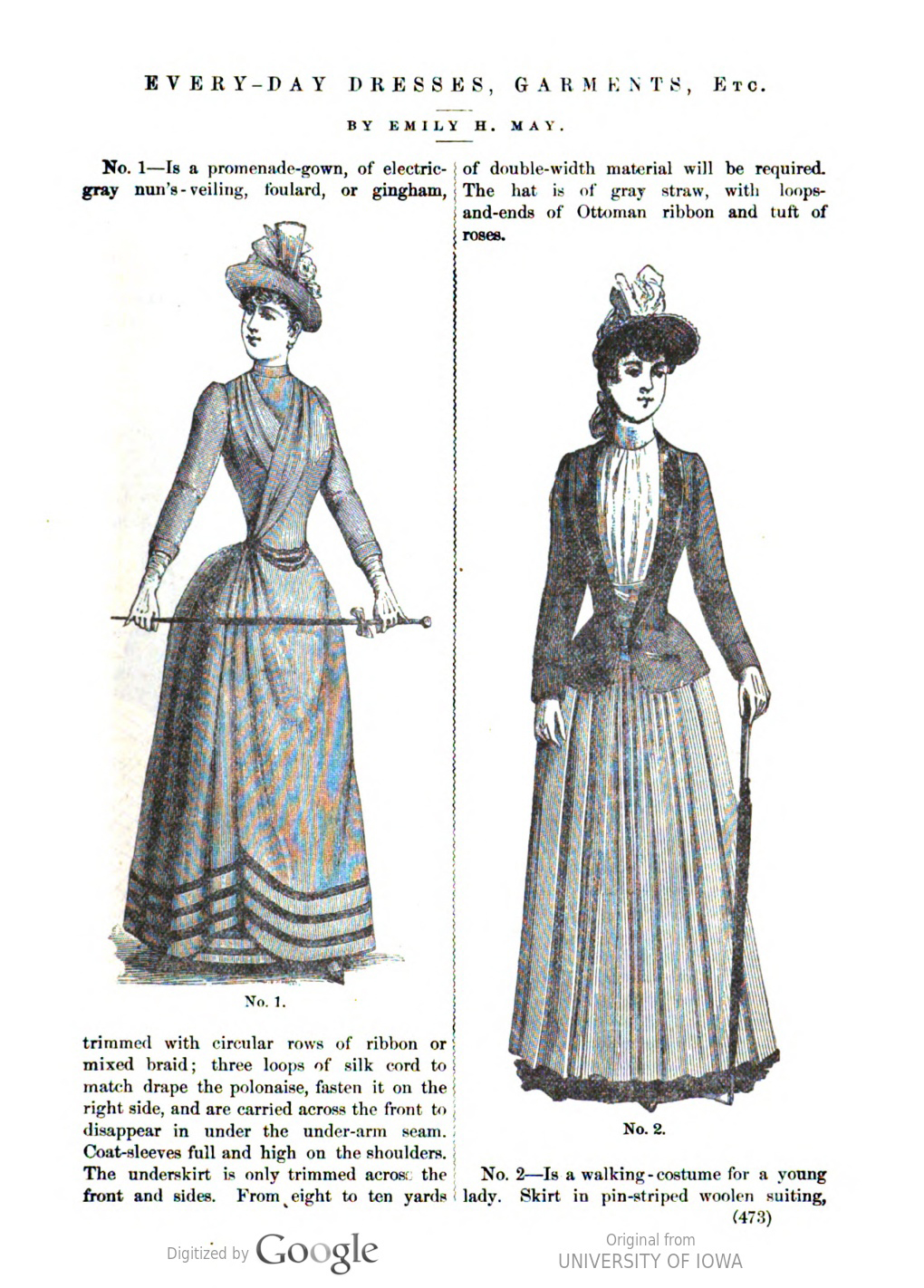 Promenade gown and walking costume illustrated in Peterson's Magazine, May 1890.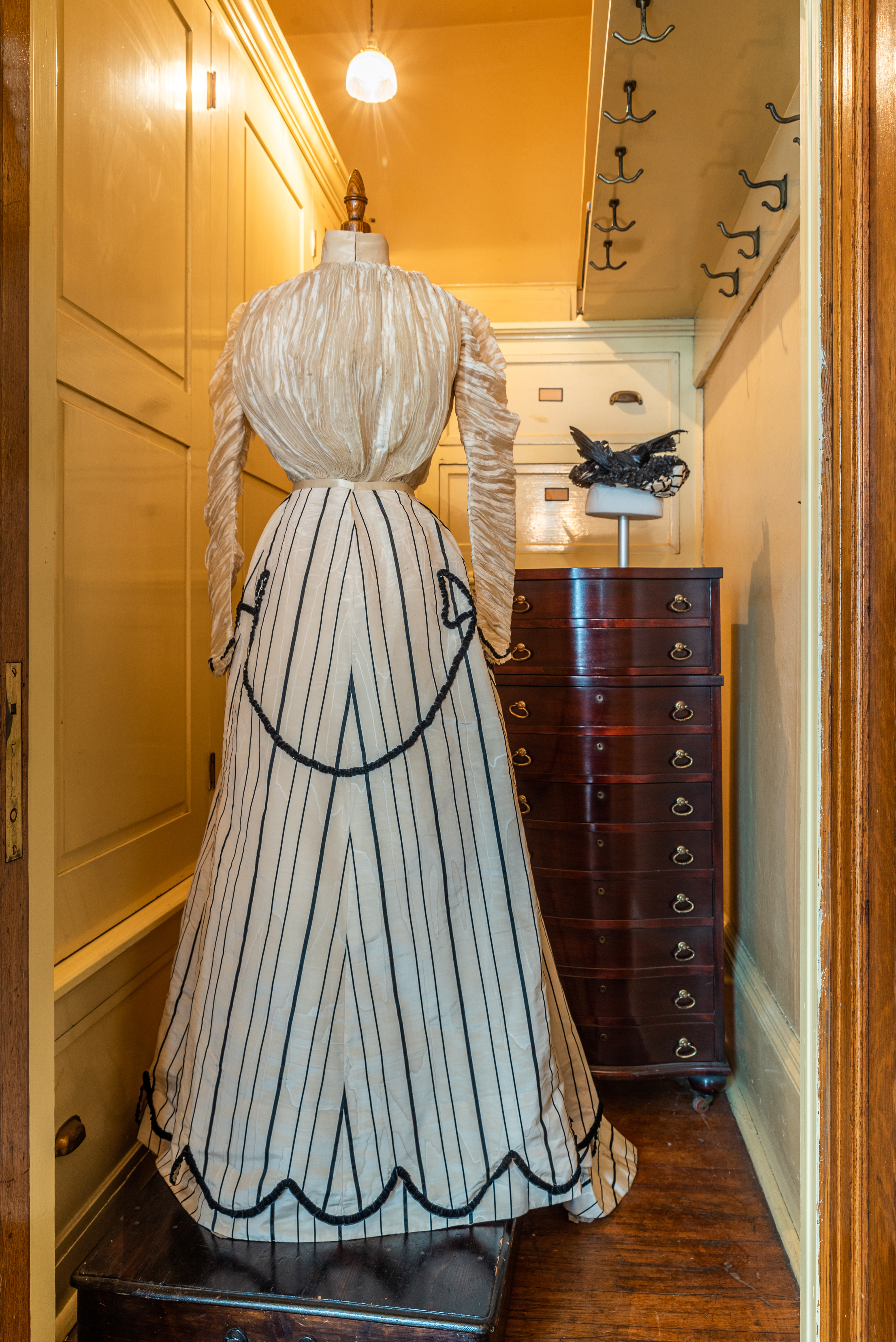 Marie (New York). Bodice and skirt ensemble, c. 1898. Chiffon and moiré silk faille. The Frick Pittsburgh.
Hats remained an essential component of ladies' wardrobes and were available in countless styles, often heavily decorated with flowers, feathers, and ribbons.
The Pittsburgh Press
reported that "In nearly every bit of headgear there is some little flower or leaf or sprig of grass interwoven in meshes of lace or trailed in graceful patterns on ribbons of silk or velvet. There are to be seen buttercups, daisies, violets, roses, and forget-me-nots without number." Brilliant red poppies adorn the upturned brim of a straw hat in the collection worn by Adelaide or Helen Frick.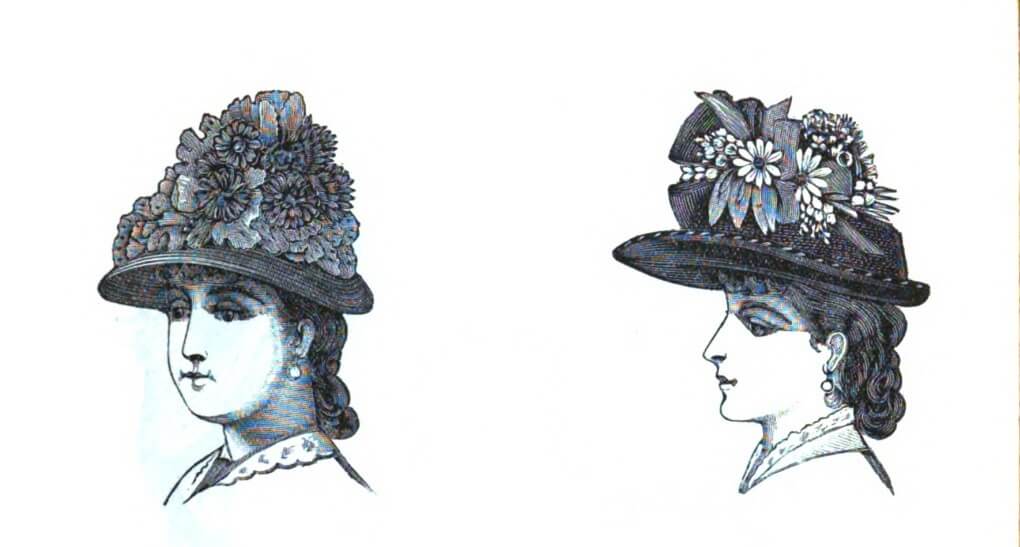 Illustration from The Ladies' Home Journal, May 1890.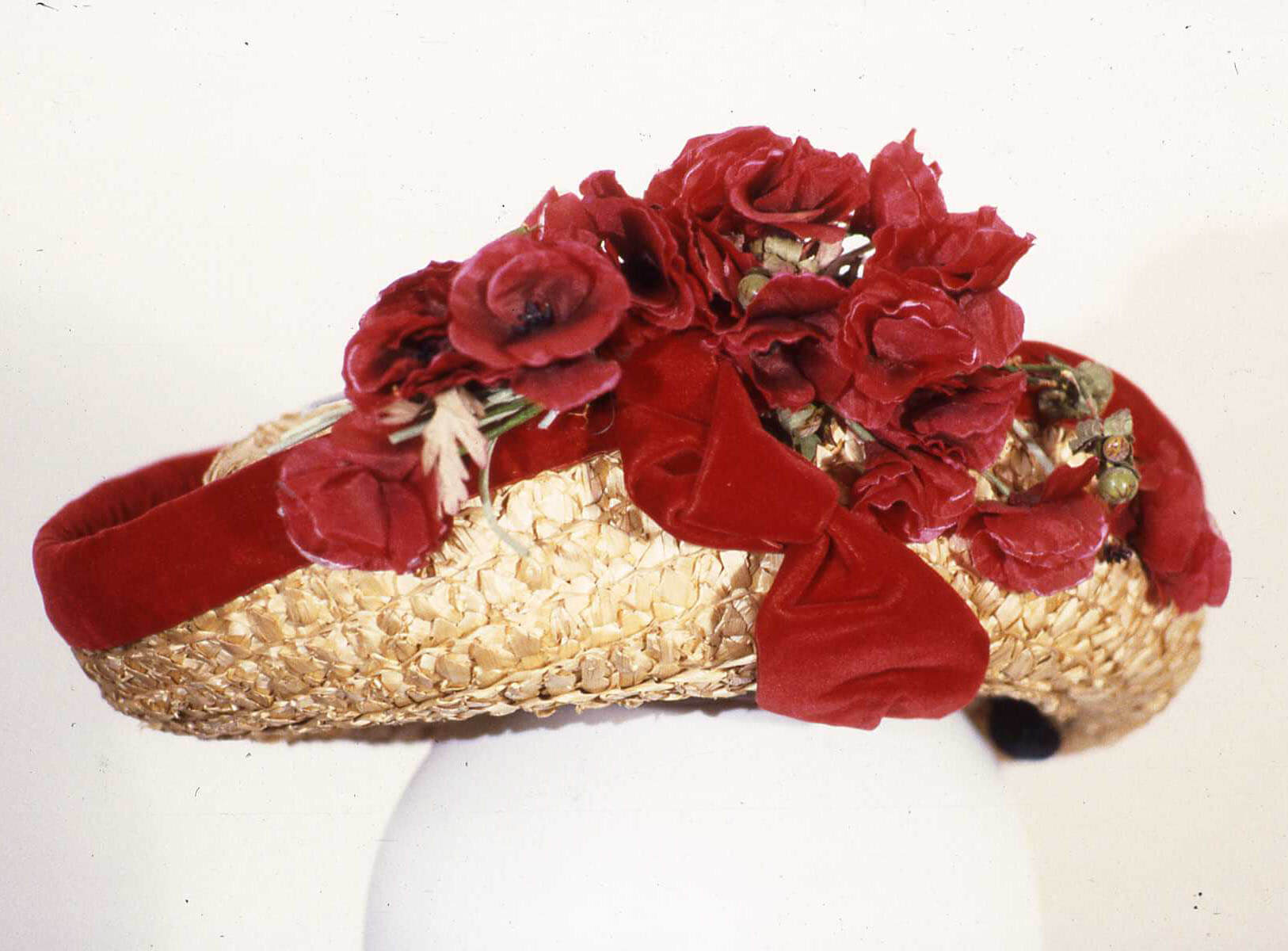 Lichtenstein Millinery Company (New York). Hat, c. 1895. Straw, velvet, and silk. The Frick Pittsburgh.
Parasols were another must-have fashion accessory of the decade, although they were more decorative than utile. The April 1890 issue of T
he Ladies' Home Journal
reported that, "Many artistic designs and novel combinations of materials and colors have been evolved this season by the manufacturers of these dainty toys—for toys they are more than articles of utility, some of them being so very diaphanous as to be of little or no protections against the rays of old Sol." Dark shades were recommended for street use, but dainty concoctions of silk gauze decorated with ruffles, puff, or fringes were generally used with afternoon dresses. Handles were often elaborately carved and decorated as well, like this example from the Frick's collection.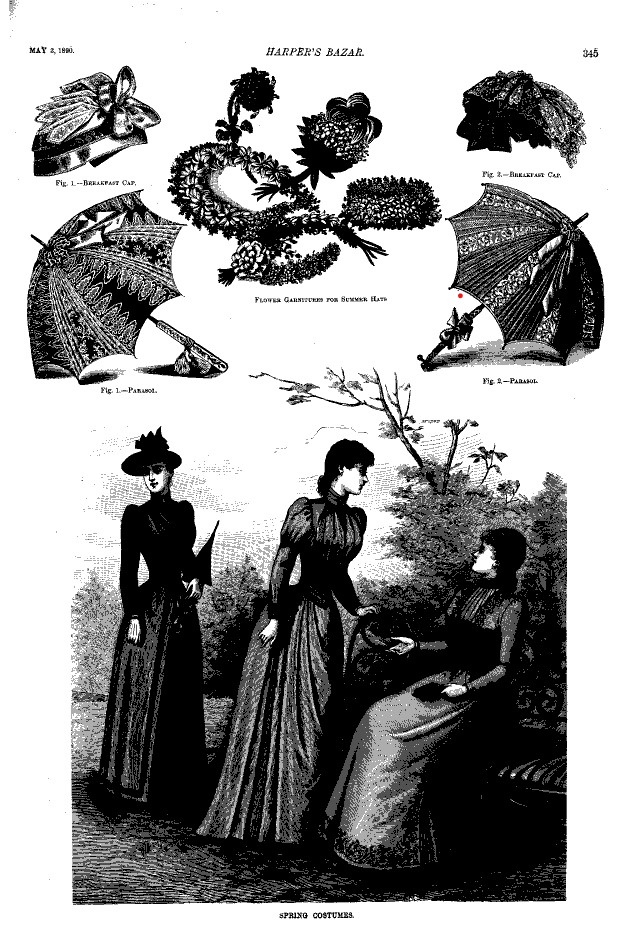 Illustration from Harper's Bazar, 2 May 1890.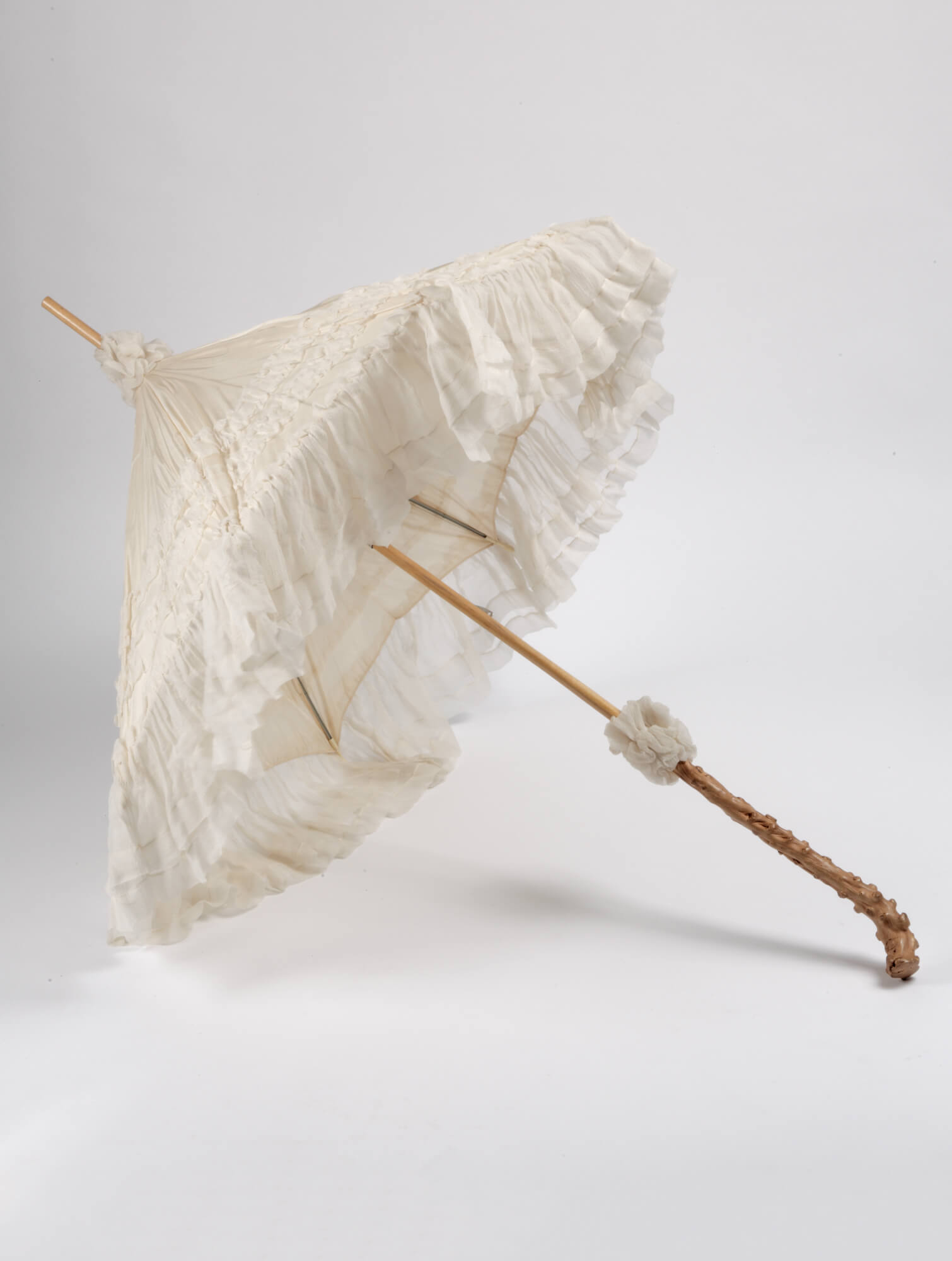 Unknown maker. Parasol, c. 1895. Silk and wood. The Frick Pittsburgh.
1900
The new century ushered in changes of all kinds, but the fashionable silhouette remained largely unchanged from the previous decade. The S-shape dominated and corsets pushed the bust forward and hips back, emphasizing a narrow waist and large monobosom as seen in the illustration below.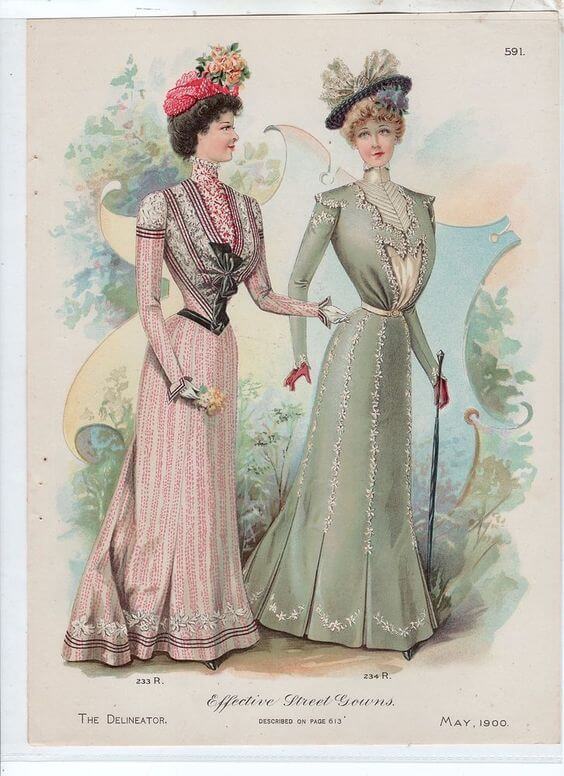 "Effective Street Gowns" in The Delineator, May 1900.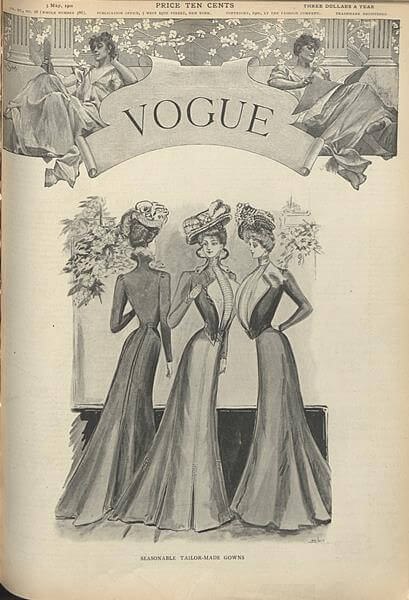 Cover illustration of Vogue, May 3, 1900.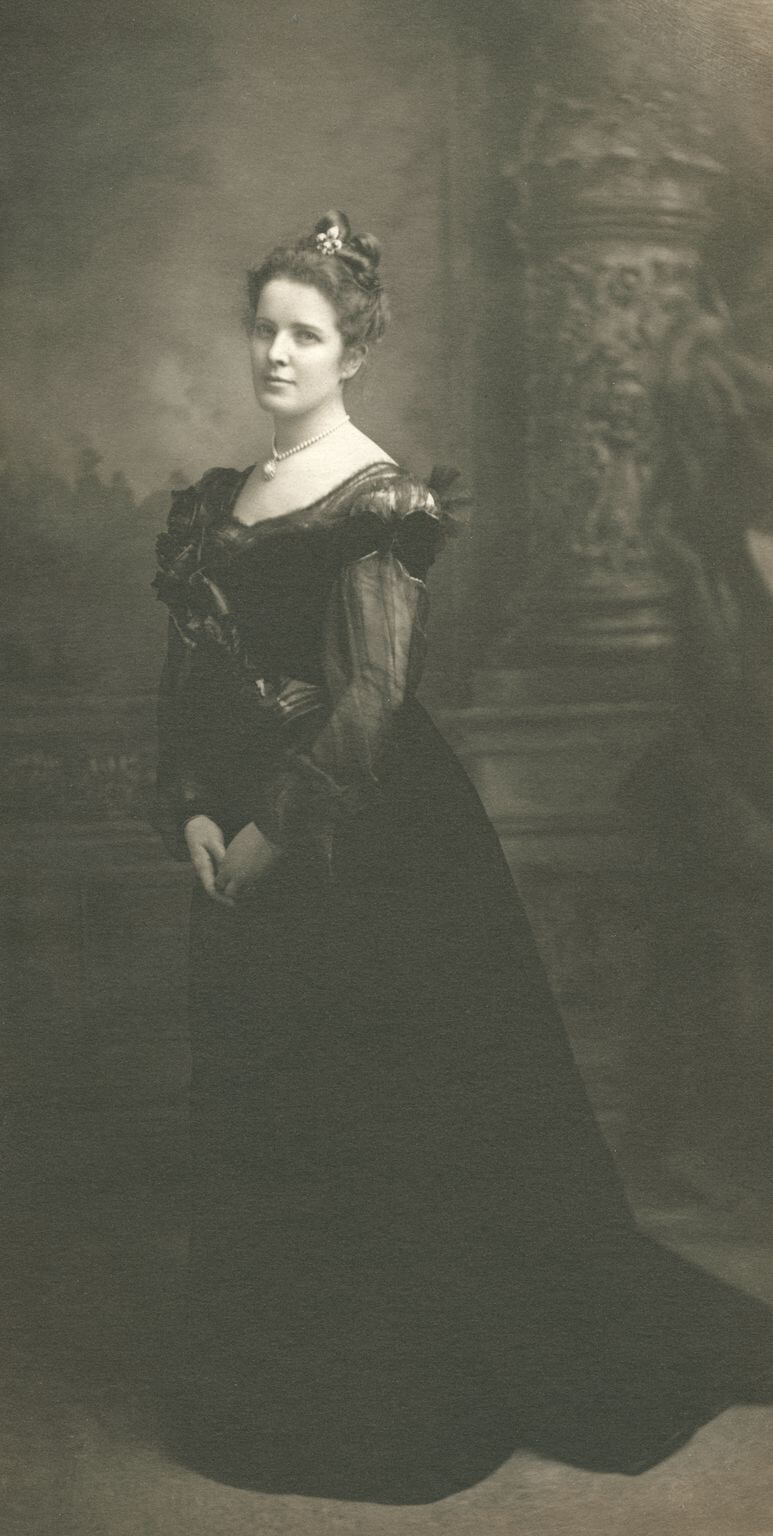 Adelaide Frick, c. 1901. Courtesy of The Frick Collection/Frick Art Reference Library Archive
Light colored fabrics predominated, but embellishments added visual interest and remained the key to a stylish appearance. Although the April 18, 1900 issue of
Harper's Bazar
called the gowns of the season "exceedingly simple," their ornamentation was often anything but. Day and evening wear alike were elaborately trimmed, and the most fashionable ensembles exhibited lace, velvet, and satin details, embroidery with metallic thread, and perhaps some spangles, sequins, and beading. A gown created by couturier Gustave Beer and worn by Adelaide Frick demonstrates the trend.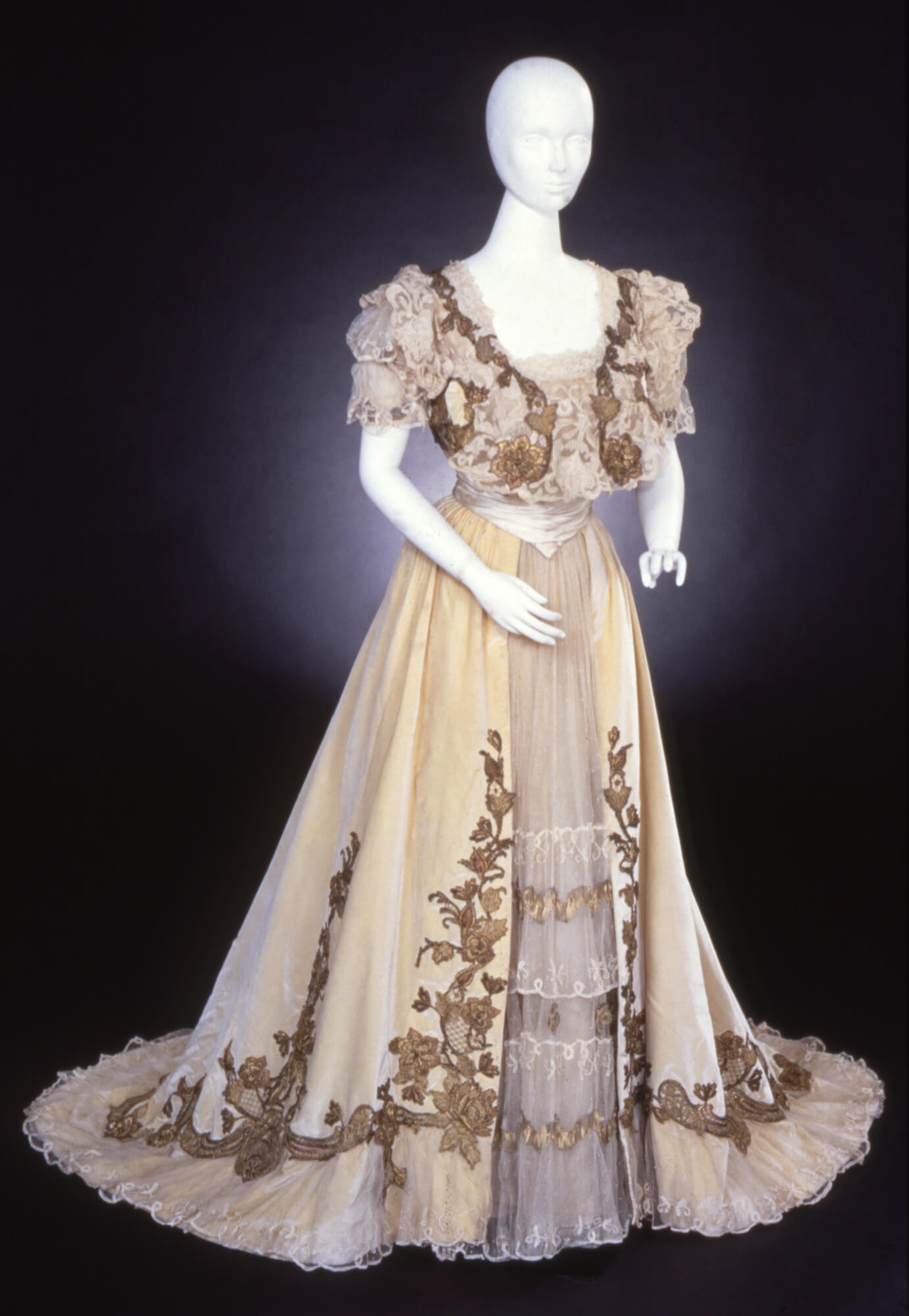 Gustave Beer (Paris). Evening gown, c. 1905. Silk velvet, cotton lace, and metallic thread. The Frick Pittsburgh.
The two-piece ensemble, more appropriate for fall or winter than spring, exhibits the S-shaped silhouette and taste for embellishment. The bodice is short sleeved with a low cut square neckline trimmed with lace and embroidered net. The full skirt is made of gored velvet panels with a center panel of embroidered net and metallic ribbon. The German-born Beer supplied the affluent elite with elegant day wear and luxurious evening gowns from his Parisian couture house on the Place Vendôme. He quickly garnered a reputation as one of Paris's most expensive couturiers. Among his design hallmarks was the combination of luxurious gold and copper metallic threads. The result is sophisticated elegance. Adelaide Frick purportedly wore this gown to a reception at the White House given by Theodore Roosevelt.
The evening gown is not the only ensemble Adelaide Frick purchased from Gustave Beer. This lightweight wool yachting ensemble is a remarkable example of whimsical, activity-specific day wear in Gilded Age fashion. Women were participating in physical activities—bicycling, tennis, polo, golf, croquet—more than ever before, but were expected to remain fashionable when doing so. Adelaide's yachting suit exhibits the S-shaped silhouette with full sleeves, fitted waist, and flowing skirt stylish in the early 1900s. It makes a fun comparison to a yachting costume illustrated in the May 1900 issue of
The Ladies' Home Journal
. The bodice is embellished with pintucks and soutache, a flat decorative trim, in the form of anchors at the collars and cuffs. Adelaide most likely wore this gown while strolling the decks of a chartered yacht or entertaining in Prides Crossing, Massachusetts, where the family began spending their summers in 1902.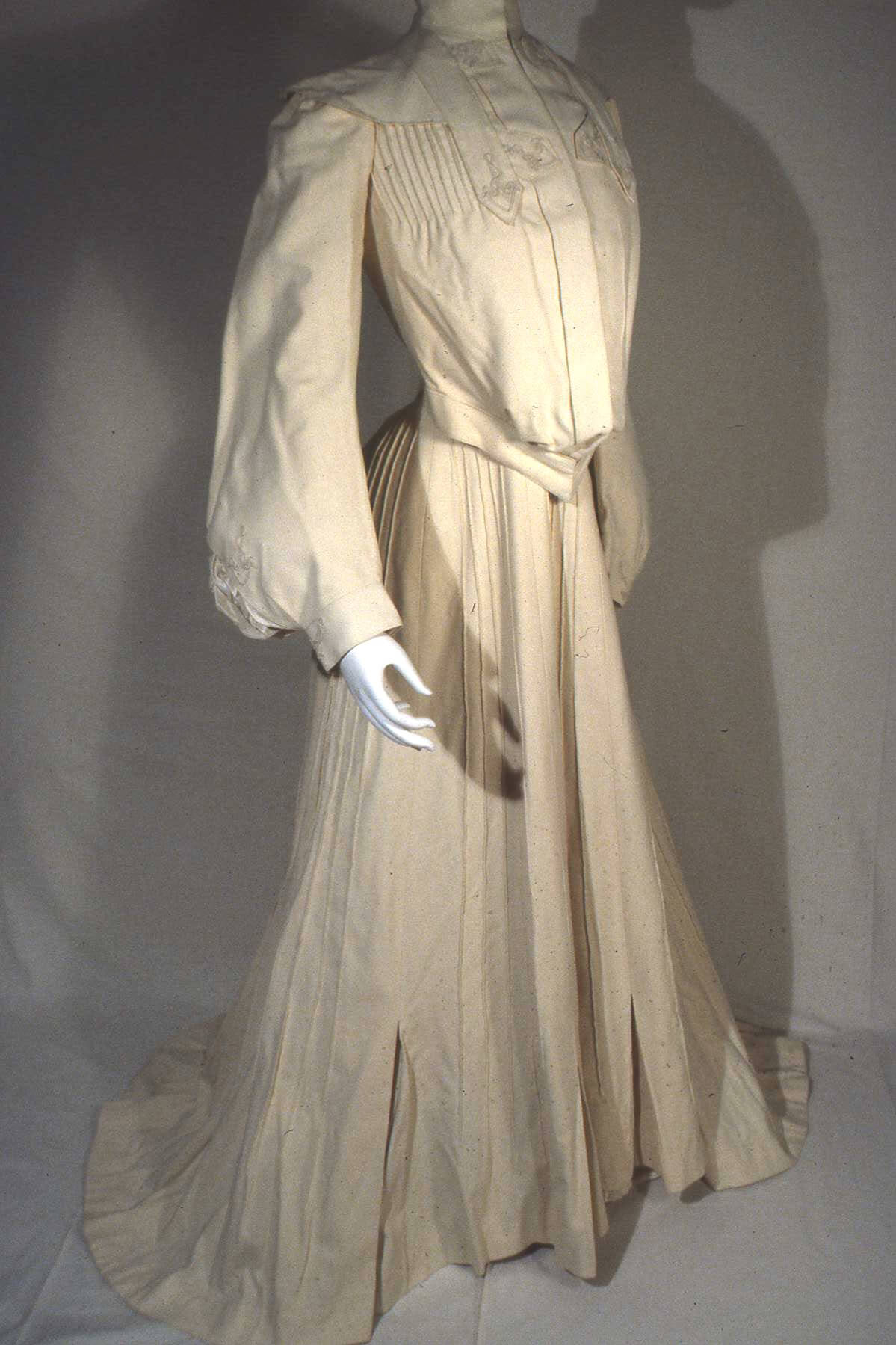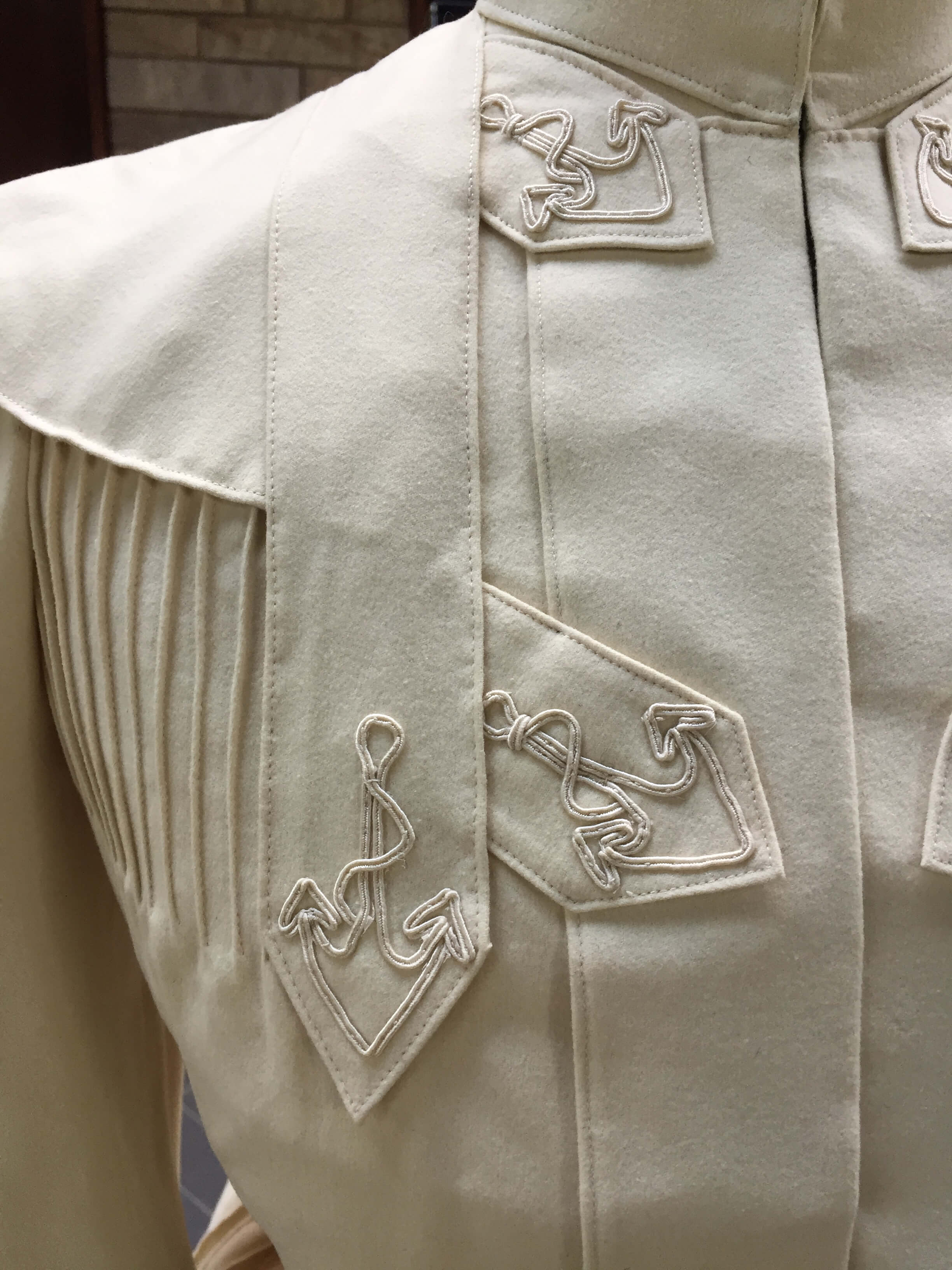 Gustave Beer (Paris). Yachting gown, 1902. Wool and silk. The Frick Pittsburgh.
Turn-of-the-century fashion for most women was dominated by the simple shirtwaist, or button-down blouse. Intended as separates to be worn with casual skirts, shirtwaists were available in endless varieties at all price points. Adopted by working women as a practical but stylish uniform, the shirtwaist became symbolic of progressive values and women's newfound independence.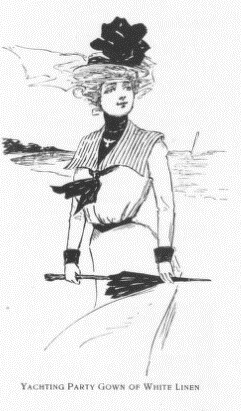 "The American Shirtwaist for Spring" in The Ladies' Home Journal, April 1900.
As seen in an illustration from
The Delineator
's May 1900 issue, hats continued growing to ever grander proportions, decorated with masses of tulle, netting, feathers, flowers, and foliage.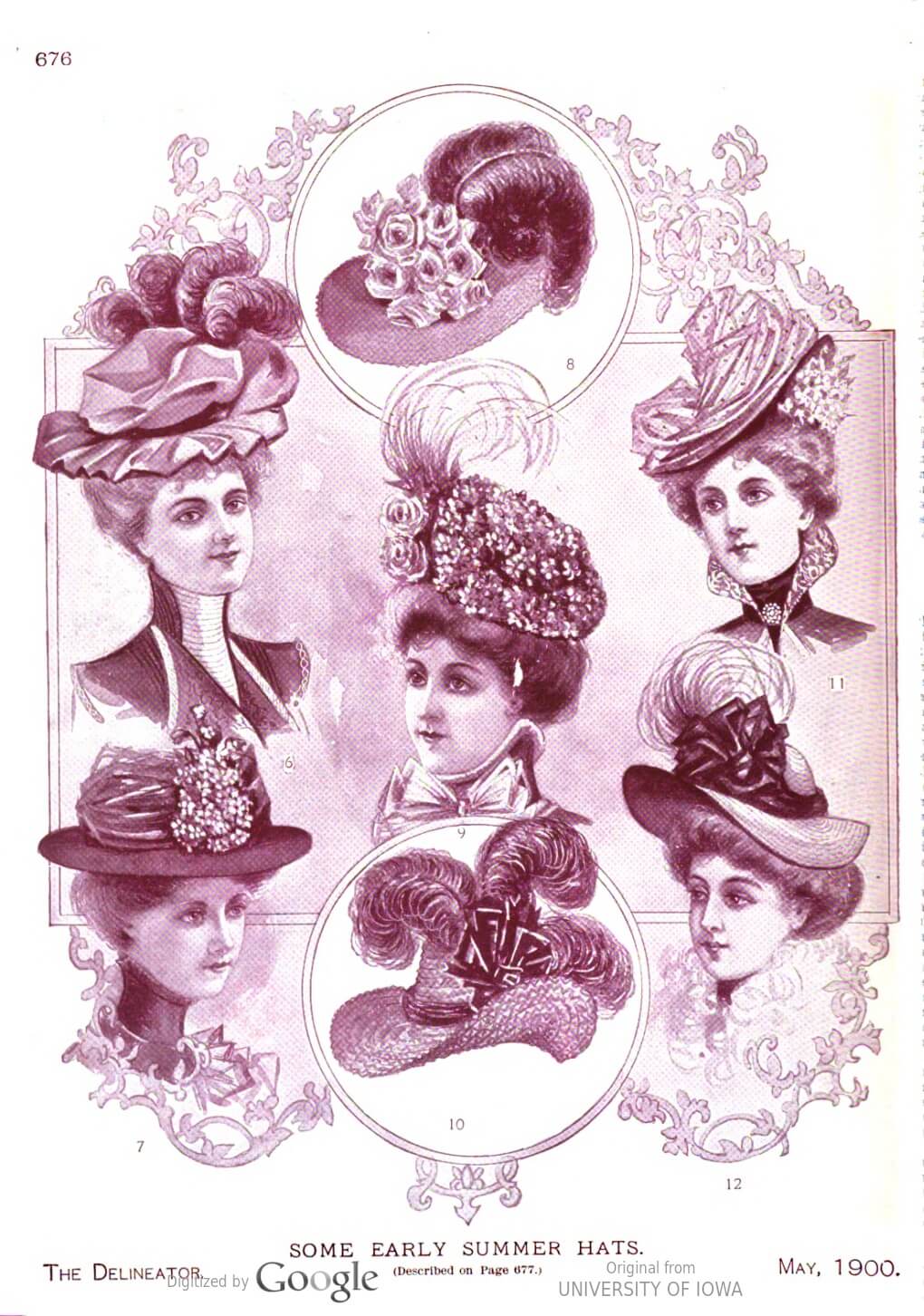 "Some Early Summer Hats" in The Delineator, May 1900.
In addition to parasols, gloves, collars, and hats, an article in "The Woman's World" section of
The Pittsburg Press
on May 6, 1900 listed fans as "the other necessity." The article continued, "They are quite small this year, but they make up in elaborateness what they lack in bulk. Some of the most minute intended for ball toilettes are covered with white gauze that is simply eclipsed by spangles. The sticks are of carved mother-of-pearl inlaid with gold." The description nearly matches a surviving fan in the Frick's collection.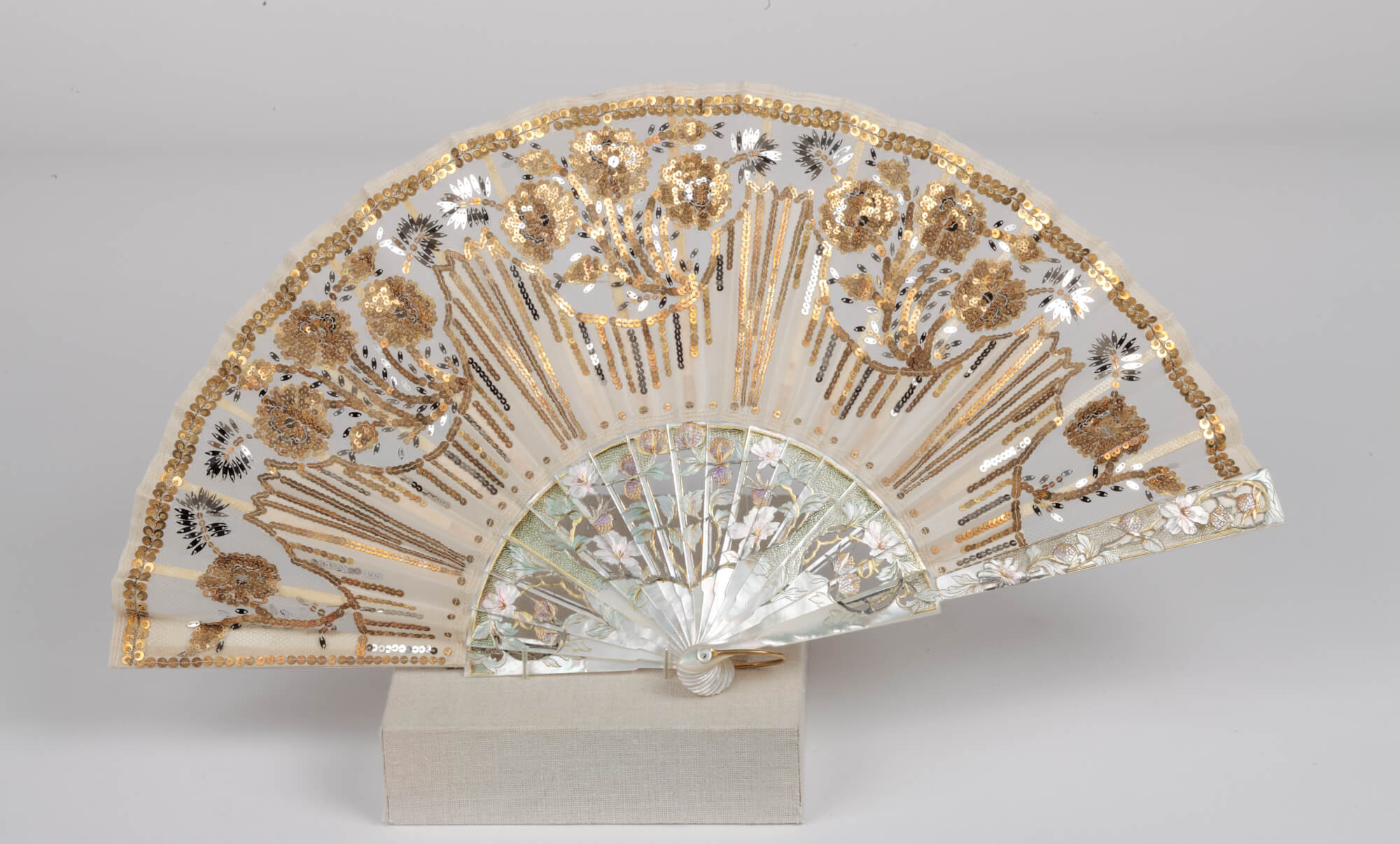 Unknown maker. Fan, c. 1900. Lace, mother-of-pearl, and sequins. The Frick Pittsburgh.
1910
The S-shape from the previous decade softened into a more natural silhouette that draped the lines of the body. Most dresses still emphasized the bust, but skirts were becoming more tapered at the bottom. The April 1910 issue of
The Delineator
prophesied, "Draped princess dresses will surely lead the fashions this season…they are so extremely graceful and becoming." Helen Clay Frick made her formal debut into society in 1908, and the Frick's collection includes a number of gowns from this period likely worn by her to the many engagements that would have now filled her social calendar. One dress in particular illustrates the transition between the two decades. The draped skirt somewhat recalls a Greek chiton and reflects the era's interest in reviving Directoire era fashions. The gown is labeled Lichtenstein Cie Modes. Helen and Adelaide must have done quite a bit of shopping at the couture house, which had shops in New York and Paris, in advance of Helen's social season. There are eight surviving gowns from Lichtenstein in the collection, including the dress worn by Adelaide Frick to the 1908 debut party.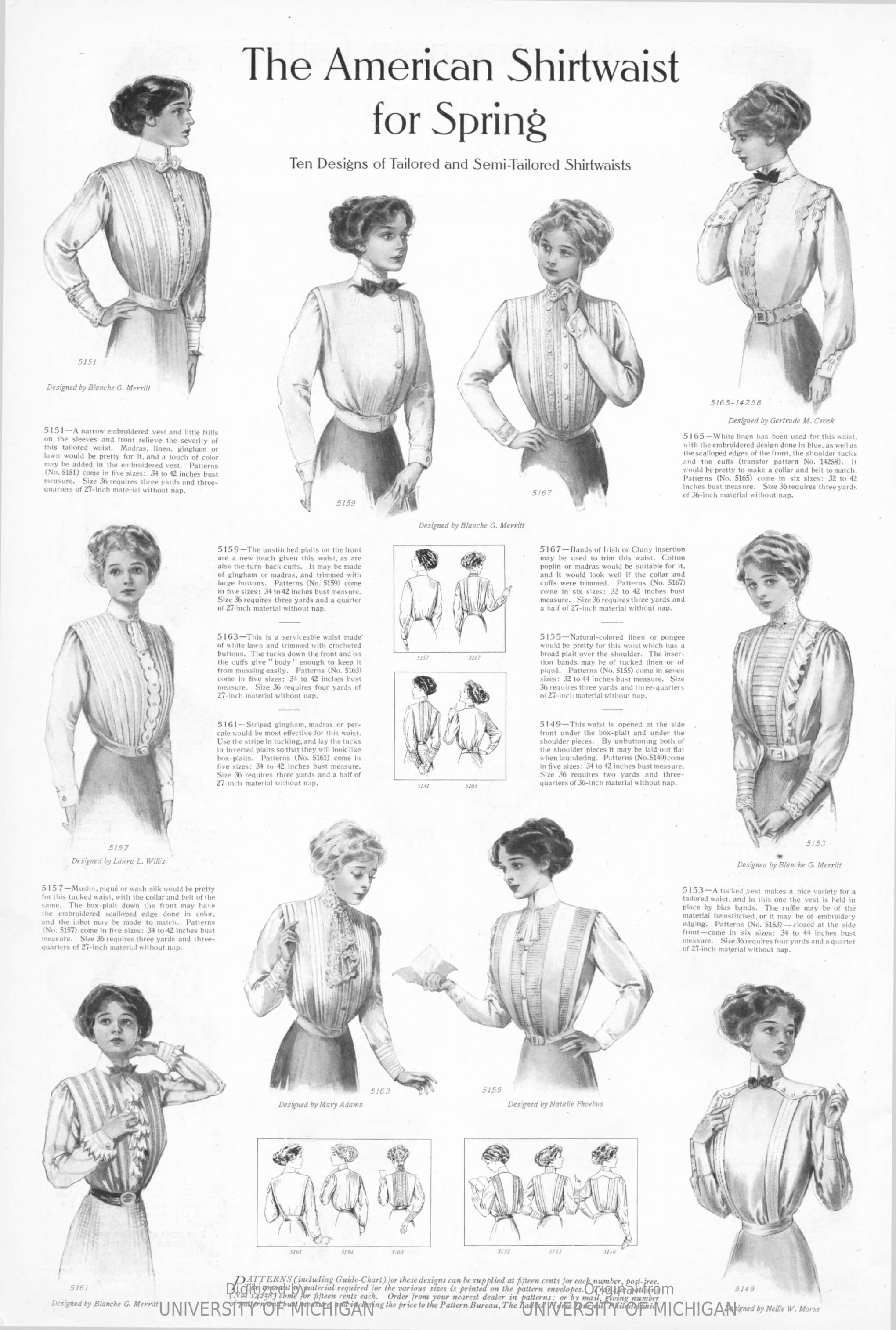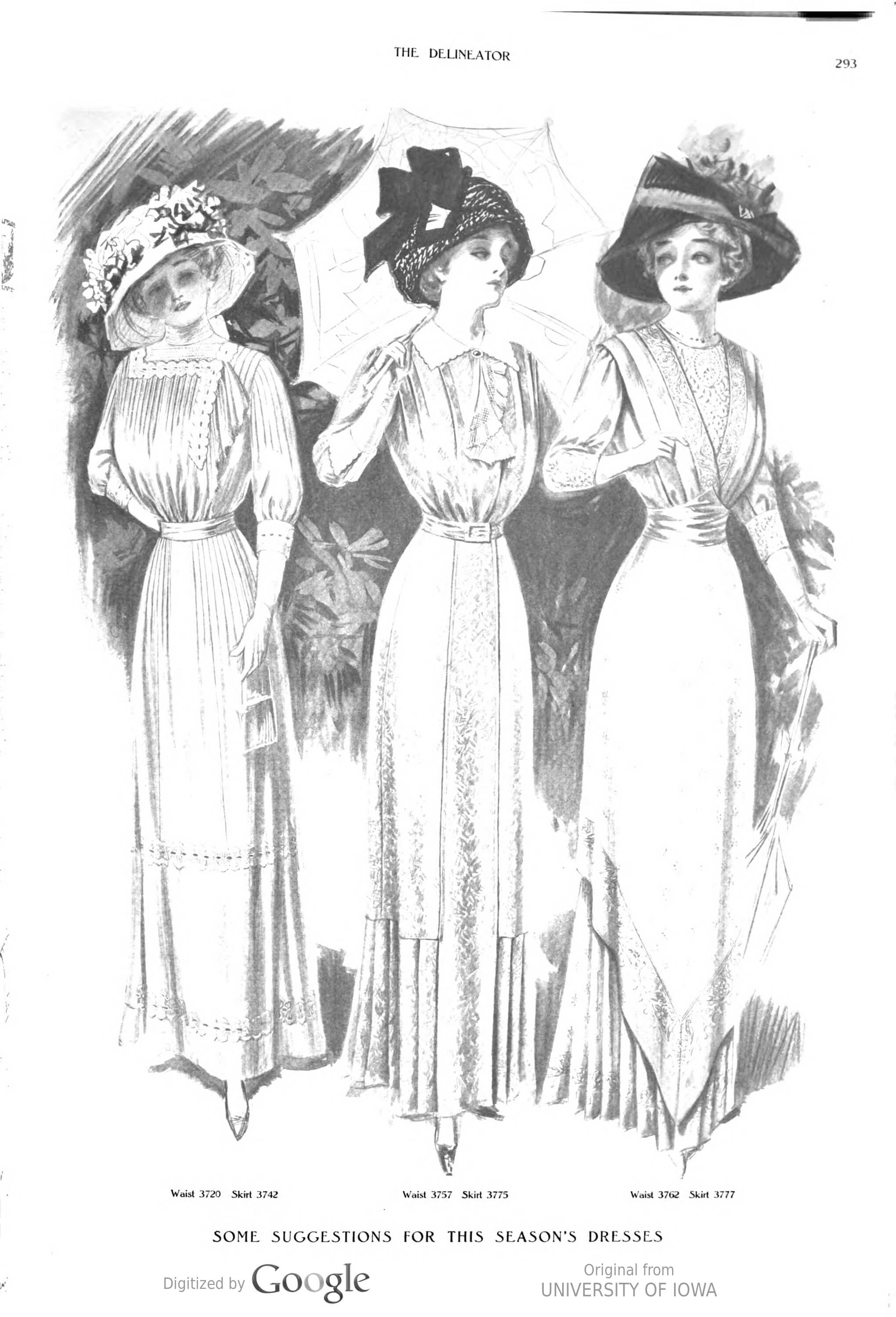 "Some Suggestions for This Season's Dresses" in The Delineator, April 1910.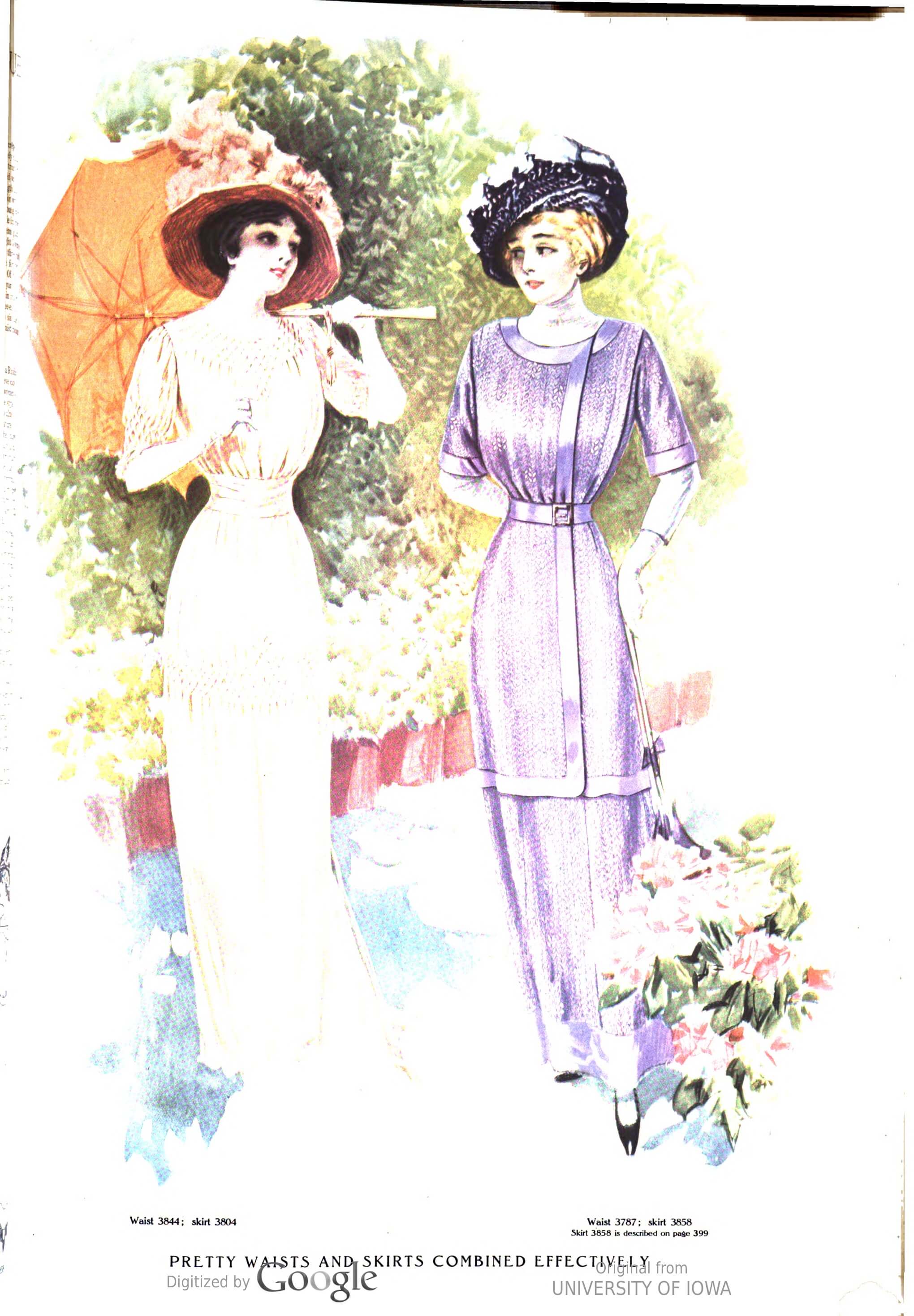 "Pretty Waists and Skirts Combined Effectively" in The Delineator, May 1910.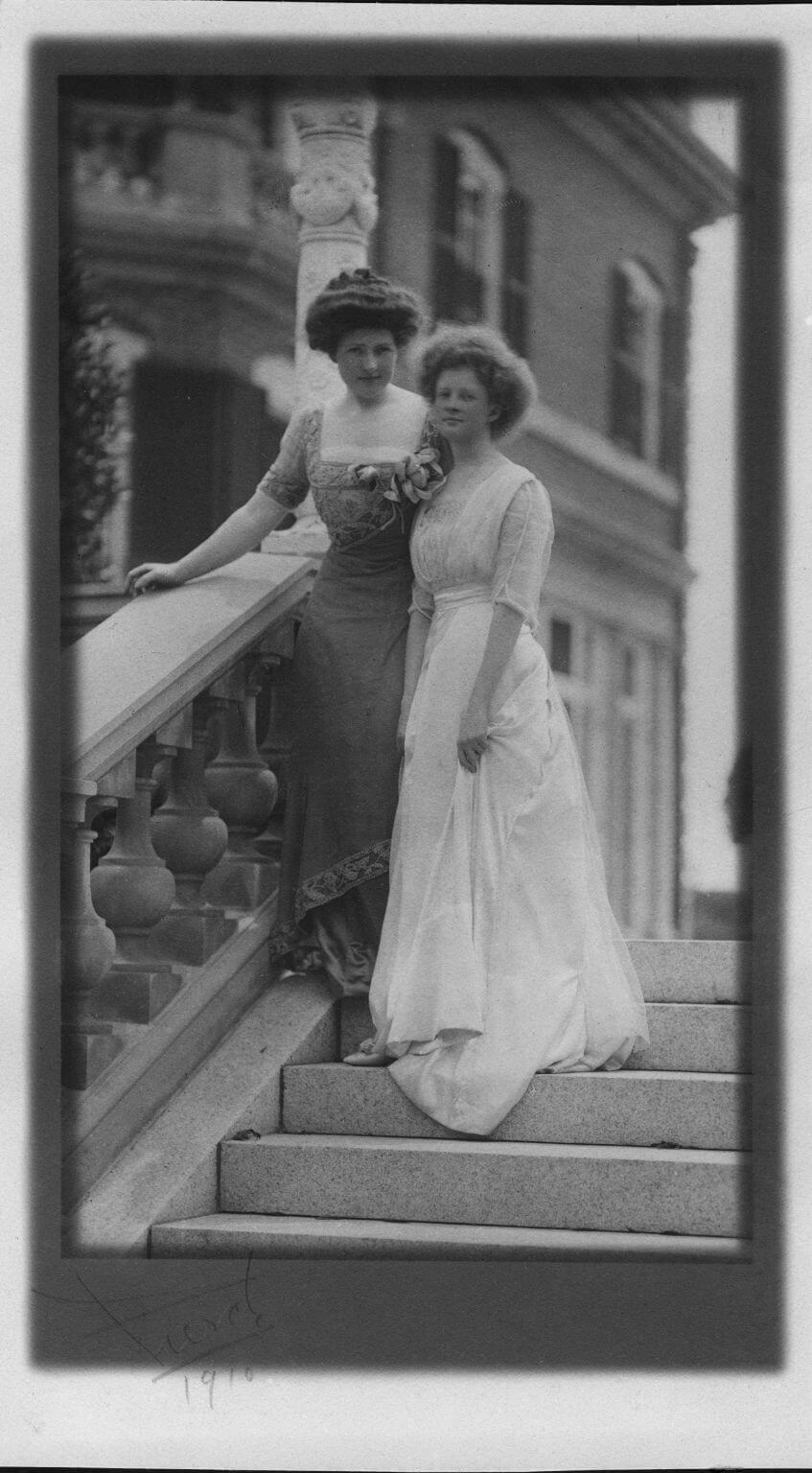 Helen Clay Frick (right) and Mary McNeal at Eagle Rock, Prides Crossing, MA, 1910. Courtesy of The Frick Collection/Frick Art Reference Library Archives.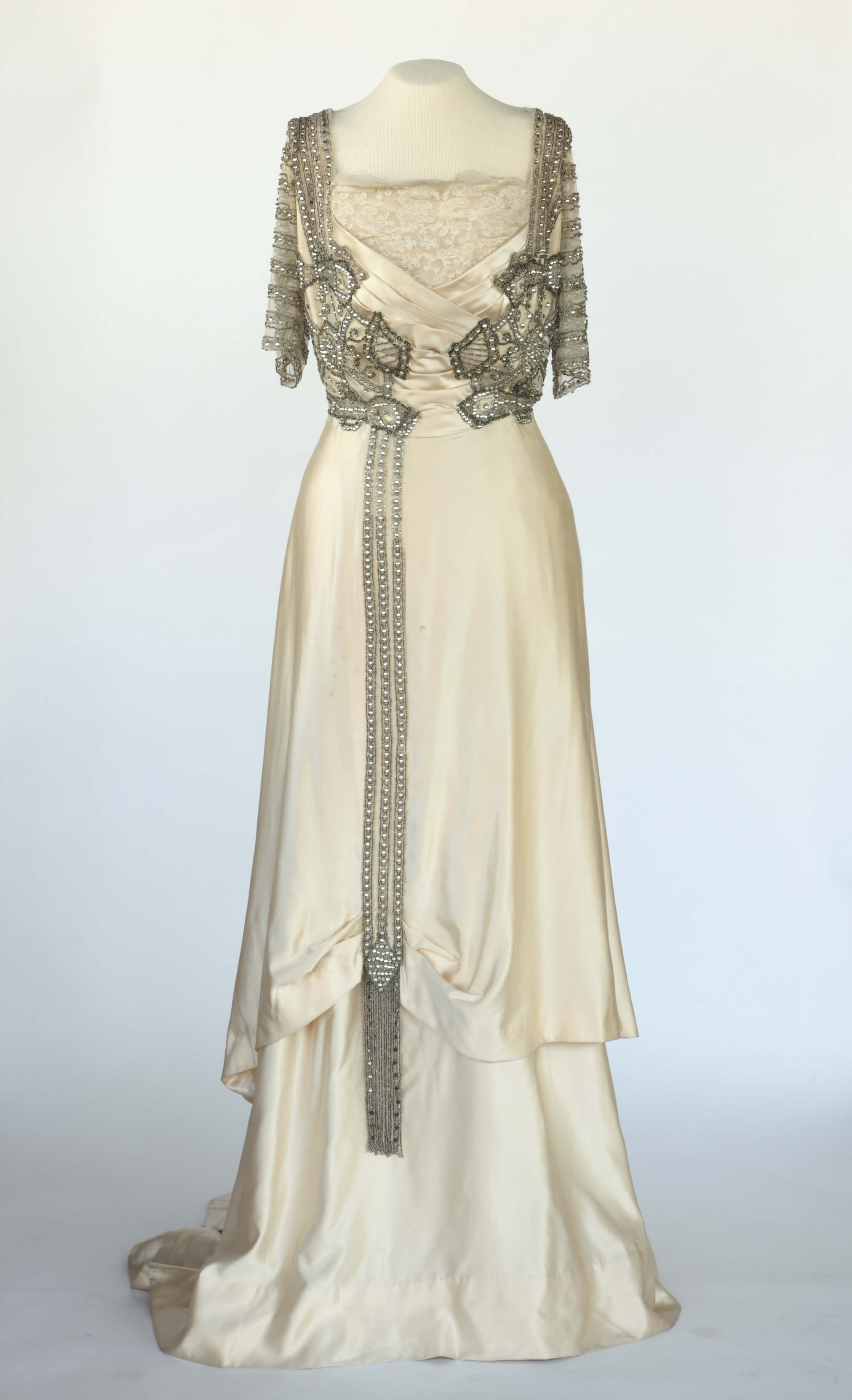 Lichtenstein Cie Modes (New York and Paris). Evening gown, 1908–1911. Silk, satin, lace, rhinestones, and beading. The Frick Pittsburgh.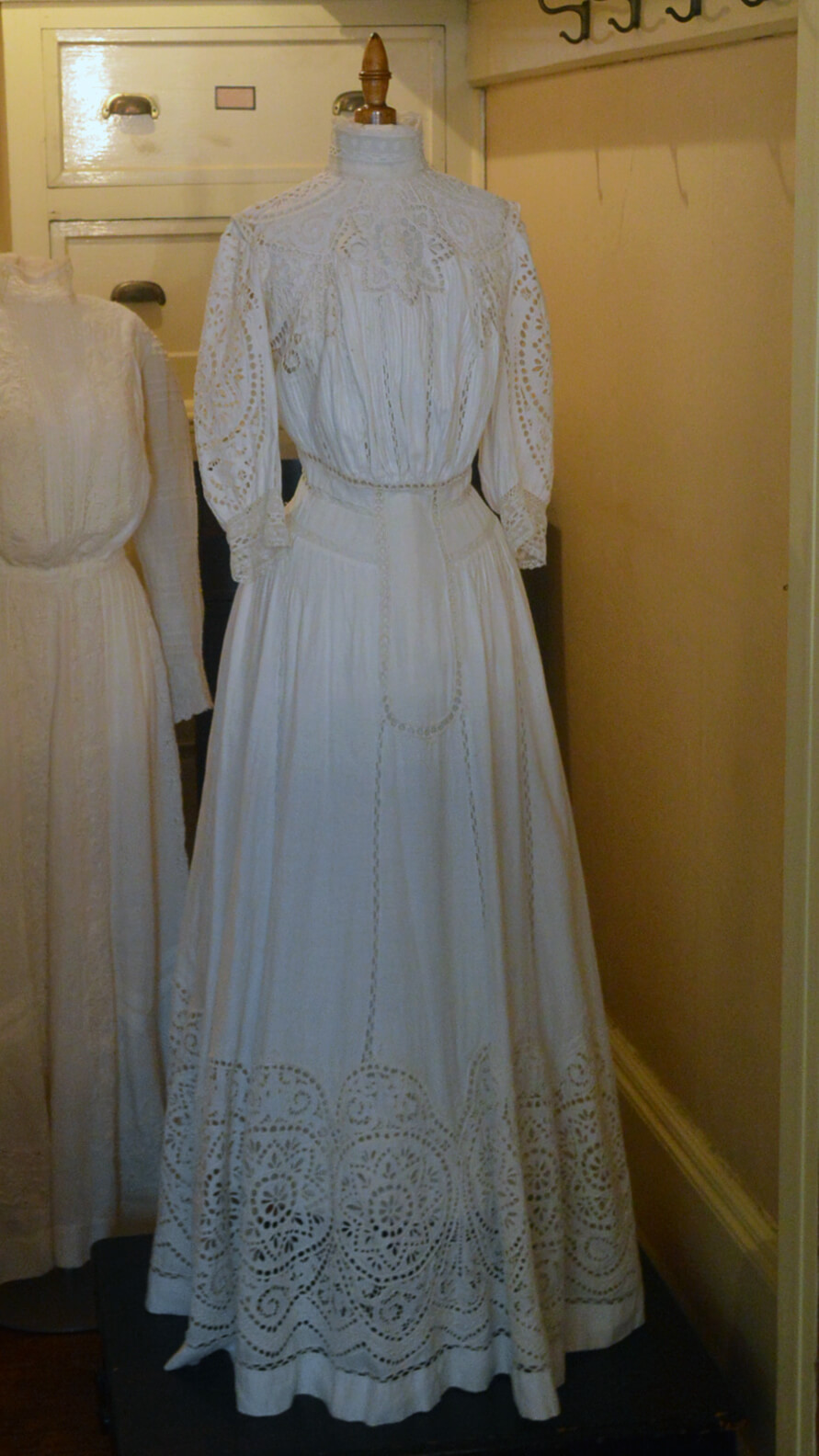 Unknown Maker. Summer gown, c. 1910. Linen. The Frick Pittsburgh.
The narrower cut was stylish for any time of day. Sunny spring afternoons called for lightweight linen and cotton gowns embellished with lace and cutwork, known as "lingerie dresses."
Harper's Bazar
reported that lingerie dresses were "vitally important" to the well-dressed woman's summer wardrobe, fashionable choices for luncheons, garden parties, teas, and other afternoon social events. The narrow shape and decorative edging down the front elongates and slims the body, representing the desirable fashionable silhouette of the period.
For everyday wear, tailored shirtwaists and slim skirts remained popular for women. Blouses with detachable details were also popular as switching out the cuffs, collars, neckties, or jabots could create an entirely new look. The Frick has countless examples of blouses in its costume collection that range from simple cotton with minimal decoration to more elaborate versions like the one below decorated with several types of lace. A label at the waist marks it as the creation of Maison Albert located on Rue St. Honore, an address noted for Parisian lacemaking. Embellished with black velvet and fringed edges, the top was most likely intended to be worn with a dark walking skirt.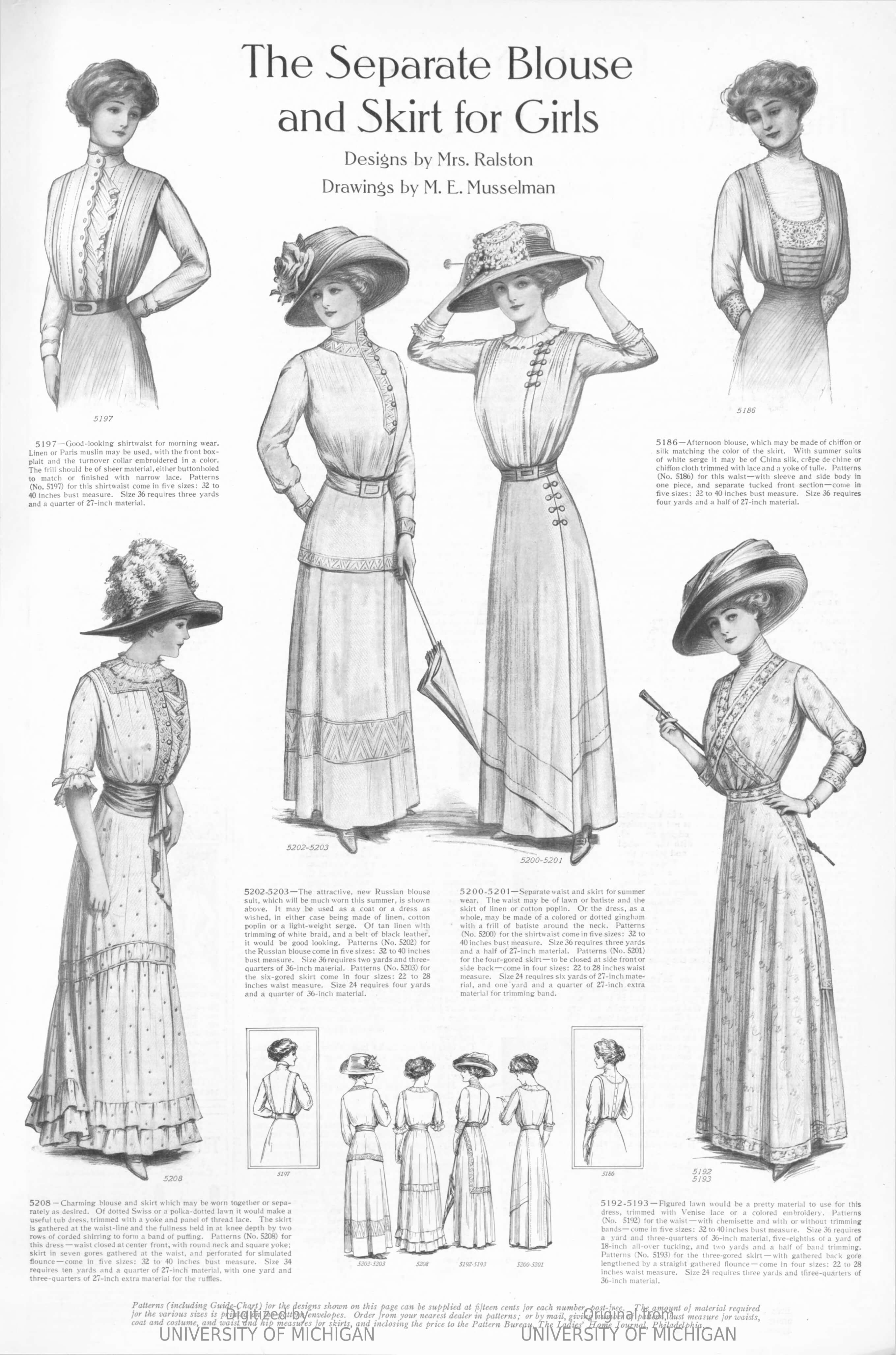 "The Separate Blouse and Skirt for Girls" in The Ladies' Home Journal, May 1910.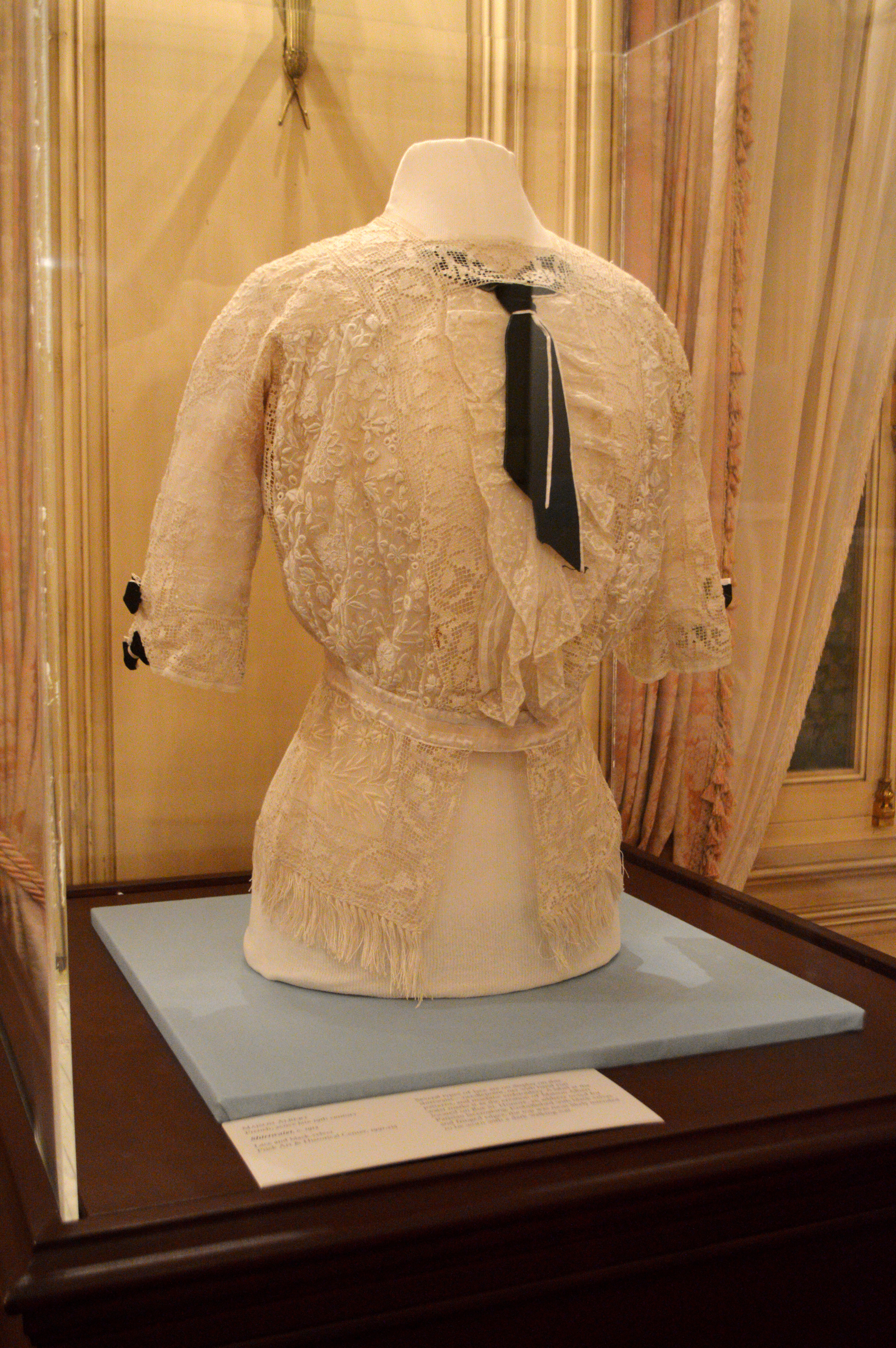 Maison Albert (Paris). Shirtwaist, c. 1912. Lace and black velvet. The Frick Pittsburgh.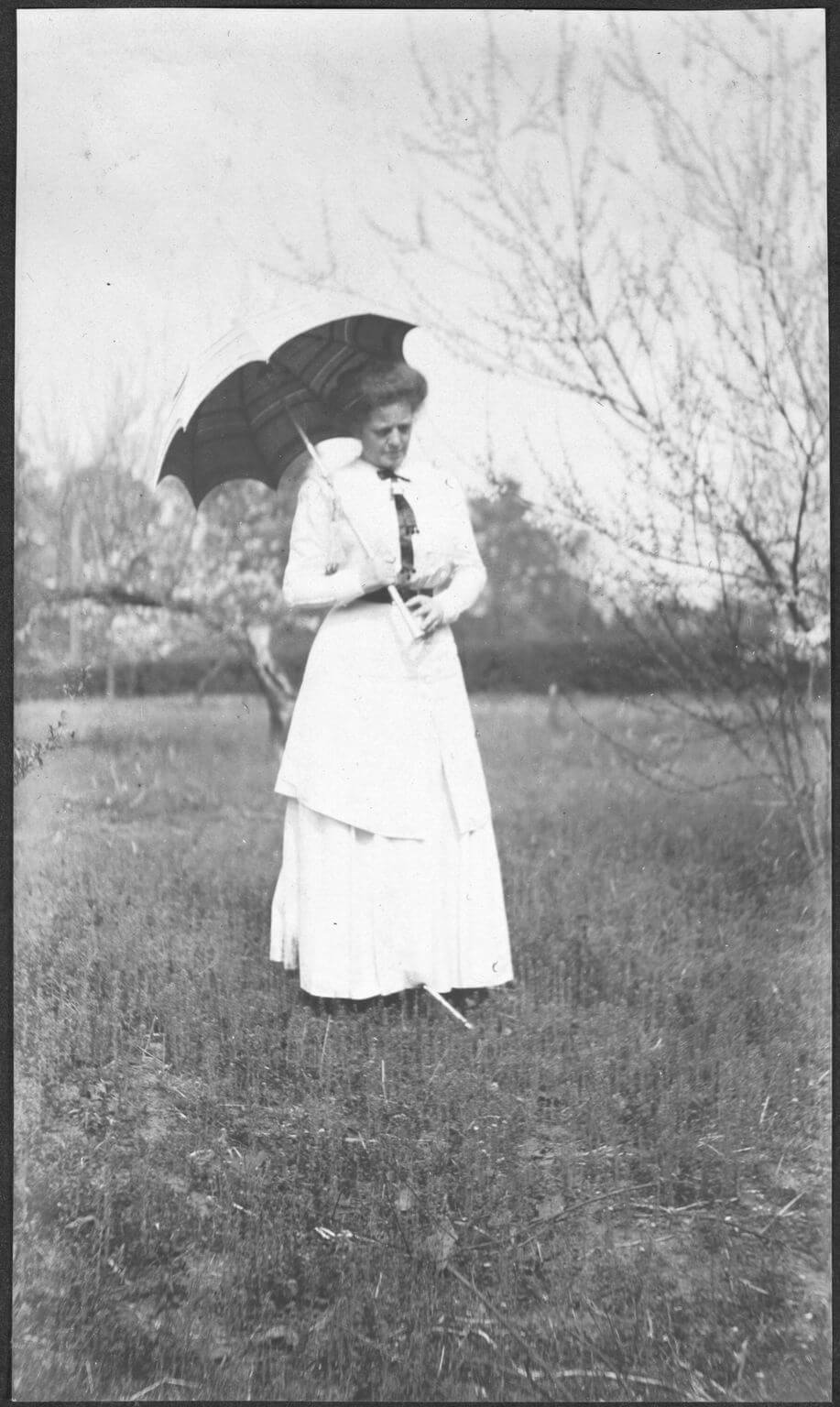 Adelaide Frick, 1910. Courtesy of The Frick Collection/Frick Art Reference Library Archives.
Hats maintained their large proportions, but were becoming comparatively simpler (though the cover image of
The Ladies' Home Journal
might lead one to assume otherwise). "The charm of the new hats—and they are charming this spring—lies in their beauty of line and extreme simplicity, which is unmarred by an abundance of trimming."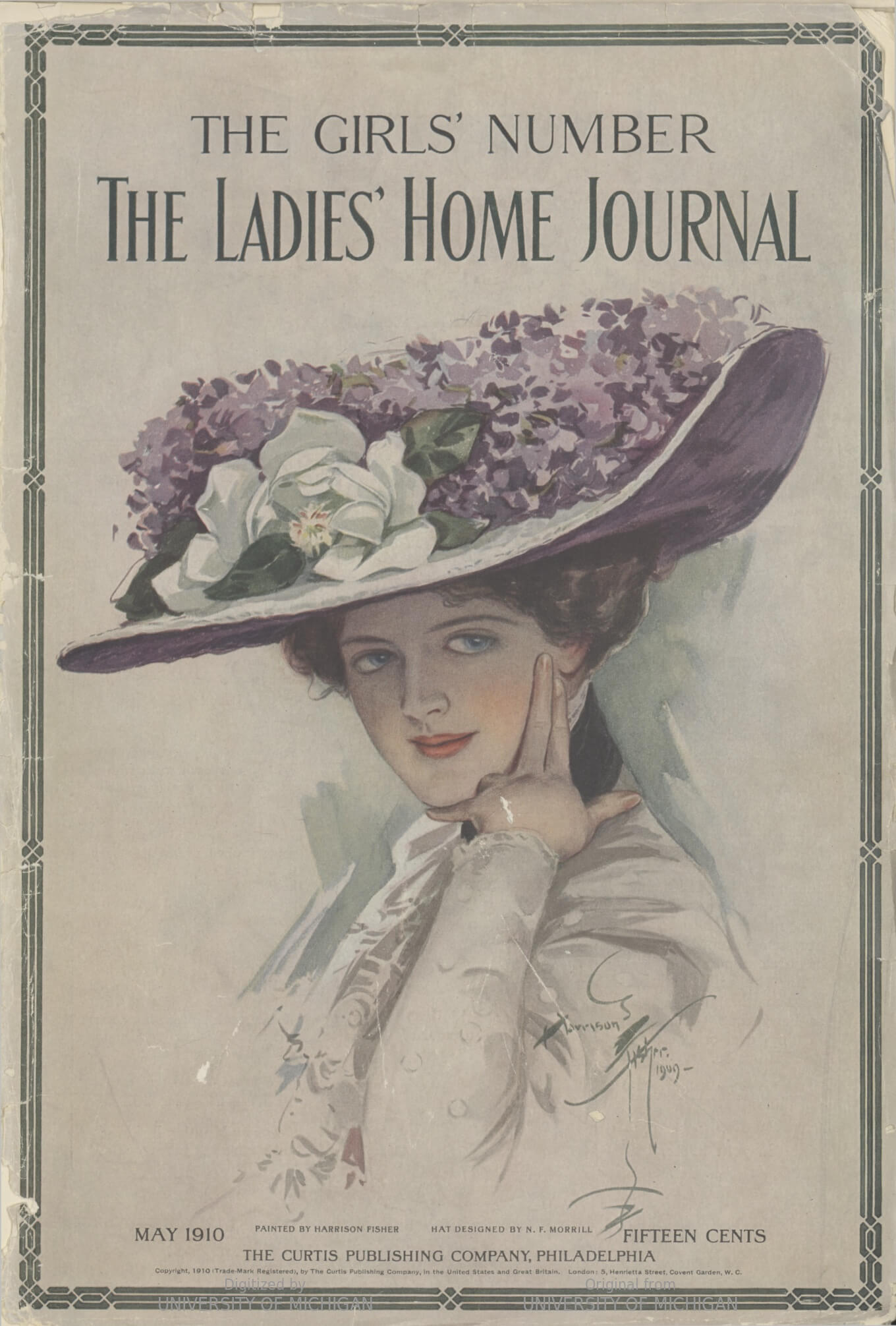 Cover of The Ladies' Home Journal, May 1910.
So, there you have it…a walk through the biggest spring fashion trends from 1890 to 1910. Would you sport any today? To learn more about other aspects of Gilded Age fashion, explore the Frick's virtual exhibition
here
.